Pregnancy is a beautiful time in your life where everything seems to be changing. Many women worry that they will have to completely change their workout routine to accommodate their growing belly and the baby inside. Since safety is always the most important concern you may be wondering if you can use an exercise bike when pregnant. So, we've gathered all the important information that you need to know before you hop on that bike.
Can You Use an Exercise Bike When Pregnant?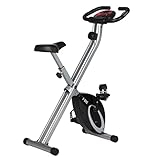 Ultrasport F-Bike, bicycle trainer, home trainer, foldable home...
Collapsible home trainer bike, home trainer, fitness bike with 8 resistance levels, quick and easy to set up and fold away – the original, developed by F-bike market leader Ultrasport
Indoor cycling with this fitness and cardio device for strengthening your circulatory system
Robust stamina builder for effective muscle build-up using 8 resistance levels
Training computer with LCD display, Functions: Time / scan / calories / speed / distance / pulse
Last update on 2022-06-01 / Affiliate links / Images from Amazon Product Advertising API
Exercise bikes are one of the most commonly found pieces of exercise equipment. They can be found in gyms and homes all around the world, and are popular for their ability to provide a great workout and a safe one.
These stationary bikes mimic regular bike riding while giving you plenty of opportunities to adjust settings for your comfort. We know they're safe for the general population, but can you use an exercise bike when pregnant?
Staying active while pregnant is important. However, the priorities and goals of your workout will change. Exercising helps you and the baby stay healthy and happy by helping with things such as blood circulation, back pains, digestion, and sleep.
Things like high-contact sports are definitely a no-no, but what about the safer options? Fortunately, exercise bikes are almost always a safe option to go for!
Using an exercise bike is considered a very safe workout. There is minimal impact on your joints as the movements are all smooth motions. Another key factor to consider is that you always have control while using an exercise bike. You can slow down the very second you begin to experience discomfort, and the resistance is all set by you.
In addition, using an exercise bike can also be a huge benefit later down the road. This workout can help you tone your perineum and strengthen your legs, which will help a lot during childbirth!
What features to consider
Sale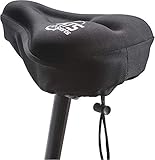 KTS KT-Sports Bike Seat Cushion Cover, Gel Padded Bicycle Seat...
Is your bike seat being a real pain in the posterior? With our silicone gel filled bike seat cushion, you'll be racing to get back in the saddle.
Built to last from high quality materials, no matter how far you peddle, this durable gel bike seat cover isn't going anywhere.
Quick and easy to install, our ergonomic padded bike seat fits securely to your saddle – tightly cinched by an adjustable drawstring.
Nostalgic for your pre-pandemic prowess? Get fit, and make cycling comfortable again with our non-slip, gel seat cushion for bike exercise.
Last update on 2022-05-31 / Affiliate links / Images from Amazon Product Advertising API
While you may not think about it early in your pregnancy, there are a few features that will make using an exercise bike even better while pregnant. So, here are a few features you should consider when buying or upgrading an exercise bike for use during pregnancy.
A comfortable seat. Being comfortable while sitting is very important, as you want to ensure that you aren't hurting your lower body. Look for a bike with a cushioned seat. If you already have a bike with an uncomfortable seat, you can always find a cushion or a new seat pad.
A cushioned back. Having a comfortable and cushioned back is equally as important as the seat. This makes sure that your back is propped upright and feels good.
A heart-rate monitor. Many exercise bikes will already have this feature. If not, you can also find heart-rate monitors that attach to your body. Using this will help make sure that you're staying in a healthy range for your heart-rate.
How to ensure the safest workout possible
Sale
Last update on 2022-06-01 / Affiliate links / Images from Amazon Product Advertising API
Exercise, in general, is safe when pregnant. However, you can make it even safer and minimize any potential risks with a few easy steps! Since you now know the answer to "can you use an exercise bike when pregnant?" we thought you may want some extra tips to make sure that your safety is still the #1 priority.
Stretching is key before any workout. It's even more essential when pregnant! So, ensure that you're giving yourself time to do a thorough stretching warm-up before doing any physical activity, like getting on an exercise bike.
You'll also want to make sure you're staying cool while exercising. If you aren't in an air-conditioned space, be sure to have open windows or a fan nearby.
Tight gym clothes may look stylish, but they're especially constricting when pregnant. Be sure to wear comfortable and loose-fitting clothes when you exercise while pregnant. A good sports bra is also key.
Shoes are another important aspect of your fashion to consider. Good shoes will help prevent injury. Sore feet can often be seen in pregnant women, so you want a comfortable pair to minimize pain.
Some people workout hard. If you're the type of fitness enthusiast that likes to work out to the point of exhaustion where you can barely stand, you may want to change your routine. You don't want to over-exert yourself when pregnant. If you're too tired to talk, you're too tired to keep working out while pregnant.
Another thing to consider is your diet. Exercising while pregnant will mean that you're burning calories. However, it's also important to remember that being pregnant means eating more.
It's recommended that you consume 300 more calories per day compared to your pre-pregnancy diet. So, ensure that your exercise doesn't burn so many calories that this surplus is not there.
Finally, drink water! You should always stay hydrated while exercising. When pregnant your recommended water intake is even higher! Drink water before, during, and after you use an exercise bike while pregnant.
Already thinking about how you'll exercise when the baby is here? Check out our guide on how to exercise with a baby at home.
Overall, working out while pregnant won't be too different for the first three months. Once your belly starts getting bigger, you'll begin noticing more changes in your body. It's important to give yourself the time to check-in with yourself and make sure that you're still feeling strong and comfortable. If you have any concerns, you should see a doctor immediately.
When you hit the sixth month of your pregnancy, you should consult with your doctor again to make sure that you're safe to keep working out. Based on your baby's development, your doctor may recommend a specific workout or suggest that you stop high-intensity exercising altogether.
Always consult with your doctor if you have any concerns about exercising while pregnant. It can be a scary thing to do at first since you're worried about your baby above all else. Can you use an exercise bike when pregnant? Yes! As long as you're consulting your doctor along the way and doing your best to keep your body healthy.