Exercising is already hard enough as it is. So, what about if you have to worry about learning how to exercise with a baby at home? This can complicate workout routines and schedules, but it doesn't have to complicate your life. Learning to work out with a baby around can be a fun and exciting shake-up to what you're used to doing! We've compiled a complete guide to help you learn how to exercise with a baby at home, covering everything from what types of exercises to do and how you'll need to change around your set up!
How to Exercise with a Baby at Home
Shedding your baby weight may be your priority. Or maybe you just want to make sure you're staying as healthy as you can for your little one. Regardless of why it's important for you to learn how to exercise with a baby at home, there's plenty of ways to do it!
Learn to adapt
One of the most common recommendations when forming a workout schedule is to stay consistent. Exercising every day at the same time helps get you in a routine so that you know what to expect each day. This is a great tip for many people! Unfortunately, for anyone with a baby, you'll know that this is nearly impossible.
Having a baby means unpredictable nap times, crying sessions, and feeding times. So, clearly you can't exactly stick to the same schedule every day! You'll have to re-adjust to become more adaptable than ever before. This means being willing to shake things up, and accepting that things will look different from one day to the next.
There are some ways that you can work being adaptable with your constantly changing routine. Have you noticed when your baby takes her longest naps? Try to plan your exercising time for then, but also have a back-up plan.
It's important to not beat yourself up over missed workout days when you have a baby. Be willing to re-adjust your goals as needed, and always remember why you're choosing to maintain your exercising. Remembering all the wonderful benefits will make you feel more gratitude for the times you are able to exercise.
Keep a baby monitor in your fitness area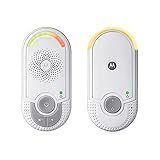 Motorola MBP8 Audio Baby Monitor with Wall Plug Baby and Parent...
The Plug-N-Go function means that you simply plug the monitor and parent unit into any socket in the house, no cords required; Plug straight into the wall for simple plug and go
With this device you will have two forms of notification: The audio coming from the speaker and the LED sound level indicator along the top of the parent unit
Up to 50 m indoor range with out of range warning, 10 Channels
1.8 GHz DECT technology
Last update on 2022-06-25 / Affiliate links / Images from Amazon Product Advertising API
This one may be a given, but it's certain to provide you with some security. Keeping a baby monitor that's specific to your workout area means that you won't have to worry about how your child is doing while you work out. This will boost your confidence in your baby-watching abilities, too!
If you don't have a dedicated home gym set-up, you can always work out while you're watching your baby. Consider keeping a yoga mat next to your baby's crib for more gentle, quiet exercises that you can do during nap time. You can also use your baby's dedicated TV time to exercise while they're watching the screen.
Collaborate with your partner or friends
Working out with a baby at home can become much easier if you have friends or family who are willing to support you. If your partner is also committing to their fitness journey, try and plan a schedule where you can trade off your exercise times. This can look like them working out for an hour while you feed baby, and then you working out for an hour while they spend time with her.
If you have friends with their own kiddos you can always work out a babysitting system, too! You can commit to days where you'll take turns babysitting so that the other can have distraction-free exercise time. This can feel tough if you don't want to spend time away from your baby. So, consider ways that you can keep your baby and your friend nearby.
Learn multitasking workouts
Having a straight hour to use for nothing but fitness may feel like a dream. However, if this is impossible based on your schedule, there are plenty of ways around it! There are tons of exercises that you can do in-between other daily duties, and ways that you can multitask.
One excellent way to combine parenting duties with exercise is to make your chores a little more intense. Throw on some music and incorporate dancing into your cleaning for an easy way to burn some extra calories. You can also give yourself challenges, like doing ten squats after each section of the room you clean. Other easy ways to combine exercise with chores are things like gardening and outdoor cleaning.
Exercise With Your Baby
In addition to just changing your workout routine now that you have a baby, you can also combine exercise time with baby time! There are dozens of ways that you can work out with your baby, making it even easier to learn how to exercise with a baby at home.
Go for stroller jogs
No products found.
This one can be tricky to get used to but has enough benefits to make it worth it. If you have a comfortable enough baby stroller, you can take advantage of nap time and bring your babies on jogs with you! For those who aren't a fan of running or jogging, brisk walks also make for a great exercise.
This kind of exercise is excellent for your cardio. And, since you're pushing the stroller, it'll also give you a good strength workout. It can be challenging on your shoulders if you go for too long, so make sure to test your endurance by starting off slow.
A stroller with a larger set of wheels offers you minimal resistance. It won't feel like a wild ride for your baby, and may even relax them and help them sleep. Your baby will also get some fresh air, which is always important.
No products found.
Do some baby dancing

The Original Jolly Jumper Baby Exerciser with Door Clamp
The minimum and maximum weight is 0 to 28 pounds
Machine wash in cold water. Do Not Bleach. Tumble Dry, Low.
Gives baby complete freedom of movement while allowing healthy exercise
Improves balance, helps develop rhythm and coordination and strengthens muscles
Last update on 2022-06-24 / Affiliate links / Images from Amazon Product Advertising API
There's no exercise that's as fun as dancing. Not only that, but babies also like to dance, too! Throw on some music or a dance workout video and get to moving. You can do this while you have your baby in a carrier attached to your body. Additionally, you can get a bouncy seat or swing for your baby, so they can shimmy along next to you. Avoid overly bouncy moves if you have your baby on you.
Dancing is a good way to boost your heart rate and break a sweat without feeling like your doing a strenuous exercise. It's also an easy workout to adapt based on your fitness level, making it perfect for any new parents whose bodies are still adjusting to the change.
Plenty of online fitness classes are tailored for parents who are trying to exercise with their babies. So, find a class or training video and get to it!
Overhead presses with your baby
Your baby can be more than just your pride and joy while exercising. You can use them as a weight! Babies are just heavy enough that lifting them can help increase your strength and give you a good workout.
There are lots of ways you can use your baby as part of your exercise, but babies are going to love doing overhead presses with you. Start with your legs crossed, holding your baby in front of you. Do reps of straightening your arms out, baby in hand, and hold your baby in place. You can combine this workout by doing silly faces and talking to your baby so that they love the time spent with you.
Strength training with baby
Sale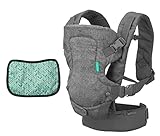 Infantino Flip Advanced 4-in-1 Carrier with Bib - Ergonomic,...
Design: 4-in-1 convertible carrier with an adjustable ergonomic seat and adjustable shoulder straps, waist belt and includes wonder cover 2-in 1 bib to protect your carrier and clothes
Wearing positions: Convertible facing-in and facing-out design for newborns and older babies, weighing between 8-32 lbs / 3.6-14.5 kg
Benefits and use: Experience hands-free convenience with opportunities for bonding and developmental benefits, whether it's running errands or exploring parks, there's no place like close
Adjustability: Adjustable 2-position seat, padded shoulder straps and supportive waist belt, designed to fit a wide range of body types and lifestyles
Last update on 2022-06-24 / Affiliate links / Images from Amazon Product Advertising API
There are a lot of workouts that are impossible to do while your baby is attached to you. Anything with too much movement can be too bouncy and may be a safety risk for your baby. However, many strength training exercises are completely do-able!
When you have your baby attached to you in a carrier, you'll still have complete movement of your arms and legs. Lifting weights is one of the most convenient options. Grab some weights and start lifting! Things like arm circles while holding a weight allow for minimal movement if you're trying to avoid disrupting nap time.
Having a baby on you, even in a carrier, can be a risk to your posture. Always make sure that you're standing or sitting comfortably and in an upright position to minimize the chances that your baby will make you sore.
Learning how to exercise with a baby at home can become more than just an addition to your fitness routine. You can use this time to create lasting memories with your child, and bond with them as you adjust to your new lifestyle. Having a baby will always mean that you need to compromise, but you don't need to compromise your health and wellbeing. So, grab that baby and get to working out!