Now that the weather is getting warmer, you're probably looking for fun ways to spend time outside with your child. Not only does being outside mean your child will be having so much fun, but it also comes with great health benefits. We all know that children have a short attention span, and one way to keep them occupied is by getting one of the best outdoor baby swing models.
Baby swings are the best way to provide a safe play environment for children when they're outdoors. This means that your child will be having fun and you won't have to worry about them getting hurt. In addition, swings are the perfect way to keep babies engaged for a longer period of time.
As a parent, you have the responsibility to pick the safest and the best outdoor baby swing for your child. There are so many models available on the market, but some are unreliable and may result in injuries.
Keep reading to find out different types of swings, the benefits of using them, and, of course, what are the best outdoor baby swing models that are available on the market.
Best outdoor baby swings on the market in 2022
Different Types of Outdoor Baby Swings
There are several different types of baby swings that can fit in different types of outdoor spaces and fulfill different requirements. You can choose between a toddler bucket swing, nursery bucket swing, hammock swing, horse glider swing, and sling swing.
Toddler Bucket Swing
The bucket swing is the safest type of swing since the child is protected from all four sides. In addition, these swings come with four leg holes, so that the child can sit on either side.
Nursery Bucket Swing
Nursery bucket swing is very similar to a high chair. This type of swing usually includes a safety harness that adds more protection. Many parents love this type of swing since it combines comfort and extra safety.
Hammock Swing
This type of swing is made of fabric and it is suitable for laying as well. Depending on how the swing is hung, the toddler can use it either for sitting or laying down. This type of swing is designed for gentle rocking.
Horse Glider Swing
Also known as a back-to-back swing, this one requires the child to hang on it to stay. So, this model is more suitable for toddlers and children, rather than for babies. These swings can be rocked back and forth and they provide tons of fun for children.
Sling Swing
The sling swing is the most common type of swing and you can find it in almost every park for children. Rocking on this swing comes with both mental and physical benefits. The best part about the sling swing is that they can be used by anyone, ranging from toddlers to adults.
Benefits of Using an Outdoor Baby Swing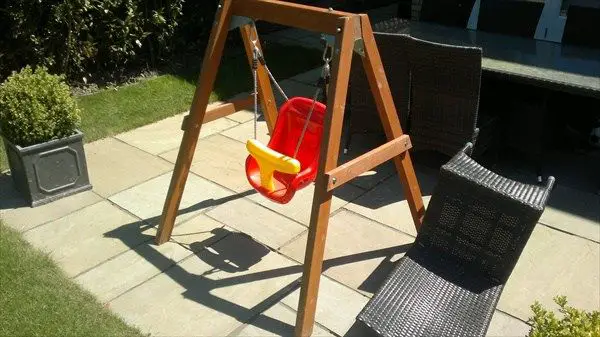 Image Courtesy of Easy DIY and Crafts
Wondering if you need an outdoor baby swing? These benefits of owning one of the best outdoor baby swing models will show you that you do!
In our modern age, children prefer staying inside to watch cartoons or play video games, rather than play outside. An outdoor playset will encourage your child to step outside and play! The greatest benefit of owning a swing is that all children love it. Swings are incredibly fun, no matter how much time you spend using them. In addition, they will allow your child to experience new things on a daily basis.
Also, did you know that using a swing has many physical benefits? The rhythmic back and forth motion will require your baby to constantly readjust and maintain balance. This simple movement will help a child develop core strength, finger coordination, and grip strength.
Even though this may seem impossible to you, playing on a swing also has a few benefits for your child's brain and mental development. When swinging, your child won't just passively soak up the scenery. His point of view will be constantly changing and it will encourage a child to engage with their surroundings. This simple movement will help your child grow their understanding of the world, as well as help them relax.
The Best Outdoor Baby Swing Models
1. MTS Children's Adjustable Outdoor Swing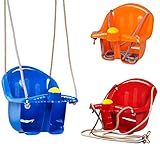 What you're looking at is not only one of the best outdoor baby swing models you can find but also one of the most affordable and reliable swings you can get. This adjustable swing is suitable for babies aged three or older. No assembly is required, so you can get the swing up and ready in just a few minutes after opening the package.
The swing is made of durable plastic material that can withstand even the harshest weather. The inside of the swing is slightly rough to the touch and this adds grip and support for your child. This way, your baby will have higher back support and won't slip out of the swing.
The swing comes with heavy-duty ropes that can support children that weigh up to 40kg. The plastic hor in the front is an excellent safety feature that will prevent your child from falling out of the swing, even if they lean over it.
You don't need to have a special setup to place this swing. Even a sturdy branch (or any other overhanging sturdy construction) will do the trick. You can also attach the swing to a spring, which is great for someone with a gazebo or other outdoor structure in the yard.
Speaking of gazebos, if you've been planning to add one to your yard, check out our list of amazing gazebos for inspiration.
What We Like:
The swing is built out of quality materials and meant to last;
The swing comes assembled, all you have to do is put it up;
You can hang the swing on anything, even a sturdy branch;
The swing is safe to use for toddlers and children as well;
The product is very affordable.
What We Don't Like:
The swing is not suitable for small babies, under the age of three.
---
2. Smoby Baby Swing Set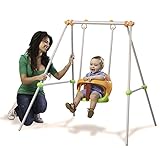 Smoby Baby Swing Metal
METAL BABY SWING
Baby toddler swing. .
removable safety ring in the seat and protected pipe ends.
Our previous pick is an excellent choice, but it is not suitable for those who have a baby under the age of three or those who don't have something to hang the swing on. If you belong to these categories, then we have the best outdoor baby swing for your specific needs.
The Smoby Baby swing set is suitable for smaller children but for toddlers as well. This 2-in-1 swing is adjustable and you can remove the safety ring as well as the protected pipe ends when your baby gets older. So, this swing is meant to last you for a while!
In addition, this swing comes with a metal frame, so you don't have to worry about where should you place it. The swing is 120cm high and the distance between the metal frames is 120cm as well. Speaking of the metal frame, it is very easy to assemble and very durable. So, you don't have to worry if your child decides to swing a bit harder. The rigid ropes are very sturdy and will ensure that the swing can withstand the weight of your baby.
What We Like:
A 2-in-1 swing that can be used by babies and toddlers as well;
Comes with a metal frame so you don't have to worry where to place it;
The swing is durable and will last you for quite a while;
Setting up the swing is easy and doesn't take up much time.
What We Don't Like:
The weight limit is unknown, so the swing may not be suitable for some toddlers.
---
3. ZERO GRAVITY UFO Kids Birds Nest Swing Set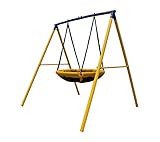 Are you a proud parent of more than one child? Do you find it inconvenient when your children have to take turns on the swing? Well then, here is the best outdoor baby swing for you.
Zero Gravity UFO Kids Birds Nest Swing Set can be used by two children at once. The swing features extra-large UFO seats that can support toddlers as well as little children.  The maximum supported weight is 90 kg, so you may even allow three children to use the swing.
It is recommended not to allow small babies to sit inside this swing unless there isn't an adult to keep an eye out on them. Unlike the previous two products, this one doesn't have a safety ring or harness, making the product unsafe for children younger than the age of three.
For children older than the age of three, the swing is perfectly safe. The swing seat has padded edges and it metal chains covered with plastic, for extra safety. Since this is a swing set, you don't have to worry where you'll hang the swing. All you have to worry is about finding the perfect spot for the set. Ground stakes and assembly tools are included, making the installation of this set a piece of cake.
In addition, this swing set features a powder-coated frame that can withstand all weather conditions and will last you for many years to come. Is this the best outdoor baby swing or what?!
What We Like:
A unique design that allows two children to use the swing at the same time;
Thanks to the padded edges and metal chains, the swing is very safe to use;
The maximum supported weight is 90kg;
Installation of the set is very easy thanks to the included ground stakes and assembly tools;
The swing set is made of quality materials and can withstand any weather conditions.
What We Don't Like:
The swing set is not suitable for children under the age of three.
---
4. Hedstrom Folding Toddler Swing
You may be searching for the best outdoor baby swing, but what do you think about getting an indoor swing as well? When the weather gets cold and it starts to rain outside, your child still may want to use their swing but won't be able to go outside. But, we have good news for you! The Hedstrom Folding Toddler Swing is suitable both for indoor and outdoor use.
This swing features a very comfortable fabric seat that is UV resistant and incredibly easy to clean. The seat can be easily removed, so in case the fabric gets dirty, you won't have to wash it by hand. Just put it in your washing machine! In addition, the seat has high back support that provides greater comfort and safety. There is also a lap strap that ensures maximum security during play.
Last but not least, the frame is made of powder-coated steel, which will ensure a long lifespan and resistance to outdoor elements. The frame is foldable, making it very easy to store but also bring inside your home.
What We Like:
The swing is made of quality materials that will stand the test of time;
The frame is foldable, making the storage of the swing simple;
The swing can be used indoors and outdoors'
The fabric seat makes the swing more comfortable;
Cleaning and maintaining the seat is easy.
What We Don't Like:
The swing is suitable only for small babies (under the age of three).
---
5. Baby Swing Horse
If you're looking for something different from a traditional swing, here is the best outdoor baby swing for you! This one is designed in the shape of a horse and meant to be straddled.
Even though the swing doesn't feature an additional harness, it is incredibly safe. The child's legs will hang down on either side of the seat. The sides and back are raised, making tipping over highly unlikely. In addition, handles are included so your child can hold them and develop their grip strength. The rope is strong and durable, so you don't have to worry about it snapping. Due to the size and design of the swing, it is suitable for babies from the age of six months to three years.
The swing is made out of robust wood and it can withstand any external elements. Even though the wood is sturdy, the manufacturer paid attention paid to shaping the edges and leaving them smooth to the touch.
The swing is versatile and you can hang it both outdoors and indoors (but you will need to buy additional hardware to attach the swing to your ceiling).
What We Like:
Made out of robust wood that can withstand all weather conditions;
The swing is very safe thanks to the raised back and sides and handles;
The edges are very smooth, so the child can't get hurt;
The swing can be installed both outdoors and indoors.
What We Don't Like:
The swing can only be used by babies from the age of six months to three years.
---
Related:
---
How to Choose the Best Outdoor Baby Swing for Your Home
Now that we covered some of the best outdoor baby swing models you can get, it's time to help you decide how to choose only one. Here are a few things you should pay attention to when choosing an outdoor baby swing.

Image Courtesy of Home Talk
Safety
Clearly, the first thing you want to pay attention to when choosing a swing is safety. Make sure that the product you're buying has been tested and is certified safe for small children. In addition, the swing should meet the current minimum government safety standards. Also, pay attention to the style of harness, installation hardware, if there's any chance for pinching (especially with swings that use chains instead of ropes), the stability of the swing, and whether the design can prevent lurches and falls.
In general, well-known and trusted brands, including the ones on our list, have stringent testing procedures, so you won't have to worry about swing safety.
Child's Age & Weight
Every swing has a certain height and weight requirements, as well as age recommendations. Even though your child might be in the appropriate age range, if they don't meet the height or weight requirements, the swing is not a suitable choice for them.
When it comes to the age of the child, since you're planning to invest in an outdoor swing, you probably want it to last you for some time. But you should avoid buying a bigger swing just so it could last you longer since those swings won't be safe for your child.
Before deciding which outdoor baby swing you're interested in, double-check it's suitable for your baby in terms of their age and weight.
Fit & Comfort
The fit is closely connected to your child's height, weight, and age. Your child should be snug in the swing and harness, without it being too tight. This will ensure they don't fall or lurch forward or backward, which could result in injury. At the same time, you should make sure that you have enough free space to get your child in and out of the swing easily.
Also, it is important that the swing you get is comfortable for your child. Only then will your baby be able to enjoy the swing to the fullest.
The Material
Speaking of comfort, in order for the swing to be comfortable and also for it to last, you need to pay attention to the materials it is made of. Swings are available in different materials such as wood, plastic, and metal. Based on the material, make sure to check what kind of regular maintenance will be needed and what kind of life expectancy your product will have.
Size & Style of the Swing
Swings come in different sizes which usually depend on the age of your child. Since we're talking about the best outdoor baby swing models, you should know that the youngest age for a child to use a swing in six months. Also, take note of the free outdoor space you have before deciding on the size of the swing. You need a flat space free of any obstructions.
When it comes to the style of the swing, we already covered this in greater detail at the beginning of the article. Keep in mind that each swing style has both advantages as well as disadvantages.
The Price
The price is one of the factors that have the greatest influence when it comes to choosing almost any product. Before looking at any of the models, you should decide how much money you are willing to spend. This will create a budget and reduce the chances of going overboard.
When searching for the best outdoor baby swing for your home, you will come across some inexpensive models, but also pricey swing sets. Outlining your budget ahead of time will make it easier for you to know which swings should be excluded from your search.
Other Features
There are a few other features you should keep in mind when choosing the best outdoor baby swing for your home.
For example, think about how the swing will be mounted. Do you plan on using a tree in your yard? Or you plan to get a swing set? This may impact which type of swing you're looking for and also be relevant to your budgeting.
Also, don't forget to pay attention to the buckling mechanism. There are quite a few harness types available. You should always go for the one that's the right size for your child and follows safety guidelines.
Outdoor Baby Swing Do's and Don'ts
Here is what you should do when you get your outdoor baby swing:
Make sure that your child can sit comfortably in the swing. Comfort is a deciding factor and even babies will reject playing on a swing that is uncomfortable.
It is advisable to get a swing with a safety harness. Before rocking the wing, make sure that the safety harness and ropes are locked in place.
Always push the swing gently. Young children can easily get terrified of the speed or swinging high. So, to ensure the most pleasant experience for your baby, make sure that you start pushing the swing gently. Later on, you can try increasing the intensity.
Your child should always hold on to the ropes of the swing. This will increase their safety and also help them gain grip strength.
After some time, your child may get comfortable using the swing independently. However, you should always keep an eye on your child when they are on the swing.
Always make sure that the seat of the swing is soft and free from any harsh materials that are inconvenient for the child.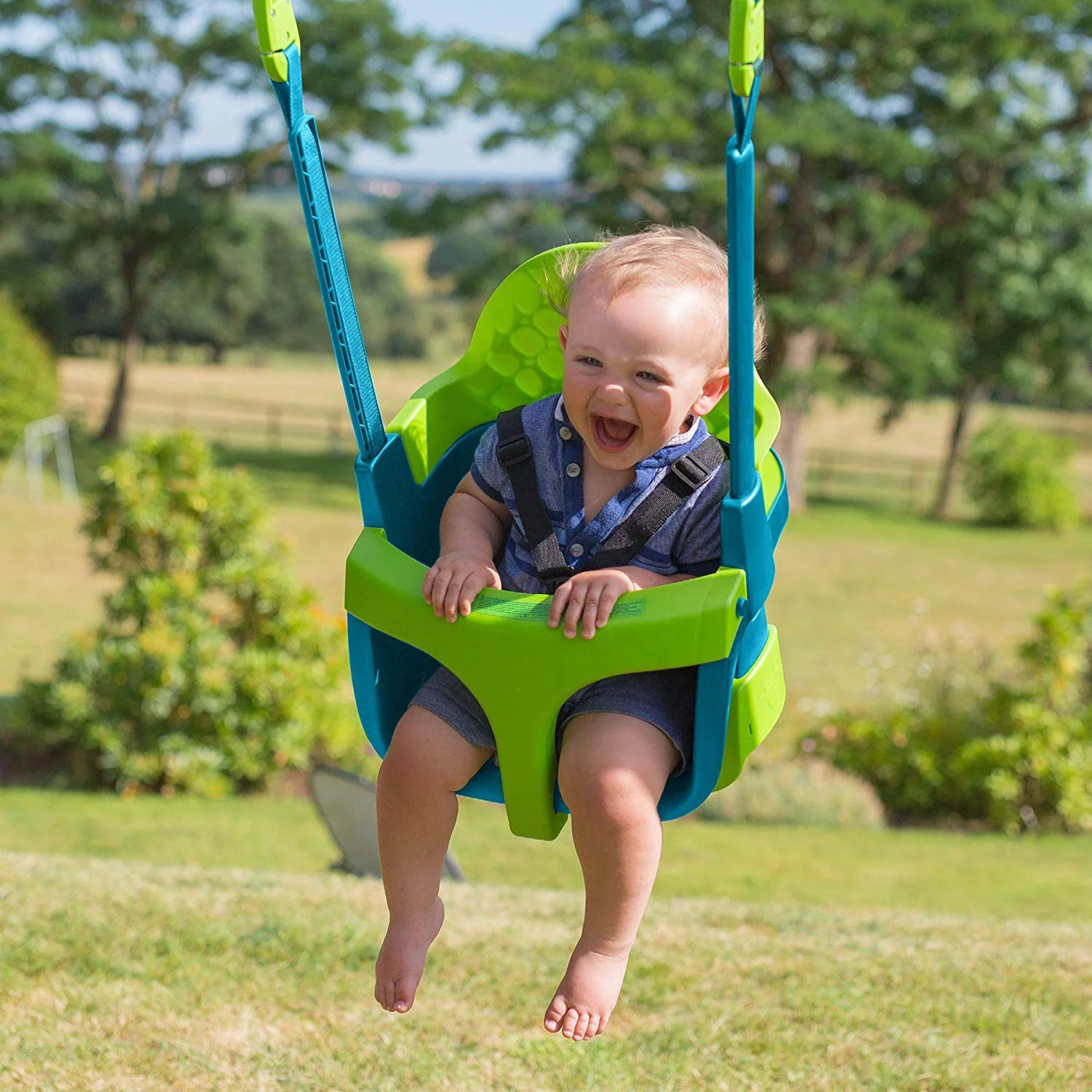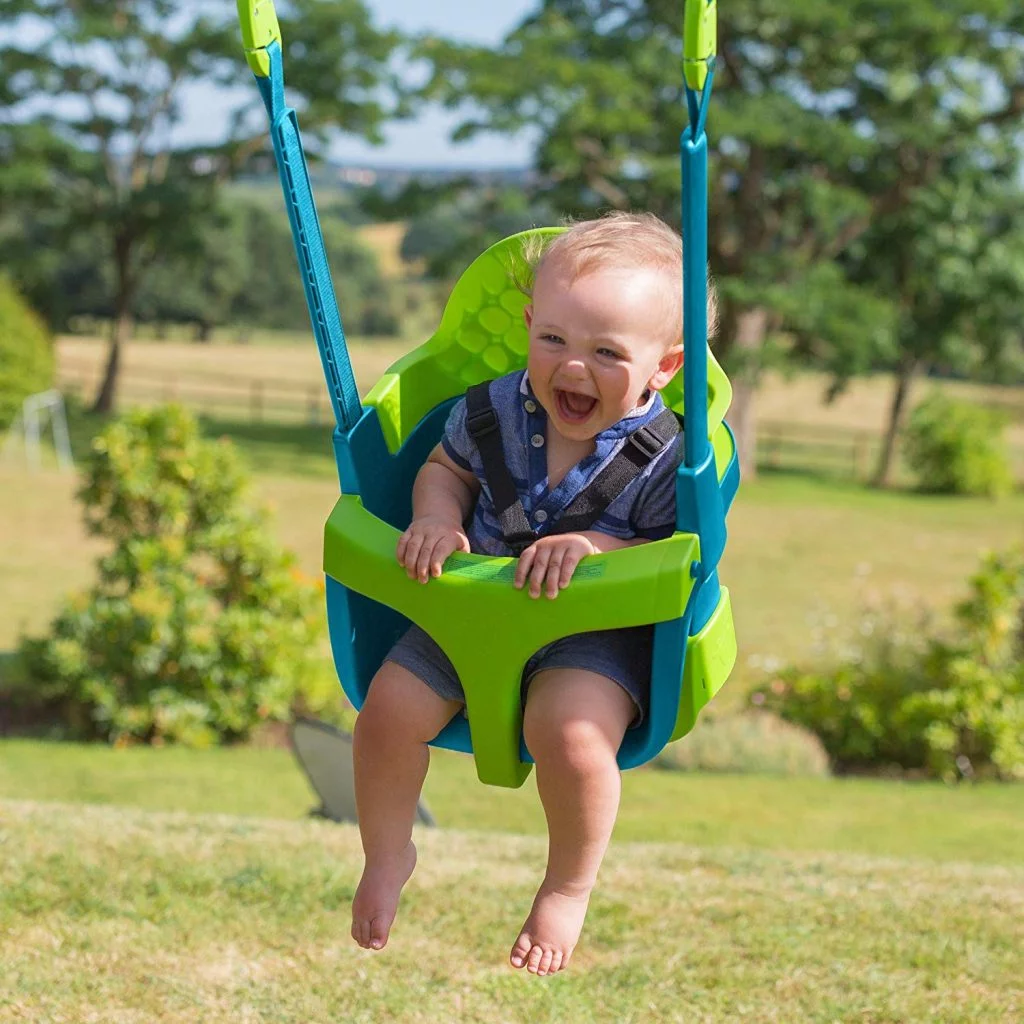 Image Courtesy of Medium
Here is what you shouldn't do when you get your outdoor baby swing:
Never start pushing the swing fast. Instead, start pushing lightly and then increase the speed gradually if your child is comfortable with that.
You should never allow your baby to sleep in the swing for a long duration, due to the position of the body.
Only one child at a time should be allowed to sit in the swing.
Avoid placing the swing on a wet or uneven surface.
Avoid using harsh chemicals for cleaning the swing.
Only use the safety harness for the purpose mentioned in the manual.
Do not allow your child to eat on the swing as this can result in choking.
Now that you know everything about swings, tell us what do you think! Which product from our list is the best outdoor baby swing for your needs?