Having access to pure water is almost impossible nowadays, even if the water is treated by a city treatment plant. The plants only remove bacteria and germs from the water to make it safe to drink. The water will still contain extra minerals such as calcium, iron, and magnesium that can affect the taste and the quality of your water. Luckily, some products can help you remove all these minerals – the best water softeners.
Wondering why you would remove the minerals at all? Well, if you noticed a chalky film on dishes after washing, mineral deposits and scale buildup on water faucets and showerheads, and other issues such as dry skin and hair after showering, then you must get a water softener for your home.
The best water softeners remove calcium buildup from the water. These are dedicated devices that you can hook up to your plumbing directly to help you get rid of hard water. The best water softener systems work by either drawing heavy minerals out of the water using a process called ion exchange or by neutralizing these minerals so that they are unable to bind together and remain soluble in the water.
Best Water Softeners on the Market in 2021
Problems Hard Water Can Cause
Calcium in water doesn't present a health hazard, and even if you have hard water, it is still safe to drink. But, when there is a high concentration of calcium and other minerals present in the water, it might cause other problems.
Damage to Water Pipes or Appliances
Households that have hard water often have to deal with limescale buildup inside their water fixtures, appliances, and even pipe systems. Depending on the water hardness level, the damage can range from just leaving stains on the faucets to completely wreaking them internally by forming limescale. This can lead to broken details, clogging, and leakage.
Boilers and water heater might suffer from even more serious damage since the water tends to sit still for hours inside of them. As a result, the minerals will stick to the internal surfaces more easily.
Skin Irritation
Even though minerals in water don't present a health hazard, they can still cause you some problems. The high pH and mineral content in hard water can cause various skin problems, including dryness, itchiness, clogged pores, and acne. It is exactly for this reason that many dermatologists suggest washing face with bottled water for those struggling with acne breakouts.
Hard water is also likely to worsen existing skin problems such as eczema and dermatitis. The mineral residue is also blamed for hair brittleness and scalp irritation after direct contact.
Persistent Stains
Do you find it hard to remove stains from various surfaces? That is because minerals in hard water stick to surfaces and create grungy spots and stains on your glassware, tiles, cars, showerheads, toilet bowls, and bathtubs. What's even worse, the minerals sometimes have a neutralizing effect on soaps and detergents, making it very hard to remove stains.
Signs of Hard Water
Do you suspect that you have hard water but are still unsure? Here are the telltale signs that will help you resolve your dilemma:
A clogged showerhead;
Slower water flow than before;
Plumbing that requires constant maintenance due to limescale;
Mineral residue on the bottom of a coffee maker or a kettle;
An unpleasant smell in your water;
A film of residue on your glassware, mirrors, or tiles after cleaning;
Yellowish stains on tiles, toilet bowl, and bathtub (if there is iron in the water);
Leakage and damage to appliances;
Rough-textured laundry, clothes that fade quickly, and white clothes that turn yellow after a few washes.
Do any of these sound familiar to you? If so, then you have hard water, and a water softener can help you resolve all these issues.
The Benefits of Owning a Water Softening System
Water softening systems are becoming increasingly popular due to the numerous benefits that come with using them. Keep reading to find out how can a water softener benefit your home.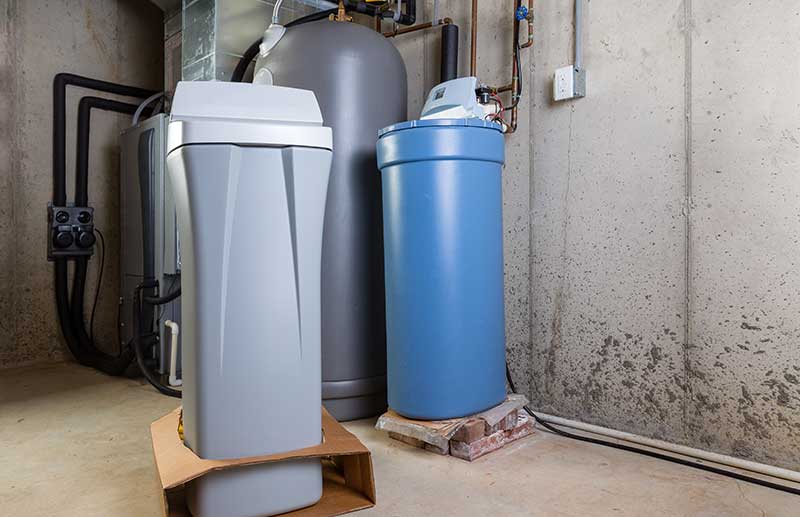 Image Courtesy of Better Home Squad
Scale-Free Pipes
As we already mentioned, the minerals present in hard water tend to create limescale on pipes, which can result in damage to the pipe system. Once you install a water softener, all these minerals will be removed, and you won't have to struggle with damaged pipes anymore. This is one of the most effective means to reduce plumbing maintenance costs in the long run.
Residue-Free Appliances
Has your coffee maker or kettle developed a white residue recently? That is the result of excess minerals present in your water. A water softener will help you get rid of this issue and prolong the life of your appliance. Eliminating mineral residue from your faucets, sinks, showerheads, and water heaters will also save you from that foul smell that usually emerges from the residue.
Clean and Shiny Glassware and Silverware
Are you tired of serving spotted glassware and silverware in front of your guests? The best water softeners will help you out. These products are made to prevent minerals from sticking to surfaces by either eliminating them or altering their structure. As a result, you should no longer see a calcium film on your mirrors, glasses, or even your car.
Softer Clothes
Are you tired of your clothes suddenly becoming rough-textured? Once you get rid of unwanted minerals from your water, you should notice your clothes and towels getting silkier and softer after laundry. Stains should also become less of a frequent problem, and the fabrics will take longer to fade or fray. Last but not least, you will need to use less detergents and soap since they tend to dissolve better in soft water.
Smooth Hair and Skin
Even if you have a shower head filter, it won't help you completely filter out hard minerals from your water. And, if you haven't had much luck with your skin and hair recently, then the best water softener systems will help you change this. Softer water can be a game-changer in reducing skin irritation and hair dryness.
---
Related Posts:
---
Best Water Softeners Reviewed
1. Water2Buy W2B200 Water Softener
Water2Buy W2B200 is one of the best water softeners available on the market, and excellent customer reviews prove this. This model can generate up to 1,250 liters of filtered soft water on a daily basis, which is more than enough for a family of four. In addition, the unit is engineered to work with both city water and well water. Also, the model features a digital meter control, so it consumes less salt and water.
Despite its large tank, this water softener is compact enough to be installed in a garage, basement, or even your kitchen cupboard. It connects to your mains water supply and softens water in the entire home. However, keep in mind that you should have some extra space for hoses and a nearby power source.
The unit is made of high-quality, corrosion-resistant fiberglass that is meant to last for years. The pre-fitted bypass valve will maintain optimal water pressure throughout your home. In addition, you can download the free Water2Buy easyConnect app and use it for a hassle-free setup.
When it comes to cleaning and maintenance, the great news is that the W2B200 takes care of itself. The unit will perform a regeneration cycle automatically when needed. This Meter Softener measures your water usage and only regenerates when necessary, making it more efficient. It regenerates at 3 am when the water supply is not in use, so there is no impact on normal water usage. Approximately 37 liters of water are used during regeneration.
What we like:
A high-quality water softener that is meant to last for years;
Can generate up to 1,250 liters every day, which is perfect for families of 1-4;
Compact in size, the softener can be installed even in a kitchen cupboard;
A metered softener that automatically cleans and maintains itself.
What we don't like:
Some users complained that their bypass valve broke quickly.
---
2. BWT WS455 Hi Flow Electronic Demand Block/Tablet Water Softener
BWT WS455 is manufactured by a company that has been around for more than 29 years. BWT stands for "Best Water Technology," and the company's tag line is "BWT – For You and Planet Blue." These facts show that the brand has been around for a while and that their quality products are meant to benefit both buyers and planet Earth.
To prove their quality, BWT offers a guarantee against faulty materials and workmanship. In selected premium products, including the WS455, there is a two-year on-site labor and five-year parts warranty.
The BWT WS455 is perfect for families of four. It has the capacity to produce about 1667 litters of softened water on a daily basis. But, despite its generous capacity, this water softener is small enough to fit into a kitchen cabinet.
When it comes to the salt, the unit allows you to choose between block and tablet salt. In addition, whenever salt levels get low, the water softener will remind you to replenish them. If you're worried about maintenance costs, the good news is that this model is one of the best water softeners made by BWT. It comes with low operating costs because the unit is very efficient with its salt usage.
What we like:
A high-quality model that is built to last;
You can install the unit on your own; expert installation is not needed;
One of the most efficient BWT units with a five-year guarantee;
Compact in size and can be installed even in a kitchen cabinet.
What we don't like:
Users pointed out that if the product is not registered, the service charges are costly.
---
3. M1D2 Water Softener
M1D2 is one of the best water softeners currently available on the market due to its reliability and performance. European law stipulates that you must give the consumer a minimum two-year guarantee (legal guarantee) as a protection against faulty goods, or goods that don't look or work as advertised. However, this manufacturer is so sure in the quality of their products that they offer a seven-year warranty.
Whilst reliability is important, the M1D2 balances performance and design style with a compact package. From an easily viewed control panel, with backlit display, to the high capacity resin vessel, every softener has been built to the highest standards without compromise.
This water softener also features meter control, with the added features of a clock and the unique Self Protect Programme (SPP). These features measure the amount of water used and regenerate it according to individual household requirements. The intelligent "SPP" chip and the clock ensures there is enough soft water available to delay the regeneration until 2am, a time when most families rarely use water.
What we like:
A high-quality water softener that comes with a seven-year warranty;
Self Protect Programme and SPP measure the amount of water used and regenerate it according to the needs of the household;
Saves up to 56% of salt when compared to other conventional softeners;
Compact and convenient design with a viewable control panel and backlit display.
What we don't like:
A few customers complained that they received a cracked product, but the manufacturer sent the replacement eventually.
---
4. Water2Buy W2B800 Water Softener
This Water2Buy model is definitely one of the best water softeners you can get if you have a large family. The unit an generate approximately 3680 litres of filtered soft water every day, which is enough to suit the needs of households with up to 10 members.
Unlike the previous Water2Buy softener, this model is a bit larger and it cannot be installed in a kitchen cabinet. However, you can place it in your basement or garage. Just make sure that there is an outlet nearby because the softener requires electricity to run. If you're worried about your electricity bill, don't be! This unit consumes about £20 annualy.
And, just like the W2B200, this unit is also capable of self-maintenance and self-cleaning. Once the meter senses that water is running out, the softener will automatically regenerate at 3 am. Approximately 90 litres of water is used during a regeneration.
What we like:
A high-quality water softener with large capacity – 3680 liters of water on a daily basis can be regenerated;
The model is easy to install and use;
The softener automatically regenerates water at 3 am.
Even though it runs on electricity, the softener won't add too much to your electricity bill (about £20 annualy).
What we don't like:
Some users complained that the unit uses more than 90l of water when it regenerates.
---
5. Finerfilters Whole House Water Filter & Salt Free Water Softener Alternative
Finerfilters' Limescale Prevention Water Filter system uses an advanced filtration process known as Template Assisted Crystallization (TAC) which prevents the formation of limescale by converting those scale-causing minerals into inert microscopic crystals via a catalytic reaction in the water being treated.
This system requires no electricity, doesn't waste water by back-washing or regeneration, uses no salt or other chemicals, requires virtually no maintenance, retains healthy minerals and adds nothing to the drinking or wastewater. The filter will do all the work and ensure your household with a never-ending flow of soft water. Just keep in mind that the filter should be changed every two years in domestic application and every year in food service application.
The unit is installed on your incoming mains cold water feed for whole house applications. You can also install the water softener at the point of use of smaller appliances such as coffee machines.
What we like:
A high-quality product that comes at an affordable price;
The only water softener alternative with 99.6% rate of effectiveness;
Doesn't require electricity or salt to run (meaning there are no additional costs);
The system doesn't only prevent scale build-up but also removes existing limescale.
What we don't like:
It is a water softener alternative that doesn't use the same technology as water softeners. However, it still does a good job.
---
How to Choose the Best Water Softener for Your Home
Since there are so many water softeners available on the market, it's difficult to choose only one among all of them. We have prepared a guide that will help you get a better idea of what to look for in a water softener and find a model that will address your particular needs.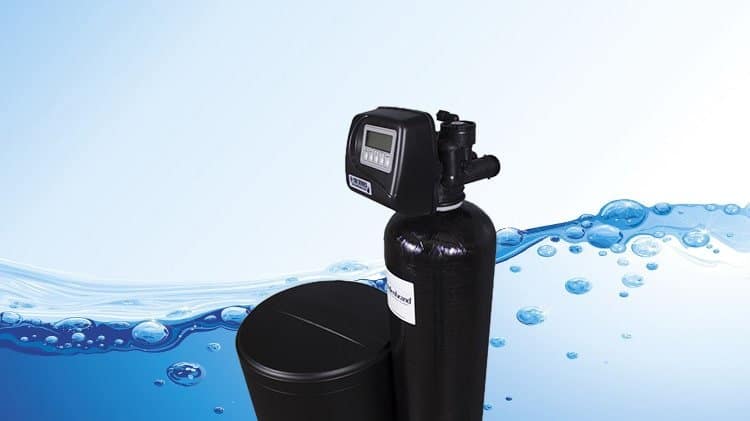 Image Courtesy of Cleansing Our Waters
Capacity
All water softener systems have resin capacity. Before buying anything, you should try and figure out in advance how much water does your household use on average. This usually depends on the number of family members.
The larger the capacity of the water softener, the less frequently it will need to regenerate. Grain capacity varies from model to model, but, usually, the lowest capacity is 16,000. Some units may reach 96,000, and, for a dual-tank softener, this is quite the capacity.
Size and Space
Before you choose a water softener, you need to pay attention to the available space in your home. It won't make any sense to choose a large water softener if the area around your intake pipes is too small.
For most households, a middle-of-the-pack softener will do the trick. On the other hand, dual-tank water softener systems have a large brine tank and usually require plenty of space. Before choosing a model for your home, make sure that it will fit inside the space you have in your home.
Bypass Valve
A bypass valve is a component that allows the water to bypass the softener. This feature can be quite useful on some special occasions, for example, when you need to fill a pool with water. Therefore, it is recommended to get a model that features a valve that is easy to find and operate.
Regeneration Setting
There are two types of water softeners – metered and timed. With the metered system, you choose a certain amount, and the resin then regenerates once that much water has been used. A time softening system ensures that the device regenerates every few days based on the device's predictions on how much water your household will spend.
The downside of the timed water softener systems is that you may spend more water than the system predicted, causing you to run out of soft water. Even if that happens, the softener won't regenerate until the day it calculated arrives. Metered softeners will regenerate when they have to, making sure that you always have soft water.
Other Recommendations
These were the most important features you should pay attention to when choosing a water softener. Here are some other tips to keep in mind.
Before you start browsing models, you need to determine whether your home needs a one- or two-piece water softener. In general, two-piece water softener systems tend to be a better choice. But, don't forget to check your available space since these can be quite large. In addition, a two-piece water softener is usually more affordable. Its electronics tend to be located at the top of the media tank and separated from the highly corrosive brine solution in the salt tank.
A one-piece water softener is a better choice for a smaller household because of the unit's more compact size and the smaller workload. Smaller water softeners use far less salt and also far less water. However, these products are suitable only for a family of two.
It is recommended to choose units made with non-proprietary components. Buying a product from a popular brand is always satisfying because of the presumed quality. But, keep in mind that parts of branded products are somewhat unique and can be bought only in certain stores. You will be better off with a product that has spare parts in your local hardware store.
Also, make sure to go for a product that has proven technology. Research the manufacturer and the brand and choose the one that has been around for a few years at least. If their products had any glitches, they probably already fixed them. And, since water softeners may end up being a pricey investment.
Try to buy a water softener from a local store/manufacturer because they will probably know what type of water are you dealing with and if your area may have any specific requirements. Also, this makes it much easier to get customer support if something goes wrong.