Steam cleaning is a powerful way to blitz away bacteria, deodorize, refresh, and renew all sorts of surfaces. It is the easiest way to keep your home clean, safe, and germ-free. This compact yet effective device can be used to clean everything from your kitchen counters, drapes, bathroom fixtures, and even car upholstery. Some cleaners feature the option to clean and freshen up your carpet as well. And, the best part about these devices is that you won't have to use detergents or harsh chemical products; tap water will be enough. However, in order to clean all of these surfaces properly, you will need to get one of the best steam cleaner models available on the market.
But, don't let the word best make you think that you'll need to break the bank. It is possible to buy a high quality steam cleaner that is affordable at the same time. Since there are different types of these cleaners, we have prepared a steam cleaner review that will show you the most popular models currently available and help you decide which one will suit all your needs. From steam mops to cleaners that include vacuuming capabilities, this guide has got you covered!
Best Steam Cleaner on the Market in 2021
Different Types of Steam Cleaners
Steam Mop
Would you like to use a steam cleaner only for your floors? Then, you need a steam mop. Practical and easy to maneuver, these mops function just like regular mops. The only additional feature that they have is the steam that is released usually with a press of a button.
Convertible Steam Cleaner
Also known as two-in-one cleaners, these are a combination of an upright steam mop and a handheld cleaner that can pop put from the middle. These cleaners usually come with tools and accessories for cleaning hard-to-reach spots.
Cylinder Steam Cleaner
If you're looking for the ultimate, powerful cleaning tool then a cylinder cleaner is the right one for you. These cleaners are known for their ability to produce a constant flow of strong steam that will make cleaning even the most stubborn dirt a piece of cake. The only downside of these cleaners is that they take up plenty of cupboard space.
Steam Mop vs. Traditional Steam Cleaner
After looking at the three different types of steam cleaners, you may find yourself wondering which is the right one for you – a steam mop or a traditional steam cleaner. Keep reading to find out what is the difference between these two and which one will suit you the most.
As we already mentioned, steam mops are quite similar to regular mops. The only difference is that they come with a water tank and heater that will push steam down to the mop head. How does this mop function? Well, as you move it across the floor, the steam will loosen the dirt and the mop head (usually made from microfiber) will pick it up. It's that simple! The greatest part of steam mops is that they can be used on all floors. In addition, they leave the floor less wet than a regular mop does.
Traditional steam cleaners, on the other hand, come with a tank and a nozzle that is attached to a hose and releases the steam. This type of cleaner usually comes with various accessories that are meant to tackle different tasks. Typical attachments include a window cleaning tool, a small nozzle for directing steam directly at grout, and an upholstery attachment for furniture. Some high quality steam cleaner models include a mop attachment so that you can use them on your floors as well.
Traditional steam cleaners are more versatile than mops, but they also come at a higher price. If you're only interested in cleaning your floors, then a steam mop is the right choice for you. However, if you need a tool that will help you tackle more jobs, then we recommend getting one of the best home steam cleaner models currently available.
Image Courtesy of Durability Matters
Best Steam Cleaner Reviews
1. Dupray NEAT Heavy Duty Multipurpose Steam Cleaner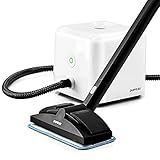 The NEAT is one of the most affordable and best steam cleaner models from Dupray. This minimalist and super-quiet multi-purpose cylinder steam cleaner comes with a range of accessories. If you're wondering which accessories exactly are included, we'll just tell you one thing; with Dupray NEAT, you'll be able to do every cleaning job in your home, from removing grout to cleaning the floors.
The cleaner features a 1.6 liter water tank that is a bit tricky to fill up and takes a few minutes to heat up. But the good news is, once this is done, the tank is large and it will last you for quite a while (50 minutes).
The Dupray Neat features a compact, portable design and includes a retractable handle that fits in with the steam cleaner perfectly, making it easy to take a hold of the cleaner and walk around with it. When it comes to turning on the device, all you have to do is push a single button.
What We Like:
A powerful steam cleaner with a large water tank that can last up to 50 minutes;
The device is very quiet during operation;
There are many accessories included for tackling any cleaning job – from cleaning floors to grout;
The cleaner is lightweight, maneuverable and very easy to use.
What We Don't Like:
The steam cleaner takes some time to heat up and there is no water level indicator.
---
2. Morphy Richards 12-in-1 Steam Cleaner
The Morphy Richards 12-in-1's name should make it clear that this is one of the best home steam cleaner models, designed to tackle a bit of everything. The cleaner comes with accessories that will help you clean everything from your carpet to wall tiles.
Even though Morphy Richards looks like a regular steam mop, it actually features a pull-out hand-held unit, so you can quickly switch from using the upright model to getting up-close and personal with stains that aren't on the floor.
The steam cleaner features a 0.4-liter water tank which provides you with 14 minutes of steam cleaning. Even though this model might require frequent refilling, the warm-up time takes less than a minute. The water tank cap can be opened during use, so you can refill the cleaner on the go. The cleaner is quite lightweight (only 2.1kg) and you can carry it with you wherever you go.
The steam control is powered by a trigger located on the handle of the mop. The only downside of the cleaner is that it doesn't feature different steam settings.
What We Like:
A high quality steam cleaner that comes at a very affordable price;
Packed with accessories that will help you tackle any cleaning task;
The water tank can be refilled on the go and takes less than a minute to heat up;
The cleaner is lightweight and easy to maneuver.
What We Don't Like:
The steam cleaner doesn't feature different steam settings.
---
3. Comforday Handheld Pressurized Multi-Purpose Steam Cleaner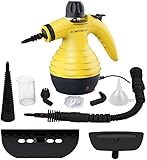 Comforday offers a high quality multipurpose steam cleaner that comes at an excellent price. This model offers 1050W of power and provides pressurized powerful hot steam (250-270F) for up to 20 minutes. However, unlike the previous two cleaners, this one is a handheld model. But, still it can be used to clean floors.
There are various accessories that will help you tackle any cleaning task, including a door and window brush plate, fabric steam tool, long spray nozzle, long extended hose, towel sleeve, and many more! As a multi-purpose pressurized steam cleaning appliance, this cleaner can be used on almost any surface – sinks, countertops, stoves, vinyl, ceramic, and even shower curtains and fabric.
Some buyers are sometimes worried about the safety of handheld steam cleaners. But, Comforday thought of everything and designed this model to be 100% safe for use. Designed to prevent heating empty boiler, after the water in the boiler tank is heated and evaporated completely, the handheld steam cleaner will automatically disconnect the power supply and thus prevent empty heating. The safety lock technology will prevent injuries from the accidental steam release.
What We Like:
An affordable handheld steam cleaner that can tackle any task just like larger cleaners;
The cleaner offers 1050W of power and 20 minutes of run time;
There are various accessories included that allow cleaning of all surfaces;
The cleaner features safety lock technology and prevents heating of the empty boiler.
What We Don't Like:
Cleaning floors with a handheld steam cleaner is slightly inconvenient.
---
4. Karcher SC3 All-in-One Steam Cleaner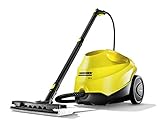 The Karcher SC3 is one of the best steam cleaner models as it is compact, lightweight, and does a great job when it comes to various cleaning tasks. The accompanying tools for detailed cleaning can be used at the end of the lance to achieve a long reach. The only downside of this cleaner is its price tag. The SC3 is affordable by Karcher's standards but remains a fairly expensive purchase.
The cleaner features a 1-liter capacity water tank that's refillable without having to turn the SC3 off, which means non-stop steam. It comes up to temperature to deliver steam in just 30 seconds. However, the water tank isn't detachable and you'll need to fill it up with a jug. Luckily, the task is really easy and you can't miss it.
A tab on the floor nozzle enables you to park it on the side of the machine when not in use, as you would the head of a cylinder vacuum cleaner. The floor nozzle also features plastic clamps that allow you to place any cloth on it and clean the floors, not just Karcher microfiber cloths.
What We Like:
A high quality steam cleaner that is easy to use;
The cleaner is lightweight, yet it makes some powerful and constant steam;
Any cloth can be attached to the floor nozzle, not just Karcher microfiber cloths;
There are 2 steam settings and three onboard tools.
What We Don't Like:
The unit is quite expensive, and one would expect more accessories for the price.
---
5. Vileda Steam Mop
Sale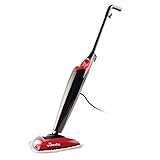 If a steam cleaner is too much for you, and you need only something to clean the floors, then we recommend getting a steam mop. Vileda is known for making one of the best steam mops available. However, if you're interested in checking out some other models, have a look at our best steam mop buying guide.
With Vileda steam mop, you will be able to clean and disinfect your floors quickly and easily. The manufacturer claims that this steam cleaner kills 99.9% of bacteria on your floor without the need for any cleaning chemicals. In addition, using the mop is quite simple and it takes only 15 seconds to heat up. The best part is that you can use it on all sealed hard floor types such as tiles, vinyl, wood and laminate.
With this steam mop, you will also be able to refresh your carpets as it includes a carpet glider, two microfiber pads, and a filling jug. In case something happens to your Vileda steam mop and it starts malfunctioning, the manufacturer offers a two-year guarantee.
What We Like:
The mop is easy to use, lightweight, and maneuvrable;
The steam mop heats up in 15 seconds;
Cleaning results on hard floors are excellent;
The mop features an accessory that allows you to clean carpets as well;
The triangular head with pivoting neck is perfect for cleaning corners.
What We Don't Like:
The body of the steam mop gets very hot and the water tank is not removable.
---
How to Choose the Best Steam Cleaner for Your Needs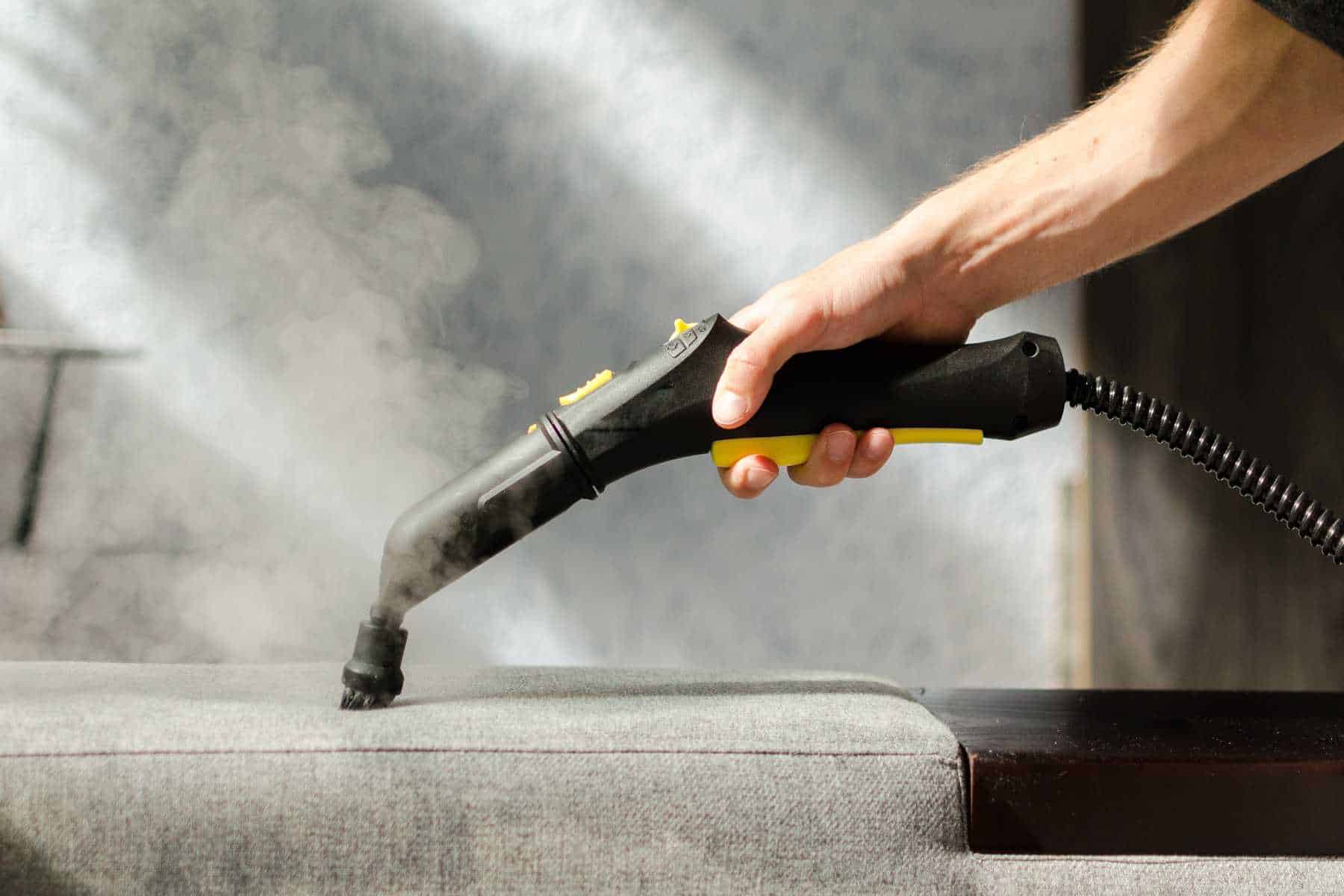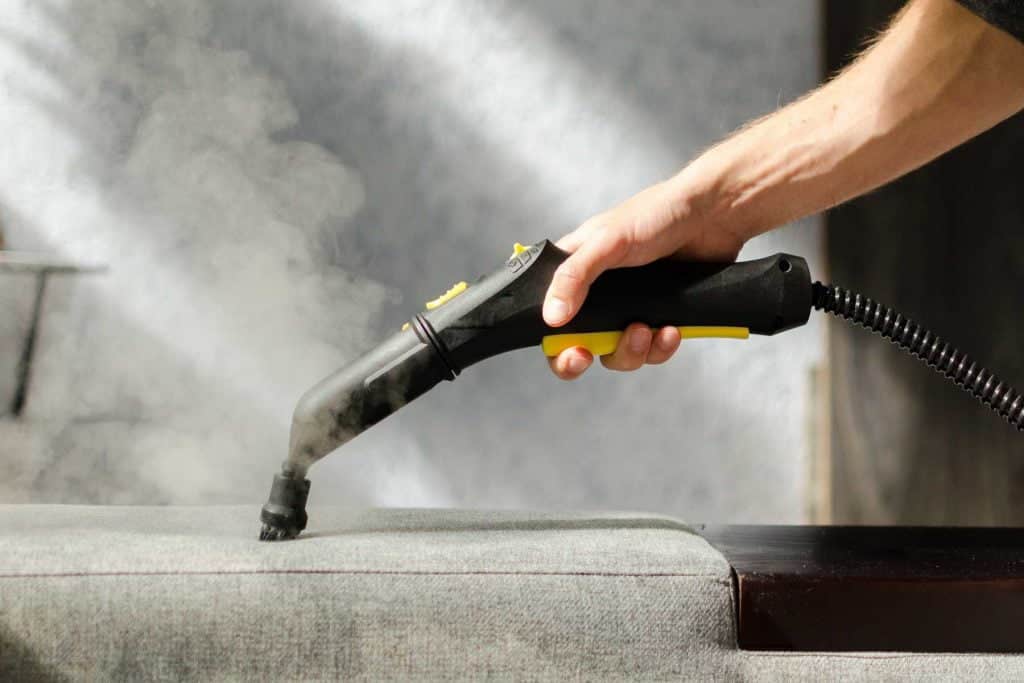 Image Courtesy of Cleanipedia
We already covered the different types of steam cleaners. Now, it's time for us to help you decide how to choose the best steam cleaner for your needs.
Buy a steam mop if you just want to clean floors. If you're planning on cleaning the floors only, then a steam mop is the tool you need. These are usually the most affordable option and some can even be used to freshen up carpets and lift stains.
Buy a 2-in-1 steam cleaner if you want to clean floors and other surfaces. These cleaners are more versatile as they allow you to clean your floors and other surfaces as well since they can easily be switched to handheld cleaners. This will allow you to tackle curtains, kitchen tops, bathroom tiles, and many other surfaces with one tool.
Buy a cylinder steam cleaner if steam mops are too heavy for you. Cylinder steam cleaners also tend to be heavy, but, they are usually on wheels making it easier to move them around. There are also compact models that can be carried on the shoulder. Most of these will allow you to do the same jobs as 2-in-1 steam mops. The biggest difference is that cylinder steam cleaners have longer running times and require less filling up.
---
Related:
---
Best Steam Cleaner Features to Look Out for
Different steam cleaner models come with different features. Here is what you should look out for when choosing the best steam cleaner for your needs.
Variable Steam
Steam cleaners with variable steam allow you to adjust the level of steam that is released. This feature is quite useful, especially if you plan to clean your floors. To avoid causing any damage to your floors, simply turn the steam cleaner down to its lowest setting.
Steam Temperature and Water Pressure
Speaking of steam, you should make sure that your steam cleaner can produce powerful steam. The hotter your cleaner gets, the hotter the steam will be making it easier for you to loosen up the stubborn grime. Also, keep in mind that high pressure matters as it will ensure a deeper clean. The best home steam cleaner will help you get bathroom taps squeaky clean or even bring your old oven back to life easily.
Canister Type
All steam cleaners need to be refilled. But, to reduce this task to a minimum, make sure to get a cleaner that features a large canister or water tank. However, it's worthy to point out that the larger the canister, the heavier the steam cleaner gets. There are also some steam cleaners that come with a "continuous fill" tank or boiler. That means there are two tanks so that when one is empty, you don't have to refill it immediately and wait for it to heat up again.
Steam Cleaner Accessories
The best steam cleaner models are packed with numerous accessories and attachments that will make cleaning your home easier than ever before. Some models have just a mop pad, while others have a range of hoses, brushes for scrubbing, and nozzles for a powerful jet of steam. Some steam cleaners also include the window cleaning accessory.
Cord Length
Every steam cleaner needs electricity to run. To avoid constant plugging and unplugging, simply go for a model that comes with a long cord. Our recommendation is to get a cleaner that features a cord of a minimum 4m.