Traveling with children is truly a rewarding adventure. But, sometimes it seems that your little ones have more luggage than you. You need to pack clothes for all weather conditions, include their favorite toy, and reserve some extra space for their favorite Teddy. One way to reduce the stress of packing for a trip is by taking a look at childrens suitcases and getting your kid one.
Even though the thought of your child being responsible for a bag might terrify you, it can turn out to be the best decision you ever made. Giving your child a small bag teaches them more about responsibility. Also, it makes the child a part of the traveling process as well. And, the best part is, you won't have to worry about how to stuff your child's clothes and other items into your suitcase.
Even if there is enough space In your suitcase, getting one for your child can make it easier for you to find their items for the journey easily, such as earphones, books, games, toys, or even a tablet. And, if you're traveling with a baby, having an additional small kids suitcase can be quite useful for keeping all the wipes, nappies, changing gear, and being able to find them easily.
Best Children's Suitcases on the Market in 2021
Our Top 5 Childrens Suitcases Review
Advantages of Kids Having Their Suitcases
Still not sure that getting childrens suitcases is a good idea? After all, nobody wants to carry one more bag on their trip, right? Well, not only will your child love the idea of having their suitcases, but there are also a few other advantages to getting one.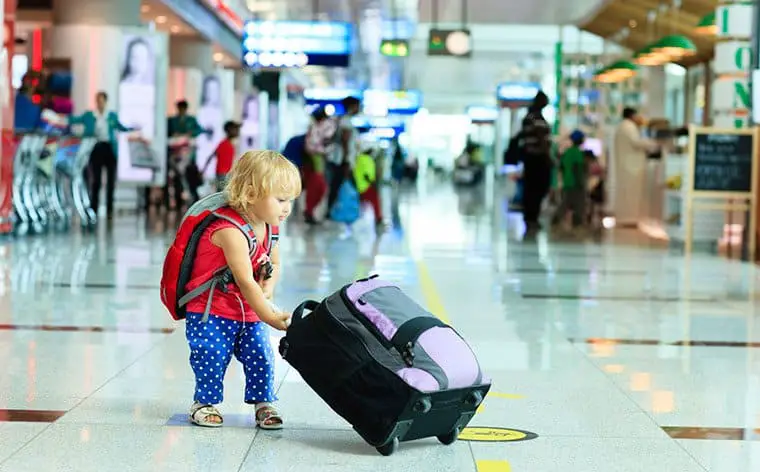 Image Courtesy of Momondo
Better Organization
People dislike carrying many bags with them when they go on a trip. But, they don't realize that packing every family member's things in a separate suitcase can be a real time-saver. Rather than trying to separate a large mixed bag of toys and clothes on arrival at your destination, everyone will have their own items at hand, making it quick and easy to unpack.
The same goes for hand luggage. Having each child carry their own snacks, and other precious items will make your life easier. Everyone will be able to locate what they need without making a fuss.
If you aren't comfortable with the idea of your children having their own suitcases, you can always give them a packing cube. This way, you'll be able to free up some space from your suitcase, and the kids will get to keep their precious items close to them all the time.
Excitement
Many parents love to complete some tasks for their children, including packing and carrying their luggage. The truth is that getting your children involved in the packing really helps add to their excitement as your trip draws closer. Furthermore, having your kids help you pack teaches them some organizational skills.
Sense of Responsibility
You wouldn't believe how well children respond to independence. By getting kids suitcases, you will be giving your children a sense of responsibility during your journey. And, not only will this teach them more about responsibility but also about making choices.
When your child gets their own suitcase, they will have to choose a set number of toys they can bring. This will teach your children to make choices, and it will allow you to travel light.
Our Top 5 Childrens Suitcases Review
1. Baobab'sWish Children's Suitcase with 4 Wheels
This particular suitcase comes in pink, but the manufacturer offers plenty of other design options. The Baobab'sWish children's suitcase is a hardshell trolley case that features a beautiful and functional design. The suitcase was developed for children aged 2-8, so your child can use this one for several years.
The suitcase is large enough to fit all your child's belongings, yet it is also lightweight enough that even toddlers can carry it around. The suitcase is made of environmentaly-friendly ABS and PC rather than cheap plastic that is bad for the environment and health as well. The suitcase also features high-quality polyester lining which stands out from the standard lining found in the majority of suitcases.
The biggest downside of hardshell suitcases is that they get scratched easily. However, the manufacturer of this suitcase developed an exclusive technology that makes the suitcase scratch-proof. In case that something happens to the suitcase, manufacturer provides a three-year warranty. All repairs will be done free of charge.
What we like:
A high-quality hardshell suitcase that comes in many different styles;
Suitable for children aged 2-8;
The suitcase is large enough to fit all belongings, yet lightweight enough to be maneuvred by a child;
Made of environmentaly-friendly ABS and PC rather than cheap plastic;
The suitcase is lined with quality polyester;
What we don't like:
Some customers complained that the dimensions in the description are not accurate and that the suitcase is actually smaller in size.
---
2. MiniMAX Childrens Suitcase with Backpack and Pouch
MiniMax designed convenient childrens suitcases that can be used for traveling but also sleepovers or extracurricular activities. The lightweight suitcases features two wheels and a retractable and adjustable trolley handle. However, your child can also carry it as a backpack thanks to the adjustable straps that feature a comfortable, ergonomic design. The backpack straps can be neatly stored away in the zipped compartment which can fold over the wheels and attach to velcro at the bottom of the bag to prevent dirt from the wheels transferring onto clothes when carried.
MiniMAX also included a special cuddly soft toy that fits perfectly into the front pouch. The pouch is adjustable and it can fit many different toys, dolls or teddies. The bag also features a front mesh pocket for easy access to items to keep your child entertained on the journey – ideal for colouring books and you can keep snacks & crayons in the zipped front pocket.
When not in use, this trolley bag is fantastic for storage, as it takes up little space when not packed. It'll slide nicely under your bed, or sit patiently on top of your wardrobe, waiting for your next adventure. All MiniMAX owners get a special MAX's Passport on the hangtag and also a brilliant two-year warranty for parents' peace of mind.
What we like:
High-quality suitcase that can be used as a trolley or a backpack;
The backpack straps are adjustable and feature a comfortable design;
The bag features a special MiniMAX teddy and a front pouch for storing toys;
The suitcase is compact and can be easily stored;
The manufacturer included a two-year warranty for this product.
What we don't like:
Some users complained that the bag can't stand up on its own and it keeps falling over.
---
3. Trunki Children's Ride-On Suitcase & Hand Luggage
Trunki is known for making childrens suitcases that look super cute and have so many functions. Trunki suitcases can be used to keep kids entertained at the airport as they can sit or ride on the suitcase, or carry it on their own. Multi-functional straps allow parents to pull children on their luggage or just carry the suitcase on the shoulder.
Trunki can hold a fair amount of kids clothes and toys. You  can use the suitcase to pack your child for a seven-day trip, or even longer than that assuming you didn't need to pack bulky winter clothes. The suitcase is compact and lightweight, and the dimensions make it eligible as a carry-on for most airlines. The Trunki weighs around 4 lbs and is 11.4 x 17 x 8 inches in size. The pouch on the inside is perfect for storing small items.
The suitcase is durable and made to last for years. But, in case something goes wrong, a five-year warranty will make the repairs much easier.
What we like:
Trunki comes in various styles and the children love it;
The suitcase can be carried as a backpack or pulled as a suitcase;
Trunki is compact and lightweight;
The suitcase features a small pouch inside for storing tiny items;
The item is covered by a five-year warranty.
What we don't like:
Parents pointed out that Trunki is not very stable when a child is sitting on it.
---
4. Kono Children Suitcase
Kono is a brand that specializes in the design and production of high-quality backpacks and luggage sold at competitive prices. This luggage backpack is multifunctional and can be used as a backpack for school or a suitcase for holidays.
The Kono luggage backpack boasts roomy pockets that offer more than enough space for all your children's needs. It will allow your child to store things neatly and methodically. There is one zipped compartment than can hold magazines, notebooks, or a cellphone. A functional laptop pocket will not only fit the laptop but also protect it. The front zipped pocket can be used for cosmetics or a pencil case. And, two side pockets are perfect for umbrellas or water bottles.
With its retractable handle and removable wheels, the Kono backpack can be used in three different ways – as wheeled luggage, a cute backpack, or a simple handbag, so your child could choose different using method according to their needs. The handle is extendable, making the backpack suitable for children of all ages and heights.
The backpack is made of polyester and it is also waterproof. So, no matter where your child goes, you won't have to worry about their belongings getting wet. Kono sells backpacks with interesting design that glows. The backpack absorbs the light during the day so that the sticker can glow in the evening.
What we like:
A high-quality backpack/luggage for boys and girls of all ages;
The bag can be used as wheeled luggage, backpack, or a handbag;
The backpack is perfect for school, sleepovers, and long journeys;
The Kono design glows in the dark;
The backpack is made of polyester and it is waterproof.
What we don't like:
Some buyers complained that it is difficult to balance the suitcase when it is fully packed.
---
5. Boppi Tiny Trekker Kids Travel Suitcase
Does your child love unicorns, dinosaurs, tigers, or maybe even sharks? Boppi has got you covered! The manufacturer offers kids suitcases in 11 different designs, perfect for both boys and girls. The suitcase is made of lightweight exterior casing that is also very robust and durable. The cases are within the size requirements for cabin bags and weigh only 1.5kg, making them ideal aerosafe carry-on or holdall luggage for children.
Despite the age of your children, they will be able to take this suitcase with them wherever they go. Besides being lightweight, the suitcase features soft PU wheels that ensure a smooth journey thorugh the airport (or school). When the child stops, the free-stand stopper will allow them too keep the suitcase in an upright position.
The suitcase provides large storage capacity (17 liter) with holding straps and an inner double zipped compartment for loose items, toys, teddies and valuables. The suitcase is 42cm high, 30cm wide, and 22cm deep. The handle of the suitcase is extendable so that it can suit children of different ages and heights (can be adjusted from 60cm to 72cm).
What we like:
A high-quality suitcase that comes in 11 different designs;
The suitcase is lightweight yet sturdy and durable;
It is suitable for children of all heights and ages thanks to the extendable handle;
The free-stand stopper ensures the suitcase stays in an upright position;
The suitcase offers large 17 liter storage capacity.
What we don't like:
Some buyers complained that the storage capacity is too small for trips.
---
Related Posts:
---
What to Look for in a Good Children's Suitcase
The price tag plays a large role in our shopping decisions. But, there are also a few other features you should pay attention to when choosing the best children's suitcases for your family's needs.
Durability
Getting your child the most durable suitcase there is seems like the most reasonable decision, right? Well, not really. You should choose the durability of the bag based on the traveling you tend to do the most. If you need a bag for short, local journeys, then a lightweight suitcase will do the trick.
For all other types of journeys, especially air travel, you should get a sturdy bag that can withstand the trials and tribulations of long-haul travel.
Bag Design
There are a few design features you should pay attention to when choosing the best childrens suitcases for your family. As already mentioned, you need to take the type and frequency of your trips into consideration. This will help you choose proper design features, such as the bag's size, whether it fits carry on, etc.
Another important feature is the ergonomic design. This is particularly useful if you want to get your child a carry suitcase. Ergonomic design will take the load off when carrying it and make it easier on the joints. Speaking of carrying, you should also make sure that the bag or suitcase is easy to carry or wheel around. Besides, features such as padded straps or a molded handle for pulling can make the transport and use of the suitcase much more convenient.
Softshell or Hardshell Luggage?
Both types of luggage have their advantages and disadvantages.
Hardshell bags offer greater protection for fragile items. They also do a great job of protecting their contents from the weather. This is especially important if you plan to check the bag for flying, and there's a chance it might be sitting on the runway in the pouring rain. But, hardshell bags are more prone to scratches and are less flexible in terms of how much stuff you can cram into them.
On the other hand, softshell bags often come with plenty of pockets and compartments, and you can cram a lot more stuff in them. Also, they tend to be more lightweight. However, these bags don't offer too much protection from the weather. And, the fact that you can cram a lot more into a softshell bag makes it easy to overstuff it. Always make sure that your softshell bags meet airline requirements if you plan to take them as hand luggage.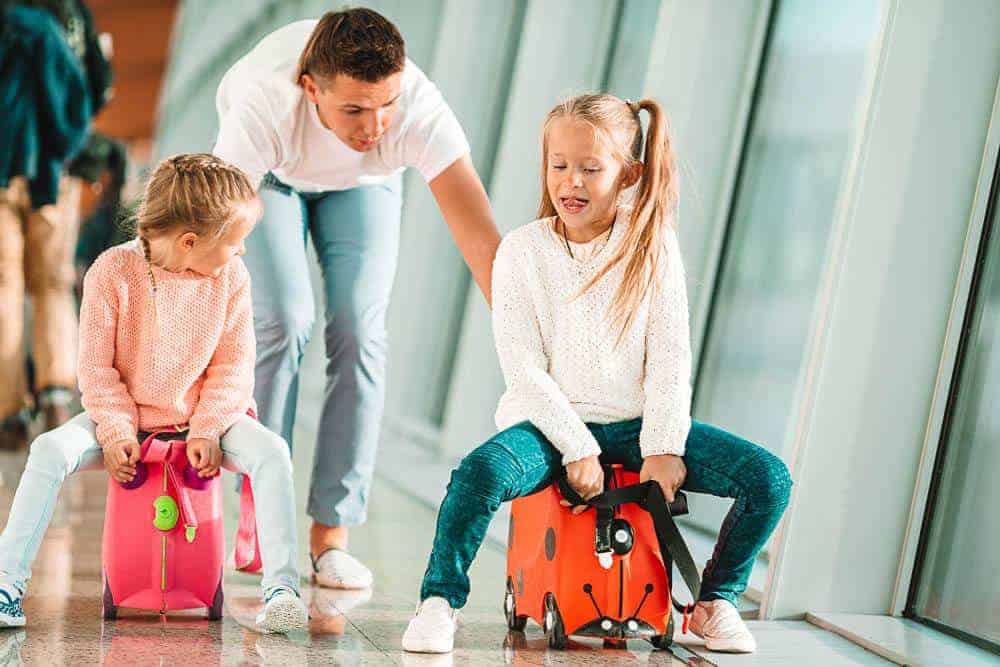 Image Courtesy of New Riverside Hotel
Type of the Bag
When you start searching for the best childrens suitcases, you will notice there are several different types – backpack, trolley cases, and ride on cases.
If you often go on shorter trips, or you're looking just for a new carry-on for your child, then kids travel backpacks are the best option. Backpacks usually have lots of compartments that will help you keep things more organized. The weight is also equally divided by the straps, so your child won't struggle while carrying the backpack.
If you plan to go on longer journeys and you need something for heavier luggage, then trolley-type bags and childrens suitcases are a better option. There are also wheeled bags with additional pockets that are quite useful if your children take a lot of smaller items with them. When choosing any luggage option with wheels, make sure that they can roll smoothly. Also, it is important to make sure that the suitcase won't tip over.
There is also a hybrid design, which is a combination of a backpack and a wheeled bag. This gives the best of both worlds, allowing your child to go from one mode to another when they get tired.
Weight
This is a feature people forget about sometimes. A suitcase or a bag might seem lightweight when they are empty. But, always keep in mind that they will be fully packed and that the additional weight might make the suitcase too heavy for your child. You need to make sure that the suitcase is light enough so that your child could manage it on their own and that you will be able to manage it in addition to your own bags if your child asks for help.
Zippers
Zippers are something almost no one pays attention to. But, a zipper is often the weakest point of any luggage bag and can break easily. Imagine how terrible would it be if a zipper broke down in the middle of an airport. Look for strong zippers that are easy for little hands to manage and sturdy seams that are less likely to bust.
A Bag to Grow With Your Child
When buying childrens suitcases, it's better to invest in a model that will last you for a few years. This means that you should not only pay attention to the quality of the bag or suitcase, but also the design. Over those few years, your child will grow and might end up needing more things than before. So, you need to get a large enough suitcase both a younger child and an older child could use, both in terms of capacity and height.
Also, you should consider avoiding certain colors or cartoon designs. Your child might love bright pink or a TV character now, but in a year, who knows what will happen. To make the most out of the suitcase or a travel bag, try to get a model that your child could use for school trips, sleepovers, or even extracurricular activities.
Extra Features
Childrens suitcases come with some extra features. We're talking about things such as small exterior pockets, types of wheels, how many compartments are inside, and so on. Make sure to check out these extra features for each product as they can really make your traveling more pleasant and manageable.
Warranty
Some kids suitcases come with warranties. However, you should keep in mind that the warranties mostly cover manufacturing faults and not the results of wear and tear or accidental rips.