The intense world of golf is one filled with expensive and intricate golf sets, competition, and lots of golf balls. However, buying a kids golf set is a whole other playing field!
Whether you want to teach your little one how to play golf so that they can grow up to play competitively, or you're just looking to have some fun, there are plenty of options for you.
Golf sets make for great presents that will get them outdoors and help them learn a new skill. So, we've found the best kids golf set that you can buy right now! Let's take a look.
---
1. KandyToys Childs Junior Golf Caddy Set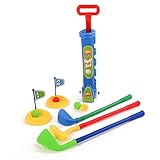 KandyToys Childs Junior Golf Caddy Set Balls Trolley Garden Game
Play pretend fun: Wheel your caddy onto the golf course and select the putter you want to use. Feel like a real golfer!
Encourage outside play: easily turn your back garden into your own putting green, get children outside and enjoying the fresh air!
Easy to move: the golf caddy set is designed with kids in mind, the golf caddy is easy to move about, and all of the accessories fit neatly onto the caddy for simple storage too!
Includes: Golf caddy, 4 golf balls, 2 practice holes, 2 flags, and 3 clubs.
Last update on 2022-06-02 / Affiliate links / Images from Amazon Product Advertising API
If you're looking for a bright, colourful, and budget-friendly option for a kids golf set, this may just be exactly what you're looking for.
Key Features
It comes with a variety of clubs.
It includes club carrying bag.
This kids golf set come with everything you could possibly need. The purchase will include a golf caddy, 4 golf balls, 2 practice holes, 2 flags, and 3 clubs.
The three different golf clubs can help your child get used to the difference in clubs. Or, if your child wants to play with friends, they can share the clubs and quickly get a competition going! The putting ring and flag will also allow you to carefully chose your placements for the golf hole. No more digging holes in the grass or marking one down with spray paint!
What we love:
The different clubs make it feel more like competitive golf.
It's budget-friendly.
It comes with a large carrying bag.
What we don't love:
The carrying case is not made with durable materials.
---
2. Garden Games Wooden Crazy Golf Set for Kids
Sale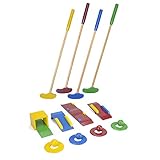 Garden Games Wooden Crazy Golf Set for Kids, Children's Garden...
Turn your garden or the park into a crazy golf course with the Garden Games Crazy Golf Set. Arrange the obstacles to create your very own holes and challenge your friends to see who comes out on top!
Great for juniors and adults, this crazy golf set is perfect for parties or days at the garden or park. Including 4 high quality wooden putters, 4 wooden golf balls, 4 obstacles and 4 holes, it has everything you need for a great round of golf!
It also includes a branded carry bag for easy transportation and storage.
Set contains: 4 x Wooden putters, 4 x Wooden golf balls, 4 x Obstacles, 4 x Holes, Carry Bag
Last update on 2022-05-31 / Affiliate links / Images from Amazon Product Advertising API
If you're looking to keep a handful of kids busy all afternoon, this garden game option will do your job for you!
Key Features
It comes with toy obstacles for an exciting game.
It comes with four colours for competitive fun.
This kids golf set is more about a fun game than trying to mimic adult golf. It comes with four sets of the same elements, making it a great way to have four kids playing together at once. The purchase will come with 4 wooden putters, 4 wooden golf balls, 4 obstacles, 4 holes, and a carrying bag.
The wooden crazy golf set is recommended for any child above the age of 3. Each element is made of wood, so you won't need to worry about heavy clubs or hard-to-carry toys. The wood is also much more durable than its plastic competitors.
What we love:
There are obstacles included, making it even more exciting.
It's colour-coded, making it easier to share.
What we don't love:
There is only one bag which can be troublesome for children who don't want to share.
---
3. Quickdraw Kids Toy Golf Set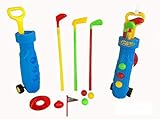 Quickdraw Kids Toy Golf Set Plastic Golf Clubs Balls Caddy Garden...
Childrens toy golf trolley set on wheels with attached handle.
Included in this set: 1 x Driver (49cm), 1 x Pitcher (49cm), 1 x Putter (49cm), 1 x Golf bag (42cm), a practice hole flag & 3 x plastic golf balls
All accessories fit neatly onto trolley on wheels with attached handle for easy transport.
Ideal for little ones in the summer offering endless fun practising their golf skills and mastering their shot.
Last update on 2022-06-02 / Affiliate links / Images from Amazon Product Advertising API
This kids golf set is perfect for the younger child.
Key Features
Comes with toy golf trolley for easy movement
Everything is made of plastic
If you're in search of a kids golf set for a younger child, then there are few better options than this all-plastic game set. Included with this purchase are a driver, a pitcher, a putter, a golf bag, a hole flag, and 3 golf balls. The clubs are all small enough for little hands and bodies. Each club is 49cm.
Since everything is made of plastic, this game will work best on freshly cut grass. Backyards with longer grass may make it more challenging to hit the ball and make it go very far. Since you get a hole flag, you'll have no problem setting up routes for your child to take. And if they're imaginative, you can even let them set up their own course! This set is ideal for children ages 2-5.
What we love:
It's incredibly budget-friendly.
There are three different kinds of clubs.
What we don't love:
The clubs are too short for taller children.
---
4. Small Foot 1504 Minigolf Game Set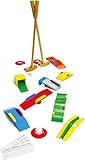 Last update on 2022-05-31 / Affiliate links / Images from Amazon Product Advertising API
This product is another fun and exciting garden game that comes with colourful obstacles and more.
Key Features
The set features a variety of obstacles.
It's appropriate for both indoor and outdoor use.
This kids golf set purchase comes with even more fun and exciting elements than our previous picks. It includes 2 mini golf clubs, 7 mini lanes for obstacles, 4 ball holders, and 4 point certificates. The extensive amount of obstacles and ball holders means that you can set up an entire mini-golf game in one round instead of having to set a new challenge up after each hole.
This set made up of all wooden pieces are complex enough for older kids to enjoy the game. They are also sized appropriately for smaller kids, too! Any child ages 5 and up can reap the benefits of this exciting kids golf set.
What we love:
It comes with scorecards, making it easy to turn into a real game.
There are enough obstacles to make an entire course before starting the first hole.
What we don't love:
It is not budget-friendly compared to many competitors.
---
5. moji workshop Wooden Kids Golf Set
Sale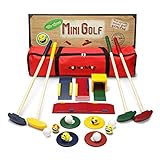 moji workshop Wooden Kids Golf Set - Quality Crazy Golf and Mini...
Have you ever bought a kids mini golf game that was made from cheap plastic and broke shortly after your kid started playing with it, leaving you kid in tears? This will not happen with our HIGH QUALITY WOODEN CHILDRENS TOYS!
Enjoy the feel of the STURDY WOODEN garden golf game. Reminiscent of the days when sturdy quality was the HALLMARK OF A GOOD PRODUCT. Something you will not find with cheaper garden toys for children
YOUR KIDS AND GRANDCHILDREN WILL LOVE playing mini golf games with this kids crazy golf set. Nothing BRINGS THE FAMILY TOGETHER like a few outdoor games of mini golf
Rainy days? Do not worry! Our wooden toys for kids are also suited for indoor golf at home. The LIGHTWEIGHT FOAM EMOJI GOLF BALLS make the outdoor toy into a SAFE INDOOR GOLF SET, great for an indoor mini golf game
Last update on 2022-06-02 / Affiliate links / Images from Amazon Product Advertising API
The moji workshop golf set is completely made of wood, ensuring for a set that is as aesthetically pleasing as it is fun!
Key Features
It can be played indoors and outdoors
This kids golf set comes with 4 clubs, 4 wooden golf balls, 4 foam balls, 4 course obstacles, 4 wooden holes, a carry bag, a gift box, and an instruction sheet.  The lightweight material of the wood and design of the kit ensures that it can be played both indoors and outdoors.
The small size and weight of this product makes it easier for small children to play. It is recommended for anyone ages 3 and up. Though, it's so fun that we imagine a few older kids and adults might be tempted to join in!
What we love:
It's very durable.
It's easy to transport and store.
What we don't love:
It's less budget-friendly than some other competitors.
---
---
Related:
---
Kids Golf Set Frequently Asked Questions
When it comes to the toys that you buy for your kids, it's important to know all the details. A kids golf set is no different! We've gathered some of the most frequently asked questions about kids golf sets so that you know all the facts before you click "buy."
How tall should the clubs be?
A kids golf set comes with specially designed clubs that are meant to be short enough for smaller bodies. The exact height will depend on what kind of set you're buying.
Plastic sets are usually made for younger kids as they're cheaper, harder to break, and easier to carry. So, they will likely be shorter than other options. Wooden or metal clubs are designed for a slightly older child, and may be even taller.
Each kids golf set should list their exact dimensions so that you can be sure that you're purchasing a product that will work with your child's abilities and height.
Is a kids golf set safe?
One of the biggest dangers when it comes to a kids golf set is the small pieces. Things like golf tees are easily the most significant danger since they're small enough that they can be choked on by children if they put it in their mouths. If your child is very young,  you may want to take away these pieces all together as they are not always essential to the game.
Another potential risk is that your children may use golf clubs as weapons. They may hurt themselves or a friend. This is especially true if they are using a kids golf set that has metal clubs. Wooden clubs and plastic clubs are less harmful since they're lighter, but they still carry risks.
It's important to keep an eye on your children whenever they're playing. A kids golf set is safe when used correctly, but you can limit these risks even further by just keeping a watchful eye.
How can a kids golf set be made even more exciting?
Playing golf with your kids, or even watching them play, is already pretty exciting. However, it can get repetitive to play the same holes back to back, especially if you have a small yard. Fortunately, there are a few easy tricks to make for a great game! Here are a few ideas to make a kids golf set even more fun.
If you have access to plenty of cardboard, you can use it to create whacky holes. Form special tunnels for balls to go through, unique obstacles to drive your ball through, or even just things to spice up the hole. Invite your child to give their ideas, using their imagination to create the best backyard golf setup out there!
Plenty of household objects can also be used as obstacles. Empty cans, garden gnomes, and bowling pins are all commonly used items for do-it-yourself mini golf courses. You can also use outdoor water toys. Place a sprinkler around your golf course and make it a challenge to see who can get the least amount of water on themselves!
Do you have any sandbags laying around? Throw some on the grass and make it feel like a real golf course! You can use this as an obstacle to try and shoot around or find fun in trying to get your ball out of the sand.
You can also use yourself to make the obstacles more fun! Hold something like a garbage bin against the grass. Once your child gets the ball inside the bin, lift it up and shoot the ball out in another direction so that your child can keep playing the game and trying for that hole.
How is a game of golf scored?
You're likely not keeping score of a kids golf game the same way that you would with a competitive adult game. Still, it can be fun to keep track of points to encourage your child to do their best. Here is the common way of scoring a golf game.
Most games consist of 18 holes. However, you can really make it any number depending on the area you have to work with. You then keep track of how many shots it takes to get the ball into the hole. At the end of the game, you tally all the numbers. The lower the score, the better. This style of keeping track is called stroke play.
Another way of keeping track of your points is called match play. At the end of every hole, you'll see who got the ball in the hole with fewer shots. You'll then keep track by giving a point to the person with the least amount of shots taken. In this version, the highest score wins. You could take forever to get a ball in on one hole, but get a hole-in-one on every other hole and still win.
What does each golf club do?
There are a variety of different golf clubs meant to help increase your performance. Professionals will study their holes and pick out the perfect club to get the right shot. When playing backyard mini-golf, you may be able to get away with using just one. However, many of our favourite kids golf sets include a putter, a driver, and a pitcher. So, what do they do?
The putter is the flattest of the clubs. They are used when you're close enough to the hole that you can tap it in easily.
The driver will be the longest club with a lower loft. These are used for longer distances, or when you have a long way to go before getting it in the hole.
A pitcher club is another good option for when you want to make your golf ball go a further distance. It can also help get some height on the shot.
A kids golf set is a budget-friendly way to make your child's afternoon the most fun day of the summer. Whether you want to set up an entire mini-golf course in your backyard, or just give them something to play with, these sets are sure to make your day fun. The best part? You can play, too!