Even the most novice golfer can tell you how important distance is in a game. No matter how hard your swing is, or how good you think your eye is, a golf rangefinder can make the difference between a good game and a great game.
They help you spot how far away your target is, but also give you one less thing to have to worry about when lining up the perfect shot. So, if you or someone you love is an avid golfer, a rangefinder may just be that perfect something that you've been missing.
In a hurry? Check out the best Golf Rangefinders of 2021!

Budget Pick



Our Choice


WOSPORTS Golf Rangefinder 650 Yards Range Finder with Slope...
WOSPORTS Golf Range Finder 6X Rangefinder with 600 Yards, Flag...
Precision Pro Golf NX7 Pro Laser Rangefinder - Golfing Range...
SUAOKI Professional Golf Range Finder 656 Yards with Ballistic...
AOFAR GX-2S Slope Golf Rangefinder,600 Yards White Range...
MiLESEEY Professional Precision 660Yards Golf Range Finder...

WOSPORTS Golf Rangefinder 650 Yards Range Finder with Slope...
Budget Pick

WOSPORTS Golf Range Finder 6X Rangefinder with 600 Yards, Flag...

Precision Pro Golf NX7 Pro Laser Rangefinder - Golfing Range...

SUAOKI Professional Golf Range Finder 656 Yards with Ballistic...
Our Choice

AOFAR GX-2S Slope Golf Rangefinder,600 Yards White Range...

MiLESEEY Professional Precision 660Yards Golf Range Finder...
We've compiled a list of the best budget golf rangefinders so that you get the best quality and the best price.
1. Wosports Golf Rangefinder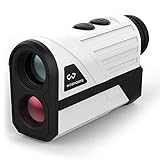 If you're after a basic, sturdy rangefinder that does exactly as advertised, then this Wosports product has your back.
Key Features
650-yard measurements.
Flagpole-lock feature.
This incredibly accurate rangefinder will measure up to 650 yards with a continuous scan mode. It also provides incredible +1 yard accuracy and 6x magnification with a diopter-adjustment function that works to give you the clearest view of all. Plus, with the flagpole lock of up to 180 yards, you can easily identify that flagstick target.
This product is compact and portable, making it an easy addition to your golfing kit. Because of how accurate it is, it's also recommended for hunting, too. So, no matter what your hobby, if it's distance checking that you need, you can trust this product to do its job. One CR2 battery is included in this purchase.
What We Love
Lightweight and easy to carry around.
Excellent accuracy.
What We Don't Love
It's more suitable for open courses as opposed to those with heavy greenery.
Whether you need this rangefinder to hunt or golf, you can trust its precision!
---
2. Wosports 6x Rangefinder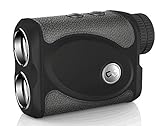 The last Wosports product was definitely a winner, but this one is even more budget-friendly without losing any of the important functions.
Key Features
600-yard measurements.
Solid reflectivity skills.
This product works on a continuous scan mode to measure up to 600 yards. Things like street signs have high reflectivity, whereas things like trees have low reflectivity. This product also has a handy locking feature and will vibrate when locked on an object such as the flag. This feature works up to 200 yards.
The Wosports rangefinder works with 6x magnification on a 7-degree field of view. For other sports, there is also a speed mode. Just press the power button after targeting a moving object and data will display on the screen. Hunting, other outdoor sports, and construction measuring are all suitable functions of this rangefinder.
What We Love
It's budget-friendly.
It's lightweight.
What We Don't Love
The carrying case is not built to last.
We love this product for it's budget-friendly price, and know that you will, too!
---
3. Precision Pro Golf NX7 Laser Rangefinder
Sale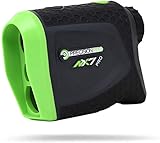 This little green and black rangefinder comes with all of the necessities.
Key Features
Water-resistant.
400-yard range.
6x magnification.
This rangefinder works to provide you with accurate distances whether you're on a flat or sloped surface. It even helps you select the right golf club! (Though for legal competition games this option can be turned off). The Precision Pro wants to help you play the best game that you can and offers 1/10 yard measurements which will read in yards or meters for your preferences.
What makes this product special is its water-resistant body and lifetime battery replacement. That's right – register the product and you get a free lifetime battery replacement!
What We Love
It's easy to use.
It's well-made.
It's budget-friendly.
What We Don't Love
It struggles to read flags under certain conditions, like heavy winds.
It struggles to read yellow flags.
This small, stylish rangefinder makes the perfect gift for any golfers on your list.
---
4. SUAOKI Golf Rangefinder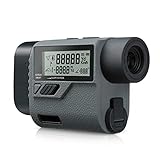 It's hard to beat both the price tag and the range on this Suaoki product.
Key Features
LCD display.
656-yard range.
One of the farthest working ranges out there for such a good price, this product will measure up to a 656-yard range. With its 6x magnification, you've got a perfect combination for far shots. It also comes with a flagpole lock feature, range/speed measurements, horizontal distance, and other important add-ons.
This product is ridiculously easy to use with a simple LCD display on the product that will show you all of the data that you need to know. It's also waterproof, portable and lightweight, and comes with a lanyard, tripod hole, and a storage bag. It really does have it all!
What We Love
It has an easily adjustable eye-piece.
It's budget-friendly.
LCD panel makes data easy to read.
What We Don't Love
Not the most comfortable grip.
This rangefinder may look simple, but it has everything that a golfer could ever need.
---
5. AOFAR G2 Golf Rangefinder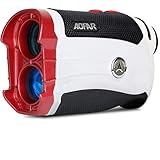 This uniquely coloured rangefinder comes with all of the important features.
Key Features
600-yard range.
Works with accuracy when close or far.
The AOFAR rangefinder has some new-and-improved technology when it comes to angles and slopes. It'll tell you all that you need to know about the slope, whether it's up or downhill. Features also include the flag locking mode with vibration technology to indicate when you're locked on.
This product thrives when close or far. Whether you're 30 meters away or 600 yards, you can get an accurate read. If you buy this rangefinder, you'll also get a carrying pouch, CR2 battery, high-grade rope, carabiner, microfiber cleaning cloth, and a handy guide so that you can use this rangefinder with confidence.
What We Love
It's budget-friendly.
Unique colour design.
What We Don't Love
The battery is not long-lasting.
When it comes to your golf game, you won't want to take chances. With this rangefinder, you won't need to.
---
6. MiLESEEY Precision Pro Golf Rangefinder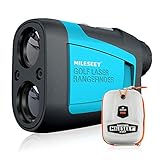 The bright blue colour on this rangefinder may look like its a fun product, but it does a lot more than just look fun to use.
Key Features
Utilizes time-of-flight technology.
Adjustable eyepiece for all sights.
With a 656-yard range you may think that its enough to make for a good rangefinder, but this product comes with so much more in terms of key features. It has a reliable accuracy with +0.5 yard measurements that work fast. It works with flags, hazards, and even wooded areas, which can be tricky when using even the most expensive rangefinders.
It can be tricky to use a rangefinder if you have glasses in the way. Fortunately, this product solves that problem. It has an adjustable eyepiece, so whether you're near or farsighted, you can use it without glasses. It also has a portable lens display, so you won't have to worry about trying to see all of your distance data.
What We Love
It's on the low-end of all rangefinder prices.
It's very light and easy to carry.
What We Don't Love
If you want to buy your golf-loving friend a great gift but don't want to shell out the price of many golf-lovers products, this is the pick for you!
---
Related:
---
Common Rangefinder Questions and Answers
As we've mentioned before, we know that your golfing is no game. It's a serious sport that requires some serious technology, and we know how important every little number and technique can be.
So, we've compiled a list of questions and answers for rangefinders and golf-related products so that you can get your game on. And if you're just shopping for someone you love who loves to golf, we hope that these questions can help you learn a thing or two!
What are the best golf rangefinders on the market 2021?
What exactly is a rangefinder?
A rangefinder pretty much does exactly what the name tells you. It works to measure the distance between you and a target. In games of golf, this will often be the flag where the hole is.
Though, sometimes it may be important to measure the distance of other obstacles or shorter mid-range distances. Rangefinders can also come with handy data that helps you pick what kind of golf club to use. They're one of the easiest products to help you boost your numbers.
What kind of golf rangefinders are out there?
For our top picks for rangefinders, we mostly focused on the laser rangefinder. Though, there are other options out there.  Let's take a quick look at all of our options.
The laser rangefinder: These will give you the most accurate yard reading, and can reach hundreds of yards with no issue. They're great at magnification and will last you more than just one game. Though, obstacles can get in the way of an accurate read.
The GPS watch: This type of rangefinder can come in handy when there are plenty of obstacles, especially weather-related barriers. They operate on GPS technology and will tell you the distances to certain spaces on the green.
The GPS handheld: This is almost just like the GPS watch, but are more for just the one function, whereas the watch can be used for other things. They easily track stats and offer easy-to-use touch screens.
What else can rangefinders be used for?
Golf is one of the most common reasons why people may need to use a rangefinder, but there are other applications out there. These include:
Ballistics.
Forestry.
Virtual reality.
Hunting.
Outdoor sports.
Hiking.
What other equipment do you need for golfing?
The rangefinder is a key piece for the avid-golfer. But there's plenty more that you'll need on the green with you. You'll need:
Golf clubs. After all, what else will you hit the ball with? It's important to have a good set of used or new clubs. Your kit should include a driver, 2-3 woods, a few irons, pitching, a sand wedge, and a putter. Some may have preferences or choose to not include certain clubs.
Golf balls. You'd be surprised at how many types of golf balls are out there. There are plenty of different colours and many have unique designs. It's easy to lose balls, so be sure to have plenty on hand, especially if you're new to the game.
Golf tees. These little things help raise your ball off of the ground for your first stroke. They're often thin and made of wood or plastic. Though, certain tees may be styled or made differently. All golfers should have a few on hand when on the green.
A golf pencil. This might seem like a given, but you never want to get out on the green to start up a game only to realise that nobody thought to bring a pencil.
Golf gloves. Some golfers wear gloves at all times, while others may just use them in the rain. It helps your grip, so you won't have to worry when the rain starts.
Golf shoes. Unfortunately, a good pair of sneakers is not enough for when you're out golfing. Golfers should have rubber-cleated shoes to stay comfortable and treat the greens nicely. Some courses require these kinds of shoes, whereas others don't.
Golf bag. By now you're probably thinking that you need quite a bit to golf. So, it's important to have a good quality bag to hold it all. Many clubs will come with their own bag, but you'll need something to keep everything else in if your club bag doesn't have enough compartments.
A pitch fork. Even the best golfers out there make pitch marks. A pitch fork can help repair these marks. This will help keep your greens in the best quality that they can be.
A water bottle. When you're out on the green, you may end up pretty far from your car or the club. Games can take hours, so you'll have to make sure that you stay hydrated.
A brief guide to golf clubs
Even most non-golfers know that not all clubs work the same. If you're buying rangefinders, you may already have a good idea of what kind of clubs are out there. But if not, here's a quick rundown to the most basic golf clubs.
Drivers: This is one of the most basic clubs that you'll need to get to know. This is what you'll mostly be using for that initial tee shot. These clubs have a low loft and is the longest club. It has a large hitting area, and matched with the long length it'll make your ball cover a pretty big distance.
The Fairway Wood: These clubs have a flat face with a more bulbous shape, so the club head will slide over the grass on every shot. These can be used from the tee box for when you need a little more control.
Hybrids/Utility: These are great for making airborne shots, and increasing swing control and stroke direction. You also have a lower chance of mishits.
Irons: These have a shorter shaft and smaller club head. They're often used to get the ball even closer to the hole from a smaller distance.
Wedges: These are for when your ball lands on sand or turf surfaces.
Putters: These clubs have a flat clubface. They're meant for helping the ball roll smoothly into the hole at a shorter distance.
Has this post given you the urge to get out on the green and go for a game of golf? If so, make sure that you have all the gear necessary to play a great game. If you've never tried playing with a rangefinder before, we know that it'll help you get to the next level.
So, what are you waiting for? Get out there and play! And if you're not the golfer in the family but know somebody who is, you can support their game by making sure that they're well-equipped with the best products on the market.