It's likely that we've all been in a situation where there is the perfect chance for a great photo, but we don't have the ability to take it. While we've all heard of selfie sticks and tripods, sometimes they aren't the right product to grab that perfect shot.
Fortunately, one of the newest inventions when it comes to photo-taking is the selfie drone. These products will move to your needs, whether it's up, down, closer, or further, to get everything that you need in the frame. It makes taking photos easier, and it makes them look better.

So, whether you like to take big family photos at events, or just want to up your selfie game, you need a selfie drone in your life. We've compiled a list of our favourites that are available to buy now. And, since they're a newer product and you may need to be brought up to speed, we also have some educational selfie drone information for you, too! So, let's take a look at the best selfie drones available to buy today.
In a hurry? Check out the Best Selfie Drones for the Perfect Group Shot 2021
Budget Pick


Rabing Rc Drone, SG900 Optical Flowing Foldable FPV Wifi RC...
Holy Stone HS120D FPV Drone with Camera for Adults 2K HD Live...
Budget Pick

Rabing Rc Drone, SG900 Optical Flowing Foldable FPV Wifi RC...

Holy Stone HS120D FPV Drone with Camera for Adults 2K HD Live...
---
1. The Rabing Rc Drone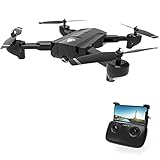 From what you hear about drones, you're probably expecting a high price tag for such a little gadget. Fortunately, this one sticks within budget while still being cool.
Key Features
It comes in gold, black, or white.
It can shoot videos or takes pictures.
This nifty gadget uses a light stream algorithm to figure out the position of the drone. You can also lock the height and position so that the drone remains stable enough to capture a good quality photo. The double 2MP HD wifi-cameras work for front view and selfie view, with a top and bottom camera. All that you need to do is a gesture for the photo to take.
The 3.7V 2200mAh rechargeable battery holds a lifetime of 22 minutes. So, you'll have just enough time to find the perfect angles for your photos. The charging time is only 240 minutes, too. So, you'll be able to use it on a daily basis if needed. The remote controller is also using a rechargeable battery with a USB charging cable, which only takes 40 minutes.
What We Love
It's budget-friendly.
It's easy to use.
What We Don't Love
It can be tricky to control at first.
---
2. 4DRC Mini Drone with 720p Camera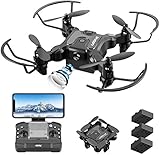 Plenty of drones are big and complicated to use, but not this one!
Key Features
It's foldable.
It comes with 3-speed modes.
Sometimes you never know when the perfect moment for a photo will strike. With other, larger drones, they're only useful if you're planning on needing to snap a photo. This product is foldable and smaller in design, so you can carry it with you in your bag wherever you go. That way, you can snap photos when the perfect moment comes, no matter how unexpected it is.
This drone has 30 minutes of flying time, but it also comes with removable and rechargeable batteries. There are 3 speed modes to take advantage of, too, so you can switch things up as needed!
Worried about safety? There is a unique outer case that is designed to decrease the impact of it falling or colliding with any objects.
What We Love
It's budget-friendly.
You can control everything, from the speed to the camera.
What We Don't Love
The flying time is quite short per charge.
---
3. DeeXop Rc Drone with Double HD 720P Camera
No products found.
This budget-friendly drone comes in a variety of colours, so it can look as great as your selfies.
Key Features
It uses a foldable design.
It can hold up to a 22 minute flight time.
This beginner-friendly drone uses one key takeoff and landing system, as well as one key return home function. So, you don't have to worry about bringing it back to you, as it will automatically fly back in the direction of your transmitter.
Whether you're after nice selfies or beautiful landscape photos, the 720P camera an get them for you. It'll give selfie and front views, working with the top or bottom camera for whatever angle you're snapping from. This works great for wider group shots, too. All you have to do is make a V gesture with your hands, and the selfie will snap!
What We Love
It's budget-friendly.
It's easy to fly.
What We Don't Love
While the image quality is great, the video quality is less high-quality.
No products found.
---
4. Hotbird H35 Follow Me Drone With Camera
No products found.
This drone may be a bit more advanced than the first few on the list, but it's still user-friendly and ready to work for you.
Key Features
An automatic user following.
Features gesture control shooting.
This drone does exactly as its name implies: it follows you! It can follow and capture you wherever you are, without having to control the drone movements. This allows for hands-free flying, making picture taking even easier. Plus, when you want a selfie taken, all you have to do is make a pose and it will start shooting for you.
This drone features two cameras, so you can achieve different image perspectives depending on the shot. Plus, its foldable, so you won't have too much of an issue with carrying it or storing it.
What We Love
It's light to carry.
It makes taking photos easier.
What We Don't Love
It's more of a mid-range price option.
No products found.
---
5. Holy Stone HS120D FPV Drone with Camera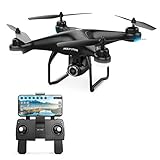 The most advanced drone on the list, the Holy Stone product is an excellent choice for those who want a high-quality drone with a high-quality camera.
Key Features
Uses 1080p full HD camera.
18 minutes of flight time.
This drone allows for 300m control range. So, if you want some amazing landscape photos in addition to your selfies, or you just want some drone flying experience, this is an excellent option. Plus, with the 1080p full HD camera, you know you're getting a perfect quality. The camera also has an adjustable wide-angle lens.
This drone uses GPS positioning to allow the drone to return home when the battery gets low, the signal is weak, or the signal is lost. It also allows for the follow me mode so that you can do hands-free flying.
What We Love
It works great as a general drone or a selfie drone.
The camera quality is excellent.
What We Don't Love
It's on the higher end of selfie drone price ranges.
---
Related:
---
Selfie Drone FAQs
Now that you have a better idea about what selfie drones are available to purchase, you may have a few questions. Since these purchases aren't exactly "cheap", it's important to understand what you're buying. So, we've compiled some questions and answered them for you!
What exactly are drones?
Drones, otherwise known as Unmanned Aerial Vehicles (UAVs), are gadgets made of lightweight materials that can be maneuvered through the air. They're controlled via a transmitter, which may or may not be an app on your smartphone. You can control them yourself, but they can also have pre-planned paths. They're typically used for recreational purposes. Though, commercial purposes are growing in popularity. This includes photography, land surveying, inspection, and so on.
Where can I fly a drone?
It's important to understand the restrictions on drone flying before even thinking about taking one out. The UK Law on flying a drone includes:
The drone must weigh under 20kg.
You can't fly above 400 feet in altitude.
You cannot fly more than 500 metres away from you.
Your drone must always be in your line of sight.
You can't fly a drone anywhere near an airport, or near aircrafts.
Drones that weigh more than 250 grams need to be registered with the CAA, and the pilot must complete an online safety test.
Drones with cameras, which include all of the ones on this list, have some additional rules.
You can't fly within 50 metres of people (the public), vehicles, buildings, or vessels.
You can't fly within 150 metres of a congested area or large group, like concerts or sporting events.
You have to inform people if you intend on recording them PRIOR to the recording.
Specific areas can have even more specific flight restrictions. So, if you plan on flying a drone anywhere that isn't your own property, you should check to make sure that you aren't breaking any rules.
Can drones crash?
Drones can crash if you're not handling them properly, or if they malfunction. They can also crash if their battery is dying. Many drones do have a "return to home" option where they will fly back to their point of origin or to the transmitter when the battery starts to get dangerously low.
Are drones appropriate for all weather?
Drones cannot safely fly in the rain or snow. So, keep an eye on the weather before you bring out your drone.
What is the difference between a drone and a selfie drone?
Any option is still a drone. Though, the intended use for the drone is what makes the difference. Almost any drone can be a selfie drone, even the most high-tech and expensive options (assuming that they have a camera!). Though, selfie drones tend to be smaller. It's common to choose compact and foldable options if selfies are your goal. This way you can carry them with you, even if you aren't sure that the perfect selfie moment will come. It also makes it easier to bring on vacation, which is a common choice for drone selfie-taking.
Flight time is also a big difference in selfie drones. Any cheaper option will also follow the pattern of having a limited flight time. Anything less than 10 minutes may not be enough, unless you're taking simple photos. Though, very few selfie drones have a flight time of over 20 minutes.
The quality of a camera is also important when it comes to choosing a selfie drone versus a regular drone. You also have to ensure that the camera isn't only on the bottom for aerial shots, as most selfies require a camera that can face the subject directly. Other features that may come in handy with selfie-taking are image sensors and stabilized cameras.
Can selfie drones be used indoors?
It's easier to control a drone when you have more physical space to fly it in. You can use a drone in doors, but you need to be careful with controlling it, as you risk running it into walls and damaging your home and the drone. We recommend that you get some practice flying it outdoors first.
---
If you've been hearing about drones everywhere for the past few years and haven't been convinced to buy one yet, I'm sure we can change your mind. Hopefully you're feeling a little more up to the challenge of buying and flying a drone now, and are even more ready to snap some serious selfies. The benefits of owning a drone are outstanding. They're fun to fly, can make you feel like a pilot, and help you see more of the world.