When you think about a trampoline, the odds are that you remember the large backyard activity that we used to play as kids. Well, they were fun back then, and they can be even more fun now! In addition to the traditional trampoline that we all know and love, you can also find mini trampolines.
Mini trampolines are much smaller and are only designed for one person to use at a time. They are used mainly for exercise, but can add a little bit of extra fun to your life, too! We've gathered up all the best mini trampolines that you can buy now.
Best Mini Trampolines on the Market 2022
Last update on 2022-06-06 / Affiliate links / Images from Amazon Product Advertising API
---
1. The Femor Round Fitness Mini Trampolines
No products found.
If you're looking for the best mini trampolines that are easy to use and even easier to store, then this is the one for you.
Key Features
It has a removable handle.
It's easy to fold and store when not in use.
These mini trampolines is designed to help you increase your overall fitness, endurance, balance, and coordination, among other physical skills. It does this by helping you train the small and deep muscles that may not always be used from other strength training routines. One of the highlights of this product is that it features a rubber rope that helps cushion each jump, protecting your joints as much as possible.
The Femor trampoline also includes an adjustable and removable u-shaped handle. It also has a foam layer for safety and friction. So, if you want to complete a workout routine that requires a handle, this is a perfect choice.
What we love:
It's easy to fold up and hide away when not in use.
It's budget-friendly.
It's safe for your joints.
It can be used indoors and outdoors.
What we don't love:
It can be confusing to put together or to take apart.
No products found.
---
2. Relaxdays Folding Indoor Trampoline with Handle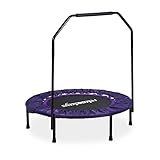 Last update on 2022-06-06 / Affiliate links / Images from Amazon Product Advertising API
Relaxdays mini trampolines are an easy choice for its classic design, making for an innovative yet simple workout.
Key Features
It's foldable.
There is extra stability provided by a steel spring.
If you're interested in spicing up your workout but don't know where to start, this is one of the best mini trampolines for you! It's ideal for beginners who have limited experience using a trampoline to exercise. The removable handle is a perfect height for getting used to the jumping motions, and can also be incorporated into your workouts.
You will have little to no concerns when it comes to putting this trampoline together. The trampoline comes in only four pieces with clear assembly instructions so that you can get to bouncing and jumping in no time! There are also plug-in parts to simplify the process. And if you ever decide to move your trampoline or put it in storage, you can get it out of the way quickly. It's foldable, so there's no reason to ever have to disassemble it.
What we love:
It's easy to put together.
It's created to be stable.
It's budget-friendly.
What we don't love:
It can't be used outdoors.
---
3. Professional Gym Rebounder for Home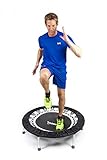 Voted Best Pro Rebounder Trampoline at Home, Gym & Physio Clinics...
✅NO ASSEMBLY REQUIRED - Professional Exercise Rebounder - Great for fitness and Sports Training, weight loss, lymphatic drainage and core and joint stability training. Includes 2 x Compilation Rebounding workout DVD with 7 Amazing workouts demonstrating proper rebound techniques
✅The most Robust and High Quality Rebounder on the market, used by many Professional Athletes and Sports men and women for cardio and core training. Your deep core muscles are engaged involuntary allowing you to produce more core power which is vital for any sport. You will improve, speed agility, balance and coordination giving you the edge over your opponents on the playing field.
✅As seen on ITV's 'Loose Women Show' and Channel 5 'Breakfast Show' - Very low Impact bounce, due to Advanced Large Spring System for low impact bounce and training. Non slip surface. Extremely Robust.
✅As used in Thousands of Gyms & Physio Clinics Worldwide, including Spa's and Holistic Therapists for Detox purposes and Lymphatic Drainage that helps boost your Immune system and rid your fat or toxins allowing you to burn fat more efficiently. Many Validated Researched Fitness and Health Efficacies
Last update on 2022-06-06 / Affiliate links / Images from Amazon Product Advertising API
Ready to step it up a notch? This is a choice for the best mini trampolines because they are at a professional, gym-ready quality.
Key Features
It comes with two Compilation Rebounding DVDs.
Resistance bands are included.
Does this product look familiar to you? If so, it may be because it's been featured on television shows and is inside gyms around the world. So, it's certainly not the trampoline for the absolute beginner. If you're seriously into fitness and need something of the highest quality, this is your pick.
The build on this product is made for optimal training. The springs are calibrated to get the perfect jump every time. There is also a stability handlebar in case you need a bit of extra help. There are also fitness training DVDs that come with this purchase, and they're designed to teach you all the best tricks to burn calories and gain overall strength.
What we love:
It's professional-level quality.
A perfect choice for non-beginners.
What we don't love:
It's on the higher end of pricing for mini trampolines.
---
4. SportPlus Fitness Trampoline with Optional Folding Function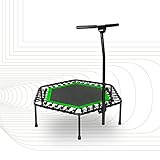 SportPlus Fitness Trampoline with Bar – Ideal for Home Cardio...
DELIVERY: fitness trampoline, 36 rubber ropes, handle adjustable in 5 heights, incl. edge cover, special tools for tightening the ropes, detailed assembly instructions.
DETAILS: Soft and comfortable suspension; ideal for fitness exercises; non-slip rubber feet; trampoline does not lift when jumping.
HANDLE: Handle adjustable in height in 5 levels, measured from the jumping mat of approx. 82, 90, 99, 108 and 117 cm; complete disassembly of the handle bar possible in a few simple steps.
CONSTRUCTION: Our high-quality rubber ropes are very durable so that they do not wear out so quickly. The ropes are therefore a little more difficult to tighten. It's better to have two of you when assembling. The effort is worth it!
Last update on 2022-06-06 / Affiliate links / Images from Amazon Product Advertising API
The SportPlus fitness trampoline allows for users to jump with confidence, as this product has a higher weight limit than most other products. So, regardless of where you are on your fitness journey, you can use it safely.
Key Features
It has rubber ropes to be easier on your joints.
It has a removable handle that can be adjusted to your height.
Oftentimes the handlebars on mini trampolines are designed to help keep you feeling more secure. While this handlebar is removable, it also has a unique t-shaped design. This makes it more about incorporating it into your workouts rather than just safety and stability.
This product uses rubber ropes that are designed in a bungee design. This allows for a bounce session that is almost entirely silent. The suspension is also friendlier on your joints than most competitors, allowing those with injuries or weak joints to use it, too.
What we love:
It's budget-friendly.
Its weight limits are more size-inclusive.
What we don't love:
It's difficult to put together.
---
5. Fit Bounce Pro XL Bungee Rebounder
MXL MaXimus Life FIT BOUNCE PRO XL Bungee Rebounder,Half Folding...
✅ EFFORTLESS BOUNCING FOR ALL THE FAMILY with our low impact orthopaedic quality foldable rebounder for use in the home and 1:1 by specialist practitioners. Suitable for Adults and Kids of all ages with a larger bouncing area. Beautifully engineered trampoline for maximum lymphatic drainage to detox the body, Tones muscles and Tightens the skin, dramatically increasing core strength and improving posture. Includes Rebound Workouts & Exercises to get you started on 2 X DVD's and streamed Online
✅ EXPERIENCE A SOFT SILENT LANDING. Our Mega-Strong, Patented bungee system with 72 strong connectors (twice as many as any other normal bungee exercise trampolines) is perfectly tensioned for Fitness & Holistic training. Weight limit 330lbs/150kgs. Silent & safe bouncing so you can bounce anywhere on our extra large mat surface area measuring 87cm/34inch and 120cm/47inch frame diameter. Dramatically improves, balance & co-ordination, core strength, joint stability, muscle tone and bone density.
✅ NO ASSEMBLY NEEDED & SAFETY LOCKING BOLTS - No complicated or multiple bungee settings to mess around with. Neat half folding design and strong folding legs for easy indoor trampoline set up and storage, (unlike other fixed bulky leg designs). Includes metal locking bolts for safety. Lifetime warranty on mini trampoline frame and 3-year warranty on mat. Spare parts always available shipped from our European and USA warehouses.
✅ APPROVED FOR HOME USE and REBOUND & PHYSIO THERAPY: Orthopaedic Quality used in many physiotherapy practices around the world for rehabilitation and sports conditioning. Includes online access to Flex-Bounce Therapy programme for use by Parents & Carers for therapeutic exercise and recreation for people with a wide range of special needs including dual sensory impairment and autistic spectrum. Flexi Bounce Instructor Training also available by contacting us.
Last update on 2022-06-06 / Affiliate links / Images from Amazon Product Advertising API
The price tag on this product may be intimidating at first, but its quality is well worth the price tag. If you want the most advanced and best mini trampoline out there, it may just be this one.
Key Features
It's suitable for adults and children.
There is no assembly required.
Want to be certain that this product is worth the price? It's designed to provide a great workout while giving a low-impact, orthropaedic bounce. In fact, it is even approved for rebound and physiotherapy. So,  you can be certain that it's a safe and quality choice!
Purchasing this product will also give you access to a Flex-Bounce therapy programme so that you can learn how to use it for therapeutic exercise.
The Fit Bounce Pro XL also offers a larger bouncing area than most other mini trampolines. If you're afraid of being limited by a small surface, this product will ease all your fears. It's the closest thing to a full-size trampoline that you can have while keeping it securely inside your home!
What we love:
The bouncing area is large enough to allow for more movement.
It comes with a workout DVD and online videos.
What we don't love:
It has a high price tag and isn't budget-friendly.
---
Related:
---
Mini Trampoline Frequently Asked Questions
You may feel inspired and ready to hop on a trampoline and start bouncing right now! While these products look exciting, bringing back memories of jumping on trampolines as a child, there are some important things you may want to know before purchasing. So, we've got all the answers to the important questions you may have or may have in the near future.
What is a mini trampoline?
You may have already guessed it, but mini trampolines are essentially tiny versions of the trampolines that we're used to. However, it's a bit more complicated than that!
The way that mini trampolines are made must fit certain size requirements. So, not only are they smaller, but they're much lower to the ground compared to full-sized trampolines. The way that they are built ensures that the rebounding (the bounce) isn't as high compared to other types of trampolines.
You won't be able to do exciting flips or super-high bounces on a mini trampoline, but they still have plenty of benefits.
Why use a mini trampoline to exercise?
The term for using a mini trampoline to exercise is rebounding. It is a unique kind of aerobic exercise that is made up of jumps on the trampoline. Some prefer to jump, while others tend to jog or step on the trampoline, using the bounce as an added element.
Rebounding will clearly work out the muscles in your legs. Fortunately, the workout does much more than that! Here are some of the body parts that it can exercise:
The abdominal muscles
The buttock
Back muscles
In addition to the body parts that will be exercised, the mini trampoline brings other benefits, including:
An improved balance
Better coordination
Improvement in motor skills
It supports bone strength
Can help with pelvic floor health
Is it safe?
When it comes to the physical safety that comes from exercising, rebounding or using a mini trampoline is quite safe. It's incredibly low impact on your joints due to the suspension in the trampoline. If you're recovering from an injury or have joint pain, you may find the mini trampoline a perfect way to get your physical activity in.
There are a few safety risks that come along with the mini trampoline. Since you're using a physical piece of equipment, there are a few things that you need to be aware of before jumping.
The first thing you'll need to do is ensure that it is set up correctly. You don't want to make your first jump only for the bounce area to fall apart, causing you to land on the floor!
First-time users of the mini trampoline may also be surprised to find out the limits of their coordination and strength. It's easy to over-estimate your abilities and accidentally jump too high and struggle to land safely. So, it's recommended to use a safety bar during your first few workouts to help improve your coordination.
How will I know what to do on my mini trampoline?
If you've never considered rebounding as an exercise, you may be surprised to find out just how many ways there are to work out your body on the trampoline. You certainly don't need to start your journey alone, and there are plenty of ways that you can learn more about the specific exercise.
Some gyms offer rebounding group classes. This is a good way to test out if you like the activity before buying a mini trampoline of your own.
There are also a variety of online classes and instructional videos that will give you step-by-step (or jump-by-jump!) exercise routines to follow on your mini trampoline. For example, Rebound Fitness offers dozens of rebounding training videos. They range from masterclasses to tutorials for beginners.
What are some of the basic rebounding moves?
Are you interested in trying rebounding but not sure if you want to commit to watching videos? Here are some of the basic moves that people may choose to do on their mini trampolines.
Basic warmup jumps
Jumping on the ground is a lot different from the jumping you'll do in rebounding on a mini trampoline. A basic warmup for these products will typically include a few minutes of trampoline jumping. You'll try to stomp down on the surface as opposed to letting yourself just immediately fall back down.
Jogging
Jogging in place is a common activity done on the trampoline. The motions are almost identical to normal jogging, but the sensation will feel a lot different. You'll use more strength in your legs as you'll also be keeping up your coordination and stability.
To take jogging up a notch, you can also jog from side to side on the trampoline. This will allow you to engage more muscles than you would during a normal jog.
How often do you use a mini trampoline to exercise?
So, are these things designed to take over your entire fitness routine? They certainly can. However, you may not be able to use them for as long as you would be able to use something more simple like an exercise bike.
Research has been done that proves using a mini trampoline three times per week can improve your fitness. It's typically recommended that you engage in around 150 minutes of exercise per week, or 75 minutes of higher-intensity exercise. First time rebounders may have a hard time spending that much time on the mini trampoline at first.
Mini trampolines will give you the most health benefits if you're using it in addition to other workout routines. They also work out your legs far more than your arms, so you may want to supplement rebounding with upper-body strength training.
Things to consider before buying a mini trampoline
Everybody has unique needs when it comes to purchasing an exercise product. The biggest thing to consider is whether the mini trampoline works in with your fitness goals. If you want to increase your stamina, endurance, and work out your leg muscles, you're likely on the right track.
Other things to consider when deciding which mini trampoline is right for you may be one of the following:
Is it noisy? Mini trampolines are small enough that they can be used in any space. If you're planning on keeping it in a shared area, you'll want to check if the product you're looking at is quiet. Many mini trampolines are designed to give a quiet bounce.
What is the weight limit? All mini trampolines will have a maximum weight limit. Some have higher limits than others, so make sure you're buying one that is appropriate for your body.
Does it have a safety bar? If you've never used a mini trampoline, it's recommended ot buy one with a safety bar. They tend to be removable, so you can always take it off once you've gotten used to using the product.
---
As you have learned, using a mini trampoline for rebounding fitness is a bit more unique than taking on another kind of workout. There are a lot of things you'll want to learn and know before you make your first jumps.
Now that you have a better understanding of why you may want a mini trampoline and how to use once, we hope that you're feeling inspired to make your purchase! Mini trampolines are a budget-friendly way to approach fitness from a unique and fun angle. So, get to jumping!