Many people feel discouraged from starting or continuing their fitness journey due to a lack of equipment. You don't need an expensive gym membership to exercise, and you can also complete entire exercise routines without any costly equipment! Aerobic exercise is one of the most popular forms of exercise, and for good reason. It can help boost your overall fitness, help you burn calories, and make your heart healthier. So, if you want to work out, we've got a complete guide on how to do aerobic exercise at home without equipment!
How to do Aerobic Exercise at Home Without Equipment
What is aerobic exercise?
Before beginning your guide on how to do aerobic exercise at home without equipment, you may be curious to learn more about what aerobic exercise is. This form of exercise is more commonly referred to as cardio, as aerobic exercise is cardiovascular conditioning. During any aerobic exercise, you will have an increased heart rate, as well as increased breathing, for a sustained amount of time.
Aerobic exercise is different than anaerobic exercise. Anaerobic exercise involves shorter bursts of high energy that are performed with more intensity. Things like sprinting or briefly lifting heavy weights would count as anaerobic exercise.
As mentioned, there are plenty of benefits to aerobic exercise! In addition to helping you lose weight and burning off more calories, it can also do things like lower or control blood pressure, increase your stamina, and boost your mood.
Any type of exercise brings some risks. One of the most important things to remember with aerobic exercise is that you need to build up your fitness before doing something too advanced. For example, you wouldn't want to immediately try for a half marathon after you've just started running! Build up your endurance over time to limit the risks associated with aerobic exercise.
Jumping Jacks
The jumping jack is a very common form of aerobic exercise and is easy to learn!
Begin by standing upright. Your legs should be together and your arms will hang at your sides. Bend your knees slightly before jumping into the air, spreading your legs apart. They should be shoulder-width apart when you land. Stretch your arms during your jump, bringing them above your head. Quickly jump back down to where you started and repeat.
Do 50 repetitions of this exercise without any break. Try to do them as quickly as possible will ensuring that you keep the proper form.
Power Jacks
Power jacks have a similar movement to the typical jumping jack but are slightly more advanced.
To do a power jack, begin in a sumo squat position with your chest up and your hands to your sides. Lift your arms up so that your hands are parallel with your shoulders. Jump up, bringing your feet together and pushing your hands above your head, fully extended. After landing your jump, immediately jump back down to your starting position and repeat.
Complete 50 repetitions of the power jack.
Stair Climbing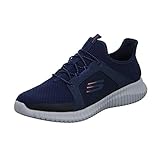 Last update on 2022-06-11 / Affiliate links / Images from Amazon Product Advertising API
This exercise is for those who have access to a staircase in their home. The longer the staircase, the better. However, any size will work!
Climbing stairs has excellent health benefits. It helps increase your heart rate while exercising your bones and working your muscles!
Climb up and down the stairs at a brisk pace for 30 minutes. If you feel comfortable jogging up and down the stairs, then you'll have an even more intense workout. Just ensure that you are wearing proper shoes, as staircases can be an easy place to trip and risk injuring yourself.
Running in place
Don't have a treadmill or safe path to run outdoors? Running in place may seem like a boring workout, but it's great for learning how to do aerobic exercise at home without equipment!
Running in place is done the same way that you would run outdoors or on a treadmill. Ensure that you are lifting your legs high enough. Your knee should be being raised as high as your hips. Move your arms, too, to maximize your workout! You should be raising each arm with the opposite leg.
The length of your run will depend on your running stamina. Run (in place) three times per week. Try to run for different lengths each time, with your longest run at the end of the week. You can make your runs easier by doing them in front of a television or other screen.
Zumba
Sale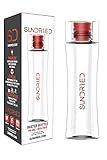 Sundried BPA Free Leakproof Outdoor, Sports, Fitness & Gym Water...
Our Sundried BPA free Tritan polymer feels and tastes like glass while giving you the lightweight safety and ease of use of a chemical free plastic bottle Tritan's patented state of the art polymer makes our water bottle tough enough to stand up to even the most rigorous demands while remaining free of harmful chemicals or byproduct
The Sundried sports bottle with its silicone drinking area for a smooth, drip free drink. 100% leak proof lid to prevent leaks and spills with screwed up. It's a must have sport water bottle for the Gym, Yoga, Runners, Athletes, MMA, Crossfit, Travel, Hiking, Cycling, Tennis, Camping, Work Office, School, Canteens, Work
Sundried bottles are made from 100% Toxin Free Tritan Co-polyester plastic that is safe to your body and environmentally friendly. No more worrying about harmful chemicals such as BPA affecting your health, which are present in many water bottles. If you are looking for a bottle that is durable and safe, Sundried is the right choice!
The Sundried Sports Bottle ergonomic design is perfect in the hand and ultra stylish. Looks great, feels great
Last update on 2022-06-11 / Affiliate links / Images from Amazon Product Advertising API
Zumba is frequently considered one of the most fun ways to exercise! This exercise is dance-based and can be done for any style of music that you prefer. Dance along to one of the thousands of online Zumba lessons that are available.
A full-length Zumba workout is a complete workout in itself. Ensure that you take the proper time to warm up before you begin, and drink plenty of water throughout. You should aim to do a full hour of Zumba 2 – 3 times per week.
One of the best parts about Zumba is that it's more fun with a group! If you have any family members or friends who like to have fun during their exercise routine, then invite them to join in and enhance the experience!
High Knees
Doing the high knees workout will almost feel like running, but will work out different muscles in your body, making it a great addition to your at-home workout.
Stand in place with your feet hip-width apart. Standing straight, bring one of your knees up high to your chest. Bring it back down, and do the same to the other leg. You should be moving quickly, nearing a sprint-like speed.
Do 25 reps per leg, equalling 50 total repetitions of this exercise.
Jump Rope
Sale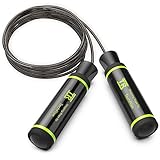 TechRise Skipping Rope, Speed Jumping Rope with Soft Memory Foam...
💪Anti-slip Memory Foam Handle: The ergonomic handle is equipped with a soft non-slip memory foam to provide perfect grip and more comfortable while using it.
💪Tangle-free PVC coated Steel Cable: TechRise skipping rope is made of high tensile steel wire and coated with powerful PVC material, which makes the rope more resistant and durable even after a long-time exercising.
💪Easily Adjustable: The length of the rope is 3 meters. Its adjustable length design allows you to customize the length to suit your needs, making it suitable for all ages and all skill levels!
💪Premium Rapid Ball Bearing: Build-in professional premium 360° fast rotating ball bearings to ensure a smooth and effortless spin, and to make it the perfect addition to any calorie burning workout program.
Last update on 2022-06-11 / Affiliate links / Images from Amazon Product Advertising API
Jump rope is easy to learn, but tricky to master. The key is to get a good rhythm going while jumping high enough to feel the burn.
Grip the handles of your jump rope with your fingers. Swing the rope using both hands, jumping over it as it gets to your feet. Keep your feet close together, but not touching, with each jump. Your knees should be slightly bent, and your back should be straight.
If you don't have a jump rope, you can still complete the workout! Since this is a guide on how to do aerobic exercise at home without equipment, this is one that you can do with or without a small piece of gear. You'll just need a little added imagination. Move your arms as if you are swinging the rope under your feet, and jump accordingly.
Jump rope for 20 – 30 minutes at a time, 2 – 3 times per week.
Jump Squats
The basic squat has been a tried-and-true exercise forever. However, there are ways to make it exciting and give you an even better workout!
Get in position for a regular squat. However, before you do your squat you'll jump twice. Your feet should be parallel and shoulder-width apart. Tense your stomach muscles, and stand tall. Complete your 2 jumps, landing back in a squat position each time. After you've completed the second jump, bend your knees and move your behind backward, squatting down.
Both jumps and the single squat will count as one repetition. Do 10 full repetitions of this workout.
Burpees
Sale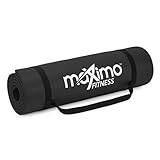 Maximo Exercise Mat - Multi Purpose Yoga Mat for Men, Women &...
Multipurpose Exercise Mat - Can be used for Yoga, Pilates, Stretching, Sit-Ups, Aerobics, Camping, Picnics, Sleepovers, and more.
12mm Thick - 183cm Length x 60cm Width x 1.2cm Thick - High Density, Lightweight, Durable NBR Foam.
Carrying Strap Included - Portable and Lightweight, easy to transport, roll up and store away.
Premium Material - Non Slip, Moisture Resistant and easy to clean. Maximo yoga mats are the great training buddy for you!
Last update on 2022-06-11 / Affiliate links / Images from Amazon Product Advertising API
Burpees are another old-school workout that you'll either learn to love or hate! Regardless of how you feel about the exercise, they are a great way to get your heart pumping!
Begin this exercise by standing up with your feet hip-width apart. Bring yourself downward, and place both your hands on the ground in front of you. Hop your feet in a swift motion, bringing your body into a plank position. Once you've gotten into the position, immediately hop your feet back, closer to your hands, and then jump back to the starting position.
You should be doing all of the motions quickly to get all the benefits of the burpee. Do 30 burpees in a row as part of your aerobic workout routine.
Kickboxing
You may think that you need a punching bag or another person to practice kickboxing against. While these are definitely things that make the exercise seem easier, it can be done completely equipment-free! Another one of the most fun ways to learn how to do aerobic exercise at home without equipment is kickboxing.
You'll want to familiarize yourself with the various elements of kickboxing before you begin. There are plenty of standard punches and kicks that are done during workouts. Fortunately, there are a variety of online kickboxing routines available to follow so that you don't get bored kicking the air in front of you!
Complete a 30-minute kickboxing workout 2 – 3 times per week.
Liking this guide on how to do aerobic exercise at home without equipment? Check out some other exercise guides to keep you active at home!
Learning how to do aerobic exercise at home without equipment is an important part of your fitness journey. Regardless of what your personal goals are, it's a great step to accomplishing them! Working out from home has a variety of benefits, and it's more than just helping you save money by not needing a gym membership. So, what are you waiting for? Get moving!