You may think that golf is a more mature sport, but you're mistaken! This popular outdoor activity is increasingly popular with teenagers and younger kids. Like most sports, it's never too early to start learning! Junior golf clubs age 3-5 is a great place to start your shopping list if you're looking to encourage your child to play.
We've compiled a list of the best picks for the junior golf clubs age 3-5 so that your child can start playing with the best equipment. And, since we know you'll have some key questions, we have found all of the information you'll need to help cheer your child on!
---
1. Longridge Challenger Cadet Junior Golf Package
Sale
Last update on 2022-06-29 / Affiliate links / Images from Amazon Product Advertising API
This high-quality set of junior golf clubs age 3-5 is made for little hands with big dreams!
Key Features
It includes a stand bag and head cover.
Clubs are lightweight.
This 5 piece set includes a driver, 3 irons (a 7, 9, and PW), as well as a putter. It also includes a stand bag and head cover that's spacious enough to hold everything, while not being too bulky that it's difficult for your child to carry it all.
The goal of Junior Challenger's set is to provide bright, vibrant products for children so that they are drawn to the sport. Each club is advanced in functioning, as well as lightweight enough for young players.
Longridge's junior golf clubs are made for children over the age of 4 or 99cm tall.
What we love:
The bright, yellow colours make this set a stylish choice.
What we don't love:
The set might be too big for children who are 3 years old.
---
2. Young Gun ZAAP BIRDIE Junior Kids Right Hand Graphite/Steel Golf Clubs Set + Bag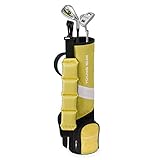 Young Gun ZAAP BIRDIE Junior golf club Youth Set & bag for kids...
Junior set specially designed for junior players
8 Iron: New ZAAP design is lightweight specifically designed for junior players. Junior flex graphite shaft.
Putter: Ball Putter Semi-Mallet / Bag: Ultra lightweight with padded shoulder strap, 1 exterior zippered pocket.
Last update on 2022-06-29 / Affiliate links / Images from Amazon Product Advertising API
Not sure if your child will enjoy playing golf? This budget-friendly set has just enough of the basics to use it as a starter set.
Key Features
It's available in larger sizes for older age groups.
Every product is lightweight for smaller children.
You will receive a 7 iron and a putter with this purchase. It may not be a comprehensive set for all games, but it's just enough to get a player started and test the waters to see if they're interested in pursuing the game further. A stand bag is also included in this set.
This junior golf clubs age 3-5 set is designed for children who are in the 3-5 age group. Fortunately, the brand sells the same set for children 9-11 and 12-14. So, you can buy the same products as your child grows, or purchase another set for an older sibling.
What we love:
It's budget-friendly.
The clubs are durable and lightweight.
What we don't love:
The choice in clubs is limited.
---
3. Precise X7 Junior Complete Golf Club Set for Children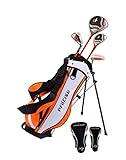 Distinctive Right Handed Junior Golf Club Set for Age 3 to 5...
Right Handed, Designed for Age 3 - 5, Boys, Junior Set Includes: 15Driver, 22 Hybrid, #6/7 Iron(1 piece), putter, 2 headcovers and stand bag (rainhood included)
Height: 3'0'' to 3'8''
Graphite shafts for Woods and irons, junior flex
Ergonomical lift handle for easy Use
Last update on 2022-06-29 / Affiliate links / Images from Amazon Product Advertising API
This set does have a bit of a jump in price compared to other competitors, but the included products are worth it. Has your child has already expressed an interest in golf? Well, then this may be the perfect present!
Key Features
It comes in an electric orange design.
The stand bag includes a rain hood.
With this set, you will be receiving a great selection of golf clubs! This includes a 15 driver, a 22 hybrid, a 6/7 iron, and a putter. There is also a stand bag (with a rain hood for playing in poor conditions) and 2 headcovers.
The woods and irons have a graphite shaft. Everything is made to be lightweight while also using technology to help players get more distance and height on their swings. The set is designed for boys and girls. It is for players who are right-handed.
We have confidence that your child will love this set. The seller also offers junior clubs for players who are 6-8 and offers both red and pink designs. You may find yourself buying a set from the next age group up for the day when your child outgrows these!
What we love:
It comes with every club a young player needs.
The stand bag keeps its target audience in mind.
What we don't love:
It's less budget-friendly than other competitors.
---
4. Ben Sayers Right-Handed M1i Junior Package Set with Stand Bag
Sale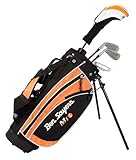 Ben Sayers Right-Handed M1i Junior Package Set with Stand Bag -...
Reinforced high lofted driver fairway wood featuring a weighted sole plate promoting a lower centre of gravity and producing the perfect launch angle for increased distance and accuracy
7/9-p/s irons have a sleek club head design with wide sole
Promoting extra forgiveness and increased playability. Mid-kick graphite shaft, mid-sized mallet style putter with a stylish face insert and sight alignment for confident putting
Junior stand bag, 5 1/2" with a 4-way driver top and putter 'pit' for convenient club positioning with a soft mesh top provide superior graphite shaft protection.
Last update on 2022-06-29 / Affiliate links / Images from Amazon Product Advertising API
These clubs are perfect for juniors, and are a popular choice for players as young as 4 and as old as 8!
Key Features
You can choose between an orange or a blue set.
The included stand bag has a 4-way divider top for simple storage.
The driver that comes with this set of junior golf clubs age 3-5 is designed to be high-lofted with a weighted sole plate. This helps bring a lower centre of gravity so that it's easier to hit at an angle, getting a further and higher ball.
You will also receive a combined 7/9 iron and a P/S wedge with this set. They all have a wider sole and perimeter, which makes it harder to miss a shot. This is a great way to help encourage your child to keep trying. So, it's a great set for learning young!
What we love:
You have two colours to choose from.
It's budget-friendly.
What we don't love:
Multiple age groups can use these clubs, but it may not be ideal for a much smaller child.
---
5. Young Gun ZAAP ACE Junior Golf Club Youth Set Bag for Kids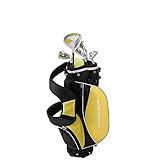 Young Gun ZAAP ACE Junior golf club Youth Set & bag for kids...
Lofted 350 CC Titanium alloy driver to help build confidence getting the ball into the air faster
3 cavity back irons with a low centre of gravity to encourage ball flight
Engineered lightweight graphite shafts golf clubs to allow the golf swing guide the golf club and not vice versa
Mallet style putter with guidance lines to achieve sweet spot contact every time
Last update on 2022-06-29 / Affiliate links / Images from Amazon Product Advertising API
This complete set is offered for the 3-5 age group, the 6-8 age group, and the 9-11 group! No matter what their age is, you can trust that they'll love these clubs.
Key Features
The driver is lofted.
The putters have a guidance line.
The stand bag has a rain hood.
There are 3 cavity back irons that are included with this set. They are specifically designed to have a lower centre of gravity. This feature helps the ball get more air after a swing, helping it go farther than expected! Each club is also made to be lightweight.
The driver in this set is lofted and made with titanium alloy. Not only is it sturdy and durable, but it's perfect for getting fast swings and precise hits even with little practice.
Carrying your clubs around is a hassle for any golf player, and it can be especially challenging for children. The stand bag that comes with this purchase is lightweight and has dual padded straps, so it's always easy to carry.
What we love:
Each piece is carefully constructed for junior players.
You can buy the same set as your child grows.
What we don't love:
It's not budget-friendly.
---
Related:
---
Junior Golf Clubs Age 3-5 Questions and Answers
Golf can be a time-consuming and expensive sport for your child to take up. If you have a younger kid, you may have a lot of questions to ask yourself before you decide if it's the right choice for you and your family.
We've gathered some common questions about junior golf clubs age 3-5 to help you make the decision.
What are the health benefits of golf?
Putting your children in sports at a young age is a good way of ensuring that they'll always have an activity to help keep them active. While golf may not look as physically intense as other sports, there are still plenty of health benefits to be found.
Golf requires a lot of walking. A typical 18-hole golf course can have you walking up to 10km a day! Younger players may not find themselves walking this much, but they'll get thousands of steps in over their time playing.
Swinging the golf club is also full of benefits and can help your child grow stronger. Full swings work out your arms, legs, back, and stomach muscles. As your child gets stronger, they may also have an easier time playing.
Weight loss is a common goal of golf for older players, but it's unlikely that it's your primary concern for such a young player. As they grow older, however, it is a way to keep your child happy, healthy, and fit.
Golf is considered a low-impact sport. This means that you won't have to stress as much about your child being insured as you would with other sports.
Being outside also has its perks. Studies have proven that there are health benefits to being outside. Spending so much time in the sun and near nature can boost your energy and your immune system, and your vitamin D levels will increase!
Golfing is not a team sport. So, things like sportsmanship and working together aren't obvious benefits of golf. Still, there are lots of ways that kids stay social with golf.
Many children will learn how to play golf through workshops or training sessions provided at country clubs or golf courses. This gives them an opportunity to learn and play with children outside of school or daycare activities.
Many players become avid fans of professional golf. Children may bond with others over a shared love for the sport and over preferred players. Watching games of golf on television is an easy way to invite friends to the house, too!
They may not be playing on a team, but golf is still a positive sport. Learning how to congratulate other players on their success can be a very important skill to learn. Your child may lose their fair share of games, too, and will learn how to accept defeat with grace.
Are you an avid golfer? If you are also a fan of the sport, you can use games as a great way to bond with your child. Even if you don't play, spending time with them on the course is a fun way to spend time together.
What are the individual benefits of golf?
Social and physical benefits are more visible. Though, as golf is a solo sport, it's also important to remember all the invisible impacts that golfing can have on your young one!
Learning something at a young age is crucial to one's development. Being able to improve at something in a visible way can do wonders for children's confidence. They can track their progress and feel themselves getting better, whether they compete or not.
Playing a sport such as golf is also important for learning how to work hard and stick to a schedule. You can force your child to go to the golf course, but it's up to them how much effort they put into it. A good player will need determination, which your child may gain from golf.
Is golf safe?
Golfing, like anything, has its own set of risks. They are easy to control and even easier to prevent injuries as long as you know what to look out for!
An easy danger to fall into with golf is becoming dehydrated. Spending time walking in the sun can drain children of their energy and increase their thirst. It's important to keep water nearby at all times while playing. Your child should also try to drink a healthy amount beforehand.
Sunburns are another risk associated with being outdoors. Always keep a hat on or lather up in sunscreen. Staying in the shade when possible is another easy fix.
Golf courses are full of hazards. These are things like bodies of water or sandtraps. Distracted children may accidentally fall into one if you aren't paying attention. Teach your child where all the hazards are and encourage them to stay aware of their surroundings.
Golf balls that are hit incorrectly or through your general pathway are one of the most dangerous risks. Being hit with a ball can hurt! Yelling "fore" in golf signals that a fly ball may be coming your way. Duck and protect your head as necessary!
What are the important clubs in a junior golf clubs age 3-5 set?
Many of our picks for the best junior golf clubs age 3-5 come with everything you need. Here's a quick rundown of the important clubs in golf and why you should have them in your set.
The putter is what's used to put the ball into the hole. This is used when closer to the hole, as your ball won't pick up much speed with a putter.
The driver, a longer club, helps you get the ball across far distances. Hitting a ball with a driver will often make the ball airborne so that it can cover plenty of grass and hazards.
The wedge is a club for shorter shots. Unlike the putter, it can help your ball become airborne. It's frequently used to get balls out of hazards like sandy areas.
You are typically allowed to keep 14 golf clubs in your bag. As your child ages, they may find a need for this many clubs. Though, at the 3-5 age, a select few clubs will be enough!
Is golfing an expensive sport to put children in?
All sports have costs associated with them. These costs will only increase as your child enters competitions or tournament-style games.
Some of the most common and more expensive costs associated with golf include:
Clothing. There is a specific attire to wear while golfing, including polo shirts and slacks.
Clubs. As you can see from the junior golf clubs age 3-5, they can be pricy. As your child grows, you will need to buy longer and stronger clubs. They also get more expensive the more complex your needs are.
Membership fees. If you golf at a golf course, there are often fees associated with it.
Competition fees. Some competitions require an entry fee.
There are other smaller costs that add up, such as golf balls and other accessories. Consider if playing golf is in your budget before encouraging your child to find a love of the sport!
Now that you have a better idea about the options for junior golf clubs age 3-5, we hope that you're feeling more confident about encouraging your child to golf!
Playing golf is a great sport filled with health, social, and emotional benefits. It may be pricey, but your child will get so much from it.