A garden trowel is a basic tool, which is at the same time an extremely versatile gardening instrument that should be in everyone's garden arsenal. A gardening shovel makes your gardening tasks a lot easier, whether you're ploughing seeds, transferring plants or flowers, or eliminating stubborn weeds. 
The shovel can be useful for a wide range of activities, including backpacking and camping, as well as digging holes for an emergency or erecting a tent.
Choosing the Right Garden Trowel
A Garden trowel can be constructed of composite material, aluminum, stainless steel, fiberglass, or polystyrene. Depending on the sort of work you'll do around your house, in your garden, or while camping, each of these materials has its own set of benefits and drawbacks.
Stainless Steel
Trowels made from stainless steel can be used for digging heavy-duty, particularly if you need to work with highly dense and compact earth or garden turf.
This kind of trowel is made from high-quality steel and will last a long time. It will have a strong 14/16-gauge blade that assists the blade to dig deeply into the earth and navigate around grasses and root systems.
For basic duties, such as aerating the soil, transplanting flowers, or getting fertilizer out of the bag and sprinkling to the garden bed, the trowel made from stainless steel can be heavy for this sort of work. However, stainless steel is a perfect tool for hard gardening tasks.
Aluminum
Trowels made of Aluminum are quite lightweight and easy to handle specially in small areas such as flower pots; nevertheless, they are quite sturdy and long-lasting. The majority of aluminum trowels contain a one-piece aluminum blade which enhances blade hardness.
Aluminum trowels are great for turning the soil and transplanting without much effort. Because aluminum is rust resistant, you may use the trowel in moist gardening conditions or wet weather. Aluminum has the disadvantage of being unable to dig through tightly packed dirt or rocky ground.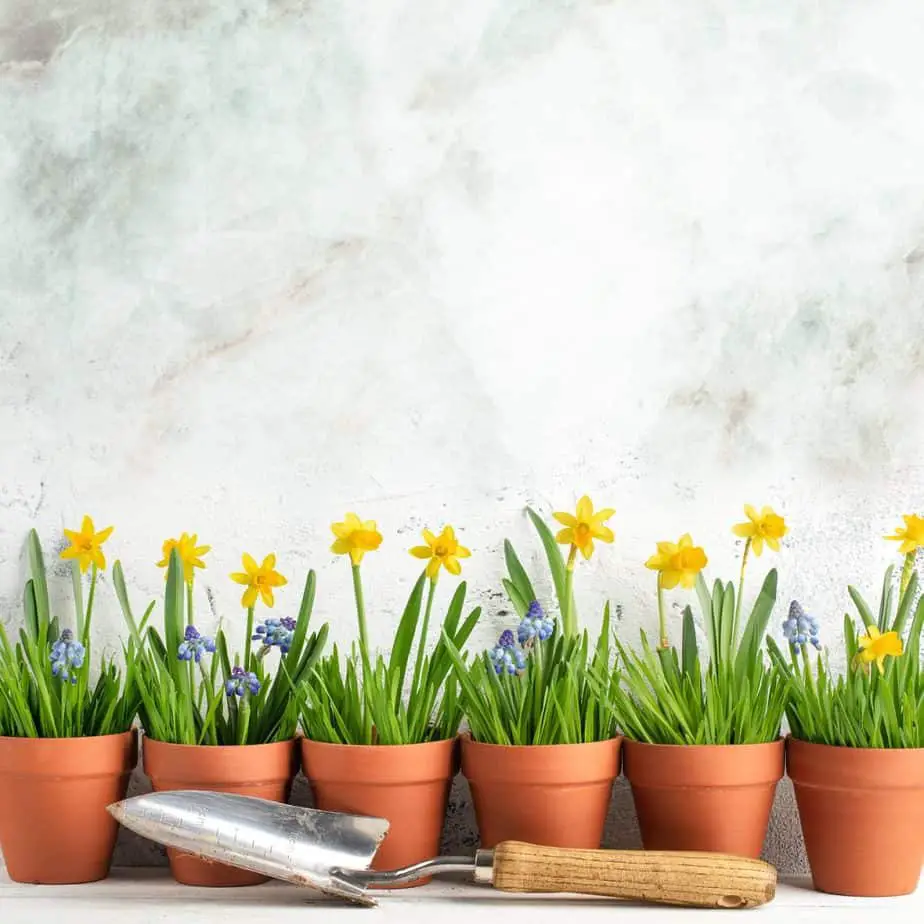 Fiberglass
Fiberglass combined material is highly flexible and very strong. This extremely innovative material produces a garden trowel with one piece construction. This means the blade or head stays connected to the handle, making this type of shovel the ideal choice for digging into rocky or compacted soil as it won't rust and you can use it in all weather situations.
Plastic
Plastic shovels are made out of low-density polystyrene and are very lightweight, making them an excellent digging tool for hikers or campers who don't want to carry heavy equipment but still want to save money.
Choosing the Perfect Garden Trowel
Price
Let's speak about pricing. The good news is that a gardening shovel does not have to be expensive. Although a trowel may be inexpensive, you do not have to give up quality.
Blade
A gardening shovel may be used to move tiny plants or to scoop up dirt, dig into garden beds, or cut through the grass. A thin, narrow blade enables you to delve deep into the ground and eliminate stubborn weeds while a broad blade is useful for removing bulk soil and transferring flowers or small plants. A curved, beveled, or pointed
Back-blade wings are available on certain trowels and may be utilized to extract stubborn roots and dense weed networks. Look for a blade with indentation or graduation marks on it. It will help you to measure out fertilizer or soil.
Handle
When it comes to choosing a shovel, you should consider the comfort of the tool while working. Especially if you're doing hard labor like weeding or digging a hole, the feel of the handle is crucial. A comfortable grip on a handle is important, and an ergonomic design with a solid or soft molded handle.
If you want to gain extra leverage during digging and avoid putting strain on your wrist, a trowel with a specially designed curved, cushioned handle that is robust yet pleasant to use in challenging outdoor gardening situations might be the answer.
Most people don't realize that a wide handle or one with a contoured finger grip and a rubber palm rest can reduce wrist and hand fatigue while providing excellent grip in difficult gardening circumstances.
Short or Long Handle
With the help of a short handle, it is simple to pull soil out of a tiny flowerpot, while a longer trowel with greater leverage is used for digging deeper holes into hard compacted earth.
Extra Features
Storing your shovel safely away from severe weather conditions is critical to keeping it in excellent operating condition. Of course, you may always store the garden trowel in your garden seat, but a useful storage option to look for is a trowel with a hole at the end of the handle so that it can be hung in your gardening shed.
Finding your trowel in the grass or dirt may be difficult, so why not pick one that comes in a variety of bright colors or with a bright green handle and a nicely polished steel blade which shines in the sun.
Best Garden Trowel
Transplanter made of Fiskars Fiber Composite
The Transplanter made of Fiskars Fiber Composite is lightweight yet durable enough to withstand harsh outdoor working circumstances, such as when transplanting flowers or small plants.
The Fiskars Trowel is designed in one piece that will never bend or loosen, and it's made of FiberComp nylon or fiberglass composite material, making it more durable and stronger than steel garden trowels. It won't break while you're working with firmly packed dirt because of its innovative one-piece design.
The long, thin blade is perfect for maneuvering and transplanting among plants or shrubs of modest size, while the comfortable grip with a slightly large handle allows you to work for longer periods. The end of the handle has a hanging hole so you may twine or attach a cord to hang it in your storage shed.
The garden trowel is lightweight and rust-resistant that allowing for easy digging in tight areas and uprooting weeds. When transplanting tiny plants, the black blade with graduation marks may help to measure out fertilizer correctly.
The Fiskars 54431 Compact garden Trowel is the perfect size for filling the potting mix into medium-sized pots. The Fiskars OneBlade provides a lifetime guarantee, and it's dishwasher safe.
Graden Trowel and Hand Shovel: Tools from the Garden Grown
The Homegrown Garden Tools Graden Trowel & Hand Shovel makes gardening simple. This high-quality garden trowel can tackle the most demanding of gardening tasks. It may be utilized to transplant, dig, and turn soil without difficulty thanks to a rust-resistant nicely polished, heavy-duty one-piece aluminum blade.
The huge, ergonomic handle comes with a contoured finger grip and rubber palm rest to save you from fatiguing your hands and wrists while gardening.
The bright green color of the black grip is nicely complemented with a brilliant green hue on the handle of the garden trowel, making it easy to spot and allowing you to hang the shovel on a hook for rapid and simple storage.