Hair rollers are one of the longest-used ways of curling your hair. Unfortunately, heated curling techniques have taken over throughout the past few decades. When you use a heated curling iron or straightener, it's easier to damage your hair. So, why not go back to the tried and true method of using hair rollers? They've been around for a long time, and for good reason: they work! In this guide on how to curl your hair with rollers, we will show you how to get the perfect curls from hair rollers.
---
What You'll Need to Curl Your Hair With Rollers
Shampoo & conditioner
Hair spray
Hair clips, pins, or hair ties
A comb or hairbrush
Hair rollers (foam or velcro are recommended), or:

Flexi rods
Cold-wave rods

Curl cream, gel, or mouse (for use with flexi rods or cold-wave rods)
6 Steps on How To Curl Your Hair With Rollers
Once you have all of the above tools, you're ready to go! Here is an easy-to-follow guide on curling your hair with rollers.
Step 1: Clean and dry hair
You're going to want to start the process of learning how to curl your hair with rollers with clean hair. So, wash and condition your hair and let it dry to a lightly damp state before moving on.
The shampoo and conditioner that you use are up to you. Using one that works for your unique hair texture will help shape it for later steps.
Step 2: Separate your hair
Comb through your hair, getting rid of any knots or tangles. Once your hair is ready to go, separate it into at least four sections. If you have longer or thicker hair, you'll need to separate it into more sections. Use hair clips to push sections off to the side. Hair elastics can also be used to help separate larger chunks for those with thicker hair.
Step 3: Put the hair into rollers
You're going to want to roll or twist your hair around each of the hair rollers. The process for this may be different depending on which roller you've used.
Velcro rollers: These rollers are self-gripping. So, you won't need any clips to keep them in place. Before using the rollers, you'll want to gently spray them with hairspray. Then you'll grab a section of hair, rolling it underneath the hair and towards the scalp. Once you've gotten your first roller to the top of your head, move on to the next section and repeat until finished.
Flexi rods: If you've chosen to go for the flexi rod, you're likely after ringlets. This type will bend into any shape you're after and will stay in place without the need for clips or pins. Once you're all set with your clean hair, you'll want to apply curl gel, mousse, or cream directly onto slightly damp hair. Then you'll wrap some of your hair onto the rod, starting from the bottom. Once your hair has a grip on the rod, you'll then roll the rod vertically, starting with the end and going towards the root. Secure the rod on the top of your head with a clip before moving on to the next section until all hair has been gathered.
Foam rollers: This type of roller is ideal if you're planning on sleeping in them. They include an outer clip that holds the hair and the roller in place, and the foam ensures that your scalp won't be bothered. For the foam roller, you'll want to start with slightly wet hair. So, if it's already fully dry, you can mist it with some water. You'll begin by using the roller horizontally on one section, rolling your hair inside of the roller up to your root. You won't need to clip these rollers.
Cold-wave rods: This type of roller is ideal for shorter hair. They are used in a similar manner to flexi rods, and you'll begin with slightly damp hair (mist with water if starting dry), and prep with curl cream. You'll then take one of your sectioned pieces and wrap it around the cold-wave rod until you've reached your roots.
Last update on 2022-04-30 / Affiliate links / Images from Amazon Product Advertising API
Step 4: Let your curls set
The time that you leave your rollers in will depend on which of the above methods you used.
For velcro rollers, you'll need to leave it in for at least 15 minutes. The longer you leave them in, the stronger the curls will be. So, it'll depend on what kind of curls you're after. There is no risk if you choose to leave them in for longer, and they can be used overnight.
For flexi rods, you'll need to wait until your hair is completely dry. If you want to speed up the process, you can use a hairdryer. If you want to avoid the heat, you can leave the rods in for 2-3 hours.
For foam rollers, it's common to leave them in overnight. If you're doing this during the day time, it's recommended to leave them in for at least 2-3 hours.
For cold-wave rods, you will also need to wait until your hair is completely dry. So, use a blow dryer or let it set for a few hours.
Sale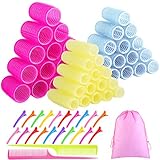 URATOT Self Grip Hair Rollers Set 45 Rollers, 36mm, 25mm, 15mm,...
Set contains: each set contains 68 pieces of hairdressing tools in total, including 45 pieces of self grip rollers in 3 colors that indicate different sizes, 20 pieces of multicolored duck bill clips, 2 rat tail combs and 1 piece of non-woven storage bag, complete and sufficient to DIY your hairstyles
Self grip roller: you will receive 45 pieces of hair rollers in 3 sizes and colors, they are purplish red with the diameter of 36mm/1.42 inches, light blue with the diameter of 25mm/0.98 inch,and light yellow with the diameter of 15mm/0.59 inches, they have the same length of 63mm/2.48 inches; they are used for different degrees of curling and different lengths of hair
Duck bill clips: with our duck bill clips used to make portions of your hair and also fix your hair tightly when doing hairstyles; the duck bill clips are in various random colors, including purple, pink, blue, orange, yellow, green, red, light red; each with the length of 77mm, suitable for you to use
Rat tail combs: we also provide 2 pieces of rat tail combs for you to smooth and comb your hairs, each one measures about 21.5 x 2.5 cm/8.46 x 1 inch; the 2 combs are random in colors from pink, fluorescent yellow, light purple, orange, black, blue
Last update on 2022-04-30 / Affiliate links / Images from Amazon Product Advertising API
Step 5: Release your hair from the curlers
Getting your hair out of the curlers is similar to whatever process you used to get them in. You'll use your fingers to unravel them from the rollers. Do not brush your hair, but instead use your fingers to detangle any curls that may have tangled.
Step 6: Use hairspray all over your head
The latest step in learning how to curl your hair with rollers is to use hairspray. You'll want to lightly mist the hairspray all over your fresh curls. This will ensure that the curls last longer. You can do this while your head is upside down for additional volume. Hair wax can also be used for more defined curls.
Walk Away With Perfect Curls
Your hair should now be looking perfectly curled after using the hair rollers. Most curls should last at least 6 hours, depending on how long you left your rollers in. The best part about non-heated rollers or curling products is that you won't have to worry about overusing them and damaging your hair. Though, you will need to use any hairspray with caution. Ensure that you're fully washing and conditioning your hair after leaving any sort of hairspray in your hair for long periods of time.
---
Now that you have learned how to curl your hair with rollers, you can rest confident that you have another styling trick up your sleeve. You'll never have to worry about running out of fun ways to do your hair again!