Whatever happened to heated rollers? They used to be the staple of every woman on the planet who wanted luscious curls, but then curling tongs and wands arrived. Anyone who has attempted to use a curling wand to create those Hollywood waves will know how hard it is.
How are you supposed to get them looking the same? How do you reach the back without being double jointed or roping in a friend to help? And don't even get us started on the number of times we've ended up with burnt fingers, hands, and singed hair. Luckily, heated rollers are making their way back into the limelight – where they truly belong. Not only are they easier to use, without getting burnt, but they're also kinder on your hair.
The best heated rollers will work on long hair, thick hair, short hair, fine hair, and everything in between. Plus, they create gorgeous, bouncy curls that stay in all day. But what are the best heated rollers? And why should you trade in your curling tongs and wands for these clever little gadgets? We've got the lowdown on the best heated hair rollers on the market, no matter what your hair type or budget. Bring on the curls!
The 8 Best Selling Heated Rollers in 2023!
Last update on 2023-11-25 / Affiliate links / Images from Amazon Product Advertising API
Without further ado, let's take a look at some of the best heated rollers in 2023!
1. Remington H9100 Proluxe Heated Rollers – Rose Gold
Sale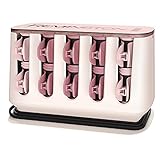 Remington H9100 Proluxe Heated Rollers - Rose Gold
20 velvet flocked rollers for full curl coverage - 8 Medium (25mm) - 12 large (32mm)
Improved clip design & Grip Tech finish for better hold without kinks
OptiHeat Technology Heats rollers and clips to set curls in 5 mins
All day styles - Salon results that last all day**Hair stays curled for 16hrs
Last update on 2023-11-28 / Affiliate links / Images from Amazon Product Advertising API
This tidy little box comes with 20 velvet flocked rollers, 8 medium-sized (25mm) and 12 large-sized (32mm). Remington has improved the design of the clips and its 'Grip Tech' finish as well as adding OptiHeat Technology, so you can get your look in approximately 5 minutes and it will last for up to 16 hours to 24 hours.
When you open the box you will notice the unit which keeps all 20 rollers safely stored. The rollers can be heated while in the storage box. The base allows you to wrap the 1.8m cord around it which means no extra cables getting caught in drawers or wardrobe doors! While having 2 different sizes you are able to choose from a range of styles and this also means the rollers are suitable for any length or thickness of hair.
Our models said the heated rollers were amazing, awesome and the best rollers ever. It is positive to see that these particular rollers can be used on a variety of hair types with successful results. We definitely appreciated having two sizes although not all of us agreed with Remington's definition of "medium" and "large". When we tried putting the set away in different places, we were overjoyed with the storage box, taking up such little space.
After testing the H9100 heated rollers, we decided that they are excellent value for money. They are fast and efficient, easy to store and allow you to achieve the exact look you desire whether your hair is long, short, frizzy or lifeless!
Read the full Remington H9100 Proluxe Heated Rollers review
What we like:
Grip tech so the clips are easy to handle
OptiHeat, curls lasting for up to 24 hours
What we don't like:
Cool touch ends aren't that cool
No heat ready indicator
---
2. BaByliss Pro – 30 Piece Heated Ceramic Rollers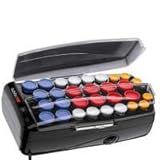 Last update on 2023-11-28 / Affiliate links / Images from Amazon Product Advertising API
Admittedly when you first look at the upright storage you see a sophisticated game of Connect 4, however, this set of rollers comes with 4 different sizes, 15 clips and 30 colour coded metal pins. There are 2 temperature settings and the rollers have easy grips along with cool rims.
In total you will be able to use 30 heated rollers, 6 small, 8 medium, 8 large and 8 jumbos, this combination will allow for a multiple of curls, shape and volume. It is almost impossible not to have enough!
The rollers feature and easy grip, so you won't have to waste time fiddling around and the cool rims will prevent little accidents.
While there are numerous possible styles with so many rollers, the actual set is simple to use and nice and lightweight. There are enough rollers to be able to curl 2 people's hair at the same time without affecting the professional results.
Babyliss are known for there 40 years of contributing to the hair industry and this professional set has everything imaginable to create light waves to voluptuous curls. It is a rather pricey set but considering the entire set, it is worth it.
The colour-coded clips are really helpful, especially if you are in a rush. The box includes instructions which will help any of the novice curlers.
Read the full Babyliss Pro- 30 piece Heated Ceramic Rollers Review
What we like:
30 rollers in 4 different sizes
2 temperature settings
What we don't like:
Clips aren't great quality
Takes a long time to heat up
BaByliss have recently released the same set of hair rollers for a slightly higher price. The new and improved heat up 30% faster and with 10% hotter ceramic rollers. When shopping for this product, be careful about which option you are about to buy.
---
3. BaByliss Pro 20 Piece Heated Roller Set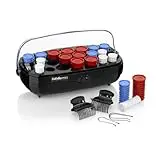 BaByliss Pro 20 Piece Heated Roller Set 8 Jumbo 6 Large & 6...
An upgraded version of our 20 heated roller set with a new heating system that delivers improved heat up under 5 minutes
Now infused with ceramic to deliver frizz-free results and the new heating system increases their heat retention.
Includes 20 easy-grip rollers in 3 different sizes to create fast, flawless curls, shape and volume for all hair types and lengths.
Kit includes: 8 jumbo, 6 large,6 medium ceramic rollers plus 10 super clips, 20 metal pins and 2 heat settings
Last update on 2023-12-02 / Affiliate links / Images from Amazon Product Advertising API
This is like the little cousin of the 30 piece set. It would seem that BaByliss takes note of their customers opinions and makes the improvements, most importantly the new heating system. The rollers are now ready to be used within 5 minutes. The 20 piece set comes with 10 super clips and 20 metal pins. They have also added a heat dot ready which big cousin doesn't have.
It's 20 heated rollers are broken down into 8 jumbos, 6 large and 6 medium, still plenty to achieve your look and still with a variety of sizes depending on the style you want to achieve.
These rollers are infused with ceramic so not only will it take just 5 minutes to heat up but it will also assist those who suffer from that frizzy look. This means that your curls will last for longer too.
Overall, we give this set a huge thumbs up! This is also due to its rather lower price. There are still ample rollers to suit all varieties of hair with some people only needing one size. What is impressive is the number of people who have replaced their 70s Carmen rollers with this BaByliss set. Not only is BaByliss maintaining their customer loyalty, but also increasing it.  
This is a perfect set for the home, particularly as the price is less than the 30 piece set. It is just right the those who want the professional look without spending professional prices.
It is simple to use and it doesn't take a lot of time from the minute you switch it on to the minute you finish. Just watch out for the storage box, the folding arm lets you set it upright but it is easy for all the bits to fall out.
Read full BaByliss Pro 20 Piece Heated Roller Set Review
What we like:
Heats up within 5 minutes
It is a good price
What we don't like:
Heat ready dot doesn't always work
Things fall out of the upright storage box
---
4. TRESemme 3039U Volume Rollers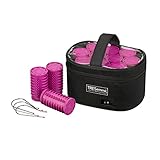 Last update on 2023-11-28 / Affiliate links / Images from Amazon Product Advertising API
TRESemme has provided us with the option to buy a set of 10 large rollers with the emphasis of volume and body. It also comes with 10 easy to use pins and an information booklet if you aren't a pro. It has a fast heat system and a high heat performance giving you the salon look. The bag is lightweight and has a handle, making it easy to take away with you. The other key feature is that it comes with dual voltage.
The set of 10 rollers are exceptionally high quality, taking very little time to curl your hair. The nice thing here is that you can choose between blue or pink.
We are missing a heat indicator but they are ready for use in 10 minutes. Make sure you keep your fingers on the edges because the main barrel of roller gets very hot.
This product might not be the best option if you have short hair as they fall out. If you do have short hair they might work better if you have longer clips than those that are provided. The clips are great for shoulder length to long hair.
Considering this is the cheapest heated roller set we have looked at so far it is most definitely a bargain, especially for the high-quality look once you've had a practice run.
If you know your hair needs more than 10 rollers it might be worth looking at other sets, or do as others have and buy two sets.
Read full TRESemme 3039U Volume Rollers Review
What we like:
Excellent price
Really good for those who want to transport their set
What we don't like:
Watch your fingers on the barrel of the roller because they get very hot
Not ideal for short hair
---
5. Remington H5600 Hot Ionic Technology for Silky Shine Wax Core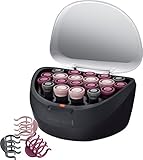 Last update on 2023-11-25 / Affiliate links / Images from Amazon Product Advertising API
There really is a lot of modern technology in these jewels. First of all, we are introduced to ionic technology. Secondly, the core of the roller is filled with wax, improving the heat. There are 20 rollers coming in 3 sizes and 30 colour coded clips and pins. The rollers are heated in 10 minutes and there are cool end grips.
So let's talk about this technology! Iconic conditioning minimizes the static charge which results in shinier, frizz-free hair. The rollers have wax inside which means they retain more heat and the curls set faster and last longer.
The sizes are as follows: 4 small 20mm, 10 medium 23mm and 6 large 27mm. The colour-coded clips enable you to pin the rollers in all areas of your head, keeping them nice and tight with the appropriately sized grip.
Disappointingly, we have found more negatives than positives. On a positive, the ready light indicator is useful however the 10 minutes was too long for us to wait while they heated up.
This set isn't the best choice if you are looking for volume. We found that on straight hair, we needed some hairspray to keep the curls nice and tight.
On a positive the clips are cute and if your hair isn't perfectly straight, you will be able to achieve flawless, tight curls.
Most of us were put off by the higher price of The Remington H5600 is priced quite high, which was enough to put some of us off, especially those of us who have fine hair.
But it is not all bad! The storage box is tidy and durable and once you are walking down the street with you impeccable tight curls you might be able to see past the faults.
Read full Remington H5600 Hot Ionic Technology Heated Rollers Review
What we like:
Amazing curls if you have the right hair type
Colour-coded pins makes life easier
What we don't like:
Very expensive
Comes with a European plug
---
6. High Quality BaByliss Boutique Salon Ceramic Heated Hair Rollers.
Last update on 2023-11-25 / Affiliate links / Images from Amazon Product Advertising API
For our last set, we have the Boutique look from Babyliss. It contains 12 rollers and 12 clips– which are also heated. The rollers are coated in ceramic and have a heat-up time of 5 minutes. These are the first heated rollers we have seen that has a dual-source heating system. It is great to see an on/off button as well as a heat ready indicator.
The ceramic coated heated rollers along with the dual-source heating system mean that there is a maximum temperature of 150ºC, kept neatly in a heated storage box. This heat will create amazing curls, waves and head turning volume with little effort. The soft-touch coating makes handling them easy and burn-free.
The main advantage we found is the thermal finish which protects your hair from damage. The suggested time is 6 minutes to create bouncy curls but some people have found less time gets the job done.
The heated rollers were easy for us to use and while the heated clips are a nice touch, they aren't really necessary.
The dual-source heating system will really make a difference to the speed and the quality of the end look, BaByliss has guaranteed a long-lasting look with the ceramic heated hair rollers. This promise comes at a price, being one of the most expensive sets we have reviewed. It is definitely encouraging to know there is a guarantee.
Read full BaByliss Boutique Salon Ceramic Heated Hair Rollers Review
What we like:
Easy to use and quick results
Comes with a three year guarantee
What we don't like:
Storage box is a bit bulky
It is one of the more expensive sets
---
The Best Heated Rollers Guide in 2023!
What are heated rollers?
Long before the days of curling tongs and wands, women would use rollers to curl their hair. In fact, just the word 'hair rollers' might conjure up images of housewives from yesteryear, wearing curlers in their hair as they go about their daily routines. Not forgetting the hairnet on top, of course, to keep everything in place.
Back then, the rollers weren't heated, and you'd simply leave them in damp hair for as long as possible – or until your hair was dry – to achieve stunning curls. However, the humble hair roller has had some serious upgrades over the years, meaning we're now treated to some of the best heated rollers that money can buy.
Most heated hair rollers are ceramic and come in a little case or pod, that heats up once you turn it on. You then add the rollers to your hair and secure them in place with the pins or clips provided. By the time you've got dressed and done your makeup, the hair rollers should have done their job. Pull them out and voila! Curls or waves that even Blake Lively would be jealous of.
---
Related:
---
Heated rollers vs. curling tongs and wands
So, why would you trade in your beloved curling tongs or wands for heated rollers instead? After all, we've been led to believe that curling wands are the must-have hair tool. However, there are plenty of reasons why this just isn't the case. Here's why the best heated rollers are better than curling tongs or wands:
Heat damage – This one is a biggie! Curling irons, wands and tongs reach some incredibly high temperatures which can severely damage your hair. On the other side, heated hair rollers don't get anywhere near as hot which means they're much kinder on your precious locks.
Burning yourself – Hands up if you've ever burnt your hands, arm, fingers or scalp using a curling wand? Or even just straighteners? The other downside to these gadgets getting so hot is that it can really (really) hurt when they touch your skin. Luckily, that's rarely a problem with heated hair rollers.
Burning furniture – It's not just your skin that you should be worried about when using curling tongs or wands. Most women have experienced the scorch marks of these super hot hair tools when they've been placed on the side. Plus, that whole "Did I turn my curlers off?!" is the number one thought you have when you leave the house. Thankfully, heated rollers are very unlikely to scorch your dressing table.
Ease of use – Getting to grips with curling tongs or wands can be a nightmare. They are so fiddly, especially when it comes to the back of your hair. The best heated hair rollers, however, are so easy to roll into any part of your hair, once you've used them a few times.
Time-saving – When you're curling your hair with tongs or wands, you have no time to do anything else. You can't exactly do your makeup while curling your hair unless you've got an extra pair of hands. With heated rollers, even those with the longest or thickest hair can curl it in half the time. Plus, while your rollers are setting, you can carry on getting ready. Yay to multi-tasking!
Better curls – Many curling wands are thicker near the base, getting thinner closer to the tip. Those with long hair will know how hard it is to get even curls using this method, as there is just too much hair to fit onto the same bit of the wand. Plus, ringlets just aren't the in thing anymore. However, heated rollers make it easier for your curls to look uniform – and are perfect for Hollywood waves.
What's the best way to use heated rollers?
If you have only ever used curling tongs, irons, wands or straighteners to curl your hair, then using heated rollers is going to be a game changer for you. Once you learn how to use them! So, what is the best way to use heated rollers?
Check out our step-by-step guide to getting perfect curls or waves, every single time.
Plug in your hair rollers to let them heat up. Some of the best hair rollers on the market will take mere minutes to get warm enough to use. While they're heating up, spray some of your favourite heat-protection spray onto your hair in preparation. It's important to make sure your hair is dry before you start using your rollers, so don't douse your hair in spray.

Section your hair from the top of the ears so that you have a small section to work with at first. This is particularly the case if you have long or thick hair, as it will all need to be done in sections. Secure the top part with a clip.

Divide your free section of hair in two and move one part out of the way. You should now have one half of the bottom section of your hair to work with. It's time to get rolling!

Place your first heated roller under the hair, around halfway down. Wrap the bottom half under the roller and keep rolling until you've reached your scalp.

The best heated hair rollers will come with pins or clips so you can now secure that roller in place. Roller one, down!

Move to the other half of your bottom section and repeat. However, you'll want to place the roller on top of the hair, not under, so that all curls are in the same direction. Nothing worse than wonky curls.

Repeat the process, working through each section of your hair, leaving the top for last. Remember which side you're placing the rollers under your hair and which section the rollers are going over.

When you get to the top section of your hair, section it off and roll from front to back – towards your scalp. You should look like a baby dinosaur when the top section is in place.

Apply hairspray and continue with your getting ready routine. Ideally, you'll want to leave your hair rollers in for around 30 to 45 minutes. Just enough time to get dressed and paint your face!

Very gently, unpin each roller and let it unravel from your hair. Don't pull or tug, as this can cause breakages and frizziness. Once they're out, brush through the curls with a soft brush and finish off with hairspray.
How to pick the best heated rollers based on your hair type?
One of the best things about heated hair rollers is that they work on practically every single hair type. They also come in a variety of sizes, so you can pick what kind of curl you want. Want tight curls? Opt for the smaller hair rollers. Want wavy Eva Longoria locks? Go for the largest hair rollers you can. You may also want to buy different sizes depending on your hair type. For example, those with short or fine hair are best sticking with small sizes. Some of the best heated rollers for fine hair are much smaller than those with thick or long hair – simply because it'll be a nightmare trying to wrap your hair around large barrels!
The best heated rollers for thick hair, however, will be the larger sizes. The same goes for long hair. The more room you have to fit all of your hair on the roller, the better. If you have really thick or long hair, then you may need more sections – and therefore more rollers – to cover your whole head.
What to look for when buying the best heated rollers?
Now you know what kind of heated rollers suits your hair type, and how they work, it's time to invest in a set that's perfect for you. However, where to start? There are so many different options it can be difficult to know which heated rollers are best. Luckily, we're here to lend a helping hand, so here's how to find the best heated hair rollers for you.
Sizes – By now, you should have a good idea what size heated rollers you need. Look around for a set that includes those sizes, or has a mixture so you can play around with what works for you.
Heat settings – It's a good idea to look for heated hair rollers that have variable heat settings, so you can control how hot you want them to be.
What they're made from – The best heated rollers should be made from ceramic, tourmaline or titanium. These are all excellent for conducting heat and will help prevent frizziness too.
Their weight – There is nothing worse than carrying around a whole load of heavy heated rollers on your head. Make a note of their weight before investing.
Flashing lights – No, we're not talking about heated rollers that come with their own disco! Instead, many heated hair rollers will come with lights that will let you know when they've heated up in the pod or case. Some even have lights on the rollers themselves to let you know when they're hot and when they've cooled down.
Reviews – The best heated rollers reviews will be brutally honest – and that's what we need! Look for comments on how long they take to heat up, whether they're easy to use, if they cause any hair damage, or if they pull when they're taken out.
Ticking off all these boxes will ensure you only part with your hard-earned cash on the best-heated rollers for you. Check for any guarantees or return policies, too. Just in case they don't become your new favourite gadget (although they probably will).
How much do the best heated rollers cost?
Whatever your budget, you're likely to find the perfect heated hair rollers for you. Some of the big names in the heated roller world include BaByliss, Remington, TRESemme, Nicky Clarke, and Toni & Guy. Basically, if they're haircare experts, then they've probably got some of the best hair rollers out there. In terms of budget, it all depends how much you're willing to spend on these little life changers! You can get a basic set of heated rollers for between £20 and £30, but they tend to be very small. Around this price range, you'll find the best travel heated hair rollers as they usually come in little carry bags.
The next step up is where you'll find most of the best heated rollers – in the region of £30-55. Here are some of the most popular options and you'll get a lot more for your money in terms of the number of heated rollers, quality materials, and ease of use.
Finally, at the very top end of the budget, you'll find some heated rollers over £100. Just make sure you read the heated rollers reviews before you part with that much cash – especially if you've never used hair rollers before.
Either way, you're likely to find the best heated rollers for you, your hair type, and your budget. It's time to throw the curling tongs out and invest in a quicker, easier, and more hair-friendly way to create perfect curls every time.