We have compiled the ultimate guide to the UK best hair dryers / blow dryers in 2023
Let's face it: the best part about getting your hair styled is sitting back and watching your stylist work her magic on your hair. Finally, she swirls you around to look in the mirror, and you're in love! Then comes one of the biggest letdowns of getting your hair professionally styled: the day after, when you're faced with the difficult task of replicating that stylist's magic.
Ladies, we've all been there. We often fall short in our ability to get that fresh and professional look we were graced with the very first day of our new 'do.  However, after a billion hair dryer reviews on the internet, can we make sense of all the information overload? Luckily, all the things you need to know for finding the perfect hair dryer for you are provided below.
In a rush? See the best hair dryers reviewed!
BEST VALUE
TRESemme 2000W Fast Hair Dryer, super compact, ultra lightweight,...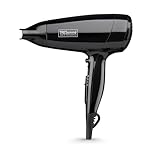 BEST VALUE
TRESemme 2000W Fast Hair Dryer, super compact, ultra lightweight,...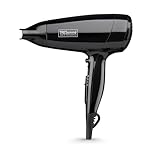 Last update on 2023-11-07 / Affiliate links / Images from Amazon Product Advertising API
1. Remington D3190 Ionic Conditioning Hair Dryer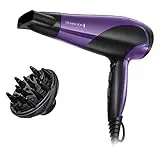 Last update on 2023-11-10 / Affiliate links / Images from Amazon Product Advertising API
This sleek and stylish hair dryer comes in a cool purple and black colour. It has everything that you need for a fast, efficient dry. So, if you find yourself hating morning showers because it takes forever to dry your hair, this one is our pick for one of the best hair dryers for you!
Key Features:
Ionic conditioning to avoid that frizzy hair look.
A variety of settings. Choose from two speeds and three heat settings.
Everybody's hair is different. If your hair is super sensitive to heat, you can still use the Remington dryer at a low speed and lower heat setting. Or, for those with thick and hard to manage hair, set it on the fastest, hottest setting, and watch it dry in minutes! This product also comes with a concentrator, diffuser, and cool shot function. So, whether you have curly or straight hair, this one will get the job done.
What We Love:
Lightweight but powerful.
Doesn't leave hair looking frizzy.
It doesn't make a lot of noise.
What We Don't Love:
The design makes it harder to manoeuvre through hair.
If you're looking for a simple, easy-to-use hair dryer, you can't go wrong with this one. It dries your hair quickly, leaves no frizz, and works with all types of hair. What more could you need?
---
2. Umitive Professional Hair Dryer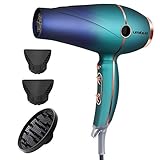 Umitive Professional Salon Hair Dryer with Diffuser and Nozzles,...
★【FAST HAIR DRYING】 - 2300W Powerful Hair Dryer, Salon Level Strong Wind Allows You to Dry Your Hair Quickly.In The Same Time.It Can Prevent Hair From Overheating, Then Damage Hair.Especially Fit for Thick & Long Hair.
★【2 SPEEDS & 3 HEAT SETTINGS & 1 COLD WIND BUTTON】 - This Professional Hair Dryer Offers 2 Different Speeds ,As Well As 3 Heating Settings For Different Hair Types, Cold Wind Button Can Always Keep the Wind Cool Even Though In Hot Temperature Position.These Designs Provide Optimal Control And Versatility For Your Hair.
★【2 NOZZLES AND 1 DIFFUSER】 - These 3 Attachments Can do Different Effects On Hair, The Nozzles Are Used To Control The Wind Direction For Easy Styling. Airflow Gathering Technology Promote The Speed Of Drying Hair. The Diffused Tuyere Is Used to Make The Curls More Visible and More elastic.
★【EXCELLENT PERFORMANCE】 - Negative Ionic Technology, Maintain Natural Moisture In Hair.
Last update on 2023-11-07 / Affiliate links / Images from Amazon Product Advertising API
Did you know that you can get a professional-grade hair dryer for little more than the basic dryer? If drying your hair is an integral part of your morning routine, sometimes it can be the best option to spring for the best quality.
Key Features:
It comes with different attachments. Two unique nozzles and one diffuser come with this product to work with your hair.
It protects your hair from damage. Strong wind energy protects from overheating and damaging your hair.
This professional product uses an innovative heating body design. The strong wind power blows out evenly across hair. The negative ions work to moisturize your hair, leaving it feeling frizz-free, healthy, and avoids that frustrating dried-out feeling that you often get from hair dryers.
This product comes with a unique set of nozzles to work with different kinds of hair. A wind collecting nozzle has comb teeth so that your hair smooths out while drying. The collecting nozzle helps control the wind direction so that you can style your hair as it dries. It also offers a diffused tuyere to make natural curls more visible.
What We Love:
The focus on speed instead of temperature works to protect your hair from heat damage.
Works to dry hair faster than most other dryers.
What We Don't Love:
A little bit heavy.
You can't change the position of the nozzle.
If you want salon-quality hair without salon-quality pricing, this is the perfect choice for you. If you dry your hair regularly or like to style your hair straight out of the shower, then considering this Umitive dryer is the right choice.
---
3. BaByliss Power Smooth 2400 Hair Dryer
Sale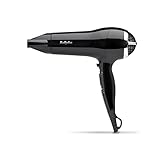 Last update on 2023-11-07 / Affiliate links / Images from Amazon Product Advertising API
This lightweight hair dryer is the perfect budget-friendly option. It has a comfortable design and works to dry hair fast so that you can eliminate time getting ready in the morning. After all, isn't that the most essential aspect of drying your hair?
Key Features:
It comes with a cool shot feature. 
It has 3 heat and 2 speed settings.
Despite such a low price, you still get all of the important features of a hair dryer with this BaByliss dryer. The great selection of heat and speed are perfect for all types of hair. Plus, with ionic frizz-control technology, it works to leave your hair feeling happy and healthy. And, because we know how important it is to be able to move around with your dryer, it comes with a 2.2m power cord.
What We Love:
It doesn't make a lot of noise.
Light and compact, so perfect for travelling.
What We Don't Love:
It's not the most powerful option, so it works better on thinner hair.
We recommend this product to those who love to travel. Sure, most hotels have hair dryers, but they don't compare to this one.
---
4. TRESemme 5543U Salon Professional Diffuser Dryer
Sale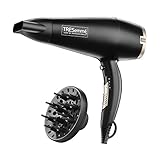 TRESemme 5543U Salon Professional Diffuser Dryer
Professional 2200W hair dryer designed for salon quality drying and styling performance
Ionic conditioning technology enhances the look and feel of your hair for a high-shine finish
Ultimate control with three heat/speed settings plus cool shot button to set your style
Comes with a concentrator nozzle for easy styling and a soft finger diffuser to enhance curls
Last update on 2023-11-07 / Affiliate links / Images from Amazon Product Advertising API
This TRESemme product belongs in hair salons and your bathroom. It utilizes ionic conditioning technology to leave a high-shine, complete look.
Key Features:
Three heat/speed settings and a cool shot button. So, no matter what style you're after, this one will get you there.
Salon length cord for those who need a little more room.
TRESemme has been a trusted hair care brand for decades. So, you can trust that this product is going to leave you with dry, sleek and beautiful looking hair. The 2200 W fan and ionic conditioning technology ensures an airflow that penetrates your hair to get to every strand. The design allows for a constant stream of balancing ions that condition your hair, working to eliminate frizz.
Along with the dryer, you also get concentrator nozzles and a diffuser. So, whether you have thin and straight hair, or thick and curly, this one will work and move with your hair. Plus, with the cool shot button and special nozzle, you can style your hair and go from wet to dry with a hairstyle that's more than your everyday look.
What We Love:
Great for curly hair.
Budget-friendly.
What We Don't Love:
It can feel too hot when close to the scalp.
Despite the professional-sounding name, this product is excellent for those on a budget, and more lightweight than most professional-grade dryers.
---
5. Dyson Supersonic Hair Dryer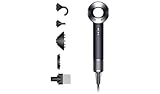 DYSON Supersonic Haartrockner - Schwarz
New Edition Dyson Supersonic. Power: 1600 W, 3 speed settings, Intelligent heat control
Powerful digital motor in handle, Magnetic attachments
Helps you maintain shinier, healthier hair, Fast drying with Air Multiplier technology and a digital motor - Acoustically tuned for lower noise
Comes with smoothing nozzle, styling concentrator, diffuser, non-slip mat and storage hanger
Last update on 2023-11-07 / Affiliate links / Images from Amazon Product Advertising API
From one of the most well-known and reliable brands of hair dryers out there, this Dyson product is up there with the best of them. It's stylish with a black and nickel design, but also incredibly strong to maximize hair styling.
Key Features:
Low noise emission. It's acoustically tuned for low noise.
Digital motor in the handle.
This 1600 W hair dryer comes with three-speed settings to maximize wind power and eliminate long drying times. Its intelligent heat control works to understand your hair and provide it with a temperature that won't damage even the most sensitive strands. The air multiplier technology means that even if you don't want to blast the hottest setting, you'll still receive an all-over dry.
Because we know how vital good styling is, this product comes with a smoothing nozzle to ensure ultimate hair texture. The styling concentrator tool and diffuser also lets you style your hair while it dries.
What We Love:
Great selection of nozzles and add-ons, including a non-slip mat and storage hanger.
Dries faster than most other hair dryers on the market.
What We Don't Love:
If you've ever thought that your hair was too thick or too long to be able to dry in minutes, think again. The Dyson Supersonic Hair Dryer is here to prove you wrong.
---
Our guide to buying the best hair dryers
Best Selling Hair Dyers of 2023
| # | Preview | Product | Rating | |
| --- | --- | --- | --- | --- |
| 1 | | TRESemme 2000W Fast Hair Dryer, super compact, ultra lightweight,... | 11,734 Reviews | SEE PRICE ON AMAZON |
| 2 | | Remington Shea Soft Hair Dryer - Diffuser and Concentrator... | 20 Reviews | SEE PRICE ON AMAZON |
| 3 | | TRESemme Keratin Smooth 2200W Volume Shine Hair Dryer Gift Set,... | 2,526 Reviews | SEE PRICE ON AMAZON |
| 4 | | TRESemme Smooth & Shine Power 2200W Hair Dryer, Ionic ,... | 12,255 Reviews | SEE PRICE ON AMAZON |
| 5 | | Revlon RVDR5823 Fast and Light Hair Dryer, 2000W | 2,210 Reviews | SEE PRICE ON AMAZON |
| 6 | | Remington D3010 Power Dry Lightweight Hair Dryer, 2000 W, Black | 27,339 Reviews | SEE PRICE ON AMAZON |
| 7 | | BaByliss Super Power 2400W Hair Dryer, Salon AC Professional... | 2,844 Reviews | SEE PRICE ON AMAZON |
| 8 | | Remington D3190 Ionic Conditioning Hair Dryer for Frizz Free... | 11,552 Reviews | SEE PRICE ON AMAZON |
| 9 | | BaByliss Elegance 2100W Hair Dryer, Ionic, Lightweight, Smooth... | 4,331 Reviews | SEE PRICE ON AMAZON |
| 10 | | BaByliss Power Smooth 2400W Hair Dryer, Black, Fast, lightweight,... | 6,888 Reviews | SEE PRICE ON AMAZON |
Last update on 2023-11-07 / Affiliate links / Images from Amazon Product Advertising API
Ionic technology: Do I need it?
It may just sound like a buzzword, but ionic hair dryers offer solid benefits for most hair types. The science behind it is simple and straightforward. Water is positively charged. Ionic hair dryers emit negative ions, which interact with the positive water molecules. Once they attach to them, they break them up into tiny droplets, which get more evenly dispersed in your hair and take less time to evaporate.
This ionic process makes your blow-drying experience short and sweet and leads to less frying and frizz and more shine. Many of the best hair dryer models offer this technology, making it more accessible than ever. This is one buzzword you'll want to get behind.
---
Related:
---
The essential features needed when choosing your hair dryer
There are several features that, depending on hair type, are considered the most important when it comes to picking out the best hair dryers. I've found these key features to be the most crucial in determining which dryer is best for you and your hair.
Wattage: The wattage is the heat and fan power emitted. The higher the wattage, the higher the heat and fan power. Most hair professionals agree that up to 1875 watts are ideal for your home blowouts, especially for those with thin or short hair. Some stylists, however, agree that incredibly thick and coarse hair will benefit from 2000 watts.
Ionic/Tourmaline: Ionic hair dryers are offered in a wide variety of brands. It's easier on your hair, promotes frizz control, and reduces your hair's heat exposure. Tourmaline is a mineral that emits negative ions only, which even further enhances ionic hair dryers. However, not all ionic hair dryers are made of tourmaline; its parts may be composed of other materials. If it contains tourmaline, then you can expect the price of the hair dryer to jump, since it's quite an expensive mineral.
Good heat distribution: Many hair dryers out there emit heat in different ways. No frills dryers blast heat unabashedly, which can lead to some heat damage and increased frizz. Infrared hair dryers are great for faster drying time. Infrared waves are longer than other energy waves, which means they'll reach the roots first. Your hair then dries from the inside out, which helps help in preventing the surface of your hair from frying. Ceramic hair dryers evenly distribute heat, resulting in a softer, more controlled blowout. As a result, they're great against frizz. They also emit far infrared heat, which is a plus. Titanium dryers are good in emitting more heat than other dryers and can reduce overall drying time. They're also more lightweight than ceramic. They're great for thick hair that will require more drying time but bad for thin or short hair.
Lightweight: A lightweight hair dryer means your biceps don't get exhausted from holding it up. Ladies with thick and long hair, I know you hear me!
Cool shot: This feature may seem unimportant or more of a novelty, but it actually helps out your locks. The cool shot is known to "lock-in" your look. It's used at the end to set your curls, waves, or overall style, give it shine and seal hair cuticles.
Attachments: Finding a hair dryer with the right ones can be a huge factor. Nozzles are a popular attachment in that they concentrate the heat for more localized drying. This prevents larger sections of your hair from being exposed to continuous heat. Diffusers are great, too, if you're looking to add some oomph to your curls or waves. They help spread the heat out, too, reducing frizz.
Travel friendly: This feature is essential for those who love to travel but loathe the heat guns that hotels typically provide. Most travel hair dryers come with unique features that make packing a cinch, such as foldable handles and a retractable cord. For those of you who enjoy international jaunts, many travel hair dryers are dual voltage, which means they are compatible with electricity outlets from the States to Europe and beyond. Just make sure you have a travel adapter for this.
Best blow dryers for your hair type
Now that you've got a good handle on the most important features of your next hair dryer, here's the rundown on which hair dryers work best for which hair types.
Best Hair Dryers for Curly and/or frizzy hair: An ionic ceramic hair dryer is your best bet. Ceramic hair dryers are known for better heat dispersal and less drying time, which combats frizz. The bonus of ionic technology offers the same benefits. A hair dryer with a diffuser attachment also helps tame your curls and gives them bounce. A cool shot is helpful in locking in your curls and minimizing frizz. Plus, your locks will look shiny and new.
Best Hair Dryers for Fine or short hair: Fine and short hair can be especially prone to becoming brittle from heat damage. A ceramic, low-wattage hair dryer is your best option. The even heat dispersal from the ceramic, compounded by the controlled heat and fan settings of the low wattage, ensures your hair is protected from over-drying. A nozzle attachment is also pretty useful to help with more concentrated areas. Finish it off with a cool shot, and you're good to go.
Best Hair Dryers for Long and/or thick hair: Titanium is your best option since it typically emits more heat, reducing your drying time. Having a lightweight hair dryer is super important here as well. Tackling your long mane takes time and manoeuvring, which is why a lightweight hair dryer makes it just a little easier to hold up for long periods of time.
Best hair dryer brands
BaByliss: BaByliss has long been regarded as one of the best, most reliable hair dryer brands. Their 2100W Elegance model is considered one of the best BaByliss dryers, providing a lightweight body, ionic technology, three different temperature settings, and two power settings, making it versatile for any hair type.

Dyson: Their Supersonic hair dryer monitors its temperature continuously via sensors to prevent it from over-drying your hair. It also comes with magnetic attachments, making changing out each one a snap. Its high-powered fan makes drying time significantly shorter without adding more heat. Though pricey, customers state that it's worth the investment.

Remington: The Remington Power Dry Lightweight Hair Dryer is all the rage and has racked up fantastic reviews on Amazon. Its key features are its ceramic grille – which will combat frizz and promote shine – and an Eco setting, which helps you use significantly less energy when using the mid heat setting. This makes this one of the best hair dryers for thick or thin hair when you add in its variable heat and power settings. Based on its praise alone, this is arguably the best Remington hair dryer around.

TRESemme: The TRESemme Fast Dry 2000 is a 2000-watt dryer that comes with three heat settings and nozzle attachment. This model is also lauded by consumers for its performance for quite the bargain. The only downside: no ionic technology.

GHD: The GHD Air is sleek, ionic, easy to hold, comes with an easy-to-use cool shot, and offers three temperature settings. This dryer is touted as one of the best hair dryers for curly hair thanks to its added diffuser attachment.
How to blow dry your hair like an expert
So you've decided on the right hair dryer, and now you're ready to put it to the test. Here's how you can recreate that pro blowout look yourself without having to run to your stylist each time.
Use the right heat setting: If you have fine or short hair, you're going to want to start with warm heat. Blasting your hair with high heat right off the bat could fry your hair. If you have thicker or longer locks, higher heat is the way to go.
Use the right hair dryer attachments: If you are looking to give your curls some life, use a diffuser attachment. If you wish to blow-dry your straight hair, a nozzle attachment will work wonders with applying the right amount of heat in the right places.
Use the right brush: Not all brushes are created equal. Round brushes are best used for wavy/curly hair and to create more volume. Paddle brushes are best for drying straight hair.
Pre-dry: Soaking wet hair will not dry sufficiently with a hair dryer but will instead frizz out. Air or towel dry first. If you towel dry, be sure to pat dry instead of rubbing dry to prevent frizz and hair breakage. If you have bangs, blow dry these first and foremost, as they'll be harder to manage later.
Hair product: Apply a heat protectant or any styling product you choose when hair is damp. Less is more here, so add modest amounts to avoid weighing your hair down.
Use fingers for your roots: Once you begin to blow dry, use your fingers to tousle your hair to get to the roots. Gently pull up at them so the dryer can reach them.
Dry in sections: Section off your hair into the nape, middle, and crown sections. This ensures even drying throughout and prevents the rest of your hair from over-drying. In each area, pull out a portion with your brush and dry from root to tip, using your brush to pull your sections of hair tight. As any stylist will tell you, always pull hair in the same direction you are blow drying. This will guarantee softer, sleeker, frizz-free locks.
Get the right angle: Point your hair dryer downward toward your roots and make gentle sweeping motions from root to tip. Don't shake your dryer back and forth wildly; this just throws heat at your hair over and over again and doesn't actually get it any dryer. Be steady and gentle in your hand.
The 80% rule: Hair should be 80% dry before styling begins. Once you hit this mark, you can also use the cool shot to help dry your hair the rest of the way and lock in the look you want.
With so many fantastic brands to choose from, the world is your oyster. Whether you plan to make a significant investment in a top-notch hair dryer – such as the Dyson Supersonic – or are looking for the best bang for your buck – like the Remington Hair Dryer – your hair will thank you for it!