Hair drying is always an unpredictable task, and hairdryer attachments can help make it easier. The last thing that you want to do before an important event or even just going to work is to have to sit and wait for your hair to dry. Nobody likes leaving for work with a head full of wet hair. If you've yet to master the perfect drying techniques, this guide is here for you. So, let's explore the frequently asked question, what do hair dryer attachments do?
What do hair dryer attachments do?
---
The Hair Dryer Concentrator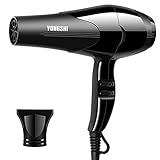 Professional Hairdryer Powerful Negative Ionic Hair Dryer 3 Speed...
★1200W Powerful hairdryer Leading light, compact design concept+anti frizz+anti radiation hair dryer+3 Speed +3 Heat Setting +Cool shot indication+Concentrator nozzle+Negative ion function+long cord hair dryer.
★AC motor hair dryer, Strong wind to perfect for daily drying.dry and style the hair quickly in about one minutes.Strong negative ionic function without demage hair.
★1.6 M long cord meets salon and personal need,cool shot button indicator shows cool/ heat air that you choose.make it much easier for use. suit for hairdryers for men,women all age people and any place.
★3 speed settings and 3 heat settings (HOT / COOL / WARM) for better drying and style flexible compact hair dryer.
Last update on 2022-06-29 / Affiliate links / Images from Amazon Product Advertising API
These hair dryer attachments are one of the most used and often come with your hair dryer upon purchasing it. They're designed to help channel the airflow from your hair dryer onto any unique section of hair or spot on your head. This will prevent the hair from blowing too much and gives you far more control with both drying and styling.
Additionally, the hairdryer concentrator can help you straighten your hair. Using it in tandem with a hairbrush can make sure that your hair dries smoother and straighter.
---
The Hair Dryer Diffuser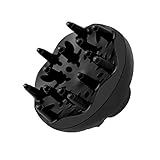 Universal Hair Dryer Hairdressing Blower Styling Salon Curly...
Material: high quality ABS, streamlined design, tight seams, durable and environmentally friendly.
Size:Connection diameter Approx:5cm.Cover diameter Approx:14cm.
High temperature resistance, uniform heat dissipation,black.
A hair dryer with an outer diameter of 4-5 cm can be used.fit fit most full size professional hair dryers.
Last update on 2022-06-29 / Affiliate links / Images from Amazon Product Advertising API
Diffusers are another common hair dryer attachment. They're typically in a bowl shape with tine-like points spread evenly across the surface. It works to lower the intensity of the airflow coming from your hairdryer, spreading out the air.
Hairdryer diffusers are made for people with curly hair. The curls will dry more gently, reducing both frizz and static.
Many hair dryers come with a diffuser as an add-on, but they can also be purchased separately.
---
Hair Dryer Picks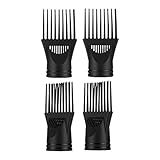 Milisten 4Pcs Comb Attachment Hair Dryer Blow Dryer Pick...
Fit with most kind of hair dryer use perfectly.
Made by high quality plastic material, durable and provide long service life.
Caution: Please confirm it is fit with your hair dryer before purchase.
With its unique design, you can use it more easily and friendly, let your hair dry more faster.
Last update on 2022-06-29 / Affiliate links / Images from Amazon Product Advertising API
This hair dryer attachment works like a comb that's already attached to the hairdryer. You use the hair dryer pick to untangle your hair while you blowdry, stretching out curls or getting rid of any knots. They're also a great tool to use for getting more volume at your roots.
The hair dryer pick that you use will largely depend on the texture and length of your hair. Some picks are made specifically for afro hairstyles, while others are designed for straighter hair. The shorter prongs are ideal for short hair, while longer prongs will work better on a longer hairstyle.
---
Style Dryer Attachments
Sale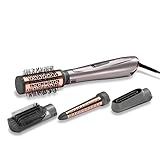 BaByliss Air Style 1000W Powerful 4 in 1 Hair Dryer Styler
Powerful 1000W hair dryer styler dries the hair as you style for fast results
Hot air styler with 4 interchangeable attachments to dry, smooth, volumise and curl
Ionic technology to control frizz and boost shine as you style
Easily interchangeable attachments with a simple and secure locking system for total control
Last update on 2022-06-29 / Affiliate links / Images from Amazon Product Advertising API
Some hair dryers are made specifically for helping you style your hair. These products will typically come with a variety of their own attachments to help you get the ideal hairstyle you want without having to break out another styling product.
The attachments on these unique hair dryers will vary in length and width to adapt to your texture of hair. A curling attachment may not get the exact same effects as other curling methods but they can help save plenty of time by leaving your hair looking voluminous. They also comb your hair as you dry, so you don't need to worry about getting rid of all the tangles beforehand.
---
Hair Dryer Caps
If you like the feel of sitting under the hair salon's hooded blowdryers then you'll love hair dryer caps. These attachments are often budget-friendly, and always easy to use. You sit the cap or bonnet on your head, attach the hair dryer to the exit, and plug in in. All you'll need to do is hold the hair dryer or adjust it so that it can stay in one place while you wait for your hair to dry.
Using a hair dryer cap will leave your hair salon-fresh while keeping you from doing the work. It works faster than typical methods of drying your hair, as the heat will disperse evenly across your head. It's also mostly hands-free, so you can do your skincare routine or browse through your phone as you wait.
---
Hair Curler Tubes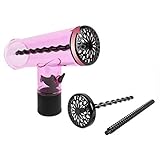 Gelentea Automatic Hair Air Curler Curly Hair Curler Tube Fit For...
1. Lightweight and portable, easy to carry and store.
2. High temperature resistant materials, safe and durable.
3. Universal interface for easy installation, fit for most hair dryer with round opening of about 3.5-4.5cm.
4. Makes hair naturally curly and beauiful with this curler.
Last update on 2022-06-29 / Affiliate links / Images from Amazon Product Advertising API
Curler tubes work with wet or dry hair. They're simple plastic attachments that pop right onto your hair dryer and proceed to suck in the hair, curling it through the internal plastic stick. Your hair will wrap around the stick, leaving it wavy.
These tubes work in by using similar methods to regular curling irons. However, instead of needing to wrap the hair around the hot iron with your hands, the hair dryer does it for you
---
Products For Hair Drying
So, now you have an answer to the question of what do hair dryer attachments do.  You're likely feeling ready to begin blow drying your hair more often. However, there are a few key things to keep in mind.
Heat Protectant Spray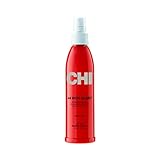 Last update on 2022-06-29 / Affiliate links / Images from Amazon Product Advertising API
Any time you use a hair dryer your hair is being exposed to high levels of heat. You can use the cooler settings, but sometimes you need that hot hair to do the styling that you want it to do. So, always use a heat protectant spray or cream before using your hair dryer.
---
Anti-Frizz Cream
Last update on 2022-06-29 / Affiliate links / Images from Amazon Product Advertising API
You still risk for ending up with frizzy hair with some of the more advanced hair dryer attachments. Using an anti-frizz cream can reduce the time it takes to dry your hair, and will leave it looking and feeling smooth.
---
Absorbent Hair Towels
Last update on 2022-06-29 / Affiliate links / Images from Amazon Product Advertising API
Hair dryers are designed to do all the drying work for you. You can always start blowdrying with a soaking wet heat, but it will take longer. Using an absorbent hair towel before going to the hair dryer will make it easier and far more manageable. We recommend wrapping your hair in one of these towels for a few minutes before you go for the dryer.
---
Sitting around with a towel around your head can take hours. You also don't want to go to bed with wet hair, as it can damage both your pillows and your hair. Fortunately, hair dryers are designed to make your life easier. Now that you know what hair dryer attachments do, we hope that the process will become even easier!