Brushing your hair each day may seem like the most simple task in your getting-ready routine. Brushes are one of the most commonly found beauty products in homes all over the world. Their purpose of detangling hair and making it smoother and easy to style is a convenient one. However, hairbrushes have become a lot useful, and can now do far more than just get rid of any knots. The hot air brush is one of the most useful tools to add to your beauty kit. They can help style your hair and work with all textures. You can also use a hot air brush to curl your hair. So, let's find out how in only a few easy steps!
How to Use a Hot Air Brush to Curl Your Hair
Styling your hair doesn't have to be difficult. Here is a quick rundown of all of the easy steps to curling your hair with a hot air brush. It's important to note that no matter how you use your hot air brush, you won't get overwhelmingly curly hair. The hot air brush is better at giving you stylish waves, with plenty of volume and body.
What You'll Need
A hot air brush
Hair clips or elastics
Hair spray
Heat protecting spray
Shampoo and conditioner
Step 1: Clean and dry your hair
You should always style your hair when it's clean. This will make the process easier, as your natural hair texture will be enhanced. Any volumizing shampoo and conditioner will do the trick.
When drying your hair, we always recommend doing it without heat. Using a towel and letting the rest air dry will keep your hair healthier for longer. Though, if you're in a crunch, you can always use a hairdryer. If you do this, make sure that you prep your hair with a heat protecting spray.
Step 2: Plug in the hot air brush to let it warm up
Like with any hot hair product, you'll always need to let it warm up. This shouldn't take more than a few minutes for most hot air brushes. Make sure that you plug it into an outlet that is close enough to your bathroom mirror so that you can watch your progress as you curl your hair.
If you don't already have a hot air brush, check out our favourite below!
No products found.
Step 3: Comb through your hair
Using a comb, brush through your hair while you wait for your hot air brush to warm up. You can't start styling it until you've gotten out all of the tangles or knots.
Step 4: Apply a heat protecting spray
Always apply some sort of heat protecting spray before touching your hair with a hot styling product. This will reduce the damage that heat can do to your hair, making it stay healthier. Heat protectant will help add more moisture to your hair and will form a protective barrier around the strands.
Using heat protectant in a spray form is the easiest. However, you can also use a gel or a cream.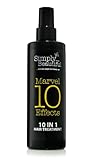 Marvel 10 effects – 10 in 1 hair conditioner with...
Restores moisture to dry, damaged hair. Anti-static effect.
Protects the hair while styling with hot devices. Detangles hair effectively.
Rich in anti-oxidation agents. The hair is easier to comb, hair breakage is reduced.
Hairstyles last longer. Reduces the formation of split ends
Last update on 2023-11-09 / Affiliate links / Images from Amazon Product Advertising API
Step 5: Section off your hair
Curling your hair with any styling tool is always easier when you've sectioned off your hair. This helps you work on it one section at a time, ensuring that you don't miss a single strand.
You can use hair clips or elastics to section off your hair. Hair clips tend to be easier, as they allow for easy release. You should divide it into a top half and bottom half. However, the longer your hair is, the more sections you may need for convenience.
Step 6: Start curling with a small section
Gather one section of your hair. The section should be no more than one inch thick. Any more hair than this will be too much for the hot air brush to curl your hair.
Place the hot air brush underneath your hair. You'll then wrap the section of air around the brush. Pulling the brush inwards, you'll guide your hair so that every bit of the section is wrapped around the hot air brush. Roll it all the way to your roots, gathering all of the hair. Hold it in place for between 10 and 15 seconds.
Once you've held the hot air brush in your hair for at least 10 seconds, you can pull the brush out, towards the end of your hair before releasing it.
Step 7: Apply hairspray or holding spray
Apply a small amount of holding hair spray to each section after its been curled. This will allow the hair to stay curly for longer. Be careful not to apply too much, as it will make your hair feel stiff.
Last update on 2023-11-09 / Affiliate links / Images from Amazon Product Advertising API
Step 8: Go through each section and repeat
You'll repeat the last 2 steps until you've gotten every section of your hair curled. It's best to start with your bottom sections and then work your way to the top section. By doing this you'll make sure that you don't miss any sections.
Step 9: Unplug hot air brush
Never forget to unplug your heating products! After you have finished using your hot air brush to curl your hair, turn off the device and unplug it. Allow the brush to cool down on your bathroom counter before putting it away.
Now you should have beautiful, wavy curls. There are plenty of ways to get curly hair, like with rollers and hair straighteners. Though each method has its unique perks, we love using hot air brushes to curl hair because they work on all styles, lengths, and textures of hair. The brushes themselves also tend to be cheaper than expensive hot irons. So, if you don't already have a hot air brush that you can use to curl your hair, we think that it's worth a try!