You've just left the hairdressers. You've had the most stunning blow dry and finish… ever. Your hair looks perfect. It hangs beautifully in the style it has been cut into, with no stray bits or odd little flicks or stubborn curls. It falls like a shining curtain and you look like you've just stepped out of an advert for super-expensive hair care products. You have catwalk model hair! You feel like a new woman, like a million dollars. But you know for a fact there's no way you'll be able to replicate the effect yourself at home, that 'just come out of the salon' look where your hair's all thick and shiny, bouncy and obedient. How do they do that?
The answer is a pair of the best hair straighteners, the simplest way for ordinary mortals like us to achieve glowing, salon-perfect locks. Here's what you need to know about the different types of hair straightener, and how to get that just-pampered look for yourself first time, every time. Look out for our hair straightener reviews later on in the page, and prepare for great hair!
Best Selling Hair Straighteners 2023
| # | Preview | Product | Rating | |
| --- | --- | --- | --- | --- |
| 1 | | Remington Shea Soft Hair Straightener - Shea Oil Enriched Ceramic... | 17 Reviews | SEE PRICE ON AMAZON |
| 2 | | Remington Shine Therapy Advanced Ceramic Hair Straighteners with... | 25,085 Reviews | SEE PRICE ON AMAZON |
| 3 | | TRESemme Ceramic Straightener, Up to 230°C, Smooth Ceramic... | 2,825 Reviews | SEE PRICE ON AMAZON |
| 4 | | Remington Ceramic Straight 230 Hair Straighteners, 15 Seconds... | 10,159 Reviews | SEE PRICE ON AMAZON |
| 5 | | Hair Straighteners for Women 2 in 1 Hair Straightener and Curler... | 928 Reviews | SEE PRICE ON AMAZON |
| 6 | | Remington 215 Ceramic Hair Straightener - Slim 110mm Floating... | 51 Reviews | SEE PRICE ON AMAZON |
| 7 | | BaByliss Elegance 235C Hair Straighteners, Floating ceramic... | 1,895 Reviews | SEE PRICE ON AMAZON |
| 8 | | Professional Salon model hair straightener, Infrared technology... | 264 Reviews | SEE PRICE ON AMAZON |
| 9 | | TRESemme Keratin Smooth Control Number 230 Straightener, black | 982 Reviews | SEE PRICE ON AMAZON |
| 10 | | BaByliss Midnight Luxe Hair Straightener 2516U | 695 Reviews | SEE PRICE ON AMAZON |
Last update on 2023-11-06 / Affiliate links / Images from Amazon Product Advertising API
1. BaByliss Ombre Number 235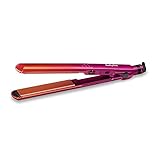 BaByliss Ombre Number 235 Straightener
Up to 235C salon performance
Ultra fast heat up and heat recovery
20 temperature settings for all hair types
Longer length, easy glide titanium-ceramic plates
Last update on 2023-11-06 / Affiliate links / Images from Amazon Product Advertising API
Hair straighteners are meant for utility, but that doesn't mean that they can't be stylish themselves! This straightener is made in a fashionable ombre colour, to give some design to your accessories table. Not only is it cute, but it has a salon-worthy performance that goes up to 235C.
Key Features
Fast heat up. You won't have to wait long to be able to get to straightening.
20 temperature settings. Because this brand knows that we all have unique needs and hair textures.
When you think of a hair straightener, you likely don't think of it being able to do anything beyond making your hair straight. Well, think again! This product comes with a curved outer house. So, you can straighten your hair, or you can even curl it!
This straightener has 20 different temperature settings. If you have sensitive or thin hair, you can protect your hair from heat damage with a lower setting. But for those with thick, hard-to-tame hair, you can use the strongest setting for a flawless finish. The extra-long Titanium-ceramic plates also make it easier for those with longer hair, so you won't have to spend hours trying to get that perfect texture.
What We Love:
Budget-friendly.
Works with almost any hair texture, length, and thickness.
What We Don't Love:
The curling option takes longer to work.
Product scratches easily.
Buying a beauty product doesn't have to be complicated. This BaByliss product makes the easy decision for you. All you have to do is buy it, plug it in, and get ready for flawless, straight (or curly!) hair.
---
2. Remington Keratin Protect Intelligent Ceramic Hair Straightener
Sale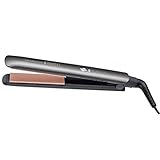 Remington Keratin Protect Intelligent Ceramic Hair Straighteners,...
Digital temperature display with five settings 160-230 Celsius, fast 15 second heat-up time and auto safety shut off
Patented intelligent heat protection sensor continuously measures your hair's moisture levels and the straightener adapts to the optimum temperature for your hair, giving three times more protection from damage*
Vs straightening with the intelligent heat protection sensor turned off
Enhanced ceramic coated plates infused with keratin and almond oil transfer micro-conditioners as you style for smooth, shiny, healthy looking hair
Last update on 2023-11-20 / Affiliate links / Images from Amazon Product Advertising API
Plenty of hair products are known to damage your hair because of their heat levels. This Remington product tries to do the opposite. The ceramic plates are infused with keratin and almond oil and work to transfer micro-conditioners as you style and straighten your hair. So not only does it end up straight, but it'll be smoother, shinier, and healthier by the time you're done!
Key Features:
Digital temperature display. No more guessing work needed.
Auto safety shut off. For those who always forget to turn them off.
This straightener comes with five different settings, from 160 to 230 Celsius. No matter what the temperature, it'll only take 15 seconds to warm up! What's unique about this product is its intelligent heat protection sensor. It will measure your hair's moisture levels as it works to adapt to the optimum temperature for your hair's needs. This means that you can't burn your hair off no matter how hot it feels!
A commonly occurring anxiety about straightening your hair is forgetting to turn it off when you're done. When this happens, it can lead to even more than just anxiety. Leaving on a hot product like a hair styling device has been known to cause damage to countertops, or do even worse damage. Fortunately, Remington recognizes this fear! After 60 minutes of being turned on, this product will automatically turn itself off.
What We Love:
Works great on thick or curly hair.
Never burns or frizzes.
What We Don't Love:
If your hair is prone to oiliness, the keratin and almond oils can leave your hair feeling greasy.
With all of the fancy features that come with this product, you may be fearing that it's out of your price range. Fortunately, it still remains budget-friendly and costs a fraction of many other high-end straightening products.
---
3. Remington Proluxe Ceramic Hair Straightener
Sale

Remington Proluxe Ceramic Hair Straighteners with Pro+ Low...
Nine variable temperature settings 150-230 degree Celsius and temperature lock function
Pro+ setting at 185 degree Celsius for healthier styling
Intelligent OPTIheat technology provides heat where it matters
Five times smoother ultimate glide ceramic vs standard ceramic coating
Last update on 2023-11-06 / Affiliate links / Images from Amazon Product Advertising API
This Remington product is another stylish but hard-working straightener. It works hard to flatten your hair, but is smart enough to prevent it from burning with intelligent OPTIheat technology. Even if you think that your hair is too thick to straighten, let Remington prove you wrong.
Key Features:
9 temperature settings from 150 to 230 degrees Celsius.
Smooth, ceramic panels for an easy glide.
How many times have you straightened your hair, only to go outside and notice it frizz and thicken right away? You're not alone. The Remington Proluxe has a 24-hour style locked-in feature. So, while using OPTIheat technology, your hair will style itself in a way that lasts all day.
The Proluxe has ceramic coated plates, making it easier for your hair to glide through. This makes it easier and pain-free to straighten your hair, but it also leaves it lasting smoother. With such an easy glide, it will also make your hair 50% more straight from just one pass through! So say goodbye to spending hours trying to get your hair perfectly straight.
What We Love:
Heats up fast.
Great sized plate that lets you get close to the scalp with ease.
What We Don't Love:
Plates can smell like they're burning immediately after turning on.
Straight, smooth hair shouldn't be hard to achieve when you've got a great working product like the Remington Proluxe!
---
4. Ionic Hair Straightener Brush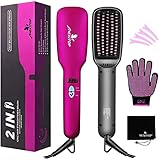 Hair Straightening Brush - Ionic Beard Straightener Brushes,...
New Faster Electric Straightening Revolution: We improved current hair straightening brush, enlarged the contact area of brush teeth and hair. And also optimized the layout of the teeth, not a little of hair will leave the brush,it enables a higher efficient straightening and also much better smooth and straight effect,and still remain all the advantages of former model. Just take a try, it will not let you down always.
New Color Revolution: The perfect combination of warm and code tones creates a collision, vitality in color.The combination of rose red and space gray is more eye catching,It will be a trendy color choice from 2021 to 2022,Beauty bloggers, influencers highly recommended.Not every straighter hot comb is the doing the same as Mexitop hair styler tools. Also it can be as beard straightener brush for men.
What Offers Your Hair a Health Care: The product is auto-heated hair straightener brushes for daily hair care and beard straighteners styling.It helps detangle your hair and provides an instant straighten function while leaving behind a healthy shiny, sleek, frizz-free, silky hair with high definition.Hair knotting is not a problem anymore by ionic function.Reduce pain and hair broken,repair the hair quality of harm.Easily get a beautiful straight salon quality hair styling for a whole day.
Safety Care for Every User: The heating area of the Hair Straightener Brush is isolated with hard plastic bristles to protect your hair and hands from heat,it is also featured an Automatic Power Off function after a usage of 30min to keep you and your counters safe. For continuous use, turn on the device again by pressing ON/OFF button,and we give a bonus heat-resistant glove for users who have worries about heat Humanized safety design is our sincere to customer as a reputable brand.
Last update on 2023-11-06 / Affiliate links / Images from Amazon Product Advertising API
Hair straighteners have begun to evolve over the past decade. One of the more recently designed variations of the typical hair straightener is the hair straightener brush, as seen in this Ionic hair product. Instead of the basic ceramic plates that aim to glide through your hair, these provide a comb or brush feature that brushes your hair as it straightens it!
Key Features:
Smart heating technology. The ceramic and negative ion heating technology works to protect your hair against heat damage.
Automatic shut-off feature. 
This hairstyling device features 5 different temperature settings, with a recommended guide. So, if you've got thin, straight, or bleached hair, you can stay safe at the lowest setting of 150C. Or, for those who have thick or coiled hair, the 230C setting may be the best option for you!
What makes the brush feature a unique choice compared to the regular, plated model is the effect that it leaves on your hair. The brushing gives for a smoother style with fewer flyaways and frizz. While it's best to work out any knots before you start brushing, it will leave your hair free of tangles.
What We Love:
It has anti-scald tips to avoid burns.
A 30-minute automatic safety shut off to prevent anxiety about forgetting to turn off the product.
Makes straightening your hair quicker.
What We Don't Love:
Can be harder to reach the scalp.
If you've only ever used the traditional hair straightener, we recommend you experiment with a hair straightening brush like this one. You'll be blown away by how easily it straightens!
---
Guide to the Best Hair Straighteners
What is a hair straightener?
Hair straighteners, also called hair iron or hair tongs, are used to temporarily change the structure of hair using heat. They're the modern version of the old-school way women used to straighten and smooth their hair, namely using an ordinary household iron. Yes, believe it or not, Victorian women used to actually iron their hair straight, and the practice carried on until well after the second world war. Wise women used a sheet of newspaper to protect their locks against the raw heat, and the rest probably ended up burning their hair to a frizz. Luckily those bad old days are long gone!
Contemporary hair straighteners are heated electrically, some are even cordless versions run on butane gas cannisters, although powering a gadget that heats up with a substance that can explode doesn't seem particularly clever. However they're powered, they work by breaking down positive hydrogen bonds in the cortex of the hair, the central core, which is the bit that makes hair curl. Breaking the bonds stops your hair doing its usual wavy or curly thing. The effect is reversed with moisture, as you'll know if you've ever left the salon in the middle of a rainstorm.
Cheaper straighteners often come with just one layer of protective ceramic on the plates. Better quality ones have several layers, whereas high-end straighteners use multiple layers or even 100% ceramic. The ceramic material protects your hair a lot better than metal alone.
How to use a hair straightener
There's one important thing to say first of all, and it's about over-use. Too much heat, too often, can damage your hair permanently, leaving it dry and frizzy and dead-looking, so always follow the instructions to the letter.
First, prepare your hair. Wash it and condition it well and it'll respond best to straightening. Clean hair is less likely to be damaged by the heat, too. Then dry your hair thoroughly – remember never, ever use your straighteners on wet hair.
Blow-dry your hair then use a good heat protection product, an absolute essential. Remember to keep the product off the roots in case it makes your hair look greasy. Now you're ready to straighten.
Set the iron to the temperature recommended in the manual
Divide your hair into layers or strands and work on them one by one
Start straightening an inch – 2.5cm – from the roots and straighten one layer at a time, feeding the hair smoothly between the plates
Carry on until all the sections are done, stopping immediately if you hear a sizzle or see steam
Hair straighteners for different hair types
The best straighteners have a good, thick ceramic coating, or are completely ceramic, extra-gentle for the hair. If you really want to push the boat out try some titanium flat irons, often the best hair straighteners for frizzy hair, especially good for thick and coarse locks. They heat up faster than ceramic and remain consistently hot. Choose the right width of straightener for your hair, with 'plates' – the part your hair goes into – of anything between an inch wide for the best mini hair straighteners to an inch and a half wide, 2.5cm to 3.8cm.
How about best hair straighteners for fine hair? Straighteners with slim plates, from 0.5 inches to 0.75 inches wide, are usually used for precision straightening, great for really short or very fine short hair, which makes them the best hair straighteners for short hair. And short, very thick hair is sometimes best straightened with small plates as well.
As a rule small or standard width hair straighteners are your best choice for anything except straightening, for example creating curls. More about creating curls with a hair straightener later. The best hair straighteners for curly hair? It depends whether your hair is fine or coarse, but a nice, wide plate straightener will probably work really well.
The longer your hair is, the faster a wide-plated straightener will do the job. On the other hand while it can take longer to straighten long hair with slim plates, the right heat setting is the most important thing. You may find a small straightener on the right heat setting will keep your long hair straight for longer than a large straightener on the wrong heat setting. What's the best hair straightener for thick hair? Wide plates are often best for very thick, very fine or very long hair, just remember the bigger the tool, the heavier it is and the harder it is to keep a firm grip on it for long periods of time.
At the end of the day, it's down to your personal preference. With all this choice available, it's good to know most hair straighteners come with 1-inch plates, (2.5cm) and they're actually designed for every length of hair.
If you're interested in the best cheap hair straighteners, while there's no need to spend a fortune unless you want to, it's best to avoid the cheapest versions because they won't treat your hair as well as it deserves.
A general rule: The longer your hair, the wider the iron you'll be able to use. But the wider they get, the more difficult it is to create style. For bobs and other short cuts, slimmer straighteners let you achieve more precision and have fun creating unusual looks.
---
Related:
---
Top hair straightener brands
With such a wide range of brands available, including household names ghd, L'Oréal Professionnel and Babyliss, there's something for everyone. So what are the most popular hair straighteners for 2023? Here are four big brands that we rate highly for quality and results.
Hair straightener features
You want to buy the best hair straighteners? Here are some essential features to look out for.
Plate quality – Ceramic plates help protect your hair, especially when it's fine or light. Titanium plates are best for coarse hair. The bare metal plates you find on really old or very cheap straighteners are always worth avoiding, potentially lethal for your hair because they're so harsh
Micro sensors – Good heat distribution is essential. Uneven heat distribution means your hair isn't straightened evenly, not a look you want to aim for! It can also cause damage to your hair. A tool with micro-sensors will make sure the heat distribution is always even, with no burning, no follicle damage and no split ends
Temperature gauge – Cheap irons only have a low, medium, and high settings, and the high can go very high indeed, often with the heat unevenly distributed. That's not good for your hair. You need to be able to finely regulate the temperature for the best results without damage
Automatic shut-off – This is an important safety feature. If you happen to leave the room, or the house, without switching your straighteners off, auto shut-off means they'll shut down all on their own rather than burning the place to the ground
How to clean a hair straightener
Remove ordinary dust with a dry cloth. If there's a build-up of hair products on the plates, they won't work as well, so you'll need to clean them:
Make sure they are completely cool
Unplug them, since you'll be using water, and water and electricity are a dangerous combination
Dip a cotton wool ball in rubbing alcohol
Carefully clean the plates with the cotton wool
When it's clean, wipe the whole thing down with a soft cloth
To avoid dust if you don't use them very often, keep your straighteners in a box or drawer
Hair straightener brush
Is a hair straightener brush suitable for you? If you have sensitive or thin hair, high temperature flat irons can be a bit harsh, and a brush might be an effective, kinder alternative.
There are two kinds of hair brush straighteners. The paddle versions, also called flat brushes, are very much like an ordinary hair brush, with the bristles as an integral part of the ceramic or titanium plates. The plates generate heat which straightens your hair, releasing the negative ions that make it shiny.
The barrel or rotating brush straightener also untangles your hair, straightens it and adds lovely shine as the ceramic or metal barrels rotate, fantastic for adding volume to fine or thin hair. Both are great for long hair since the circular barrels let you create curls as well as straightness. So what is the best hair straightening brush? Choose from the highly-rated Apalus Brush Hair Straightener, Revlon's Perfect Heat 2 Inch Tourmaline Ceramic Hot Air Spin Brush, InStyler's Max Wet to Dry 2-Way Rotating Iron or the brilliant BaByliss Pro Nano Titanium 2 Inch Rotating Hot Air Brush.
How to curl your hair with a hair straightener
It might seem counter-intuitive – it's called a hair straightener after all – but you can also use your hair irons to create lots of absolutely luscious curls. For tight or medium curls, waves and twists, choose a straightener with plates an inch or less wide.
Spritz your hair liberally with a heat-protecting spray
Part it in the centre and mist in some more protective spray
Begin curling at the nape of your neck
Use a 1 inch plate straightener and feed a one inch wide section of hair between the plates
Twist your wrist away from your face so the hair goes over the iron, not under it
Keep the hair wrapped around the barrel as you push the iron toward the ends of your hair – this creates a beautiful curl, rather like curling a ribbon with scissors
The smaller the section of hair you feed through, the curlier your hair will be
Keep going, working your way up to your hairline, making sure the curl starts close to the top of your head
Finish the side you're working on by clamping the hairline section in the middle and twisting the iron away from your face to make a final curl
Do the same thing on the other side
Run your fingers gently through the curls to break them up
Add hairspray, and you're ready – don't you look amazing!
You've read all about how to pin down the best ceramic hair straighteners for your hair, and the titanium alternatives. Now it's time to buy – happy shopping, and we wish you a lifetime of gorgeous locks!