BEST CHOICE
CORIOLISS C3 Snow Leopard Hair Straightener
PREMIUM PICK
ghd Platinum+ Styler, Black
BEST PRICE
Remington Ceramic Straight 230 Hair Straighteners, 15 Seconds...
BEST CHOICE
CORIOLISS C3 Snow Leopard Hair Straightener
PREMIUM PICK
ghd Platinum+ Styler, Black
BEST PRICE
Remington Ceramic Straight 230 Hair Straighteners, 15 Seconds...
You've just left the hairdressers. You've had the most stunning blow dry and finish… ever. Your hair looks perfect. It hangs beautifully in the style it has been cut into, with no stray bits or odd little flicks or stubborn curls. It falls like a shining curtain and you look like you've just stepped out of an advert for super-expensive hair care products. You have catwalk model hair! You feel like a new woman, like a million dollars. But you know for a fact there's no way you'll be able to replicate the effect yourself at home, that 'just come out of the salon' look where your hair's all thick and shiny, bouncy and obedient. How do they do that?
The answer is a pair of the best hair straighteners, the simplest way for ordinary mortals like us to achieve glowing, salon-perfect locks. Here's what you need to know about the different types of hair straightener, and how to get that just-pampered look for yourself first time, every time. Look out for our hair straightener reviews later on in the page, and prepare for great hair!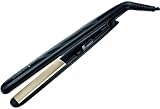 Sale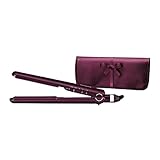 The Ultimate Hair Straightener Guide for 2019!
What is a hair straightener?
Hair straighteners, also called hair iron or hair tongs, are used to temporarily change the structure of hair using heat. They're the modern version of the old-school way women used to straighten and smooth their hair, namely using an ordinary household iron. Yes, believe it or not, Victorian women used to actually iron their hair straight, and the practice carried on until well after the second world war. Wise women used a sheet of newspaper to protect their locks against the raw heat, and the rest probably ended up burning their hair to a frizz. Luckily those bad old days are long gone!
Contemporary hair straighteners are heated electrically, some are even cordless versions run on butane gas cannisters, although powering a gadget that heats up with a substance that can explode doesn't seem particularly clever. However they're powered, they work by breaking down positive hydrogen bonds in the cortex of the hair, the central core, which is the bit that makes hair curl. Breaking the bonds stops your hair doing its usual wavy or curly thing. The effect is reversed with moisture, as you'll know if you've ever left the salon in the middle of a rainstorm.
Cheaper straighteners often come with just one layer of protective ceramic on the plates. Better quality ones have several layers, whereas high-end straighteners use multiple layers or even 100% ceramic. The ceramic material protects your hair a lot better than metal alone.
How to use a hair straightener
There's one important thing to say first of all, and it's about over-use. Too much heat, too often, can damage your hair permanently, leaving it dry and frizzy and dead-looking, so always follow the instructions to the letter.
First, prepare your hair. Wash it and condition it well and it'll respond best to straightening. Clean hair is less likely to be damaged by the heat, too. Then dry your hair thoroughly – remember never, ever use your straighteners on wet hair.
Blow-dry your hair then use a good heat protection product, an absolute essential. Remember to keep the product off the roots in case it makes your hair look greasy. Now you're ready to straighten.
Set the iron to the temperature recommended in the manual
Divide your hair into layers or strands and work on them one by one
Start straightening an inch – 2.5cm – from the roots and straighten one layer at a time, feeding the hair smoothly between the plates
Carry on until all the sections are done, stopping immediately if you hear a sizzle or see steam
Hair straighteners for different hair types
The best straighteners have a good, thick ceramic coating, or are completely ceramic, extra-gentle for the hair. If you really want to push the boat out try some titanium flat irons, often the best hair straighteners for frizzy hair, especially good for thick and coarse locks. They heat up faster than ceramic and remain consistently hot. Choose the right width of straightener for your hair, with 'plates' – the part your hair goes into – of anything between an inch wide for the best mini hair straighteners to an inch and a half wide, 2.5cm to 3.8cm.
How about best hair straighteners for fine hair? Straighteners with slim plates, from 0.5 inches to 0.75 inches wide, are usually used for precision straightening, great for really short or very fine short hair, which makes them the best hair straighteners for short hair. And short, very thick hair is sometimes best straightened with small plates as well.
As a rule small or standard width hair straighteners are your best choice for anything except straightening, for example creating curls. More about creating curls with a hair straightener later. The best hair straighteners for curly hair? It depends whether your hair is fine or coarse, but a nice, wide plate straightener will probably work really well.
The longer your hair is, the faster a wide-plated straightener will do the job. On the other hand while it can take longer to straighten long hair with slim plates, the right heat setting is the most important thing. You may find a small straightener on the right heat setting will keep your long hair straight for longer than a large straightener on the wrong heat setting. What's the best hair straightener for thick hair? Wide plates are often best for very thick, very fine or very long hair, just remember the bigger the tool, the heavier it is and the harder it is to keep a firm grip on it for long periods of time.
At the end of the day, it's down to your personal preference. With all this choice available, it's good to know most hair straighteners come with 1-inch plates, (2.5cm) and they're actually designed for every length of hair.
If you're interested in the best cheap hair straighteners, while there's no need to spend a fortune unless you want to, it's best to avoid the cheapest versions because they won't treat your hair as well as it deserves.
A general rule: The longer your hair, the wider the iron you'll be able to use. But the wider they get, the more difficult it is to create style. For bobs and other short cuts, slimmer straighteners let you achieve more precision and have fun creating unusual looks.
Top hair straightener brands
With such a wide range of brands available, including household names ghd, L'Oréal Professionnel and Babyliss, there's something for everyone. So what are the most popular hair straighteners for 2019? Here are four big brands that we rate highly for quality and results.
L'Oreal Hair Straightners – L'Oréal is a highly respected French brand with headquarters in Clichy, Hauts-de-Seine. They're the world's biggest cosmetics company, loved for their popular, great quality hair colour products, skin care innovations, sun protection expertise, creative make-up, delightful perfumes and excellent hair care products.
BaByliss Hair straighteners – BaByliss has revolutionised the beauty scene thanks to brilliant technological innovations, everything from the world's first curling iron back in 1961 to the famously good Diamond hair straighteners of today. They're dedicated to creating innovative beauty products for everyday use.
ghd Hair straighteners ghd, which stands for Good Hair Day, is based in Leeds and makes some of the world's most popular hair irons, sold in more than fifty thousand British hair salons and trusted by hairdressers everywhere.
Remington Hair straightener Remington, which dates back to 1816, is an American company, an international personal care business that makes razors and hair care products for men and women.
Hair straightener features
You want to buy the best hair straighteners? Here are some essential features to look out for.
Plate quality – Ceramic plates help protect your hair, especially when it's fine or light. Titanium plates are best for coarse hair. The bare metal plates you find on really old or very cheap straighteners are always worth avoiding, potentially lethal for your hair because they're so harsh
Micro sensors – Good heat distribution is essential. Uneven heat distribution means your hair isn't straightened evenly, not a look you want to aim for! It can also cause damage to your hair. A tool with micro-sensors will make sure the heat distribution is always even, with no burning, no follicle damage and no split ends
Temperature gauge – Cheap irons only have a low, medium, and high settings, and the high can go very high indeed, often with the heat unevenly distributed. That's not good for your hair. You need to be able to finely regulate the temperature for the best results without damage
Automatic shut-off – This is an important safety feature. If you happen to leave the room, or the house, without switching your straighteners off, auto shut-off means they'll shut down all on their own rather than burning the place to the ground
How to clean a hair straightener
Remove ordinary dust with a dry cloth. If there's a build-up of hair products on the plates, they won't work as well, so you'll need to clean them:
Make sure they are completely cool
Unplug them, since you'll be using water, and water and electricity are a dangerous combination
Dip a cotton wool ball in rubbing alcohol
Carefully clean the plates with the cotton wool
When it's clean, wipe the whole thing down with a soft cloth
To avoid dust if you don't use them very often, keep your straighteners in a box or drawer
Hair straightener brush
Is a hair straightener brush suitable for you? If you have sensitive or thin hair, high temperature flat irons can be a bit harsh, and a brush might be an effective, kinder alternative.
There are two kinds of hair brush straighteners. The paddle versions, also called flat brushes, are very much like an ordinary hair brush, with the bristles as an integral part of the ceramic or titanium plates. The plates generate heat which straightens your hair, releasing the negative ions that make it shiny.
The barrel or rotating brush straightener also untangles your hair, straightens it and adds lovely shine as the ceramic or metal barrels rotate, fantastic for adding volume to fine or thin hair. Both are great for long hair since the circular barrels let you create curls as well as straightness. So what is the best hair straightening brush? Choose from the highly-rated Apalus Brush Hair Straightener, Revlon's Perfect Heat 2 Inch Tourmaline Ceramic Hot Air Spin Brush, InStyler's Max Wet to Dry 2-Way Rotating Iron or the brilliant BaByliss Pro Nano Titanium 2 Inch Rotating Hot Air Brush.
How to curl your hair with a hair straightener
It might seem counter-intuitive – it's called a hair straightener after all – but you can also use your hair irons to create lots of absolutely luscious curls. For tight or medium curls, waves and twists, choose a straightener with plates an inch or less wide.
Spritz your hair liberally with a heat-protecting spray
Part it in the centre and mist in some more protective spray
Begin curling at the nape of your neck
Use a 1 inch plate straightener and feed a one inch wide section of hair between the plates
Twist your wrist away from your face so the hair goes over the iron, not under it
Keep the hair wrapped around the barrel as you push the iron toward the ends of your hair – this creates a beautiful curl, rather like curling a ribbon with scissors
The smaller the section of hair you feed through, the curlier your hair will be
Keep going, working your way up to your hairline, making sure the curl starts close to the top of your head
Finish the side you're working on by clamping the hairline section in the middle and twisting the iron away from your face to make a final curl
Do the same thing on the other side
Run your fingers gently through the curls to break them up
Add hairspray, and you're ready – don't you look amazing!
You've read all about how to pin down the best ceramic hair straighteners for your hair, and the titanium alternatives. Now it's time to buy – happy shopping, and we wish you a lifetime of gorgeous locks!