You may think that you've exhausted all of your hair styling options, but have you tried a hair waiver before? Almost all ladies out there have tried their luck with hair straighteners and hair curling irons, but the waiver gives your hair something even more special. They may look intimidating, but they're actually quite simple! So, whether you want big curls or subtle, kinky waves, check out the best hair wavers on the market right now.
In a hurry? Take a look at these Hair Wavers
Budget Pick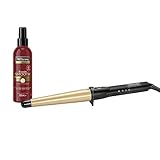 Our Pick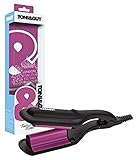 TRESemmé Keratin Smooth Salon Shine Waving Wand
CoCo LoCo Wonderball Ceramic Hair Waver Wand - Get Beach Look...
Toni & Guy Toni &, Guy Style Fix Waver, TGIR1930UK, Black
TRESemme Perfectly (un) Done Waving Wand
Budget Pick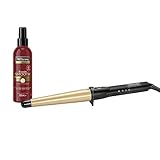 TRESemmé Keratin Smooth Salon Shine Waving Wand
CoCo LoCo Wonderball Ceramic Hair Waver Wand - Get Beach Look...
Our Pick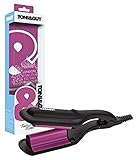 Toni & Guy Toni &, Guy Style Fix Waver, TGIR1930UK, Black

TRESemme Perfectly (un) Done Waving Wand
Last update on 2023-11-04 / Affiliate links / Images from Amazon Product Advertising API
If you need more detail, then take a look at our in-depth review below!
---
1. BaByliss Wave Envy Waver
BaByliss Wave Envy Waver
Effortlessly create lasting beachy waves
Simply clamp the hair between the barrels for instant effect.
Ceramic for frizz-free smoothness.
High heat performance and fast heat up.
Last update on 2023-11-04 / Affiliate links / Images from Amazon Product Advertising API
If you're after that effortless beachy wave style, this BaByliss waver has got your back. Simple, budget-friendly, and hard-working, you'll be surprised that you've let your hair game be so tame for so long.
Key Features
Ceramic to prevent hair from frizzing.
3 heat settings.
This waver uses a 3-step process to get natural-looking waves. First, you section your hair while the waver is heating up. Once the waver is hot enough, you clamp the hair sections between the two barrels and plate, holding for a few seconds before releasing. Next, you move the styler down your hair, overlapping each previous wave slightly. Repeat until all sections are complete. Finally, give your hair time to cool off before you style. With your fingers, break up waves in your hair to give it a more natural look.
This product has 3 heat settings from 160-300C, so you can use it no matter how tough or delicate your hair is. Not only do you have heat options, but it heats up fast, too. With the ceramic plates, you won't even have to worry about frizz! What more could you need?
What We Love:
It's durable enough to last years.
Leaves hair feeling shiny.
What We Don't Love:
It's heavy, so for those with thick hair, it can be hard to use for long periods of time.
If you think you've tried every hairstyle out there, think again. This waver is set on proving that your hair has plenty of styles left.
---
2. TRESemme Keratin Smooth Salon Shine Waving Wand
Sale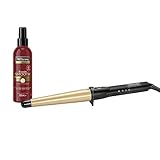 Last update on 2023-11-04 / Affiliate links / Images from Amazon Product Advertising API
This TRESemme product is all about simplicity. After all, who really has the time to spend hours getting ready and doing their hair every morning?
Key Features:
Fast heat-up.
Includes Heat Protection Spray.
Anybody who has long hair has likely heard about the damages of constant heat. Not only does TRESemme create a product that works around your hair, but they've included a bottle of Keratin Smooth Heat Protection Spray with this waver! The waving want also has 3 separate heat settings to work with your hair, reaching a maximum of 200C. It heats up fast, but it also cools down fast, so you don't have to worry about your hair or your countertops!
What We Love:
Produces great loose curls.
Easy to use.
It comes with the heat protection spray.
What We Don't Love:
It does not work as well for tight curls.
Works poorly on shorter hair.
If you want to mix up your hairstyle but want to be cautious about your hair, we recommend this TRESemme waver!
---
3. Lee Stafford CoCo LoCo Wonderball
CoCo LoCo Wonderball Ceramic Hair Waver Wand - Get Beach Look...
CREATE YOUR OWN STYLE - Use the Wonderball Wand to get an effortless natural wavy beach look with tousled hair using the spherical barrel. Wrap your hair between the barrels for wild bohemian curls that instantly make you the centre of attention
HEAL YOUR HAIR - The coconut oil infused tourmaline-ceramic barrel repairs damaged hair and provides essential nutrients to leave your curls feeling soft and looking silky smooth
SALON QUALITY IN YOUR HOME - No more expensive trips to the salon to get your desired look. Hold the wand on your hair for just a few seconds to get bouncy curls that last all day. Unique clampless design prevents tangles and snags
READY TO USE IN JUST 2 MINUTES - The waver wand heats up to 200C in 2 minutes and features a protective cooling tip for a quick, simple and safe way to style your hair. Includes a safety stand to prevent burned surfaces during use
Last update on 2023-11-25 / Affiliate links / Images from Amazon Product Advertising API
This pink hair waver is as handy as it is stylish. It works with a variety of unique styles while keeping your hair healthy, happy, and hassle-free.
Key Features:
Fast heat up time.
Coconut-oil infused barrel for healthier hair.
The shape of the barrel on this waver is what makes it work wonders. You can use the wand naturally to get beachy waves or wrap individual strands around and in between the barrel for wild curls. You'll get to your desired style faster with a ridiculously fast heat-up time, reaching its max of 400C in seconds. Despite the hot temperature, you don't have to worry about burning yourself, since we all know the pain of burning your hand on your hair products. The want has a cool tip at the end so that your hands stay safe.
The barrel of this waver is tourmaline-ceramic, and it comes infused with a mix of coconut oil. The oil works as a natural nutrient, giving your hair the essential proteins that it graves. So, not only does your hair get styled, but it also gets healthier!
What We Love:
It works on even the thickest of hair.
It's lightweight and easy to use.
The curls will last for days.
What We Don't Love:
The hot temperature can be too hot for very fine hair.
Once your hair is curled a certain way, it's hard to make changes.
This salon-worthy waver is the perfect option for those who want some serious curls without paying the seriously high salon prices.
---
4. Toni&Guy Style Fix Waver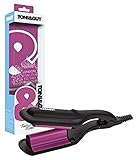 Toni & Guy Toni &, Guy Style Fix Waver, TGIR1930UK, Black
All the performance of a full size appliance, packed in to a super compact size, fits in your handbag.
Up to 210C Temperature. Ceramic Tourmaline Ultra Deep Plates
Colour Lock Technology - Designed to protect your hair & colour
World Wide Voltage - perfect for travel.
Last update on 2023-11-04 / Affiliate links / Images from Amazon Product Advertising API
If you've got coloured hair, you'll know the stress of keeping it healthy. This hair waver is perfect for those who are in need of a little bit of extra hair protection.
Key Features:
Compact size. Perfect for traveling.
Features colour-lock technology.
This waver seeks to give you waves and volume. The deep barrel means that you'll get deep waves, which you can style further to your preference. Plus, with the worldwide voltage and handbag sized product, you can bring it everywhere with you. Having to travel shouldn't mean that you can't keep up with your favourite styles.
The specialized colour-lock technology helps enhance the shine in your hair while smoothing hair follicles. Your all-important colour is locked in while you wave and style. The waver reaches a maximum temperature of 210C, so you won't have to worry about burning your hair off.
What We Love:
Works great on shorter hair and longer hair.
The curls last for days without a shower.
The product is light enough to hold for longer periods of time.
What We Don't Love:
It only has one setting option for the heat.
We recommend this waver for anybody who is always bouncing around from home to hotel room, or who just wants to style their hair for those last-minute after-work trips.
---
5. TRESemme Perfectly (un)Done Waving Wand

Last update on 2023-11-04 / Affiliate links / Images from Amazon Product Advertising API
Anybody with super long hair knows all about the struggle of styling. It's harder to do, takes longer, and requires the right product. Well, this TRESemme waver is perfect for you if you've got long tresses.
Key Features:
Extra-long barrel for extra-long hair.
Fast heat-up and recovery.
This waver will reach 3 different heat levels, with a max of 200C. The extra-long barrel will help you reach perfect beachy waves, looking effortless. But this product will make styling your hair so easy that it feels effortless anyway! With a fast-acting heat-up time, your waver will be hot in less than a minute. And for when you're done, it cools down equally as fast!
What We Love:
It works great on long hair.
The curls will last for days.
Works well on thick hair.
What We Don't Love:
So, to all the long and thick-haired ladies out there, TRESemme is here to remind you that you deserve effortless styling.
---
Common Hair Waver Questions
Anybody who pays attention to hair styling will understand how important it is to get everything right. So, while these products may all make styling easy, it's still nice to know everything about hair wavers as you can. So, to make it even easier for you, we've put together a list of all of the common questions you may have, with answers to simplify your life.
What is the difference between a hair waver, curler, and straightener?
The names of each product may sound self-explanatory, but it's a little bit more complicated than that. A hair straightener tends to use a completely flat barrel to ensure that your hair stays straight, sleek, and shiny. Hair curling irons can be a little bit more complicated. Some wrap around a wand while others are inserted into a mechanism that curls it for you. A hair waver, however, seeks for that happy middle ground. You still get fun, beachy curls, but they're not as extreme as with a curling iron. It looks more natural, while still changing the overall look of your hair. Because waves can be achieved in a variety of ways, the way that your hair waver looks depends on the company and what kind of hair you have.
Does my hair type matter?
When it comes to styling products, your hair type always matters. For those with thin hair, the most important thing that you'll want to look out for is the temperature settings. With thinner hair, you can't handle as much heat. So, a waver with an optional lower volume is perfect for you. For those with thicker hair, you'll need a strong, high temperature waver to adjust those strands.
Can I make stylistic choices with my waves?
One of the best benefits of choosing a hair waver over a curling iron is that you can still style your hair afterward. The size of the barrel that you're using will make the biggest difference. For those who want tight, precise curls, you'll want a smaller barrel. A wide barrel will give you looser curls. Once you've finished your curls with your waver, you can also choose to brush through your hair. This will relax the curls and make your hair look more natural.
How do hair wavers heat up?
Most hair styling products use a ceramic barrel to heat up the hairstyling product. The ceramic barrel allows for an even heat distribution. The heat distribution is very important because it lowers the chance of you burning your hair. Another type of heating that can be found in hair styling products is tourmaline. This heating technology works to build up negative ions, working with the natural moisture that we have in our hair.
Will I damage my hair if I use a hair waver?
Extreme heat can be dangerous on your hair. If you only use a hairstyling product every once in a while, you don't need to worry much. The best way to protect your hair is to use a lower temperature setting, especially if your hair is thin and sensitive. You can also choose to use a protective serum or spray that prevents heat damage. These can be found at any local pharmacies, and are often recommended by the brand of hair styling products that you choose.
---
Related:
---
Will I need to clean my hair waver?
Cleaning your hair waver will not need to become a habit every time that you use your hair waver. However, after multiple uses, the build-up caused by hair products and heat can become messy. So, to clean your hair waver, we recommend turning the waver on for one minute, allowing it to heat up. Once it's warm, completely unplug your product. Then, use a cleaning mixture on your product. These can be purchased or made at home with a mixture of rubbing alcohol and baking soda. Use a small toothbrush or pad to scrub the product, letting it stay in for 15 minutes or so. Afterward, be sure to thoroughly clean the surface. If you don't clean it properly, the mixture of the cleaning solution can become a problem the next time that it's heated.
Having a clean hair waver means that you won't be forcing old products on your hair after each use. It will also help keep the metal and ceramic looking fresh and clean for longer.
Should I use products on hair before or after I use my hair waver?
Unless it's a heat-protective spray or a part of your daily shampoo and conditioning treatment, we recommend always waiting until after you have used your heated waver before using hair products. This is especially important when it comes to hairspray. If your hair is already covered in hairspray, applying heat will severely dry out your hair.
How long will my hair waiver last?
Hair wavers do not last forever, but the length of time that you can use it depends on how frequently you use it. If you only use your waver once every week or so, it should last for years. For those who do a daily style, you may get less time out of it. The biggest difference over the years will be heat strength. If you've over-used your styling product, you may not notice an even distribution of heat. As we've learned, this can cause damage to your hair. So, we recommend paying attention to how well your product is heating up after you've used it for a while.
---
If you're used to the typical curling irons and hair straighteners, we recommend that you spice things up and give a hair waver a try. You'd be surprised at how easily your overall look can change when you make even the slightest change to your hairdo! Now that you have a better idea of what to look for in a hair waver, you have all of the tools that you need to purchase the best product for you. Now, put it to good use and show off those waves!