Do you want to do something for yourself that will have a positive impact on your health and happiness for the rest of your life? Yes? Then let us show you how to do exercise at home without equipment, without fees, and without travel costs.
You can follow our sensible program whenever it suits you and fits into your schedule.
You don't have to drag yourself out in miserable weather, or stress as you battle the traffic to get to the gym on time.
You don't have to breathe traffic fumes as you slog along the pavement with grim determination, or sidestep every other runner and his dog on the footpath in the park.
No, our home workout tips will enable you to exercise in comfort and safety. And if you stick with it, we can promise you that you will soon see results. And before you know it, you might even start enjoying it as those endorphins course through your veins!
Here are our suggestions as to how you go about it, Monday through Sunday.
First of all, let's rant a bit about safety
It's extremely important that you warm up and stretch before you start your exercise routine. More ambitious plans for personal fitness have been derailed (many permanently) by injuries than you could shake a stick at! We suggest that your warm-up should include about ten repetitions of each of the following:
Forward and backward arm circles
Hip rotations (both inward and outward)
Squats
Lunges
Walkouts
About two minutes of gentle skipping with a rope
How to plan a sustainable routine
It is very important to bear in mind, particularly if you are a novice at this, that you shouldn't do a strenuous full-body workout every day. Allow yourself at least two rest days a week as your body needs time to recover.
We suggest you start off on Monday with some core-strengthening exercises, yoga on Tuesday, rest on Wednesday, work on those shoulders and biceps on Thursday, and give your legs a good workout on Friday.
Then you can sashay into the weekend with a thorough cardio workout on Saturday, before your well-deserved rest day on Sunday. However, how you structure your routine is something that you really need to establish for yourself as your body gets into shape and your fitness improves. Feel free to mix it up, as long as you're still covering all the bases.
With these notes out the way, let's dive into our day by day guide on how to do exercise at home without equipment:
1. Monday: Core-strengthening exercises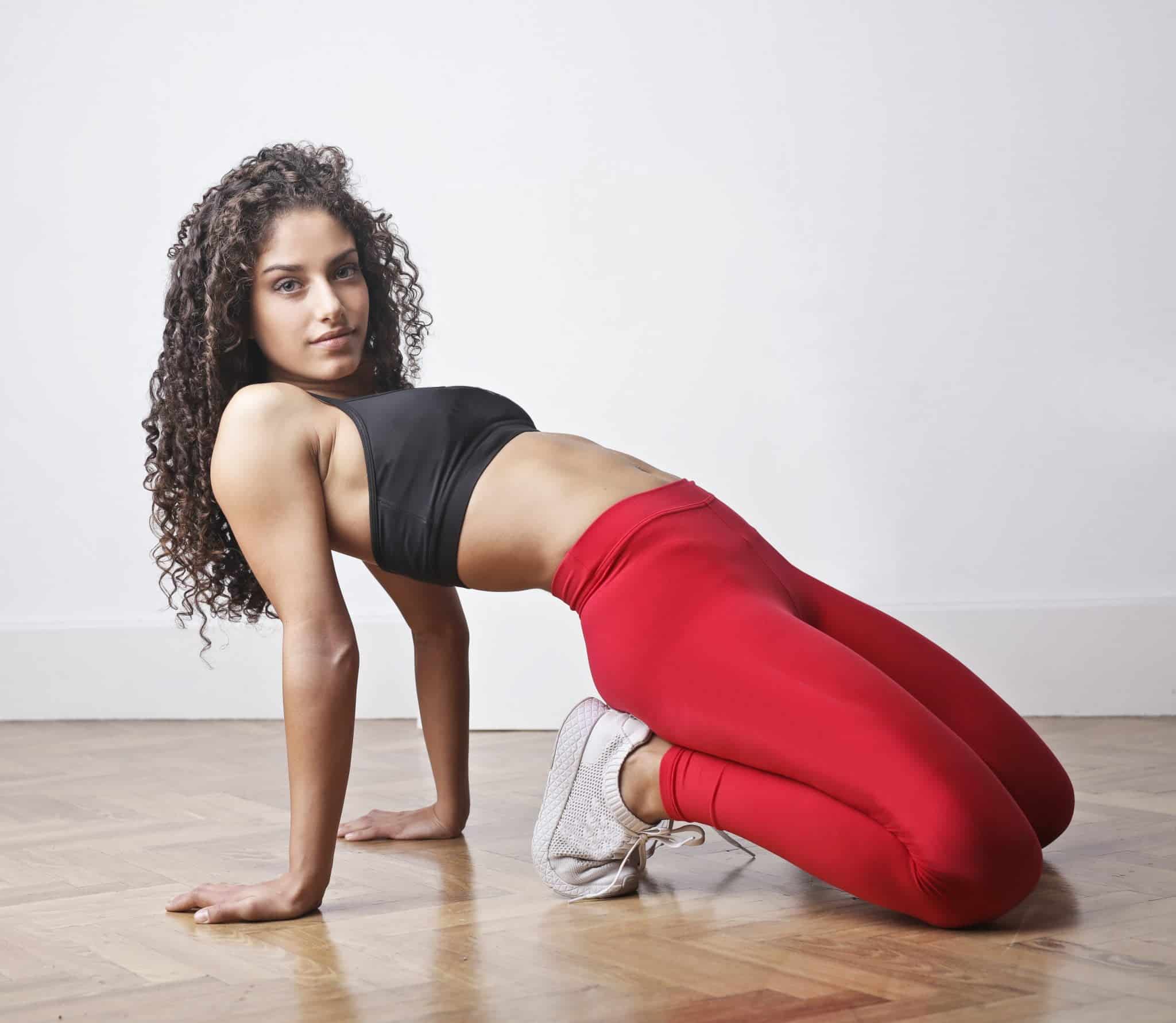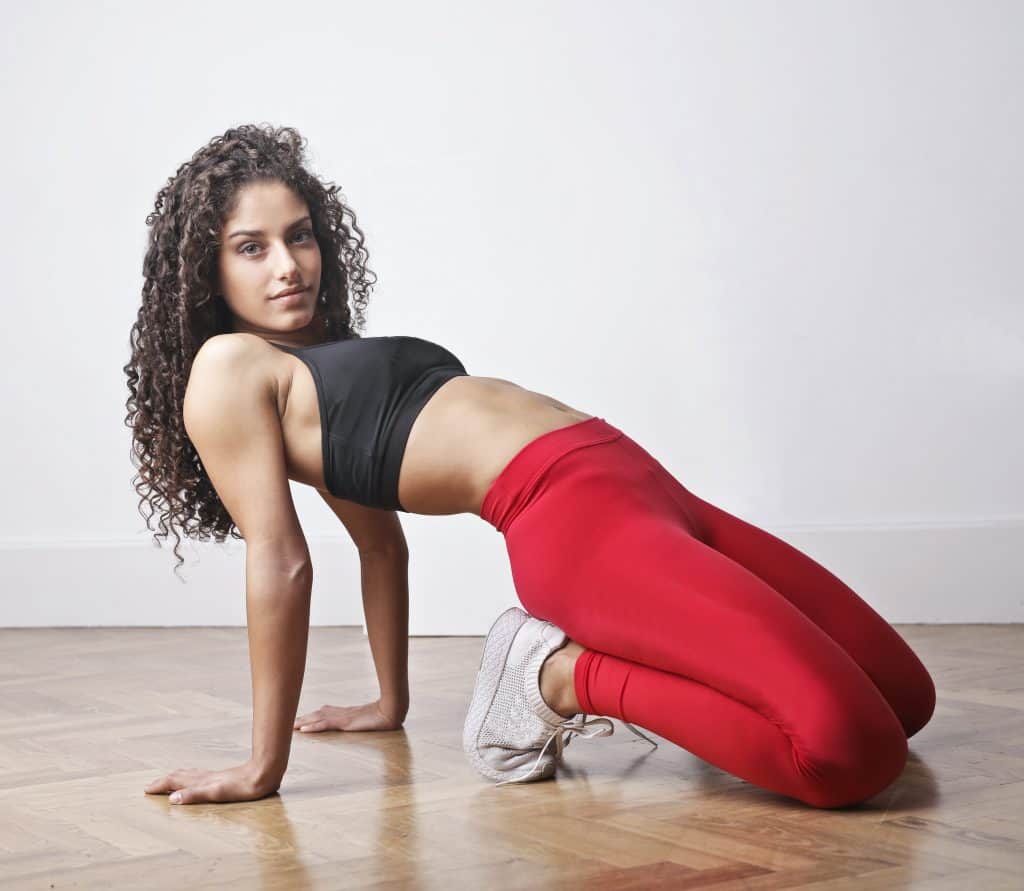 Image credit Photo by Andrea Piacquadio from Pexels
Exercises to strengthen your core are very important as they develop and train the muscles of your lower back, pelvis, hips and abdomen to work together. As a strong core improves your balance, strength and stability, it will stand you in good stead in virtually every aspect of your life. It will improve your posture, lessen the possibility of sport injuries and developing back problems.
Here are four exercises that we recommend for you to do at home:
The bridge. Lie comfortably on your back with bent knees, but do not tilt your hips. As you tighten your abdominal muscles, raise your hips level with your knees and shoulders, and hold this position as long as you can.
The plank. Place your hands directly under your shoulders as if you're going to do a push up. Dig your toes into the floor, tighten your butt and raise your body in a straight line, with your head in line with your back. Hold as long as you can. Don't let your head drop and don't forget to breathe! There are several variations of this exercise that you can also try, like the knee plank, side plank, forearm plank and the single leg plank.
The V-Bend. Sit on the floor with your hands and feet on the floor. Tighten your abdominal muscles and lift your straight legs slowly till they are at a 45-degree angle with your upper body. Stretch your arms towards your shins, and hold the position as long as you can. Concentrate on breathing deeply and do not round your shoulders. Return to your original position slowly. And don't be tempted to cheat by swinging your arms to get into the position – this will not work your core muscles as well as it should.
Scissor kicks. Lie on your back on a nice thick exercise mat, legs stretched out. Have your arms by your sides, hands palms down, or you can put your hands flat under your lower back. Now lift both of your legs off the floor at an angle of about 45-degrees. Lower one leg toward the floor, while lifting the other one in a scissoring motion. Try to keep your neck relaxed and breathe deeply and evenly throughout.
2. Tuesday: Take advantage of some free online yoga classes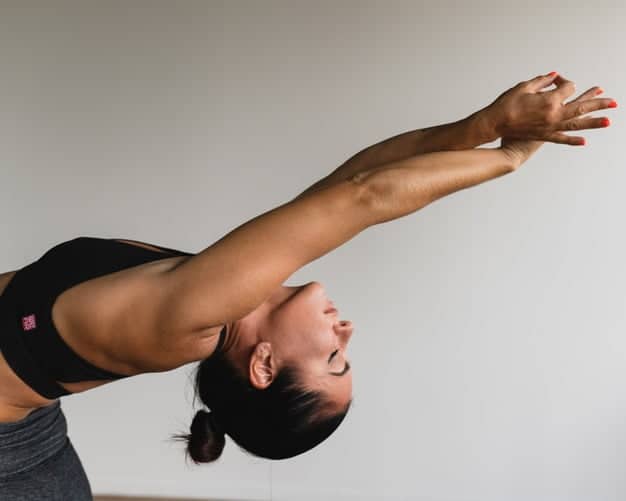 Image credit: Photo by Dane Wetton on Unsplash
The benefits of yoga are many, varied, and can even be life changing. We therefore highly recommend that you incorporate some of these awesome free yoga lessons into your new home exercise regime.
On the physical level you will benefit from not only improved flexibility and muscle tone, but also increased levels of strength, cardio health and blood circulation. Athletes find that not only is their performance improved, but also that they can also better control their weight by having their metabolism boosted.
However, yoga also has notable psychological benefits. It relieves stress and tension, improves concentration, and even reduces markers for inflammation. It has even proved effective at relieving depression and anxiety, and having a calming effect on the nervous system.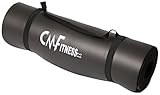 CM Fitness Yoga Mat Large Thick Exercise Mat Non-Slip With Carry...
PREMIUM QUALITY: We work closely with our dedicated manufacturers to ensure we provide the best possible product before we put it on the market
NON-SLIP: The quality of your workout is very important to us so our exercise mat for men and women features a non-slip surface so you can focus on your routine, and not on keeping the mat stable! They are perfectly suited for yoga or Pilates
DESIGNED FOR COMFORT: Our exercise mats are made from the highest quality NBR foam and are 1cm thick. This helps keep your joints and feet from hurting so you have optimum comfort for the duration of your workout, be it gym work, yoga or Pilates.
EASY CARRY STRAP: All our exercise mats come with a free carry strap which makes it easy for you to take to the gym, yoga, or a Pilates class. Simply roll your mat up and slot it into the easy to use straps and you are ready to go!
Last update on 2022-06-29 / Affiliate links / Images from Amazon Product Advertising API
3. Wednesday: Take a break!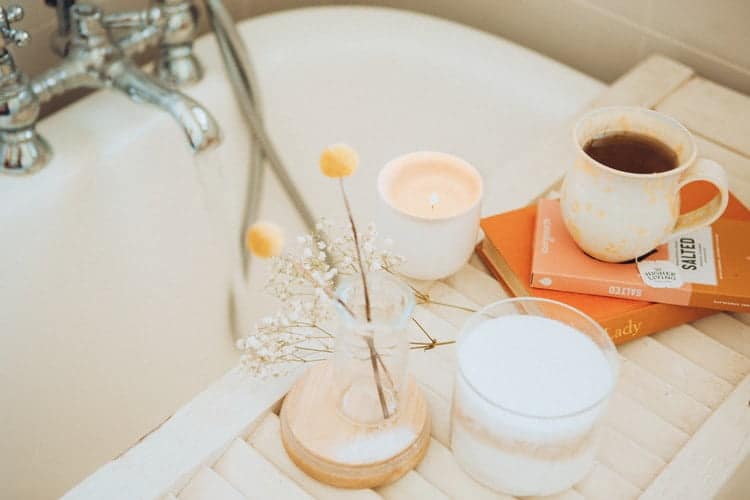 Image credit: Photo by Maddi Bazzocco on Unsplash
Reward yourself for your perseverance and tenacity in sticking to your exercise program by doing something that you will enjoy, and that will recharge your batteries.
Remember that you can make this schedule your own, so if you find a particular set of exercises really tire you out (do we hear mutterings about leg day back there?) then feel free to swap out your rest day as you need to. After all, the easier it is to work your exercise routine into your schedule, the more likely you are to stick with it.
Take a walk outdoors, treat yourself to a luxurious bath, snuggle up with a good book – whatever takes your fancy. If you're starting to feel the effects of your workouts a little, treat yourself to a massage, or invest in a handheld electric massager so you can spoil yourself in the comfort of your own home!
4. Thursday: Upper Body Home Workout
We all admire a trim and toned upper body, especially when summer comes around, and we walk around in skimpy tops and form-fitting T-shirts. There are many different and effective upper body exercises you can do at home without any equipment.
The Dreaded Push-up:
Though not everybody's favourite exercise, the basic push-up is still one of the best exercises to get that upper body in shape. Find out how to do them right here.
Note: You can do push ups so many different ways: regular, military, diamond, wide, declined, etc. If your upper body strength just isn't there yet, try these modifications first so you don't get disheartened. (They exist for a very good reason!)
Other great at-home, no-equipment upper body exercises include:
Plank jacks
Locust lifts
Plank hold
Tabletop lifts
T-lifts
Shoulder taps
Inchworm walkouts
And many more.
While all these exercises are suitable for both men and women, the guys might prefer something designed just for them:
Want a little more from your upper body workout? When you're ready, consider investing in a free standing punching bag to complement your workout.
5. Friday: As they say… never skip leg day!
Many people find it hard to picture a leg workout that doesn't include expensive gym equipment. Don't forget that wherever you are, your own body weight is really the only equipment you need. Here are some great basic moves to get you started.
What's great about these exercises is that if you do decide to get more serious about fitness down the road, you can simply add in some weights to up the ante.
Squats
Lunges
Calf raises
Squat jumps
Side lunges
Pistol squats
Side leg raises
Inner thigh leg raises
Glute brides
Curtsy lunges
Or if you're in the mood for something different, why not give a calisthenics leg workout a go?
Warning: this one's not for sissies!
6. Saturday: Cardio blitz!
Aerobic workouts – or exercises that get your heart and lungs working – are important for a number of reasons. They…
Reduce your risk of heart disease
Lower your blood pressure
Help you sleep (which in turn improves your overall mental and physical health)
Make it easier to manage your weight
Can boost your immune system
Lower stress and anxiety, and elevate your mood
…just to name a few.
Outdoor activities like walking, hiking, cycling, swimming and jogging are famous examples, but pretty tricky to do at home! That doesn't mean you need to miss out on all those benefits though. Give these a whirl every Saturday, and start incorporating them into your daily home workouts as your fitness level increases:
Suicide drills
Squat jumps
Butt kickers
Power jacks
Side to side punches
Hook lunges
If you're one of the many people who don't find themselves overflowing with enthusiasm at the thought of working up a sweat, dancercise is another great cardio workout option!
You'll find that up-tempo music quickly takes your mind off the fact you're doing a workout, energizes you, and makes moving a whole lot more fun.
Note: If you struggle with painful knees, aerobic exercises can be a real challenge. If you're concerned about all that jumping about, rather invest a stationary bike so you can work out at home without the impact.
7. Sunday – Rest and Relax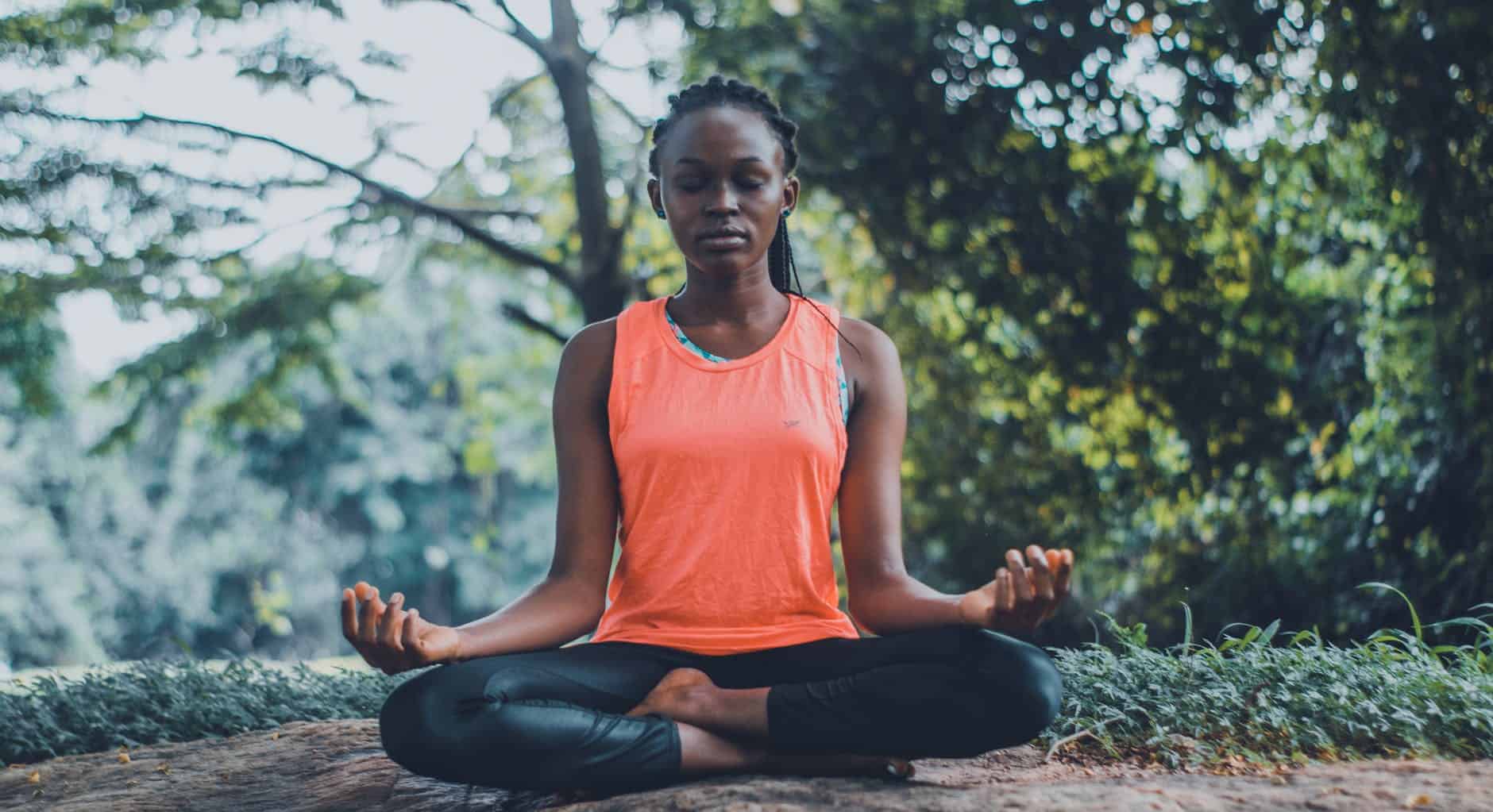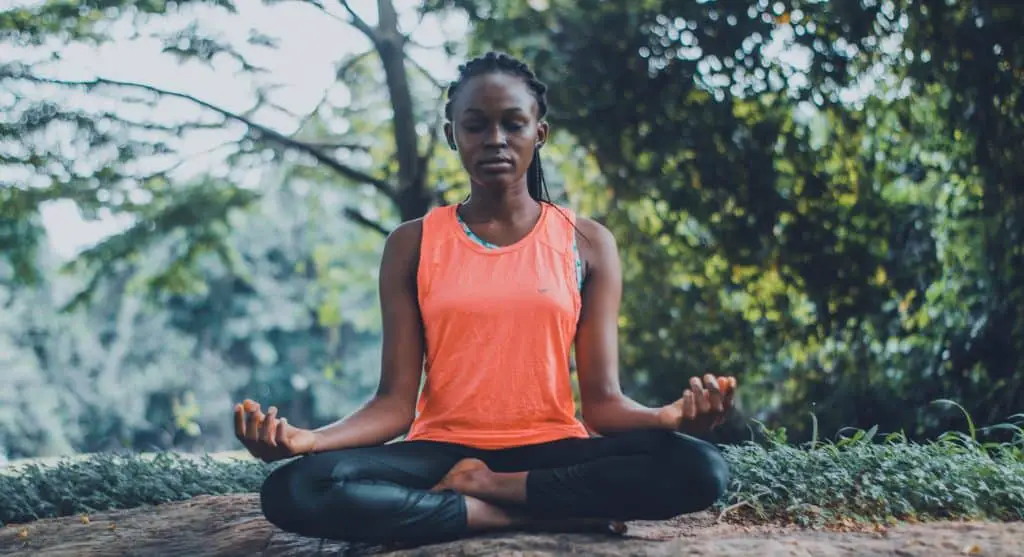 Photo by Oluremi Adebayo from Pexels
Congrats! You've made it through the week, and earned yourself a day of rest and relaxation. Find something that challenges your mind, learn how to meditate, or set the day aside for reconnecting with friends, loved ones, and yourself.
Remember that if your goal is to lose weight, you need to combine exercise with a sensible eating plan. You could use your Sundays to learn how to make lower-calorie versions of your favourite meals. Check out our reviews of these great air fryers, which will allow you to whip up tasty treats without all those unwanted calories!
Keep up the good work!
We hope you've enjoyed our tips on how to do exercise at home without equipment! As everyone knows, when it comes to exercise, getting started is important, but staying started can be more of a challenge. Don't expect perfect adherence to be easy in the beginning, but remain committed to trying again (and again!) if you don't get it right first time.
The great thing about good habits is that once they've become a part of your routine, sticking to them becomes pretty easy. And if you need a little extra inspiration or motivation, remember we're always adding fresh sport & fitness articles and guides right here on whichtobuy.co.uk!