Free standing punching bags are an exciting addition to any home gym or workout space. They're a common tool for wrestlers and boxers, but are becoming increasingly popular for people who are interested in all different types of fitness goals.
Free standing punching bags have been around for a long time, but as they continue to make their way into more homes, we've compiled our favourites to share with you.

In a hurry? Take a look at the Best Free Standing Punch Bag 2021

Our Choice



Budget Choice

Gallant 5.5ft Free Standing Boxing Punch Bag Stand Black Target -...
Dripex Adult Free Standing Boxing Punch Bag, Heavy Duty Punching...
Mirafit Punch Bag and Base
Lions Free Standing 5.5ft Punch Bag Boxing Stand Martial Arts...
JANTEELGO Punch Bag for Kids, Inflatable Boxing Bag,...

Gallant 5.5ft Free Standing Boxing Punch Bag Stand Black Target -...
Our Choice

Dripex Adult Free Standing Boxing Punch Bag, Heavy Duty Punching...

Mirafit Punch Bag and Base

Lions Free Standing 5.5ft Punch Bag Boxing Stand Martial Arts...
Budget Choice

JANTEELGO Punch Bag for Kids, Inflatable Boxing Bag,...
Whether you want to amp up your home gym, replace your old punching bag, or just explore a new area of fitness, a free standing punching bag is a great place to start. So, here are our current favourites.
---
1. Gallant 5.5ft Free Standing Boxing Punch Bag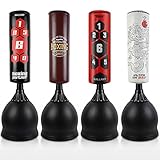 This free standing punching box is the perfect fit for those who are series about martial arts.
Key Features
It's shock-absorbing.
160cm / 5.25 ft tall.
This product is built with a narrow, yet stable base. Once filled with sand, it's perfect for staying stable. Though, it's still easy to move the bag around. The product itself comes in two separate parts, which just need to be connected together to be ready to go.
The Gallant product uses 5cm thick EPE foam which is meant to absorb each hit. Not only does it protect the punching bag from damage and prevent the product from moving, but it will also help keep you safe. The best part? It comes in a variety of designs to suit your gym or style needs.
What We Love
The shock-absorbing body helps the overall workout.
It's easy to assemble.
What We Don't Love
It needs a lot of sand in the base. Though, it can also be filled with water.
---
2. Dripex Free Standing Boxing Punch Bag
Sale
This free standing bag is the perfect choice for newcomers to the workout.
Key Features
It uses an upgraded shock-absorbing system.
It has a stable floor sucking base.
It comes in red or black.
This product stands at 175cm tall with a diameter of 10in. It's size is perfect for an addition to a smaller home gym, or even as a standalone workout product. While many punching bags require you to fill the bottom with sand or water to ensure less movement, this product uses a sucking base with 12 strong suction cups. So, you won't have to think twice about whether the base is strong enough to contain your force. Though it's still recommended that you fill with water or sand, but you can trust that you'll never have an issue with movement.
The Dripex standing bag is made with a stainless steel tube encased in materials. These include a 2mm thickened PU leather striking surface, as well as high-density EPE foam. It's tear-resistant and can handle all of the kicks and punches that you can throw at it!
What We Love
The suction base helps you trust that it won't have mobility concerns.
The sound of the impact is quiet.
What We Don't Love
The product ships in two orders, so you may have to wait an extra day to get all of the pieces.
---
3. Mirafit Punch Bag & Base
Mirafit Punch Bag and Base
Mirafit Free Standing Punching Bag - Orange & black durable faux...
Ideal for training and a great workout - High rebound foam layer...
Anti slip base with rubber sealing cap to prevent spillages - Strong...
For the boxer who wants some serious rebound, this is the pick for you.
Key Features
Orange and black leather design.
High rebound action.
While some prefer their bags to undergo minimal movement after a punch or kick, this free standing bag has plenty of rebound power. This can be essential to certain types of training and will help diversify your workout. The high rebound foam layer filled with cloth pieces is designed with this style in mind.
The Mirafit punch bag uses an anti-slip base for a stable routine. When full, the stand can weigh up to 80kg. It can be filled with water or sand. It is 88cm in total height, with a diameter of 28cm.
What We Love
The rebounding helps you practice manoeuvring around an object.
The base is consistently sturdy.
What We Don't Love
The set-up is not as simple as it should be.
---
4. Lions Free Standing Punch Bag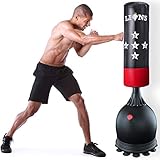 This product has all of the key components of a great free standing punching bag, and makes a great addition to your workout whether you're a punching bag veteran or newcomer.
Key Features
It uses an upgraded shock-absorbing system.
It has a stable floor sucking base.
This Lions punching stand is 175cm tall with a 26cm diameter. It uses a rounded ABS base tank that is easy to move around when needed, but strong enough that you won't have to worry about movement while working out. The 12 suction cups beneath will keep it from wiggling around. It comes to a strong 137lbs when filled with water, and 182lbs when filled with sand.
The material of the action areas is made around a stainless steel tube stand that is encased in a 2mm PU leather striking surface. It also uses high-density EPE foam to help the product remain tear-resistant, and give it a fast rebound.
What We Love
It's a perfect size.
It is made to last.
What We Don't Love
It's tricky to fill the stand with sand or water, and you will need a funnel.
---
5. Gemgo Fitness Punch Bag
This budget-friendly option is less for the intense fighting trainers, and more for the casual fitness enthusiasts who are after a new type of workout.
It's inflatable, making it easy to transport.
It's appropriate for use by kids and adults.
The inflatable design helps keep this freestanding punching bag budget-friendly while keeping the core workout design of sturdier types. It uses quality PVC material and is both lightweight and durable. It includes two compartments. The bottom chamber allows for water or sand to increase the weight, while the second is for inflating hair.
A fun feature of this product is the pocket design on the body of the product. It lets you put any image onto the punching bag, to give you a little bit more motivation during your workout. When you aren't using this product, it is simple to deflate and fold into a small size.
What We Love
The pocket design for an image makes the workout more exciting.
It's budget-friendly.
What We Don't Love
---
Related:
---
Free Standing Punching Bag FAQs
Though it may seem simple, this product isn't just about punching and kicking. When purchasing a product meant for any sort of physical activity, it's important to have a solid understanding of what it is and why you're using it.
So, we're here to answer some questions that you might have. And, hopefully, we'll answer a few questions that you haven't thought about yet!
What is a free standing punching bag?
Punching bags are often fitness devices that suspend from the ceiling. While these may be practical in a gym or other type of fitness center, it's a little hard to suspend a heavy bag from your ceiling if you want to workout in your own home.
So, the free standing punching bag solves this problem! They use a heavy base to keep the punching bag in place and allow you to get the same workout from a different style. It also makes certain motions and activities, like kicking, easier.
What is the purpose of a punching bag?
Punching and kicking can work up quite a sweat. Though, punching bags offer even more of a workout. Here are a few of the benefits of working out with a punching bag.
It can help your timing when it comes to kicking and punching.
It helps you work on your footwork.
It helps your reflexes and reaction speed, especially when you use a bag with pushback.
It helps you increase your coordination.
It increases your cardio.
It allows you to develop better accuracy.
It helps condition your shins and knuckles.
If you're training for any kind of fighting style, then you can obviously see where these benefits will come in to play. Though, they can also help you across a variety of different fitness styles and can diversify your workouts.
What other kinds of punching bags are there?
There are a variety of different bag styles and shapes. Depending on what fitness goals or fighting styles you are working towards, you should take a look and see if what you're buying matches up.
Traditional Heavy Bags
These are ideal for people interested in a variety of fighting styles, including boxing, MMA, Muay Thai, Kickboxing, Karate, and Taekwondo. It's essentially a big, heavy bag that has plenty of surface space for kicking, punching, elbow throws, and knee hits. They can be filled differently to increase the weight of the bag. If you aren't sure what you're looking for, this is a good all-purpose bag.
Long/Banana Heavy Bags
For those interested in MMA, Muay Thai, or Kickboxing, this is the one for you. It's excellent for low kicking skills and other strikes. They tend to be the same height as a taller person. They're often more solid on the bottom and are less likely to swing.
Angled Heavy Bags
This is a great option for those who do Muay Thai, Boxing, and Kickboxing. It's angled in a unique shape that works for uppercuts and body hooks. They tend to be top-heavy, thinning out at the bottom. So, you can get underneath the bag at certain angles.
The Speed Bags
You've all seen the speed bags in movies. They're the small bags that hang from the ceiling and allow you to throw some mean punches at it. They're perfect for boxers, as it allows you to work on your speed and timing in hits.
In addition to the free standing bag, these are the most popular and commonly found bags that you may see. There is also the teardrop heavy bag shape, the double end bags, slip bags, and the wrecking ball punching bag that may be found in fighting sports, in addition to other specialized bags.
Are there any risks associated with using punching bags?
When participating in any sort of physical activity, there will always be some level of risk. When using a punching bag, it's important to keep control of yourself at all times.
The act of punching or kicking may increase your adrenaline or get you heated up. So, take control over your own actions and don't let yourself lose control.
Getting too into the moment may cause you to strike too hard or at an unsafe angle. Common injuries include hand sprains, overworking yourself, or bruises on your hands or legs.
We recommend doing a quick warm-up before you even touch the bag each time. This will help get you into the right fitness mindset.
Do you need to use boxing gloves?
Whether you use hand supports depends on how hard the bag itself is. Some are made of softer materials, such as the inflatable option. If it's light enough, you may not need any protection. The harder the bag, the more supports you'll need. Heavy bag gloves or boxing gloves are common for heavy and hard bags. Hand wraps are also recommended for non-soft bags.
As we've mentioned, it's important to have a proper understanding of any sport or physical activity before starting out. If you've never used a punching bag before, we recommend you start with softer materials.
Many gyms and fitness centers will also have punching bags available for you to practice on. So, if you have a membership, give one a try to get a better idea of what you're looking for. The best part about punching bags is that it offers a unique workout and specialized training. So, what are you waiting for?