Having your own equipment in a home gym is one of the easiest and most convenient ways to stay fit. Whether you don't want to deal with the commute of going to a public gym or hate having to wait in line for the squat rack, a home gym with your own equipment is the best alternative.
You can play your music loud and wear whatever you want without judgment. You can also fill your space with only the equipment you'll need. So, what equipment should your home gym have?
The Best Home Gym Equipment
We'll cover the basic exercise equipment and some additional accessories to make sure that you have the best stuff to fill your home gym.
1. A Treadmill
Whether you run or not, keeping a treadmill in your home gym is one of the most essential items. Short sprints or long, steady runs are one of the easiest ways to boost your heart rate and burn calories. Your treadmill can be used as the main focus of your workouts or just a warm-up, but it'll certainly never go unused!
Having a treadmill is also a great way to make sure that your home gym equipment can be used by others if you have guests. Anybody can find an appropriate workout on the treadmill, even if it's just a long walk on an incline!
---
2. An Exercise Bike
Some people think that you should have to pick between an exercise bike and a treadmill. However, if you're committed to having a great home gym, we recommend getting both. They offer different types of workouts and can increase versatility in your exercise routine.
One of the best things about exercise bikes is that there are a variety of different types. Some are ideal for certain workouts and home setups. They also come in a range of different prices, so you can even get one on a tighter budget.
---
3. A Rowing Machine
Rowing machines have been a staple in many gyms for ages. They're a great alternative for working your muscles when you're sore or looking for some more low impact exercise.
Rowing machines mimic the motions you'd make while rowing a boat. Though it may seem like they're only working out your upper arms, they're actually giving you a full-body workout! So, if you want to tone your muscles, increase muscle mass, or just burn some calories, a rowing machine is a great addition for your home gym.
---
4. A Weight Bench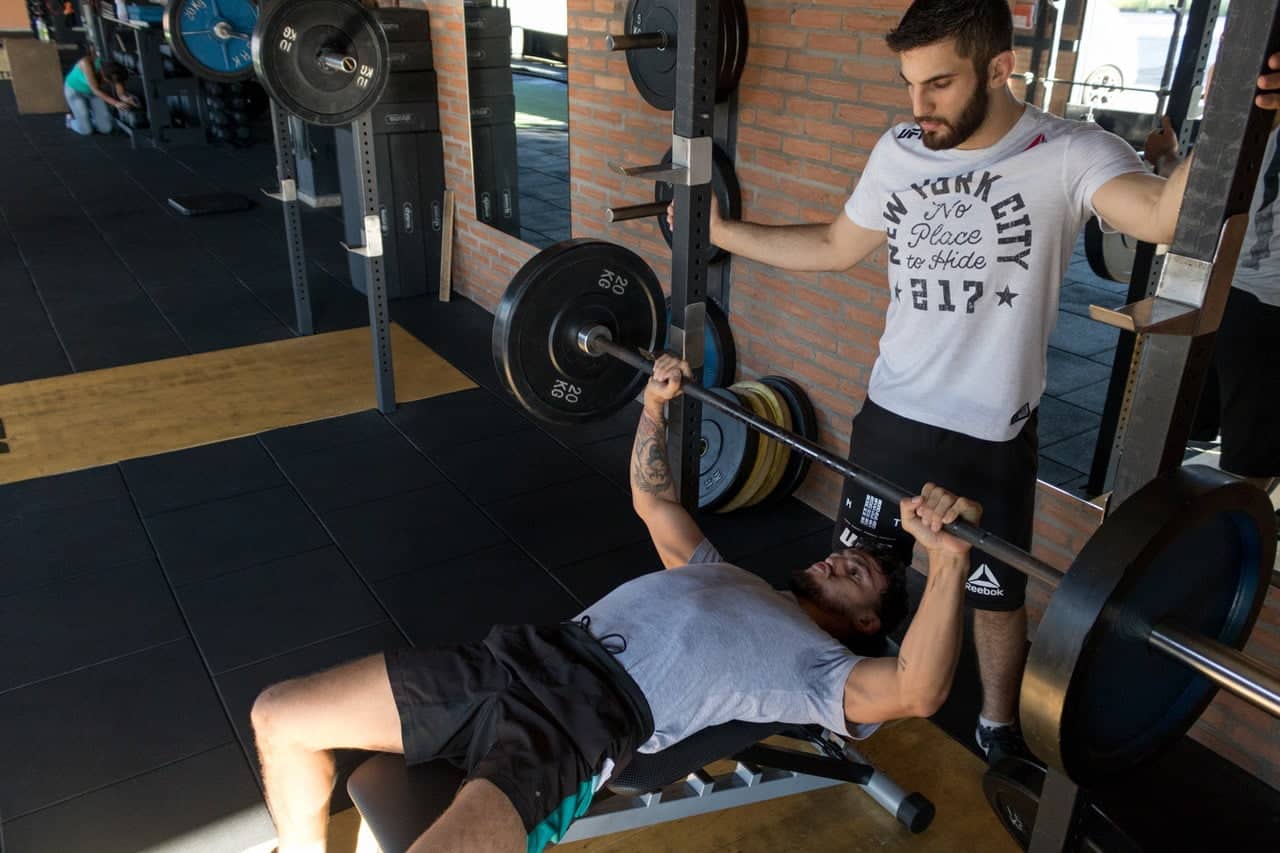 Image Courtesy of Pexels
No products found.
Weight benches are one of the staples of lifting. Some setups are built for a variety of uses, such as our featured weight bench. The makeup of the bench allows for bench pressing, push-ups, sit-ups, and for use as a dip station. The versatility makes it a perfect option for your home gym, allowing you to work out multiple muscles with only one piece of equipment.
Most weight benches will require you to purchase your own weights. This will give you some freedom in the weights that you want.
No products found.
---
5. A Dumbell Set
No home gym is complete without a dumbell set! Dumbells can be used for plenty of different activities, whether you're just lifting the weights or using them in addition to another workout.
The set of dumbells that you purchase will depend on your current strength level. Lower weights allow for better use of cardio, giving you the ability to do more reps. However, heavier weights will help build muscle and increase your strength training.
We recommend buying a variety of different dumbells to start off your home gym. This will give you the freedom to experiment with different weights and incorporate them into different activities.
---
6. A Pull-up Bar
Pull-up bars are small tools that are easy enough to install in any room of the house. They help you train your arms, shoulders, and back, giving you a comprehensive workout with little equipment needed!
Pull-ups can be hard no matter how strong you are. So, these make for a great piece of equipment to track your progress.
---
7. A Gym Mat
You won't always be using a machine during your workouts. Having a gym mat in your setup of home gym equipment can always come in handy. You can use it for doing stretches, for lifting weights, doing sit-ups, push-ups, and more. They can also be used as a yoga mat depending on the kind of moves that you're hoping to do.
---
8. Resistance Bands
Many more intense pieces of equipment or heavier weights are great at building muscle mass, but you may be missing some key areas that need improvement. Resistance bands give you the opportunity to work out a variety of different muscles and give you more control over what you're working.
Resistance bands are available in a variety of different tensions. So, they can be used as a way of building muscles, stretching out your body, or used for other aerobic workouts.
---
9. A Foam Roller
When planning your equipment for your home gym setup, it's important to remember some recovery tools. Foam rollers are an easy way of providing relief to your muscles, working out the sore spots after a vigorous workout. They're ideal for runners, weight lifters, and anyone doing intensive workouts.
---
10. A Bluetooth Speaker
As mentioned, one of the best parts about working out at home is getting to play your own music as loud as you want. You shouldn't have to wear headphones in your own home! A speaker with Bluetooth functionality will allow you to play whatever you want from your phone's music library.
---
The best part about creating a home gym is that you can pick equipment that suits your individual fitness needs and goals. Do you prefer cardio to strength training? Fill it up with cardio machines! More of a free weights fan? No problem, there are plenty of options for those, too! These home gyms may sound like a costly investment at first, but it'll help you save on pricey gym membership fees for years to come.