Treadmills are everywhere. They're in your local gym and your best friend's apartment. Since they are such a widely accessible machine, there's a common idea that everybody knows exactly how to use one. Well, that's not true! If you're a beginner to treadmills, it's important to learn exactly how to use a treadmill before you step foot on one. Well, we've got a complete guide for you!
How to Use a Treadmill
All set to start learning how to use a treadmill? Check out our treadmill buyers guide to get some help on finding out what treadmill will work best!
---
What You'll Need
A treadmill
Good running shoes
Comfortable headphones
A water bottle
Why use a treadmill?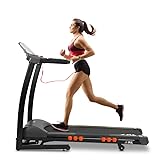 JLL S300 Digital Folding Treadmill, 2022 New Generation Digital...
Speed ranges from 0.3 km/h to 16 km/h; Incline ranges from 0 to 20 levels
5-Inch LCD monitor displays time, speed, distance, heart rate and calories - 15 running programs, first 3 programs can be customised; High powered speakers; iPod, iPhone, MP3 connectivity and USB interface
16-point cushion deck absorption system; Foldable with built-in wheels. Running area size is 122 cm in length and 41 cm in width; Maximum user weight is 120 kgs or 18.89 stone.
Home use only; 2 years parts and labour, 5 years motor cover and a lifetime guarantee on the frame
Last update on 2022-06-30 / Affiliate links / Images from Amazon Product Advertising API
If you've purchased a treadmill or spend lots of time looking at all of the treadmills at the gym, there's probably a good reason for it! Most people see treadmills and think "weight loss" or imagine themselves running a marathon.
Sure, learning how to use a treadmill is a great first step to losing a hundred pounds or running a marathon. But at their core, the purpose of this mighty exercise machine is much more simple.
You can do two things on a treadmill: walk or run. Using a treadmill for walking is great for people who want to increase their daily step count or just spend more time on their feet. This is especially handy for the cold winter months where it's next to impossible to go for a walk outdoors.
Walking at a climbing incline is another popular type of treadmill use. Crank that incline up, and it'll be just like you're going on a hike! You may choose this if you want to go on more real-world hikes or just want to increase the muscle mass of your legs.
And finally, the treadmill is a perfect alternative to outdoor running for avid runners. Whether it's your preferred method of cardio or you really are looking to run that marathon, getting a treadmill in your home is a quick and convenient way to train!
Mastering the incline
The incline on a treadmill will allow you to adjust whether you're walking or running uphill or on a flat surface. Increasing the incline will help you burn calories and exercise your muscles faster, as it forces your body to exert more effort.
Every treadmill (aside from low-budget flat treadmills) should have two incline buttons: one to increase the incline, and one to decrease it.
You should rarely use your treadmill at a 0% incline. Beginners should start with their incline at 1 or 2 per cent incline. Start here and think about how it makes your body feel. If you're walking on your treadmill and it feels too easy, increase that incline!
Expert walkers and treadmill users should have their incline on a 2, 3, or 4 per cent grade. This will work your muscles quickly.
Runners will benefit from keeping their incline at a 1 per cent incline or more. You can go for long runs at a lower incline, but you should also switch things up and change the incline throughout your run. This will help your body prepare for the uphill realities of the outside world!
Are you preparing for that marathon or another distance? Look up how many hills are at your planned route and try to mimic that with your incline. You can change the percentage as many times as you need to throughout your run.
Everything about speed
The best thing about treadmills is that you can change your speed whenever you want. Whether you want to start out at the lowest possible speed and work your way up or start at a fast run, it's up to you!
Depending on where you buy your treadmill, speeds may be in miles or kilometres. So, make sure you find out before setting your speeds!
Your treadmill will have arrow buttons similar to the incline settings that allow you to increase the speed. Many treadmills will have a maximum speed of anywhere between 16 kph to 20 kph, depending on what price range you went for. Competitive runners can choose high-end treadmills with speeds of up to 25 kph!
Here's a quick guide to the ideal speeds you'll want to go on your treadmill:
Walking speeds: 3 to 6.5 kilometres per hour.
Jogging speeds: 7 to 8 kilometres per hour.
Running speeds: 8 to 11 kilometres per hour.
Sprinting speeds: Above 11 kilometres per hour.
Proper posture
Now that you know how to set your speed and incline, you're probably wondering about what to do with your body! Proper posture while walking or running on the treadmill is an important part of learning how to use a treadmill.
Your posture should be completely upright. It's important not to lean forward or too far backwards while using a treadmill. One of the best ways to do this is to imagine that there is a string attached to your head, pulling it up.
Keep your ab muscles engaged while keeping your spine neutral. Roll your shoulders back, preventing them from getting hunched up.
It's easy to fall out of a proper posture. Make a habit of checking your posture every few minutes, or whenever you change your speed or incline.
Treadmill tricks
It's easy to get bored on a treadmill. You lose out on the fun scenery of outdoor running, and rarely have a running buddy on the treadmill beside you. So, a part of learning how to use a treadmill is figuring out how to have fun on one!
To spice up your run, we recommend getting some good quality headphones and blasting your music. You can also listen to podcasts or audiobooks to help pass the time.
Many treadmills will also have a holding spot for your smartphone. Consider downloading your favourite shows or movies and watching them while walking or running.
Here are a few other quick treadmill tricks for your next run or walk:
Always keep a bottle of water handy
Have a cloth to wipe away sweat
Wear comfortable running shoes every time
Dress for the workout and prepare to sweat
---
Related:
---
Learning how to use a treadmill might sound easy, but it's a tricky machine to master. Our best piece of advice? Try everything! Experiment with inclines and speeds until you find the pace that works for you. Keep challenging yourself, and you'll see your goals coming at you in no time!