For most men and women, body hair is a horror, especially among the younger generation. More than 97 percent of young women and 79 percent of men regularly remove hair growth in at least one body region.  So, no matter who you are, there's a chance you've struggled with hair removal in the past!
According to experts, even though the trend towards hairless appearance will reverse again, it is currently still in vogue. So the question arises, how do you get rid of the hair best? In addition to the classics such as shaving, epilation or waxing, the topic of IPL hair removal is becoming more and more fashionable. We'll tell you if the method keeps its promise and how it works.
9 Best Selling IPL Hair Removal Devices in 2023!
Last update on 2023-11-15 / Affiliate links / Images from Amazon Product Advertising API
As well as the best selling IPL hair removal devices above, we have reviewed three in more detail below.
The Best IPL Devices in 2023 Reviewed
1. Philips Lumea Prestige IPL Hair Removal Device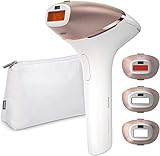 Philips Lumea Prestige IPL Hair Removal Device for Body, Face,...
Enjoy up to 8 weeks* of smooth, hair free skin, as chosen by over one million women (*When following the treatment schedule, measured on legs, after 3rd treatment, individual results may vary)
Up to 92% hair reduction in just 3 treatments** (**When following the treatment schedule, measured on legs, after 3rd treatment, individual results may vary)
The world's first IPL with curved attachments for each body area - 4 attachments for body, face, bikini & underarms.
SmartSkin sensor indicates most comfortable setting for your skin tone.
Last update on 2023-11-15 / Affiliate links / Images from Amazon Product Advertising API
This luxurious IPL hair removal device promises up to eight weeks of smooth, hairless skin, no matter which part of your body you use it on. 92% of hair will be gone within three treatments, so you won't need to worry about too many repeated treatments!
Key Features
Curved attachments. No matter which body part you want to tackle, it will move with you.
Smart Skin Sensor. This sensor automatically decides what setting will work best for your skin tone.
This device can be used corded or cordless, so you don't need to worry about keeping it charged. (But if you want to use it on the go, you can do that, too! This IPL device is all about usability, so you can get rid of unwanted hairs all over your body, from underarms to legs. There are different window sizes and 4 attachments to choose from.
What We Love:
The different attachments.
Hair gone in fewer sessions than other IPL devices.
What We Don't Love:
On the higher end of price ranges for IPL devices.
If you're fed up with razors, and find yourself rushing to get rid of unwanted hair, this is a great device for you.
---
2. INLINS IPL Hair Removal Device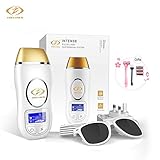 INLINS IPL Hair Removal Device for Women Men, 400000 Flashes...
🌻Why Choose INLINS IPL Permanent Hair Removal Device? – The Biggest Advantage is the lamp head is replaceable, when flash count on LCD Screen shows 0,it means the end of device. Get One replaceable lamp head then you will have a new 400,000 Flashes Device. We have Hair Removal, Skin Rejuvenation lamp head for you to choose.
🌻Powerful Energy & Painless: Unlike other IPL Hair Removal Devices, INLINS is manufacturer direct, our flash window is larger with a unique absorbing flash mouth, preventing energy from escape, yet energy is evenly distributed-Skin bearable and painless.
🌻Superior Hair Removal Experience: The energy will not fade till the last flash, that because our core tube is quartz, it has flash mode and slide mode,5 adjustable energy levels. With continuous use of 8 weeks, hair reduce and regrowth will have a noticeable effect.
🌻Home Use & suitable for whole body – Avoid expensive cost at beauty salon, help yourself with hair removal anytime at home. Flash mode is mainly used for small area hair removal, such as bikini lines, underarms, fingers, lips; Slide mode can be used in large epilating areas such as arms, legs, abdomen and back.
Last update on 2023-11-15 / Affiliate links / Images from Amazon Product Advertising API
This budget-friendly IPL device is great for both men and women who need to flash away hair. It's clinically tested and has different treatment modes to meet the needs of any hairy spot!
Key Features
Treatment modes specialized for the kind of hair removal you need. Whether its a precise and delicate hair removal session or a fast and easy leg hair removal, the machine works with you.
Works great for both men and women.
This product uses a quartz lamp with intense pulsed light to offer a great hair removal process. It's shape fits perfectly into your hand to make it easier, and it also has an uninterruptible power supply without battery! This product has five adjustable energy levels depending on what type of hair you're removing.
What We Love:
Easy and painless to use.
Budget-friendly.
Easy to use.
What We Don't Love:
It can require multiple treatments to see significant differences in hair growth.
If you don't want to waste money on special clinics to remove hair, you can save hundreds with this budget-friendly IPL device. Say goodbye to hair, and hello to savings!
---
3. Braun IPL Silk Expert Pro 5
Sale
Braun IPL Silk Expert Pro 5, Visible Permanent Hair Removal For...
1 year of smooth skin*, with visible results in just 3 weeks (Following the regimen. Individual results may vary)
Skip the laser salon with Braun's fastest IPL: full body session in just 15 minutes
Optimal balance between efficacy and safety: the IPL automatically and continuously adapts every flash to your skin tones with the Skin Pro 2.0 (SensoAdapt TM) technology
Gentle on skin: comfortable and virtually painless even in sensitive areas thanks to 3 intensity modes. UV filtered
Last update on 2023-11-04 / Affiliate links / Images from Amazon Product Advertising API
This sleek and stylish IPL device is perfect for safe, fast and easy hair reduction. Within four weeks you'll notice a major difference, and be amazed with how fast it works! Gone are the days where you spend hours in the tub trying to get that perfect shave. Within five minutes, you can finish both legs at the lowest energy level!
Key Features
Sleek, compact design. It's easy to carry around and travel with, and it's so cute! A great idea for gifting.
Quick use. You'll save hours getting rid of hair with this machine.
Not only can you get both legs done quickly, but it's also a great option for smaller and more sensitive areas. It's safe and easy to use on your underarms, bikini area, and face. With ten intensity levels, almost all skin tones can be treated with this IPL device. Plus, with the Braun Silk-Expert Pro App, you can track your treatments and prepare for the next one with ease.
What We Love:
The Braun App makes planning treatments easier.
Works on a variety of skin tones and hair colours.
It comes with a reusable pouch to keep IPL device in.
What We Don't Love:
Certain intensity levels can cause pain.
This awesome IPL product speaks for itself. Once you get used to using it, you won't be able to believe how much time you wasted on shaving!
---
Guide to the Best IPL Hair Removal Devices in 2023
How IPL technology works
While traditional hair removal methods are still widely used, the IPL procedure is becoming more and more popular in this country. IPL stands for "Intense Pulsed Light", which is a relatively new process for permanent hair removal or reduction.
Important: IPL hair removal is not a laser treatment. In the IPL method, highly controlled light is used in a large wave spectrum. The laser method uses only a very narrow light spectrum, which is why laser devices are not available for free sale. Laser treatments are therefore only to be found by trained personnel such as some cosmeticians or dermatologists.
The functionality
In the IPL treatment, very short and strong flashes of light are superficially radiated to the skin. A light source with a broad wavelength of 380-1400 nm is used. The light spectrum ensures that the colour pigment melanin in the hair follicles heats up (up to temperatures of up to 70 ° C) and reacts. Due to the resulting heat, the hair root should then be pinpointed. The hair falls out in the following days and, in theory, should not regrow if keeping up to date with IPL treatment. To successfully remove all hair, many IPL treatment users must commit to anywhere between 2 and 10 treatments.
Since the home appliances do not provide the light output as they are found at the doctor, the removed hair will usually grow back after some time. The time before regrowth is usually within 3 months. Hair that grows back will typically be lighter and thinner after IPL treatments, as compared to the hair before any treatment occurs.
Requirements and disadvantages?
Unfortunately, IPL hair removal is not suitable for every skin and hair type. If the hair does not stand out sufficiently from the skin color, the success will be lost. In the worst case, the skin can even be damaged sustainably, as the light energy is not concentrated on the pigments in the hair, but rather on the skin itself. Therefore, the better the contrast between skin and hair color, the better the light energy implemented. For people with very light, gray or red hair, IPL treatment is therefore not very effective.
Advantages of the IPL treatment
The complete hair removal method is almost painless. In most cases, only a slight tingling, burning or Ziepen is felt. In addition, the light treatment is suitable for almost all body parts. Because the light can be harmful to the eyesight, treatment should only be done below the cheekbones and with a special facial appendage. In the bikini zone area, it makes sense to use a device that has different light intensity levels. The skin is particularly sensitive there, so the intensity should be reduced.
Another clear advantage is the longevity of the method. Since the hair root is destroyed by the light, no new hair can form. It does not grow any longer, at least for a long time. To maintain the result of smooth skin, Philips recommends, for example, to repeat the IPL treatment every 4 to 8 weeks. While this may seem like plenty of work, it certainly beats shaving every few days!
Important equipment details
Size of the light window
The size of the light window determines how large the area of ​​hair removal is. The bigger the window, the more hair can be removed at once. On the other hand, too large light windows make precise work on sensitive areas difficult. So, bigger windows are often used on larger body parts, like the leg. Areas like underarms and bikini areas are best done with smaller light windows.
Intensity levels
A good device for IPL hair removal has different levels of light intensity. The more intensity levels are present, the better the device can be adapted to your own needs. For example, the intimate area should be irradiated with less light energy than, for example, the legs.
Power supply
An important fact is the power supply of the IPL device. Although many models are now available with battery and wireless operation, cable operation is an important factor, as the battery performance of the devices usually does not last longer than 10 minutes. So, you may want to zone in on hair removal areas one at a time between charges.
Sensors
Some IPL devices have special skin and safety sensors. These detect, for example, whether the device is being placed correctly or at what intensity level should be started. These are practical features that should be interesting and educational, especially for beginners. Be sure to understand the location and meaning behind each sensor on your IPL device before you begin any hair removal processes.
Accessories
The accessories should contain various attachments to suit the different body regions. In most cases, a specially shaped attachment for the underarm area and an attachment for sensitive areas, such as the bikini area, are recommended.
That's how it's done right
Although the treatment is relatively easy and painless, a few things need to be considered in advance:
Before the IPL application, the area to be treated must be hair-free. Either remove them with the help of a razor or with an epilator. Due to the resulting heat during treatment, the fine hairs would otherwise burn or char.
Subsequently, the device is moved piecemeal on the site to be treated.
The time it takes to complete treatment varies. For a lower leg, you need an average of 10 minutes. The whole intimate area should take about 6 minutes. A full body treatment can take between 45 minutes and 2.5 hours. Plan for taking longer during your first few IPL hair removal sessions as you get used to the device.
Patience is needed. You won't see any massive changes after your first session. For full results, you'll need to keep up-to-date with your IPL applications.
Well-known manufacturers
Beurer
Beurer is a medium-sized company with headquarters in Ulm, with about 900 employees and 230 million Euro turnover (2016). The company's focus is on electrical appliances for health and well-being. In this regard, the company offers both IPL devices and diode lasers for permanent hair removal.
Philips
Philips is a well-known provider of health technology and home appliances, founded in 1891 in Eindhoven in the Netherlands. Products from Philips enjoy a very good reputation in this country. Also, in the field of IPL devices, Philips placed with the Lumea series very popular products in the market. The lifespan of the lamps are said to be over 20 years.
Braun
Braun is also a well-known provider of personal care products on the German market. The Taunus-based company has belonged to the US giant Procter & Gamble since 1967 and has more than 3,000 employees. Braun sells its IPL hair removal devices under the name Silk-Expert.
Medisana
Medisana AG is a health products company based in Neuss. The main focus is on development, production, and marketing. The company divides activities into health control, home therapy, personal care, home of wellness and mobile health.
The risks and side effects of IPL treatment
Basically, IPL hair removal is not considered dangerous. But as so often with this method, there are some factors that can cause side effects, especially with improper use. These include, for example, slight burns or redness of the skin areas to be treated. Acne, infections and other skin diseases can also be exacerbated. If these are present, a dermatologist should be consulted prior to IPL treatment. In the case of photosensitivity, sunburn, or even allergy, treatment should be avoided. On tattooed body parts, liver spots or pigmentary disorders, the treatment should also not be performed, since the contrast between skin and hair is no longer present.
---
Related:
---
Alternative methods of hair removal
As simple and painless as the method may be, for some, the application is not suitable, such as for those with very light hair types. These include blonde, red or gray hair. Common classic alternatives are as follows.
Razor: When shaving, the hair is cut just above the skin surface. The hair grows visible again in just a few days. Hair can also regrow to be thicker than before the first shave.
Epilator: When epilating, the hair and hair roots are plucked from the skin. This is a very painful hair removal process. The method promises hairlessness, followed by normal hair growth, for about a month.
Waxing: When waxing, the result is similar to the epilation. The hair and the hair root are torn out of the skin with the help of hot or cold wax. The effect can last about 4 weeks. Depending on which part of the body is waxed, it can be extremely painful, especially for those with sensitive skin.
Sugaring: Sugaring uses a special sugar paste for hair removal, which is especially gentle on the skin due to its natural active ingredients. The method is especially popular in the Orient and in countries like Brazil. The approach is similar to waxing. The paste is mixed and applied against the direction of hair growth and then removed with the hair growth direction. The effect lasts about 4 weeks.
Electroepilation: Electroepilation involves inserting small needles under the skin and energizing them. This causes the destruction of the hair root. The method is very time consuming and the appearance of redness and swelling is very common.
Laser Hair Removal: During laser treatment in the beauty salon or dermatologist, the germ cell of the hair root is destroyed. Again, there must be a good contrast between skin and hair in order to be successful. Work is usually done here with ruby, diode or alexandrite laser. Hair will be gone for up to six to twelve months, after which follow up laser sessions may be required. This is also the most expensive option for hair removal, as professional and expensive machinery is always involved.
Frequently Asked Questions – FAQ
Is the IPL hair removal also suitable for the genital area?
Yes, it is. The devices usually have an attachment with a smaller light window, so that you can work with pinpoint accuracy. Attention should be paid to this accessory before purchasing the IPL device.
Can men also use a device with IPL?
Yes, the IPL devices work for both men and women.
Can the IPL treatment be performed during pregnancy?
No.  Due to the hormone change, the appearance of the skin and the hair can completely change. So, it is best to wait until after pregnancy before beginning any IPL treatment.
Can hair on the upper lip be removed?
It's possible. In many women, hair on the upper lip consists of fine blond hairs, which are often too fine to be removed with IPL treatment. However, some women will notice darker or thicker hair on the upper lip. Most devices will have an intensity setting. The area around the upper lip is very sensitive and should, therefore, be treated only with low intensity.