It can feel like hair removal for women is a never-ending struggle. Keeping on top of legs, underarms and bikini line – not to mention anywhere else you may want to rid yourself of hair – takes the average British woman half a day every single year. That could add up to an average of 25 days of your life ridding yourself of body hair!
A study in 2017 found that women spend an average of £6,500 over their lifetime on shaving at home, with the majority of this being spent on throwaway plastic razors. Not only are these disposable razors false economy, but they're harming the planet too – all that plastic ends up in the landfill!
For a more cost-effective, eco-friendly and comfortable shave, many women are now turning their attention towards lady shavers. So, what is the best lady shaver on the market in 2023? Our ultimate guide will walk you through the best lady shaver options, no matter your budget, preferences, or body hair type.
The 7 Best Selling Lady Shavers in 2023!
Last update on 2023-10-23 / Affiliate links / Images from Amazon Product Advertising API
Without further ado, let's take a look at some of the best lady shavers in 2019!
1. Panasonic ES2291D Washable Wet/Dry Ladies Shaver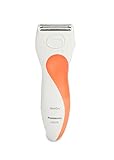 Panasonic ES2291D Washable Wet/Dry Ladies Shaver (Battery...
SHAVES WET OR DRY. Featured wet or dry shaver. Fully immersible for easy cleaning, safe to use in shower or tub, rinses clean.
BIKINI TRIMMER ATTACHMENT. It is a bikini trimmer. Slip on the bikini trimmer attachment and this hair removal system trims the bikini zone safely and quickly. Allows for multiple length adjustments.
HYPOALLERGENIC, STAINLESS STEEL SHARPEST BLADES. Featuring the sharpest blades available on any ladies' electric shaver for safe, ultra-close shaving with nickel free hypo allergenic stainless foils and blades. Great for sensitive skin.
PIVOTING HEAD. Pivot action shaving system for a smoother and closer shaver.
Last update on 2023-11-08 / Affiliate links / Images from Amazon Product Advertising API
The Panasonic ES2291D is a 3 in 1 shaver, trimmer and includes a bikini comb so you are able to use it for all areas. It is cordless so it is operated by batteries and it is completely waterproof so you can use it in or out of the bath/shower, whether you need a quick shave for going out or a luxurious soak.
Due to its three different features, this lady shaver will work on your legs, underarms and bikini area. The trimmer comb will help to cut the more difficult areas.
The batteries are included but these are non-rechargeable batteries. There is a handy screen on the back to indicate when the batteries are running low.
Our testers think it is decently priced for its performance. It is nice and easy to hold and considering it is cordless, it works well. Just be careful as you could scratch under your arms with this lady shaver.
It doesn't leave your legs with as smooth a shave as with a razor blade and we felt that it didn't suit the underarms. It works really well on all types of leg hair and if you have fine hair it will shave your hair like a knife through butter.
The size of this lady shaver is a real benefit. It is also great that it is cordless and the batteries last a few weeks. It won't compare with a razor in terms of that smooth finish but it does the job it was designed to do. This lady shaver was first released in 2014 which is why it might not have as many bells and whistles as others.
What we love
Cordless and a great size to carry around with you
Easy to use
What we don't love
Might not be suitable to all areas
It doesn't shave very close to the skin.
---
2. Lady Shaver-Waterproof Electric Painless Razor for Women
Lady Shaver,Rechargeable Electric Women Shaver Razor Bikini...
💕[3 in 1Sharp Head for Whole Body Thorough Shaving]: Megainvo lady shaver head is made of 3 parts to provide you an all-round smooth shaving result: the straight blade can easily and quickly shave the hair on arms and legs, the curved blade can use to shave underarms or any hard-to-reach areas, while the floating foil works for the residual hair. Moreover, the built LED light offers bright illumination.
💕[Advanced 3D Floating Foil Bring Painless Hair Trimming]: the floating foil automatically adjust to the optimal angle to trim hair based on different areas, this electric women shaver glides gently and smoothly along your body curves and contours to ensure a close, safe and comfortable hair shaving experience without irritation worries on sensitive skin.
💕[Waterproof Make it Use in Wet or Dry]: This Sealant technology, anti-slip grip and hypoallergenic stainless steel blade of the electric razor for women makes it can be used in shower or bath with soap lather, shaving foam or gel. Also it can be used for a quick dry shave at any convenient tim
💕[Rechargeable in 2 Charing Modes]: This Bikini Trimmer for women w/2 charging modes, charged by stand or connect adapter to power socket directly, this hair remover provides about 40min of cordless using after fully charged. The usb cable allows universal connection to most device,portable battery bank, computer, usb port/socket, etc. Get rid of the limitations of traditional epilator charging cable, charge easily at anywhere, anytime. These make this women's electric razor become the best tra
Last update on 2023-11-08 / Affiliate links / Images from Amazon Product Advertising API
While we may not have heard of the Megainvo brand, this lady shaver has a lot to offer. It is a 3 in 1 kit with advanced 3D floating foil. It is waterproof so it can be used in the shower too. This lady shaver can be charged with a universal USB cable so there is no need to worry about not being able to charge it. The blades are made of hypoallergenic stainless steel which will please those with sensitive skin.
There is a straight blade for arms and legs, a curved blade for the hard to reach areas and then there is the 3D floating foil which will painless remove residual hairs.
If you are in a hurry you can use this for speedy results or if you want to treat yourself you can take it into the shower and use it along with your shower gels.
We are in love!! This is such a bargain. It probably doesn't look like the prettiest of lady shavers but then women don't like paying pink taxes!! Our testers we so impressed by how well the shaver worked both in and out of the water that the look of the shaver was not an issue. There is even a little LED light so you don't miss any bits.
The shaver lasts a long time without having to recharge it but the charging stand is a bit flimsy.
It is difficult to find fault with the Megainvo lady shaver. It is cheap, it works exceptionally well on all areas of the body and the LED is a great touch. You can have lovely smooth legs without any cuts or irritation.
What we like
Exceptional value for money, with a nice close shave
Really clear instructions
What we don't like
The base could be stronger.
It's a real shame we can't buy replacement blades.
---
3. 5 in 1 Ladies Electric Shaver
Lady Shaver, Women 5 in 1 FB-1001 Electric Shaver- Waterproof...
【Multifunctional Grooming Kit】This electric shaver provide with five detachable heads, and including a precision shaver and trimmer, a nose & ear trimmer and a facial cleaning brush, satisfying you all you need for your hair trimming and facial care.
【Multi-function Hair Remover】Anti-allergic material and Palm Perfect ergonomic design makes it safe for on all skin types and easy for legs, arm, bikini's unwanted hair removal. Get rid of unwanted body hair quickly without irritation, no redness from waxing or threading.
【3D Double Ring Veneer Knife Net Design】High-tech to create a precision knife net, excellent quality, increase the contact surface double ring design to increase the contact area by 50%, with the internal sharp blade, bring better shaving effect.
【100% Waterproof】This Electric Razor is IPX7 whole body 100% waterproof, Whether you want to dry shaving or refreshing wet shaving, this electric shaver can satisfy all your needs and make you feel refreshed. You can rinse directly under the tap, making it easy to clean and maintain this shaver.
Last update on 2023-11-08 / Affiliate links / Images from Amazon Product Advertising API
Once again we may not have heard much of the VIMC brand but this 5 in 1 set will definitely raise its brand awareness. The electric lady shaver uses a 3D double ring veneer knife net design. This will help provide a high precision shave without the pains of close calls.
The 3 in 1 blade has floating foil so you will get a nice close shave, the precise shaving head works well for underarm hair and the precise trimming head is suitable for facial hair and bikini lines.
This is a 100% water proof product, making it easy to use in the bath and shower. It also uses a rechargeable and wireless method of charging. So, after only 90 minutes of charging, you can use it for 45 minutes straight! That should be just enough time to get the job done.
We have decided that this isn't just a lady shaver but in fact a beauty kit. If you are short of time you can use the dry shaver to shave your legs and you are out the door, however, if you have a little extra time you can treat yourself to a whole facial as well as hair removal.
It comes at such a good price and none of our testers felt the product looked or felt cheap. One tester had never used an electric shaver before and she was surprised at how easy it was and how it didn't hurt. This would be a great gift for any lady.
You really cannot go wrong with the VIMC 5 in 1 set. You can treat yourself to a salon feel without the same prices. The lady shaver works extremely well on all types of body hair. The 6 adaptable heads are easy to clean. It works well in water, you can even completely submerge it in water.
What we like
A great beauty set for an incredibly reasonable price.
Smooth, soft finish on all areas of the body.
What we don't like
You may nick yourself if you go too fast.
It is sometimes a bit tricky to switch the heads.
---
4. NOVETE 4 in 1 Electric Lady Razor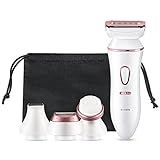 Lady Shaver, NOVETE 4 in 1 Electric Lady Razor, Women's Razor...
4-in-1 BODY CARE SYSTEM: Includes a 3-in-1 shaving head, a precision shaving head, a precision trimming head and facial cleansing brush to maintain a clean and smooth look from head to toe
DEEP FACIAL CLEANSING: 360° rotation facial cleansing brush head thoroughly removes dirt, oil and makeup residues, revealing clean and flawless skin
100% WASHABLE: With IPX7 waterproof rating, can be used in the bathtub or shower and is easy to clean by rinsing with water
NO-RISK PURCHASE: NOVETE is guaranteed to provide 100% satisfaction guarantee (a refund or replacement) if you are not fully satisfied with the product; feel free to contact us via [email protected] if you have any problems
Last update on 2023-11-08 / Affiliate links / Images from Amazon Product Advertising API
Novete has also added an extra touch to their shaver kit and included a facial brush making this a 4 in 1 set. There is also a precision shaving head, precision trimming head and the 3 in 1 blade. This lady shaver has a waterproof rating of IPX7 so it can be used with water. It comes with a 100% satisfaction guarantee with an email address to contact.
The 3 in 1 shaver head has a straight blade for larger areas and then a floating blade to get a closer shave. The two precise heads enable you to get a close shave in the tricky parts of your body.
When you want to treat your face to a nice scrub, just change the head. The facial cleansing brush will give your pores a good, deep clean giving you a nice fresh look.
After trying the Novete lady shaver on different types of hair, we discovered that it works really well on thick and thin hair but occasionally causes issues for underarm hair and more when used on the bikini line.
We liked the base. It felt quite sturdy and the shaver wasn't constantly falling over. It charges really well so the battery life is amazing. Also, it came with a cute little bag to store everything in.
The brush head is really soft and gentle and we all noticed how much better our skin felt after just one use. Many of us had never thought about buying a facial cleansing brush so we loved the idea of one being included. Plus, it is really easy to change the heads.
It is always nice when you get an added extra like the facial cleansing brush. It feels like you are getting more for your money, especially as the price is already very reasonable. Having a good battery life is a real convenience. It is great on legs but could be better on other parts of the body.
What we like
Wet and dry use, also can be used in the bath.
Leaves you with shiny smooth skin
What we don't like
Doesn't work well on underarm hair
The battery charge doesn't last as long as expected
---
5. Babyliss 8770BU True Smooth Rechargeable Ladies Shaver
Last update on 2023-11-08 / Affiliate links / Images from Amazon Product Advertising API
The Babyliss 8770BU is quite a basic lady shaver. The dual foil enables a close shave and the floating trimmer will remove the longer hairs beforehand. There are no other heads but this one is removable for easy cleaning. It does come with 2 combs for guidance.
Having two different sized comb guides are a real advantage with this set. Not everybody wants a close shave, due to ingrown hairs so you can choose between a 2mm and a 4mm comb. However, if you choose not to use one of the combs you can use main shaver head, with the dual foil you get a close, soft shave.
You can take the head off so you can clean the head without difficulty under running water, this will help maintain your set.
We found that when your skin is pulled tightly, the performance is improved a lot and you get a much closer shave. It also worked on the upper lip region of the face.
It is really easy to use, including for younger and first-time electric shaver users. It would be an ideal gift for anyone but especially a teenager who hasn't used an electric shaver before.
While we don't like giving negative reviews, we also have to be honest. If you are loyal to Babyliss this is a fine product and will get the job done. It is a good price for what comes in the set. If you are new to lady shavers we would recommend looking at others.
What we like
It is a good option if you have a problem with ingrown hairs
The battery life is fantastic
What we don't like
The quality of the shave could be a lot better.
You might be better off looking at other brands for the same price.
---
6. Philips SatinShave Prestige Wet and Dry Electric Lady Shaver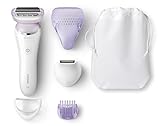 Philips SatinShave Prestige Wet and Dry Rechargeable Lady Shaver,...
Quick and easy: Achieve a skin friendly, close shave even on tough-to-reach spots on legs, underarms and bikini line
Safe and gentle: Protects against skin irritation, cuts and scratches so you can use even on your most sensitive areas
Comfortable shave: The single-floating foil ensures close skin contact and naturally glides over the contours of the body
Wet and dry shave: With anti-slip grip for optimal wet and dry use
Last update on 2023-11-08 / Affiliate links / Images from Amazon Product Advertising API
The Philips SatinShave electric lady shaver comes with 2 heads, the prestige and the bikini trimmer. It also includes a trimming comb. It is the first time we have seen a skin stretcher cap. There is a Supercharge option, in 5 minutes you will have enough charge for one use. The box includes instructions and it is nice to see one of the well-known brands including a guarantee.
The enhanced shaving system leaves your skin soft, hair-free and with less irritation and along with the bikini trimmer head it is suitable for all areas of your body.
The trimming comb is 3mm so you can decide whether you want the close shave or not.
If you really want a close shave, the skin stretcher cap is a great accessory, helping you pull your skin tight so that the hairs stand up, perfecting the trickier areas.
This is a superb shaver if you are fed up of cutting yourself on traditional razors. It provides a close shave and if necessary you can do the odd touch up when necessary. That being said, when you take into consideration the price, do you really want to be "touching up"!
This is a little bit expensive but if you use the skin stretcher you will definitely see improved results. It is a pretty looking set and god for those who like to travel. It is a good choice if you are prone to sensitive skin.
What we like
5 minute supercharge if you are in a rush
Reduces irritation
What we don't like
The price is a little high
Can be slightly painful under the arms and around the bikini line.
---
7. Remington Cordless Wet and Dry Lady Shaver
Sale
Last update on 2023-11-08 / Affiliate links / Images from Amazon Product Advertising API
Remington has produced a cordless shaver which has double foils and floating hypoallergenic heads, as well as an aloe vera strip. It comes with a comb guard for bikini areas. It is a wet/dry shaver so you can use it in the shower. The anti-slip grip will help you achieve the soft, hair-free shave. After charging up on its base, you will have up to 30 minutes of use. If you are looking to transport your shaver, you can do so in the bag provided.
The combination of the double foils, floating hypoallergenic heads and aloe vera strip gives you the smoothest shave, following all the contours of your body and really spoiling your skin at the same time.
It has a somewhat futuristic, robotic look, especially with the charging button on the front. It also had a really great shape which adds to its ease of use.
This shaver works really well on all types of hair, we tested it on thick hair and it worked like a breeze. The thing we liked is that you can change the foils yourself but you will need to oil the heads every now and then.
The head is a tad bulky so for those who have a petite figure you might struggle under the arms. That being said we thought it was such good value even if you only use it on your legs.
As with other shavers, there seems to some issues when it comes to shaving under the arms. But this is by far the cheapest we have seen, considering it produces such good results on legs, we could forgive it. The aloe vera strip is very popular and not just with people who have sensitive skin.
What we like
Amazing price
Incredible performance on the legs
What we don't like
Issues with underarms
It's noisy
---
8. 3 in 1 Braun Silk-épil Lady Shaver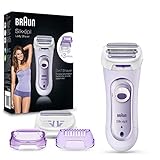 Last update on 2023-11-08 / Affiliate links / Images from Amazon Product Advertising API
This lady shaver allows you to shave all parts of your body and at the same time, the exfoliation attachment so while you are shaving you are also exfoliating. It is cordless and runs on a Li-Ion battery. While it is advertised as waterproof for easy cleaning, it is not advertised for wet shaving. Similarly to the others, it has a floating foil and a trimmer cap. It has a rounded head to glide over body contours.
The main features of the Braun Silk-épil are the floating foil, trimmer cap and rounded head which together produce a silky finish for any area of your body.
The Li-Ion battery means that after just one hour of charging, you will have 40 minutes of shaving time.
What makes this lady shaver stand out it the exfoliation attachment. Women want to have smooth, soft skin and this is doing two jobs at the same time.
First of all, we are completely baffled by the price difference between the pink and purple versions!
In general, we were all pleased with the closeness of the shave. It's a pretty little machine that is nice and light to use. But our testers with thicker hair did prefer other shavers.
Value for money here depends on your colour preference! It is a good all-round shaver that comes with nice accessories but it still doesn't tick all the boxes, particularly for those who have thick hair. The charger is brilliant and there is plenty of time to shave and even go over missed parts or areas that need a second go.
What we like
The exfoliation attachment is a blessing that really makes a difference
The long-lasting battery gives you plenty of extra time when needed.
What we don't like
This is not a lady shaver which can be used on all types of skin!
Replacement parts are expensive, especially if you aren't completely in love with it.
---
9. Ladies Electric Shaver Bikini Trimmer for Women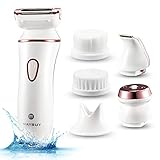 Ladies Electric Shaver Bikini Trimmer for Women, Maybuy 4 in 1...
【Gentle & Painless】The 2-1 women hair remover is suitable for daily use to keep up with the hair regrowth and leave it smooth, quickly removes unwanted prune fibers on cheeks, chin hair and upper lip hair,Eyebrow, keeping your skin radiant, healthy and smooth.
【PORTABLE & STYLISH DESIGN】facial hair razor is a portable hair remover with a miniature size, a stylish look and an ergonomic feel. It can be easily placed in a beauty bag, carried around, and trimmed at any time.Just usb charging to get easy & comfortable hair remover experience!
【PAINLESS & Comfort】The hair remover is an electric razor which does not pull hair from the root but gets so close to skin without irritating, which also makes it a considerate companion for your confidence and beauty.
【Upgraded USB Rechargeable with LED Light】It perfect design plus the built-in LED light allows you to follow every curve of the body and make sure you wont miss any hair, it makes the procedure versatile in its uses everywhere, Leave your make-up more smooth.
Last update on 2023-11-08 / Affiliate links / Images from Amazon Product Advertising API
Maybuy's electric lady shaver has a 3 in 1 system with a flexible head. It also comes with a trimmer blade for precision. A nice addition to the set is the facial cleansing brushes. It is waterproof and comes with a charging stand. Its ergonomic design makes it comfortable to use.
With the 3 in 1 blade and the precision trimmer, you will be able to remove hair from your legs, arms, underarms and bikini line.
It is charged by a USB cable which is really convenient because you don't need to worry about taking an extra charger with you.
It is IPX7 waterproof so you can use it dry, in the shower or in the bath. It is safe to use with gel or shaving foam if you prefer.
Before even using the set we noticed that it looked like it was made from quality materials. It felt comfortable in our hands.
We were pleased with the price, after doing some research we realised that most facial cleansing brushes do not come with a stand, so it is worth paying a little extra if you get a facial brush with it.
It is definitely a convenient set being waterproof and with a USB charging system. It is also the right size to take in your bag with you. It does work on all types of hair but better on finer hair. The facial brushes give you a lovely clean feel on your face.
What we love
Amazing facial brushes
Good value for money
What we don't love
If you have thick underarm hair it doesn't provide the best results
If you have sensitive skin you might not want to use it dry
---
The Best Lady Shavers Guide in 2023!
Whether it's summer, spring, winter or fall smooth skin is always nice. That nice after shave feeling your legs have is incomparable to any other sensation.
Skin as soft as a baby's butt, now that's what I'm going for.
Speaking of shaving, I need to do that, like now. Your hair blowing in the wind sounds sexy, until you realize, it's actually the hair on your legs thats getting all the action.
I'm kind of tired of buying those cheap basic razors, so I need to step up my shave game. And the next step is something you may have heard of. The lady shaver. Sounds kind of funny, but it's just the name. These shavers are no joke and believe me when I say they get the job done.
If you're someone that likes to leave the hair and go au natural, that's totally fine, but if you're like me and want to be hairless, this shaver is the one for you.
The Lady Shaver? What's That?
Lady shavers are like regular razors, but better. They're electric shavers that actually do most of the grunt work for you. The times we live in right?
There are multiple kinds, including cordless ones that are battery operated or rechargeable and ones that come with wires that need to be plugged in to turn on.
The cordless ones can be used wet or dry because, most, if not all, are completely washable and water-resistant. This is really handy if you're someone that's used to shaving while you shower. Also, most are pretty compatible with showers gels, so no need to worry about that. However, if you use a shower gel that is particularly thick, you might want to think twice about using it in tandem with the shavers.
Some  shavers that come with wires are washable as well, but they require an outlet so these kinds are much less sought after. With these kinds, you're restricted to the length of the cord and they are less portable than their wireless counterpart. They're available though, if that's what you'd like.
Electric lady shavers vs conventional razors
Most women around the world opt for a disposable razor when shaving their legs, underarms and even their bikini line. Some women will also consider a reusable razor, where the plastic head is changed as and when it's needed. While they may seem cheap, the costs can quickly add up using this kind of razor. Not only that, but the plastic heads or the whole razor itself usually ends up in the bin – not exactly eco-friendly.
On the other hand, electric shavers are far more environmentally friendly and cost-effective. Parts don't need to be replaced anywhere near as often as conventional razors, meaning less plastic waste to throw away. While the initial cost may be higher than opting for a disposable or reusable razor, you won't need to head to the shops every few weeks to stock up. The best lady shavers should last you 3-5 years, but sometimes even longer if you look after it well.
So, even if you opted for a lady shaver at the top end of the scale (around £50), you'll be getting more value for money in the long run. With reusable razor heads costing an average of £8 per pack of 3, that "cheap razor" can actually add up to over £130 a year if you change the head once a week. That stings more than razor burn! It's no wonder more and more women are looking for the best electric lady shaver, to save their wallets and the environment.
Finally, many women find that using an electric shaver gives them a closer and smoother shave, that lasts for longer than a conventional razor. We all dream of having silky smooth legs, without having to shave them every other day. If there's one thing a lady shaver is good for, it's getting rid of those pesky hairs.
What different types of lady shavers are there?
For the most part, the best lady shavers all have very similar features that can make it hard to pick the right one for you. Unlike men's shavers, which tend to have a rotary or foil option, the majority of women's shavers are foil. A foil shaver makes use of multiple blades which move side to side, getting as close to the skin as possible without cutting it.
The foil itself refers to the thin metal mesh which is what the hairs are pushed through, creating a clean cut with the moving blades. There are some rotary shavers on the market, but they tend to be focused more men as their hair is considered to be coarser – with dry beard hair being as hard to cut through as copper wire, according to Gillette.
First off is the foil. 
Foil shavers are more gentle than rotary shavers because the foil sheet protects and acts like a buffer separating the blades from your skin which prevents irritation.

The foils pull the skin taught so the blades can go to work which leaves you with a nice and close shave as it gets as close to the roots of the hairs as possible. 

They're good for everyday use by providing a fast and efficient shave so that you shouldn't have to go over the same area twice. 

They're also easier to clean considering you'd have to remove each spinning head on a rotary and clean them individually after a few shaves.

However, foil shavers are usually noisy.  You're also restricted to vertical or horizontal use considering the shape of the blades. Therefore, foil shavers aren't the best for curvier surfaces. 
Coming up next is the rotary shaver. 
These bad boys work great with coarser and thicker hair. They are also good to use on longer hair so you won't have to trim before use. Unless the length is significant. 

Because of the rotating heads, if you have hair that grows in different directions, these kinds are great for precision. These are also more quieter than foil shavers. 

However, rotary shavers don't get as close as foil shavers do so you might have to go over a section a few more times. 

They operate slower than foil shavers and if you have sensitive skin, it's best to pass on these kinds of shavers because they are more likely to cause irritation.
Got Any Tips Or Extra Info?
Why yes, as a matter of fact I do. I've got a couple of things I want to tell you before you make your decision on which lady shaver to get. Tech nowadays has gotten pretty advanced. So there's new features, new skills, new aesthetics on the market right now which can cloud your judgment. However, there are a few fundamental things you should look for in your lady shaver before you take note of the add ons.
Make sure it's gripable, especially if you're thinking about using it in the shower, it's just a nuisance if you have to keep picking it up, increasing the chances of you slipping. Some, mostly foil shavers, are loud, if too much sound bothers you, you're better off getting a rotary shaver. Some require batteries so keep an eye out for that. If you're an on-the-go kind of person, you'll want to think about the size and weight when deciding which one to get as well.
The speed and sharpness of the blades can impact how fast your shaving session will be and if you're looking for more accuracy, some shavers had built in lights on them as well, so you're sure to get every hair. If you're sensitive, make sure the blades are hypo-allergenic and if you're someone who likes to take their time while shaving, you might want to look into the longevity and shaver can last on a single charge, this can impact your decision. And for all accounts, it's best to use a shaver that can handle being fully submerged under water so as to make cleaning it a easy as possible.
As we've already made clear earlier, not all lady shavers are made equal, some have specific qualities and some can handle it all. You'd like to think that lady shavers are okay to use over your whole body, but that's not always the case. Some are not to be used on facial hair and some are limited to legs and armpits while others are okay for using on you bikini line. It just all depends on the device so make sure you're reading the labels and making the most informed decision based on your lifestyle and preference
How much should the best lady shaver cost?
We have already looked at how much more cost effective it is to buy an electric women's shaver compared to buying conventional, throwaway razors. So, what kind of budget should you be looking at for the best lady shaver? Really, it all depends on what features you want it to have. Some of the best purse-friendly lady shavers on the market can be found under £20, from big-name brands such as Philips. However, you are likely to find them requiring batteries and lacking extras for that kind of price range.
As you make your way up to the under £30 price bracket, you'll find some of the best lady shavers on the market complete with plenty of extras. At this price point, you can expect plenty more accessories, including attachments for shaving different parts of the body. They are also likely to be wet and dry lady shavers that are rechargeable, instead of requiring batteries.
At the upper end of the budget, the best lady shavers come with all of the bells and whistles. Some double up as epilators, or have attachments which can be used as cleaning tools for your face, all in one handy little package. Big brands, such as Philips and Braun, dominate the top of the lady shaver price bracket, so you know you're getting good quality for your money.
The differences between the best lady shavers in 2023
While they may be roughly built the same, there are a lot of things that can set apart the best lady shavers on the market depending on what you're looking for. Here are just some of the differences you may want to consider:
Battery or electric lady shavers – Some have rechargeable batteries whereas others are charged using a cord, plug, or charging stand. Consider whether you want to have to invest in new batteries every few months or if you'd prefer something that plugs in and charges.
Wet or dry use – Some lady shavers are only recommended for dry shaving, whereas others will work in the bath or shower. If you're moving on from disposable razors and usually wet shave, then you'll likely want to look for one that can be used in the wet.
Accessories – When looking for the best lady shaver, look for one that comes with the accessories you need. Want it for underarms and bikini lines? Ensure it has the right extras to help get the smoothest shave.
These are just some of the things to look for when you're on the hunt for the perfect lady shaver, but there are other things to consider too. For example, if you're torn between a few, read through the best lady shaver reviews and see which one comes out on top!
How Do I Keep It In Top Shape?
Just like any other type of machinery, these shavers can overheat. If this happens make sure you turn it off immediately and if the problem persists, try changing the razor head. And of course if that doesn't work, it might be time to get a replacement.
If your hair's a little on the longer side, try to trim it before shaving. There are some shavers that have a built in trimmer, so if you'd like that, definitely look for that on the label of the product
Cleaning is crucial to the longevity of these shavers, so make sure you do it regularly. Also make sure you don't tap of bang it against anything like the side of the bathtub when trying to get hair out of it. This is still machinery with metal parts so doing that may damage it.
What are the best razors to shave pubic hair?
We have selected the 3 best razors to shave pubic hair for ladies in
2023.
Last update on 2023-11-08 / Affiliate links / Images from Amazon Product Advertising API
Where to find reliable lady shaver reviews you can trust?
On the subject of reviews, reading through what others say about what are supposedly the best lady shavers on the market can help you make a clear decision about which one will work for you. So, where can you find lady shaver reviews? Luckily, we have collated the best lady shaver reviews covering all budgets, preferences, and uses. Looking for the best lady shaver for underarms? The best wet and dry lady shaver? Or the best lady shaver for sensitive skin? We've got you covered in our extensive buying women's shaver buying guide.
---
Related:
---
What to look for in lady shaver reviews
Just checking out the features of a lady shaver isn't necessarily enough to make the ideal buying decision. Instead, there are certain things you should look for when scrolling through lady shaver reviews, such as:
Ease of use – How easy is it to get to grips with your new lady shaver? Does it come with a huge manual that will make it difficult to get started with right away? Or can you simply plug it in, charge it up, and try it out.
Close shave – If you want your legs, underarms or bikini line to feel smoother for longer, then you're going to want to opt for a lady shaver which promises a close shave. Look out for this in the reviews.
Longevity – How long does it last, effectively? You don't want to have to be forking out for a new lady shaver every few months. Look for people who have updated their lady shaver review saying how long it lasts; particularly in terms of the battery.
Battery life – Along the same lines, how long does the battery last? How long can you go between shaves before it needs to be charged up again? If you travel a lot or forget to even charge your phone, look for a longer battery life that will last you.
Replacement heads – It's inevitable that you'll have to replace even the best lady shaver heads once in a while. Are these easy to buy? How often do they need replacing? Look out for this information in the reviews.
Sensitive skin – Many people look for the best lady shaver for sensitive skin to avoid razor burn or rashes. If this is you, look for reviews from people in a similar situation. Did they find that it helped or hindered their sensitive skin?
Good for different parts of the body – If you're looking for a lady shaver that suits certain parts of the body, then look out for other people's reviews on this. This is particularly the case if you're looking for the best lady shaver for pubic area shaving, as this is one of the most sensitive parts of the body – and the hardest to reach.
Wet or dry – Some of the best lady shavers on the market advertise that they can be used in the wet, but they'll come with a whole list of do's and don'ts. Read through the reviews to find out if you can use your chosen lady shaver in the bath or if it's only slightly water resistant for shower use.
Make sure you read through the electric lady shaver reviews carefully, to ensure it ticks off all the boxes you're looking for. Need the best lady shaver for legs and underarms, but nowhere else? Don't be put off if the reviews say it's no good for the bikini line! Look for the reviews that match up to what you need from your new electric shaver.
But, do I need the best lady shaver?
At the end of the day, it all comes down to personal preference as to whether a lady shaver is the right tool for you. However, if you're looking to save money on your beauty routine (something women spend in excess of £70,000 on over their lifetimes), then little things like this can make a big difference. It will also play a part in saving the planet, with less plastic waste being thrown away with disposable razors. Many women have found that the best lady shavers also give them a much smoother shave than a conventional razor – so it's a win-win situation. There are also a whole range of women's electric shavers designed for different types of hair, situations, preferences, and budgets. So, you can find one that fits perfectly into your hair removal routine.
So, Should You Get It?
If you're ready to ditch manual razors for a more long lasting, reliable, more eco-friendly option then yes, of course. With manual razors, you have to buy them often, which can add up, and you have to throw them away often. Thinking about all that plastic and metal going to waste so frequently wouldn't sit right with mother nature.
If you're a lady who like to shave then you understand just how much it all is. It's the arms, legs, armpits, sometimes it's the face and the bikini line. And if we have to go through all that, we need a device that can help us get it done. Lucky for us, the lady shaver is cost effective, longer lasting, easier and is capable of giving us the silky smooth skin of our dreams! Alright, I have to go, it's time for me to shave my own hairy Chewbacca legs.