We know how important it is to stay on top of your regular hair styling and upkeep. It's easy to focus on your facial hair and head hair, but the nose hairs are something that is easily forgotten, despite how much of a facial focus it can become. No fear, nose hair trimmers are here.
In a hurry? Check out the Best Nose Trimmers 2021!
Budget Choice


Our Choice



GroomEase by Wahl Ear and Nose Trimmer, Personal Trimmer,...
Philips Series 5000 Battery-Operated Nose, Ear & Eyebrow Trimmer...
SCHON Stainless Steel 3-in-1 Nose, Eyebrow & Facial Hair Trimmer....
Panasonic Nose Hair Trimmer and Ear Hair Trimmer ER430K, Vacuum...
Nose Hair Trimmer, Electric Nose Ear Hair Trimmer for Men Women,...
Budget Choice

GroomEase by Wahl Ear and Nose Trimmer, Personal Trimmer,...

Philips Series 5000 Battery-Operated Nose, Ear & Eyebrow Trimmer...
Our Choice

SCHON Stainless Steel 3-in-1 Nose, Eyebrow & Facial Hair Trimmer....

Panasonic Nose Hair Trimmer and Ear Hair Trimmer ER430K, Vacuum...

Nose Hair Trimmer, Electric Nose Ear Hair Trimmer for Men Women,...
Since we want you to be comfortable and confident in all of your hair styling and trimmings, we've put together a list of the best nose hair trimmers that you can buy right now, and a little bit more information on how to use them. So, let's get trimming!
1. GroomEase by Wahl
Sale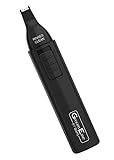 Your nose hairs are pretty different from the rest of the hairs on your body, so it's important to get a product that knows your nose. This Wahl product does exactly what it needs to do for its specialized use.
Key Features
This product will tackle the nose, ear, and eyebrow hair when they start to get too long. It's all put together in one small design, making it the perfect budget option for the man who tends to travel. Plus, it's easy to use! It uses detail blade action to prevent from pulling hair, making for easy and comfortable trimming.
It's pretty important to keep your nose hair trimmer as clean as can be. So, this product has easily rinsing blades. The head easily removes so that you can rinse it out and store it for a hygienic next use. This product works on a single AA battery, so you won't have any charging troubles.
What We Love
It's easy to use.
It's budget-friendly.
What We Don't Love
It uses a horizontal head, which is different from the circular head that most are used to. So, it can be a difficult adjustment.
This is our top budget-friendly choice for the nose hair trimmer out there who doesn't want to break the bank. After all, we know how many other styling products you need.
---
2. Philips Series 5000 Battery Operated Nose, Ear & Eyebrow Trimmer
Some users may want a product that gets the job done simply and easily, while others want all of the bells and whistles. Well, if bells and whistles are what you're after, this Phillips product has got you covered.
Key Features
Angled for easy use.
No pulling guaranteed.
100% showerproof.
Our ears, noses, and eyebrows aren't the same shape as the rest of us. Because we're getting into more intimate and detailed parts of the body, we need a trimmer that can get the job done. This product uses an angled trimmer to get into those tight spots safely. With the DualCut detail trimmer you can also trim your facial styling, too. It's certainly versatile!
The Philips product is protected by ProtecTube technology, which means that the cutter is protected by a foil guard with rounded tips. So, you won't get any skin irritation, and no pulling, either! And, because we know how important a product full of extras is, we're excited to share that this product also comes with an AA battery (all you need to charge it!), a detail trimmer attachment, a beard comb, and a cleaning brush. So much stuff while remaining somewhat budget-friendly.
What We Love
You can use it in the shower.
It comes with plenty of needed add-ons.
It's fully washable.
What We Don't Love
The battery gets used up quickly.
Because this product has it all, it also makes for an awesome present for someone you love. So, whether you're treating a loved one or yourself, you can be confident with your purchase.
---
3. Rechargeable Nose Hair Trimmer For Men & Women
Everyone may need to use a nose hair trimmer. Fortunately, this product uses a unique design that caters to both men and women!
Key Features
It's rechargeable.
Easy to clean.
Features a lifetime warranty.
Lots of nose hair trimmers use a battery to keep its charge. While these can be good, you never know when your battery will die and you don't have a backup. So, this rechargeable trimmer has got you covered with an easy-to-charge wall plug. It's also easy to clean, with only some quick rinses required.
With this product, you get a 3-in-1 trimmer with an attachment for trimming sideburns, around the ear, and other facial hair. So, not only do you get the nose, you can get it all! The Schon design also leaves you clean without extra pulling.
What We Love
It's long-lasting.
The product itself feels sturdy.
What We Don't Love
The charging process can be complicated and not very indicative of when a full charge is complete.
Sure, there are cheaper options out there. But for the price you're getting, this trimmer is a worthy investment.
---
4. Panasonic ER430K Ear & Nose Trimmer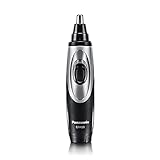 Based on the great budget-friendly products that we've seen so far on this list, you may be caught off guard by the higher price on this product. But this Panasonic product is so great that you'll forget all about the cost once you start using it and realizing how much of an investment a good nose hair trimmer really is!
Key Features
Wet and dry functionality.
Easy to clean.
Panasonic is known for some great styling products, and this one is no different. It uses a curved, hypoallergenic stainless-steel blade that cuts in a clean and safe way so that you don't have to worry about anything. This product works on nose hair, eat hair, unwanted facial hair, and has a dual-edged blade system that also helps to detail your beard and eyebrows. The best part? You can do it in the shower if that's how you prefer! It's fully waterproof and gives you that desired wet and dry functionality.
What makes this product particularly special is the micro-vacuum. This smart feature will whisk away any hair that has been trimmed. It's also easy to clean, needing only moments under some warm water.
What We Love
It provides a very thorough trim.
It's easy to use.
It's easy to clean.
What We Don't Love
The battery-operated power doesn't always last the longest.
It's sold at a higher price than many other budget-friendly options.
It can be noisy.
This high tech, wonderfully working product is perfect for the man who loves to keep on top of his styling routines.
---
5. Rozia Nose & Ear Hair Trimmer For Men and Women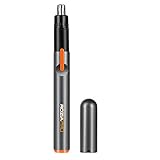 This product charges in 10 seconds.  Yes, you heard right. Now that's a function that can't be beaten!
Key Features
Works quietly.
Charges quickly.
Budget-friendly.
Not only does this product charge ridiculously fast, but it's also very quiet. If you're a morning hair trimmer, you may have suffered the consequences of waking up your loved ones with the noise of a whirring trimmer. Fortunately, the Rozia product has noise that is less than 50db, so you never have to worry about waking someone up again.
This product uses dual-edge spinning blades that feature a 360-degree rotating design. It works to remove and trim hair fast, without the little pains of hair-pulling. It's compact, slim, and perfect to bring with you on your travels.
What We Love
It's budget-friendly.
It looks stylish.
What We Don't Love
The battery charges quickly, but you don't get many uses out of each charge.
This stylish, easy-to-use product is perfect at getting the job done. What more could you need?
---
Related:
---
Nose Hair Trimmer FAQs
As with shaving or trimming anything on your body, you're going to want to know if you're doing things right. So, here are a few of the common questions (with answers!) to all of your nose hair trimming questions.
What are the best nose trimmers on the market?
| # | Preview | Product | Rating | Price | |
| --- | --- | --- | --- | --- | --- |
| 1 | | Philips Nose tri mmer Series 3000 Nose, Ear & Eyebrow Tri mmer... | 9,644 Reviews | £10.99 | Buy on Amazon |
| 2 | | Panasonic ER-GN30 Wet and Dry Electric Nose, Ear and Facial Hair... | 26,716 Reviews | £14.50 | Buy on Amazon |
| 3 | | Ear and Nose Hair Trimmer Clipper - 2021 Professional Painless... | 565 Reviews | £8.99 | Buy on Amazon |
| 4 | | Philips Nose Hair Trimmer, Series 5000 Nose, Ear and Eyebrow... | 4,281 Reviews | £17.99 | Buy on Amazon |
| 5 | | Remington Mens Battery Operated Nose, Ear and Eyebrow Hair... | 5,295 Reviews | £9.99 | Buy on Amazon |
| 6 | | WAHL Hair Trimmer, Nose Hair Trimmer, Ear Hair Trimmer, Eyebrow... | 2,083 Reviews | £16.99 | Buy on Amazon |
| 7 | | Ear and Nose Hair Trimmer Clipper Professional Not Pulling... | 7,668 Reviews | £8.99 | Buy on Amazon |
| 8 | | Ear Nose Hair Trimmer Clipper Abody Electric Nose and Ear Hair... | 164 Reviews | £3.79 | Buy on Amazon |
| 9 | | Nose Hair Trimmer for Men,2020 Upgrade Professional USB... | 1,773 Reviews | £13.99 | Buy on Amazon |
| 10 | | GroomEase by Wahl Ear and Nose Trimmer, Personal Trimmer,... | 2,528 Reviews | £4.67 | Buy on Amazon |
Does everybody need to trim their nose hairs?
Not everybody ends up needing to trim their nose hairs. It depends on how thick and long the hairs get. It's more common for men to need to trim their nose (and ear) hairs, but it depends on the person. Don't feel bad if you find yourself becoming one of the folks who need to consistently trim these hairs! It's normal.
What do nose hairs do?
Sure, they may seem annoying. This is especially true if you're one of the people who need to constantly trim them. But they do have their uses! Nose hairs are natural, and they help prevent allergens from entering our nostrils. They also work to keep the air moist so that our noses don't immediately dry up as air comes into them.
What other methods are available for nose hair removal?
Using a trimmer is easily the fastest and safest option. But, since we're all different, there are other ways of removing hair that may suit you better. Here is a quick recap of all of the different ways to remove nose hair.
Using a trimmer. These trimmers can be manual or electric. The electric trimmers make up all of the options on this list. Manual trimmers are often smaller scissors that require a little bit more effort on your part.
Laser hair removal. Sounds painful, right? Well, it is. It's still safe, but it is easily the priciest option. You need, on average, 6 sessions to ensure that the hair doesn't grow back.
Tweezing. Like any hairs on your face, you can tweeze your nose hair. Though, this is pretty painful. It also gets rid of the hairs that are inside our noses, which we definitely don't want. But if you find a few hairs are constantly growing at a faster rate, you may consider plucking the odd strand.
Are there any certain ways to use a nose hair trimmer?
These trimmers are pretty easy to use and self-explanatory. Though, there are a few things that you should keep in mind. You should always blow your nose before starting any trimming, just in case you have any unwanted mucus in the hairs.
If you don't feel like blowing your nose is enough, it's recommended to use some warm water and soap on a washcloth to gently clean your nostrils out. Always blow your nose after you're done, too.
This will get rid of any loose hair. You should also only be cutting the visible hairs, leaving the rest intact. Remember, those hairs serve an important function!
How long does it take to trim your nose hairs?
Your nose is small, so you don't have to spend much time on it! Trimming will typically take around 10-15 seconds.
How often do you have to trim your nose hair?
This really depends on the person and the rate of growth. Though, like head hair, hair tends to grow 5-6 inches per year. So, on average, most people who use nose hair trimmers need to go at it about once every 2 weeks.
What key features should you look for in a nose hair trimmer?
Some trimmers are simple and offer nose hair trimming and nothing more. Others come with all sorts of add-ons and accessories. Here are a few things to look out for when considering which trimmer is the right buy for you.
The blade system. Different trimmers use different blades, and it's all about finding what works best for you. Though, a double-edged blade is often one of the most highly rated blade systems.
The battery/charging system. Since they're small, portable products, many trimmers use simple batteries. Others are rechargeable. So, it's up to your preference. Though, always remember to keep extra batteries nearby if you choose the first option. You never want to find yourself only one nostril in and run out of power!
Vacuum systems. Not all trimmers have this feature, but it's certainly a bonus if yours does. This helps you get rid of any leftover hairs in your nose, and also helps you vacuum up all of the hairs that have come out onto your bathroom counter.
Waterproof. Some people prefer to do all of their shaving, trimming, and styling in the shower. It's easy and helps make cleaning up far easier than doing it on your bathroom counter. So, if this is important to you, make sure that you choose a trimmer that is 100% waterproof. Not all products are, so be on the lookout.
Wet & Dry functionality. If you like to use products with your shaving and trimming, be sure that you go for a wet and dry working product. Though, if you like to go dry, you don't really have to worry about looking for this specification.
How do you clean a nose hair trimmer?
The nose hair trimmer is one of the easiest facial hair products to clean. Though, it's very important to remember to clean it. You don't want to be bringing unwanted bacteria into your nose!
All you have to do is remove the blade, or uncover the blade, depending on the product. Then, wash them in warm water. Some trimmers just need a good rinse, while others will need a soapy water wash. For the best upkeep, remove your blades and put them into a solution of rubbing alcohol, allowing them to sit for a few minutes.
This will make sure that there's 0 debris on them for your next trim. Once you're finished, ensure you give them a thorough rinse and dry before reassembling the trimmer.
---
By this point, we're hoping that you feel ready and confident to use your nose hair trimmer. Our facial hair is a very personal preference, and we all grow hair at different rates. Sometimes finding a nose hair trimmer can be a process as you find out what works for you and what doesn't. Though, we hope that our list can help you find the perfect nose hair trimmer for you!