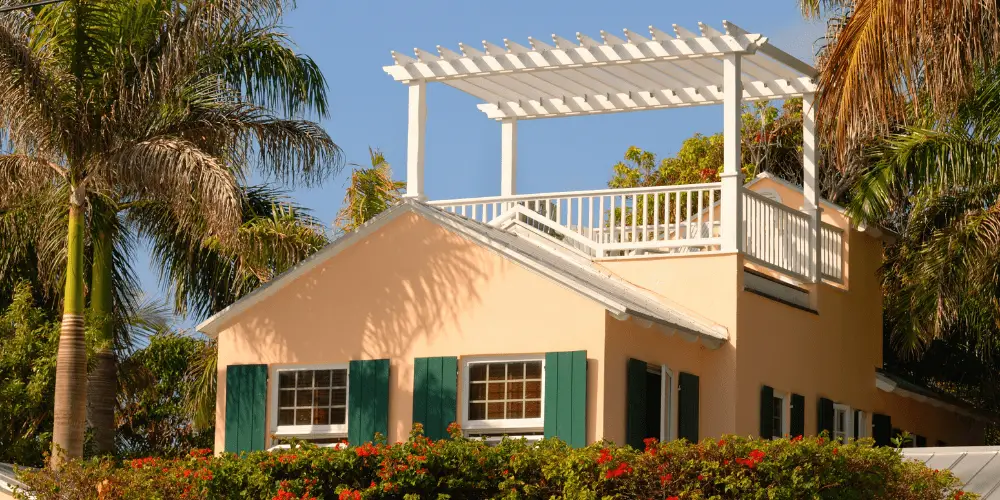 There are many waterproof pergola roof ideas, and waterproofing a pergola roof is not difficult and can add years to the life of the waterproof roof.
Pergolas are very versatile structures that can be used as porches, patios, pool houses/cabanas, sunrooms, and more. Many homeowners also use pergolas to create shady sitting areas outdoors.
Pergolas are very popular roof structures because they provide great shade without shading out the light. They also offer a great place to relax and cool off in the summer heat. Unfortunately, not everyone has a pergola as exciting as R&R Design Build's pergola, but that doesn't mean you can't implement some of those design elements into your backyard project! Here are seven waterproof pergola roof ideas:
Another Interesting Read: 9 Beautiful Garden Arch Ideas
Create a Cool Canopy with Rip-Stop Fabric
One of the waterproof pergola roof ideas is to waterproof your canopy. One of the most cost-effective ways to make your pergola area waterproof is by using a shade cloth or fabric over it. Shade cloth will allow some light to penetrate but still keep out rain and dust at the same time, giving you an instant outdoor room without even working on construction! Once you decide what type of shade cloth you want, simply staple it to the wooden beams of your pergola and use a sturdy bracket to secure it in place.
Shade cloth is typically measured in percentages. For example, a 50% shade cloth will filter 50% of the sun's rays while still letting 50% of the sunlight through. Generally speaking, a 45%-50% shade cloth will allow ample sunlight to filter through but keep the rain out. You should also select a fabric with UV protection so that it doesn't degrade over time from exposure to the elements (sun damage).
Add an Awning for Extended Shade
Awning waterproof pergola roof ideas are to waterproof your existing canopy. While shade cloth usually provides excellent coverage, you might want to go the extra mile in making your pergola waterproof. To do this, add an awning over your pergola (attached to the structure or not). This will provide extended shade throughout the day and can be easily removed when you need some sun exposure.
If you don't like the idea of having all your windows exposed while hanging out underneath your pergola, you can always build an awning over your pergola roof to block the harsh sunlight. While this won't be waterproof, it will still provide plenty of shade during those hot summer afternoons! The easiest way to make an awning is by using "U" brackets to attach wooden planks or panels across the metal frame of your pergola.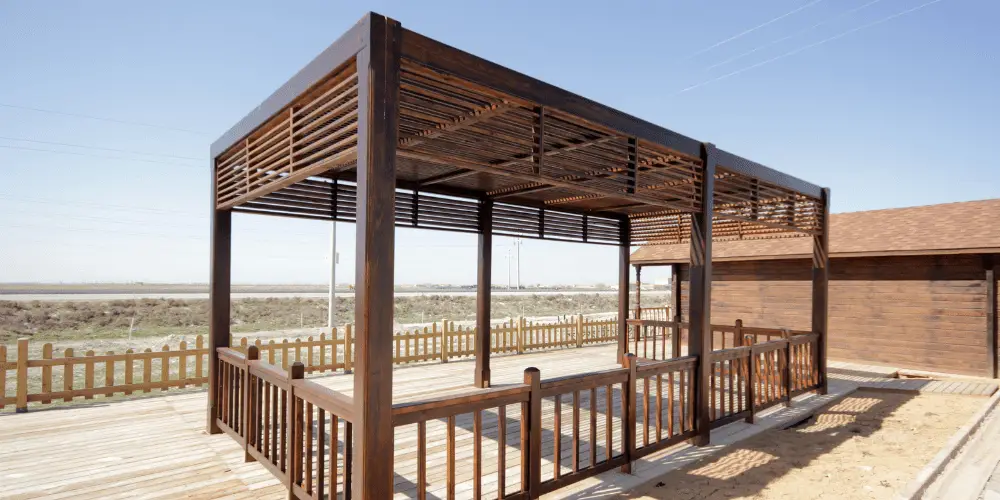 Build Your Summerhouse
The waterproof pergola roof ideas can be as simple or as elaborate as you want, depending on how much you want to spend on your waterproof pergola roof. Taking things one step further, you could even consider building your custom outdoor room underneath your pergola instead of just an awning!
This will give you more protection from wind and rain while providing more privacy for guests that are sitting under the shelter. It's also great for entertaining purposes because it provides another area where you can sit, eat, and watch outdoor movies without being exposed to the elements.
You could purchase a premade gazebo or screened room that will fit underneath your pergola or just use plywood panels to build your custom summerhouse structure. Attach PVC pipe around the perimeter of the wood for extra support.
Build an Outdoor Kitchen/Dining Area
The summer months are great for entertaining guests outdoors while cooking on the grill! If you want to make more of your backyard an outdoor entertainment area, consider building a custom outdoor kitchen/dining room underneath your pergola. This will give you lots of storage space while providing a sheltered place to cook or dine during inclement weather.
Another good idea for waterproofing is by building your outdoor kitchen (or table area) under your pergola! Since many homeowners are already building kitchens in their backyards these days, adding another cooking station that's protected from the rain is simply logical. Even if you're not looking for another outdoor kitchen, consider adding a metal canopy to your pergola design so that it can double as a grilling area when needed.
Incorporate Fire Features for Nighttime Entertaining
When it starts to get dark, you'll have a hard time being able to see your outdoor dining area. However, you can easily solve this problem by adding a fire feature close to your pergola so that everyone can gather around and enjoy the warmth of the flame. This is also a great way to keep insects away if they've been a problem during the day.
Nothing makes a backyard more festive than the flickering glow of a fire pit or fireplace. You could create your outdoor fireplace with stacked stone and build an encased fire pit in the center of the space underneath your pergola roof. Or if you want to keep things simple, just purchase a stainless steel gas fire table that will provide heat and light while also keeping out any raindrops that might fall from above!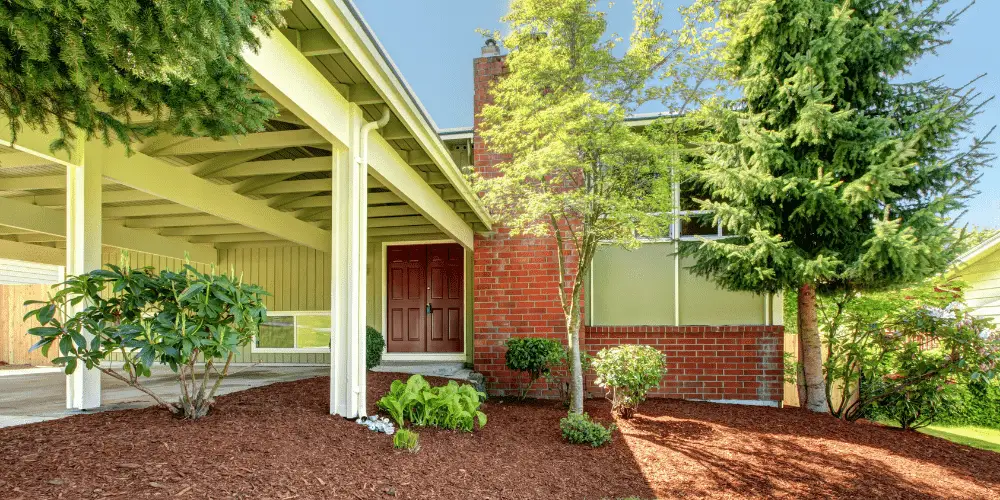 Build Green Walls for Shade and Privacy
If shade and privacy are your two major concerns for your backyard, consider building green walls underneath your pergola roof instead of an awning or summerhouse. Since rain will be coming from any direction (especially if you live in a temperate climate), it's important that the shading system is sustainable and doesn't require regular maintenance.
If you're looking for something different, why not add some green walls to your pergola? By using fiberglass mesh, PVC piping, and a little bit of mortar (or exterior glue), you can build walls that will grow vines or other plants on top of them. This is a great way to create shade and privacy at the same time – perfect for those times when you just want to get away from it all! It's also very cost-effective and doesn't require much maintenance at all.
Using a Metal Frame to Support the Roofing Material
This is one of the best waterproof pergola roof ideas. If you intend on making your waterproof pergola roof, then you must use a metal frame to support the material, otherwise, it could collapse under its weight. Therefore, if you are not very good at carpentry work, then this would be best left to professionals.
A pergola is a free-standing, open structure that resembles an arch. It provides shade and shelter without fully enclosing the area under it. A metal frame usually supports the roof of a pergola; wood or other material may be used instead. Many homes have them to offer shade for decks or patios, as well as other outdoor features. They are particularly popular in warmer climates.
Pergolas go by many names, depending on the style of roofing they use; these include gazebos, patio shades, and arbors. Permanent ones are typically made of wood or metal (although plastic is an option). Other materials that can be used for pergolas include bamboo, canvas, and plastic.
When using a metal frame to support the roof of a pergola, you must use galvanized steel because it's rust-resistant. If your home is in an area where rain is common, then you should consider waterproofing the structure. That will require that you remove any paint or varnish from the wood, then apply sealer. You'll want to check that it is waterproof every six months or so to remove any signs of mildew or other damage that can occur when materials are exposed to water for extended periods.
Final Words – Waterproof Pergola Roof Ideas
Having a pergola in your backyard is a great idea, but it doesn't do much good if you can't use it when the weather turns bad. While there's no way to make your whole pergola waterproof and still let sunlight filter through, you can install shade cloth and other features that will block out most of the rain during those brief showers or thunderstorms that occasionally pop up during the summertime.
There you have it – 7 waterproof pergola roof ideas that you can use your pergola design as an outdoor room. Whether you're looking for full coverage from the rain or just enough protection so that guests won't be bothered by wind or dust, there is something here for everyone.
You might be interested in: