Having a pet is so precious. So much joy, love, and laughter come in such a little ball of fur. Now that we mentioned it, no matter how much you love your pet, their leftover fur on your carpet and furniture must be driving you crazy. And, any regular vacuum just seems unable to help you get rid of all of it. That is why you need to get the best vacuum cleaner for pet hair. Actually, deciding which one is the best is a bit tricky (since there are so many excellent models available), so we decided to show you the five best vacuum cleaners for pet hair.
What makes a dog hair vacuum different from a regular one? Well, first of all, these vacuums tend to come with so many handy tools that are not only great for tackling pet hair but ridding the home of dust and other airborne particles. This machine will help you get to the tightest corners in your home, fast (in case your pet is a bit skittish).
Since there are many different models available, and each model comes with its special features, we've come up with this guide that will help you choose the best vacuum cleaner for pet hair that will fit in your home perfectly.
Best Vacuum Cleaner for Pet Hair on the Market in 2021
Different Types of Pet Hair Vacuum Cleaners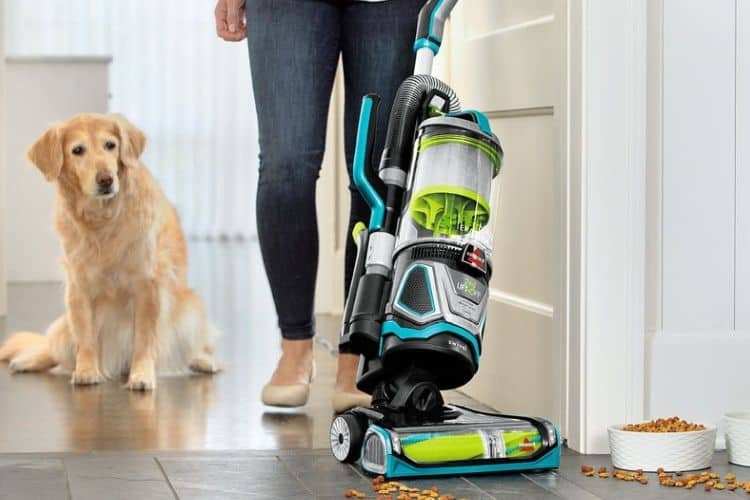 Image Courtesy of Best Vacuum Cleaner Info
Bagless Upright Vacuum
Bagless upright vacuums are great for getting rid of any vacuumable debris (including pet hair), and they work with almost every floor type. The greatest thing about these cleaners is that they are the most affordable option that lasts at least five years. In addition, almost no maintenance is needed; you just need to wash the filters every now and then.
Bagless upright vacuums definitely fall into the best vacuum cleaner for pet hair category due to their affordability and power. They are a great choice for those who want a quality vacuum but are on a budget. A good bagless upright comes at a reasonable price, has no recurring costs, and should last as long as the expensive, high-quality models.
However, it is recommended to skip on this type of dog hair vacuum if you are not fond of vacuums with cords. Also, if you have delicate flooring such as softwood prone to scratching or hand-knotted rugs, you might want to consider a canister vacuum instead.
Canister Vacuum
Getting a canister vacuum means getting the best vacuum cleaner for pet hair that will keep your floors spick-and-span. But, if you decide to get this model, be prepared to spend big bucks on it. However, this big investment will definitely pay off in the long run, as these models tend to last for at least a decade.
Canister vacuum cleaners feature big, high-suction motors and versatile, adjustable cleaning heads that do an excellent job cleaning all types of floors (even delicate or high-pile rugs). These vacuums are easy to handle and maneuver since the weight is distributed among their different parts.
Besides leaving your floors immaculately clean, these vacuums will do an excellent job of maintaining great indoor air quality. The only downside is that you will have to replace the bags and filters every few months.
A canister vacuum is an excellent choice for those who are ready to invest big bucks initially but get a product that will last for many years to come. In addition, with this vacuum cleaner, you will never have to worry about damaging your flooring. These vacuums can suck fine dust out of nearly any rug (even high-pile), so it'll look, feel, and smell better for longer. And, all those who worry about the air quality inside their home will notice that canister vacuums are excellent for removing allergens from their home.
However, owning a canister cleaner might be unusual for those who are used to uprights. Some people never get used to dragging a little pod behind them while they clean—especially with a cord attached to it. In addition, owning a canister vacuum comes with additional costs since you'll need to replace bags and filters every few months. Also, keep in mind that if you have several pets who shed a lot, a canister vacuum might not be a good choice for you. Since fur fills bags quickly, you might be better off with a bagless vacuum.
Cordless (Stick) Vacuum
Some time ago, people avoided getting cordless vacuums because they weren't powerful enough. Nowadays, you can easily find a great cordless pet hair vacuum that is strong enough to compete with any model. However, these vacuums still have one downside. They are pricey and their run time might not be long enough to clean big homes in a single pass.
But, a cordless vacuum is life-changing for all those who live in an apartment or a smaller house. These devices are incredibly lightweight, easy to maneuver, and you won't have to worry about the cord getting caught on corners. And, even if you live in a bigger home, a cordless vacuum can help you clean a few rooms at a time. The best vacuum cleaner for pet hair that is also cordless will work as well as the corded models, but only if you invest in a high-quality product.
Also, the majority of cordless vacuums can be used as handheld models that is very useful for cleaning the car or any other similar surfaces.
A cordless vacuum is an excellent choice for all those who live in an apartment or a small house. It is much easier to maneuver this type of vacuum across a home that has a cramped floor plan. In addition, these vacuums are a great choice for any homeowner who is tired of dealing with cords that get stuck on every piece of furniture or corner.
But, if you truly want to get the best value for your money, we advise skipping cordless vacuums. Even though they do have similar cleaning power to plug-in models, they tend to be pricey but last less long than other vacuum cleaners.
Robot Vacuum Cleaners
Yes, robot vacuums are a thing nowadays, and there are some models that deserve to be on every best vacuum cleaner for pet hair list. Even though they won't clean your rugs as deeply as a traditional vacuum would and they won't navigate your home perfectly, they still are a good investment. Why? Well, mostly because they will keep your floors tidy without any effort on your part. A robot vacuum cleaner will continuously keep your floors and rugs pet-hair-free, and you'll be surprised when you see how much they manage to pick up.
When it comes to their price, the regular models, without too many bells and whistles, cost as much as a traditional vacuum. However, if you want a high-end model with advanced features such as a targeted area- or room-specific cleaning, or even a self-emptying feature, be prepared to invest a bit more money.
All in all, robot vacuum cleaners are an excellent choice for pet owners who don't have the time to clean the mess that a shedding pet creates on a daily basis. Also, if you simply hate vacuuming, a robot vacuum will be a great addition to your home. You will be getting a small device that runs for an hour every other day and keeps your home so much tidier than 20 minutes of you half-heartedly pushing a traditional vacuum a few times per month.
But, if your home is filled with tall thresholds, stray charging cables, or obstacles in general, a robot vacuum is not a good choice for your home. Or, if you just prefer to do all the work yourself and you want complete control over your home's tidiness, skip out on the robot vacuum. Robots often move in ways that make no sense to human observers, so if you can't let go and trust the bot, you're better off without one.
We have reviewed the best robot vacuum cleaners currently available on the market, so make sure to check out our buying guide.
---
Related Posts:
---
Best Vacuum Cleaner for Pet Hair Reviews
1. Shark Upright Pet Vacuum Cleaner
One of the reasons why so many buyers consider this Shark model the best vacuum cleaner for pet hair is its innovative brushless motor technology. The motor has 800 hours of life expectancy, whereas the life expectancy of ordinary brushed motors is about 151 hours. In addition, the vacuum cleaner is quite powerful, and it will remove all the dirt from your floors and carpets.
Using the Shark upright pet vacuum cleaner is quite easy thanks to its lightweight and ergonomic design. Thanks to the lack of cord and the articulated brush, this vacuum allows you to clean any corner in your house, including stairs and rooms without plugs. In addition, it features a durable Lithium-ion battery that ensures power and reliability.
Besides just sucking in the pet hair, this model also features a high-density HEPA filter that can capture all dust and bacteria. This feature is very useful for those who suffer from allergies.
Last but not least, the vacuum is packed with useful accessories, including the two-in-one combination brush, mounting accessories, two-in-two square brush, two-in-one cleaning brush, retractable hose, crevice nozzle, and even an LED floor head.
What We Like:
A quality and powerful vacuum cleaner for pet hair;
Features brushless motor technology that ensures 800 hours life expectancy;
Lightweight and ergonomic design ensure ease of use;
HEPA filters remove dirt, bacteria and trap allergens;
There are plenty of accessories included.
What We Don't Like:
Some users complained that the vacuum is not as powerful as the manufacturer claims.
---
2. Vax Air Lift Steerable Pet Vacuum Cleaner
The Vax Air Lift Steerable is known as the best pet vacuum when it comes to the weight and ease of use. This upright vacuum cleaner features a lift-out cylinder that is perfect for cleaning the areas you can't usually reach. You don't have to take the full machine with you as the lightweight and easy to carry cylinder can be easily transported.
The vacuum also features the innovative Steerable technology that allows you to navigate around furniture and obstacles with ease. The full recline allows you to vacuum underneath the furniture. In addition, the vacuum features TurboTool will allow you to remove all the embedded dirt and pet hair from any surface, thanks to its powerful suction and fast rotating brushes. The manufacturer also included the Fur and Fluff tool that allows you to remove pet hair from stairs, upholstery, car, and even pet beds.
Last but not least, the Vax Air Lift Steerable pet vacuum features the multi-cyclonic technology that ensures powerful suction and AAAA performance ratings. (The vacuum is rated A-rated for energy, A-rated for hard floor pick-up, A-rated for carpet pick-up, and A-rated for emissions)
What We Like:
A lightweight vacuum that is portable;
The lift-out cylinder allows you to clean hard-to-reach areas;
The Steerable technology ensures easy navigation and maneuvring;
The TurboTool and Fur and Fluff tool can remove pet hair from any surface;
The multi-cyclonic technology provides incredibly powerful suction.
What We Don't Like:
Some users complained that the vacuum is made from brittle plastic and can easily get damaged if dropped.
---
3. Henry Pet Bagged Cylinder Vacuum
If you're looking for the best vacuum cleaner for pet hair that is a bagged cylinder model, then you should look no further. Henry Pet is perfect for families with pets thanks to its powerful performance that not just removes stubborn pet hair but also reduces lingering pet odors.
HairoBrush easily picks-up stubborn pet hair from carpets and stairs. Henry's powerful airflow operates the turbo brush bar, actively lifting hairs from the carpet fibers. The vacuum features an innovative self-seal tab that locks all the dust in the bag. This means that you will be able to empty the bag without making a mess.
In addition, the vacuum cleaner features MicroFresh filters that successfully remove lingering pet odors. What goes in the vacuum stays in the vacuum. However, getting a vacuum with filters means that you'll have to buy replacements frequently. Luckily, these are not expensive.
What We Like:
A powerful cylinder vacuum cleaner for pet hair;
Capable of removing pet hair and eliminating lingering pet odors;
The seal tab locks all the dust in the bag and ensures easy cleanup;
The HairoBrush can pick up even the most stubborn pet hair from any surface.
What We Don't Like:
The vacuum cleaner requires frequent filter and bag replacements, which is inconvenient for some buyers.
---
4. Hoover Whirlwind Pets Bagless Cylinder Vacuum Cleaner
For all those who don't want to think about replacing bags, the Hover Whirlwind Pets is the best choice. The vacuum features an ultra-light, space-saving design, which makes it very easy to use and store the vacuum. Since it is bagless, the Whirlwind features only a hygienic one-touch bin, that makes getting rid of the dirt and dust incredibly easy.
The cleaner comes with a 1.5m hose, 5m cord, and tools for pet hair removal and above-floor cleaning. In addition, the vacuum features cyclonic dust separation technology that reduces how frequently the filter needs to be cleaned.
What We Like:
A powerful, bagless cylinder vacuum that is easy to use and maintain;
The cyclonic dust separation technology reduces how frequently the filter needs to be cleaned;
Features a metal telescopic extension that allows above floor cleaning;
Packed with tools for easy pet hair removal;
Emptying the one-touch bin is mess-free.
What We Don't Like:
Some users complained that hair sometimes gets stuck in the pet brush attachment.
---
5. Shark Upright Vacuum Cleaner with Anti Hair Wrap Technology
This model is the best vacuum cleaner for pet hair made by Shark, and that means it comes at a high price. The vacuum features DuoClean floorhead that easily glides from carpets to hard floors. The Powered Lift-Away technology allows you to easily transform an upright vacuum into a portable one perfect for cleaning stairs, furnishing, and above-floor surfaces.
The vacuum also features Anti Hair Wrap Technology that is a lifesaver for all pet owners. This technology removes hair from the brush-roll so you wouldn't have to bother with that. A unique bristle-guard actively separates and removes hair as you clean, helping to leave the bristle brush-roll tangle-free.
Last but not least, the vacuum includes three attachments, LED headlights, and a five-year manufacturer warranty.
What We Like:
A high-end vacuum for pet hair with powerful suction;
DuoClean floorhead features two brush rolls and easily glides from carpets to floors;
Anti Hair Wrap Technology prevents hair from getting stuck on the brush-roll;
The Powered Lift-Away Technology transforms the vacuum into a portable model;
5-year manufacturer warranty is included.
What We Don't Like:
This model is very expensive.
---
How to Choose the Best Vacuum for Pet Hair
To be able to find the best vacuum cleaner for pet hair that will suit all your needs, you need to be aware of all the different features a vacuum can have. Here is what you should look for in a pet hair vacuum.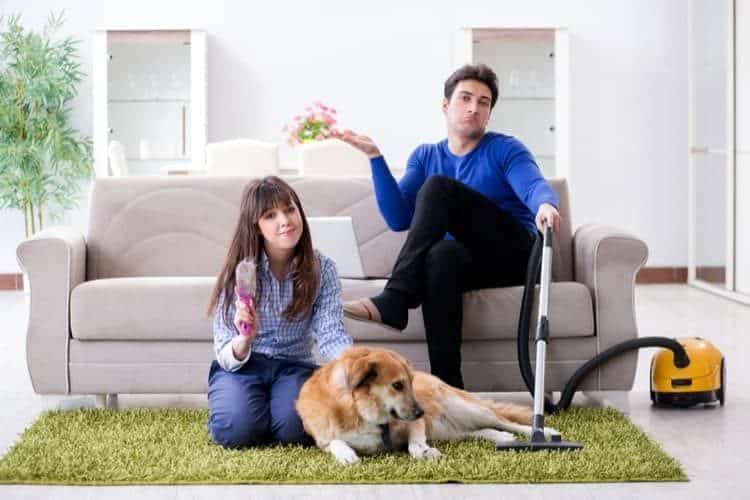 Image Courtesy of Pet Life Today
Suction Power
This is the most important feature when choosing the best vacuum for pet hair. The majority of manufacturers list the suction power of their machines, making it easy for you to decide which one is the most powerful. Keep in mind that pet hair is tricky to remove, so getting the vacuum with powerful suction is recommended.
Corded or Cordless
As we already mentioned, there are two types of best vacuum cleaner for pets – corded and cordless. Corded models tend to be more powerful and long-lasting. However, a cordless vacuum is easier to maneuver and allows you to get to those hard-to-reach areas.
With or Without Bags
Some people prefer vacuum cleaners with bags, but when it comes to pet hair, it can easily stuff the bag. This means that you'll have to empty it more often and also frequently replace the bags. A bagless vacuum, on the other hand, can be messier to empty, but you won't have to worry about replacing the bags ever. In addition, if you get a lightweight model, you can just lift it and empty it into your bin.
Capacity
If you have more than one pet, then it's recommended to get a vacuum with a large capacity, so you don't have to empty it too often. Just keep in mind that the more capacity your vacuum has, the heavier it will be to move around.
Noise Level
If you have a pet afraid of loud noises or perhaps a small baby, you should consider getting a model that doesn't make too much noise.
Flooring
When choosing the best vacuum cleaner for pet hair, you need to make sure that it will suit your flooring. If your home is mostly covered with carpets, then you'll want to get a vacuum with a brush that can lift the hair. If there is a combination of carpet and hardwood or laminate floors, then make sure to get a vacuum that is adaptable to different floor types.
Additional Features
There are some quite useful additional features that will help you get rid of pet hair more easily. For example, rubber trim and raised "fingers" on floor nozzles and attachments help zap static and break the bonds, so fur comes up more easily. Having tangle-free brush rolls on your vacuum will put an end to clipping long strands of hair that get twisted around the brush. And, easy-to-empty dust cups will allow you to easily dump the dirt while vacuuming.