The key to decorating your garden in the spirit of Christmas is creating a cheerful and festive ambiance. We prepared 30 Christmas garden ideas for different types of gardens and budgets as well. Your garden doesn't have to have the most lights on the block, but it should include at least a few decorations that feel both festive and elevated, tasteful and spirited.
Whether you plan to go all out and make your house and garden the envy of the street, or you just want to display a beautiful wreath and some soft candle glow, we're quite sure that you'll find something on our list for your garden.
30+ Christmas Garden Ideas for a Festive Porch & Yard
1. Christmas Lights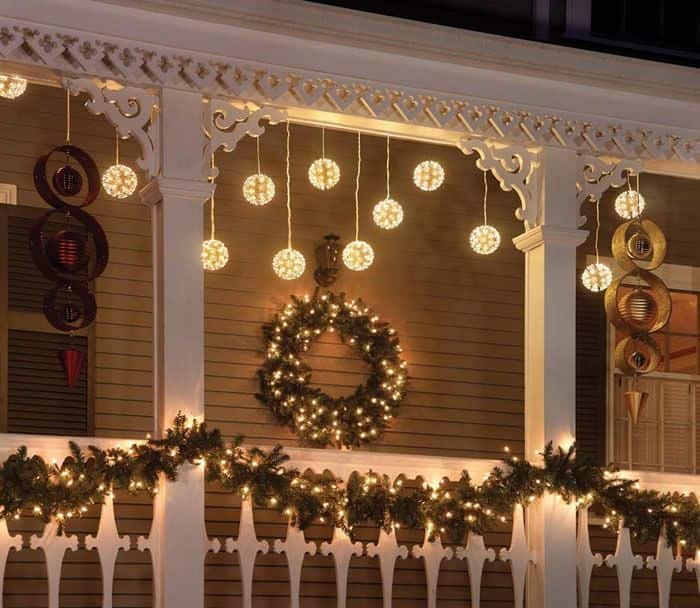 Image Courtesy of DigsDigs
The first and the most obvious decoration item for Christmas are the Christmas lights. But, don't just put your old lights onto the porch. Here are a few ideas on how to step up your Christmas lights game.
Wrap hedges. This year, grab net lights and use them to decorate your hedges. These lights might be a bit more expensive, but they ensure convenient installation.
Dress up trees. Create symmetry in your garden and make your trees beautiful by wrapping twinkle light at approximately the same height, regardless of the height of the tree.
Light up your walkways. If you have small shrubs or trees around walkways, adorn them with a few strands of lights. A subtle decoration that all your guests will love!
Adorn your doors. Don't forget to add some lights and twinkle to your wreaths or garlands that are hanging on doors.
Use baskets and jars. You can make beautiful decorations by using baskets and jars. Place small pearl lights in vine baskets and add ornaments. Or, put light strands in mason jars. Display your decorations across your garden or porch to make a stunning glowing garland.
2. Front Door Wreath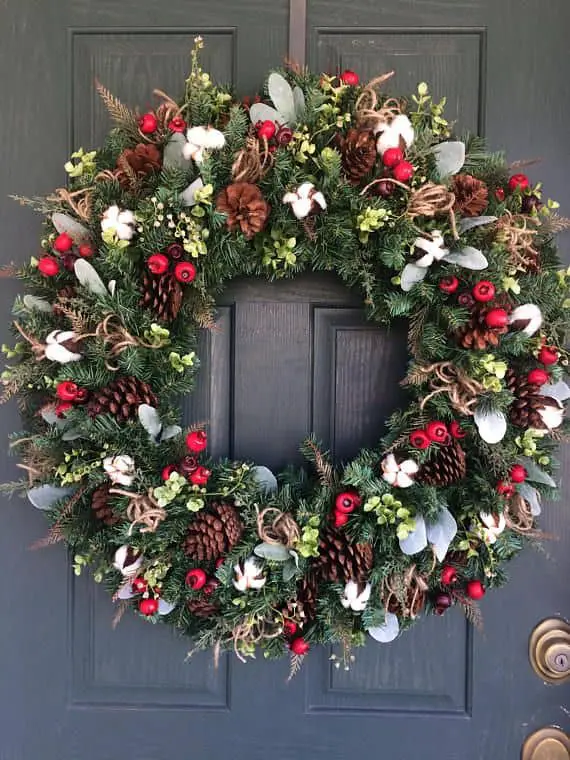 Image Courtesy of Etsy
Another classic Christmas decoration idea – the front door wreath. Getting a unique wreath is the easiest way to impress your guests and neighbors. But, don't just stop at getting a wreath. Try one of the following suggestions to make a statement with this simple decoration.
Add a fragrance. You can add nice-smelling ingredients to your wreaths to evoke a wintery, jolly mood. You can buy a scented wreath or add cinnamon sticks, sweet orange slices, cloves, or plumberries to your existing wreath.
Place more than one wreath. More is always better, especially when it comes to decorations. You can hang two wreaths side by side on your gate, or arrange three wreaths vertically to cover the length of the front door.
Rethink wreaths. Who said a wreath has to be placed on the front door? Instead, place one around the base of your planter or turn a horizontal ornamented wreath into a chandelier – simply suspend it from the ceiling using ribbons.
3. Outdoor Fireplace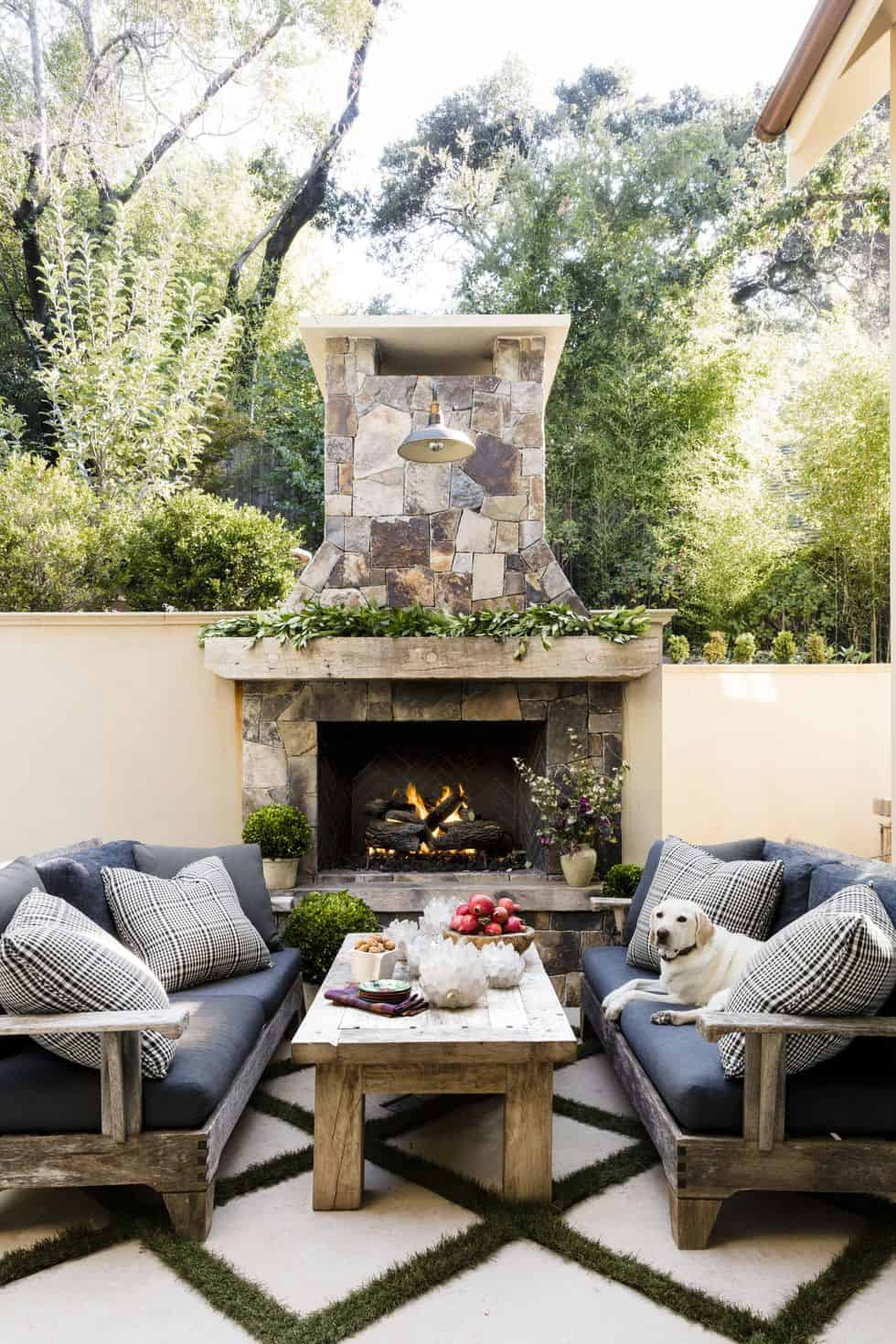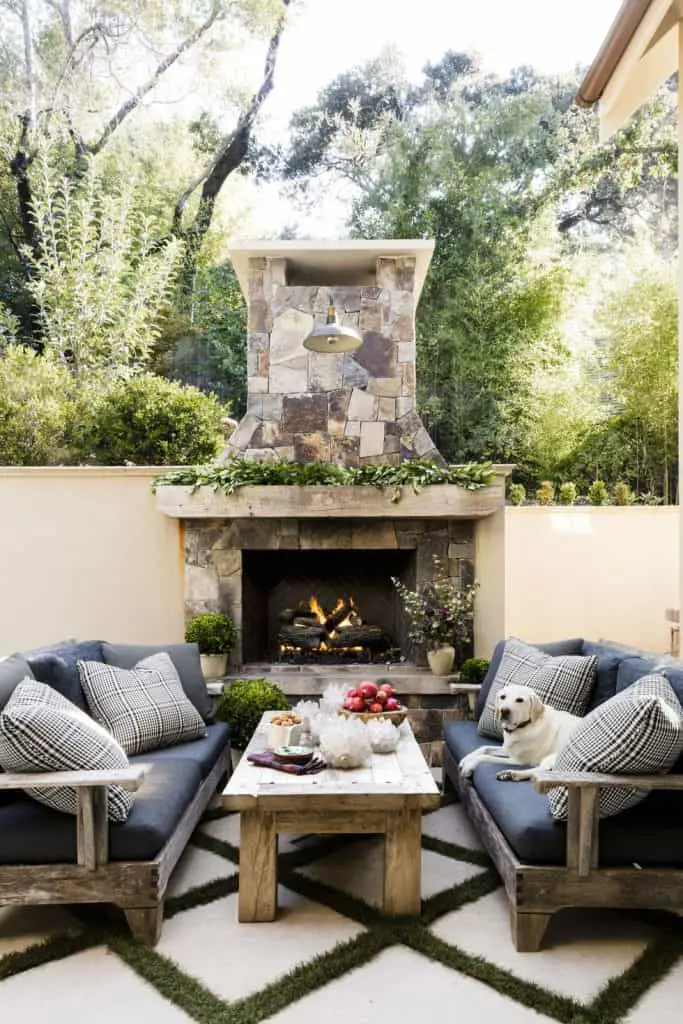 Image Courtesy of House Beautiful
You probably decorated your indoor fireplace. But, what about the one outdoors? Add a festive feel to your backyard and decorate your outdoor fireplace with garland, bowls, and fruits for a color pop.
4. Update Summer Furniture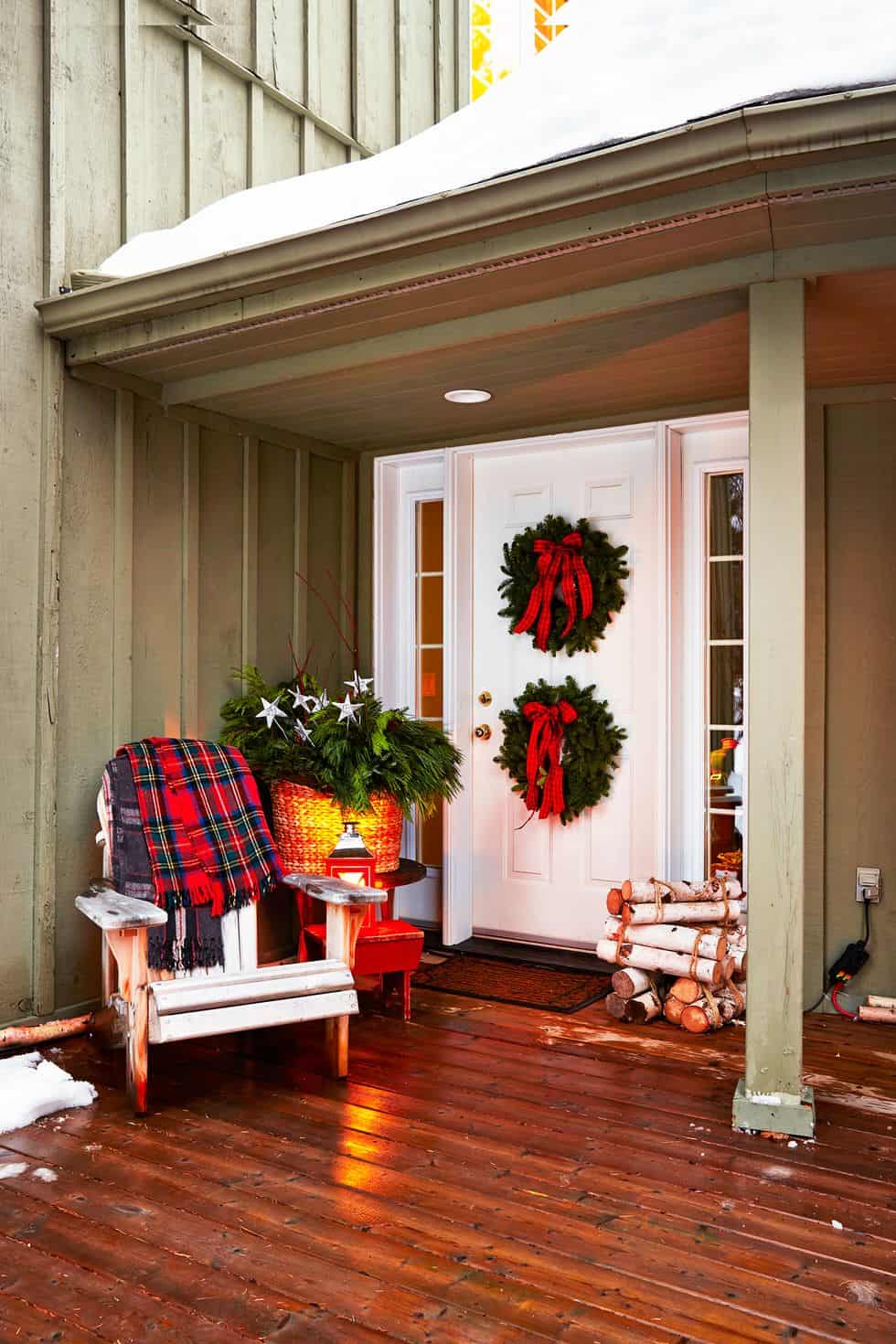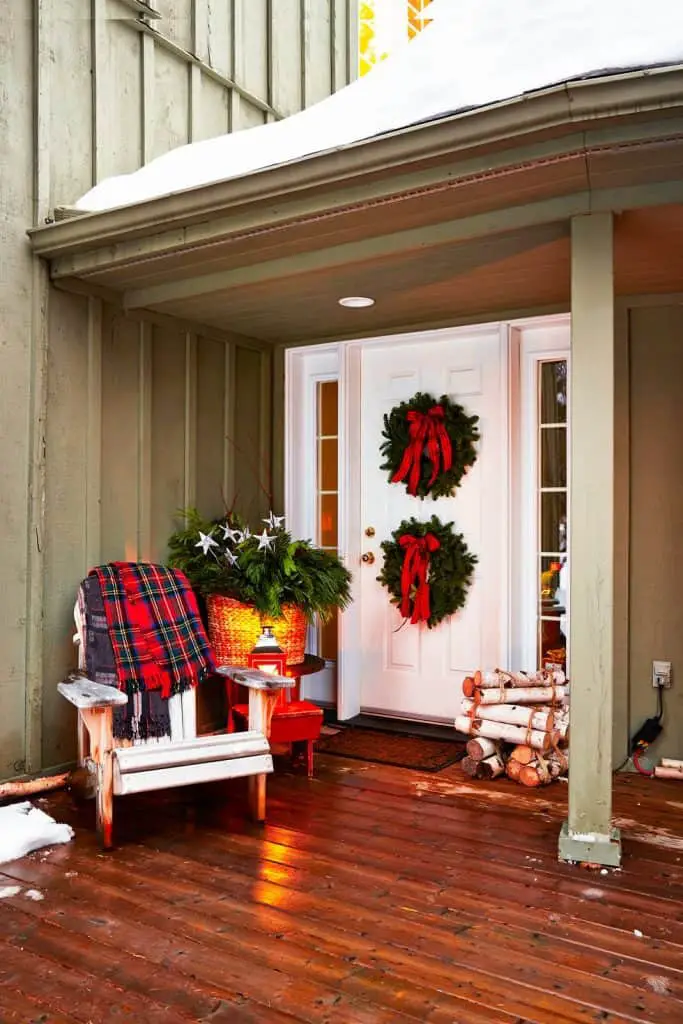 Image Courtesy of House Beautiful
Do you have an outdoor bench or chairs? Then, update their looks with some winter decorations. You can throw plaid blankets over your chairs. Also, you can add Christmas ornaments, evergreens, berries, pinecones, and other ornaments to your benches. For extra flair, add a light dusting of fake snow.
5. What about Santa?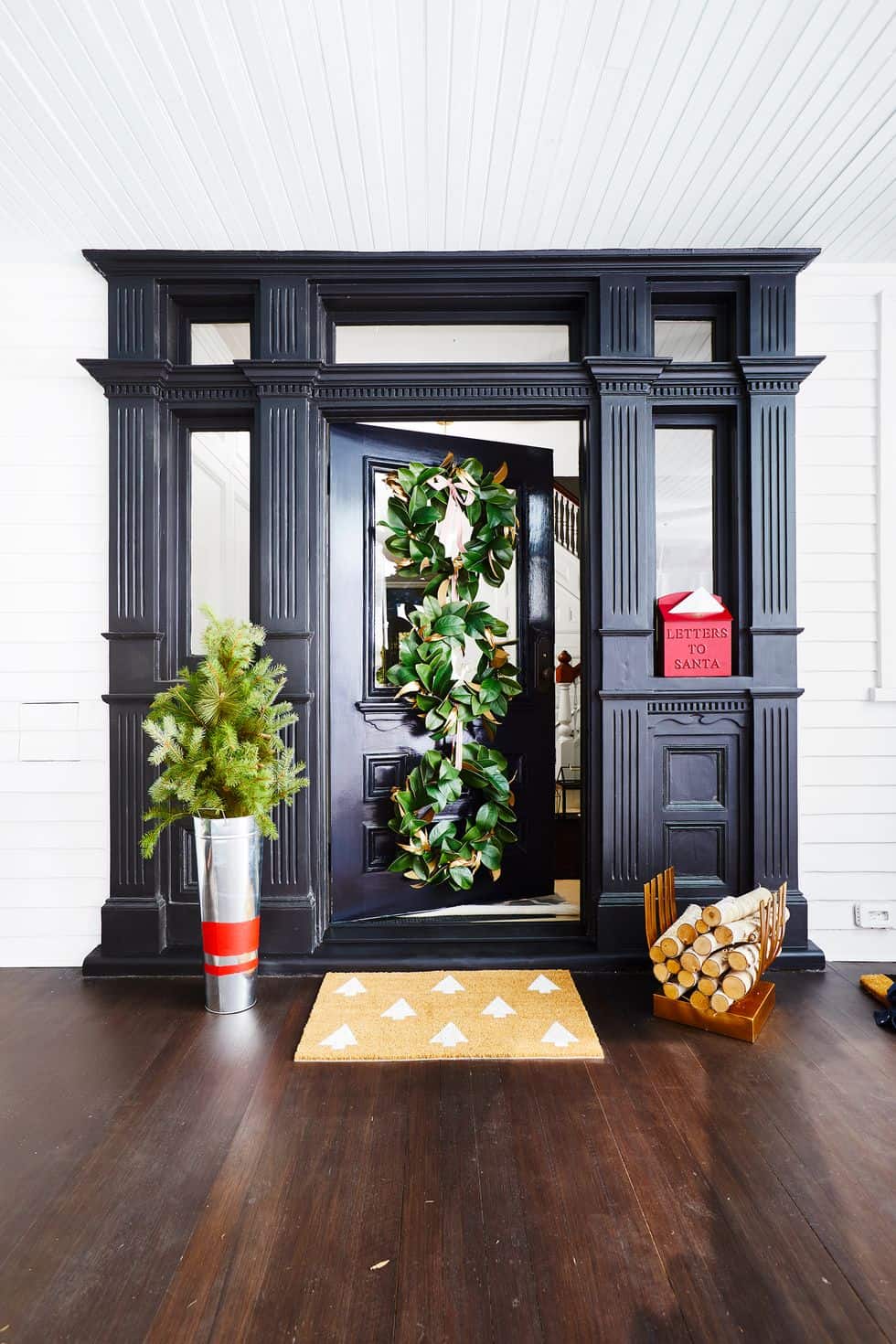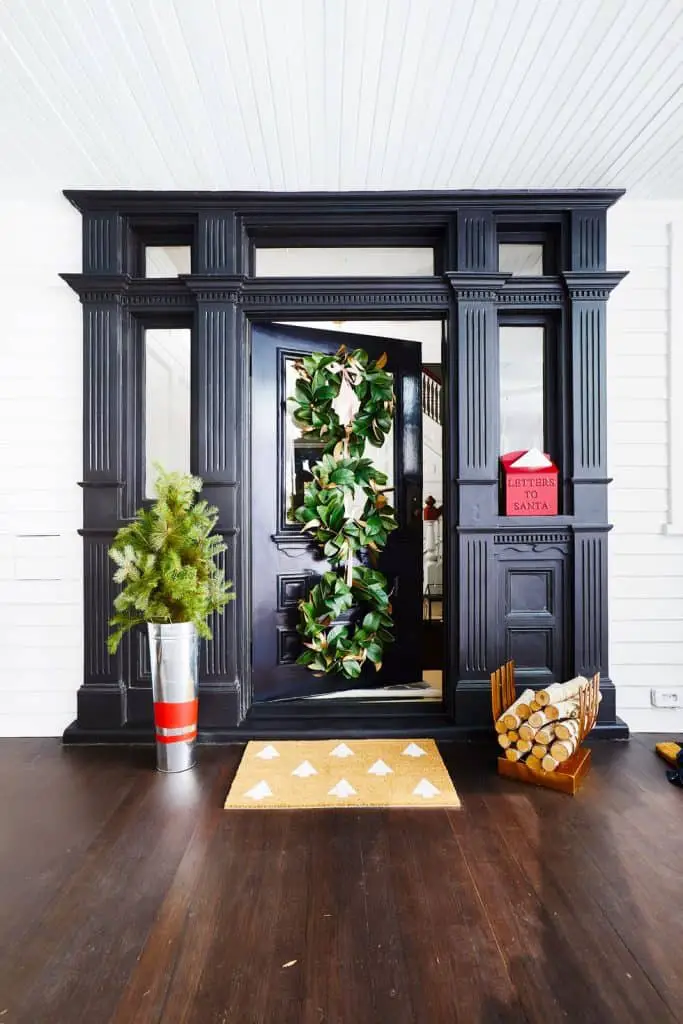 Image Courtesy of House Beautiful
No Christmas garden ideas are good if you don't include Santa! You can put up a "letters to Santa" mailbox, outdoor stockings, and add a Christmas-y welcome mat. If you want to add something fun to your Christmas decoration, then make sure to check out this hanging Santa!
No products found.
6. Antique Skis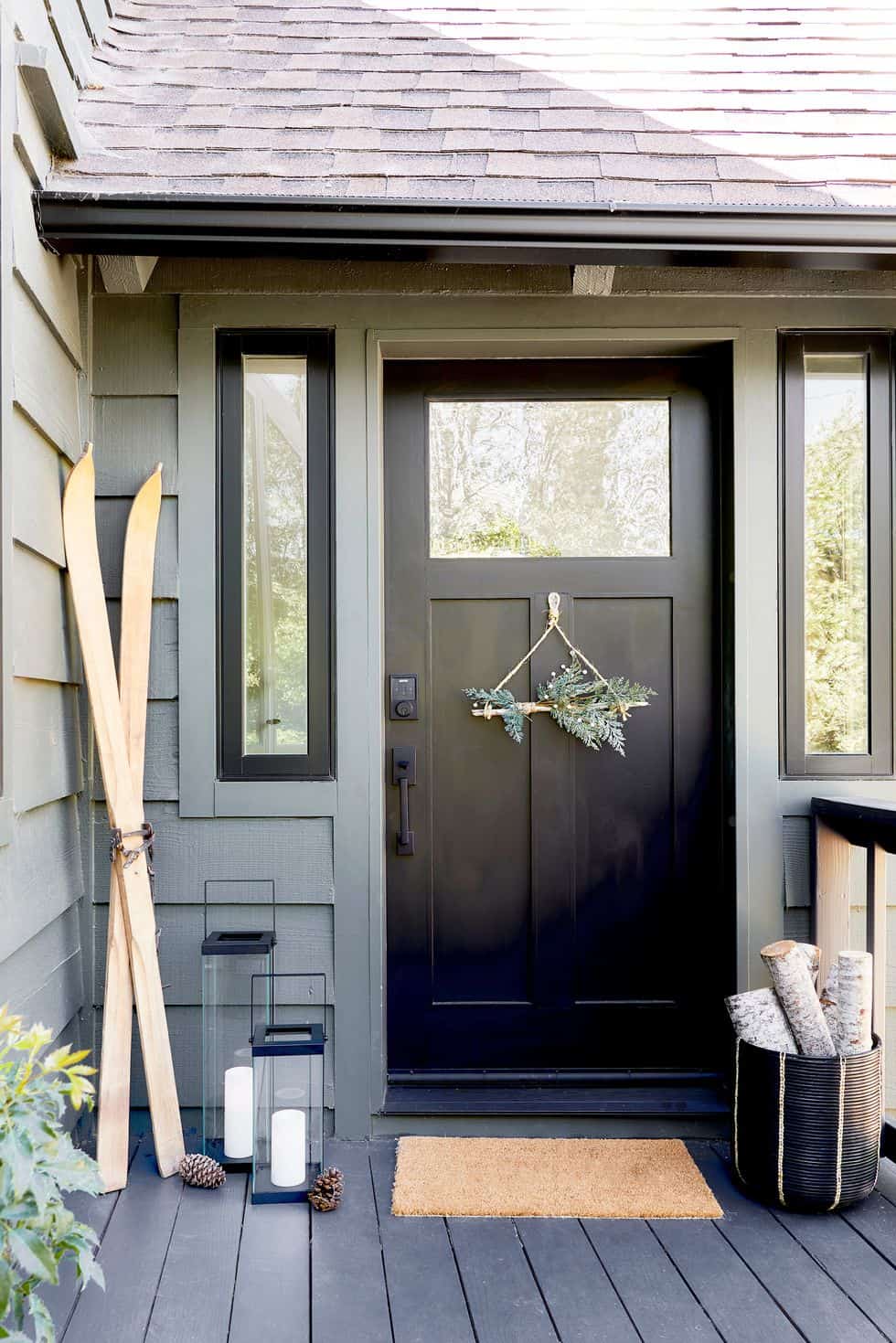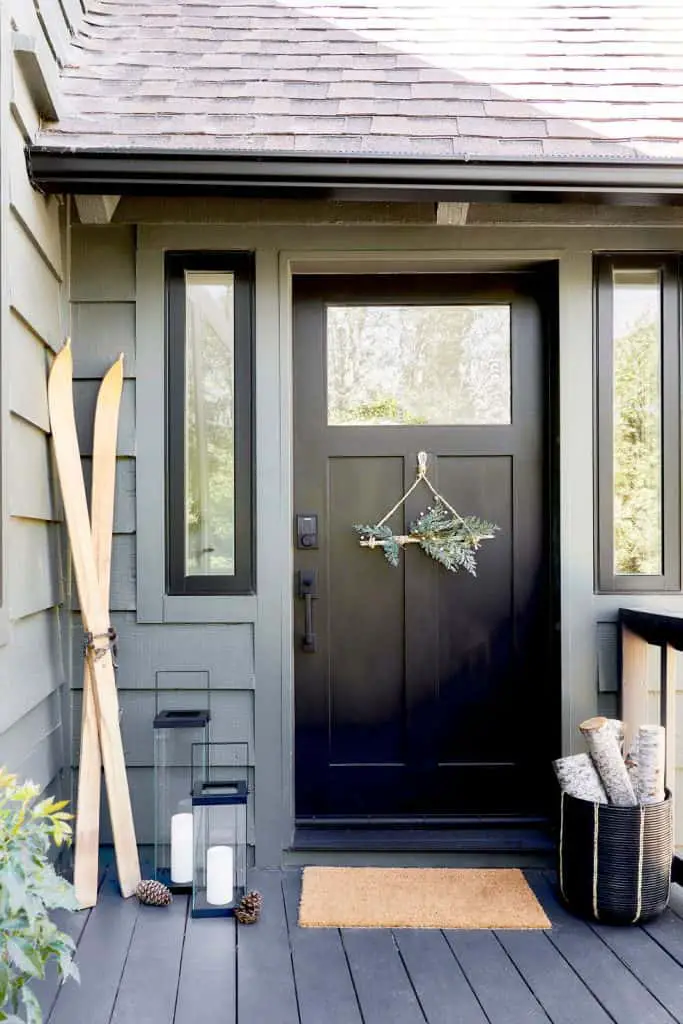 Image Courtesy of House Beautiful
If you want to add a wintery feel to your front porch and keep a spirited yet modern feel, then consider adding some pine cones and a basket of logs. A pair of faux (or old) skis or wooden sleds will also add to the holiday feel.
7. Bright and Frosty Colors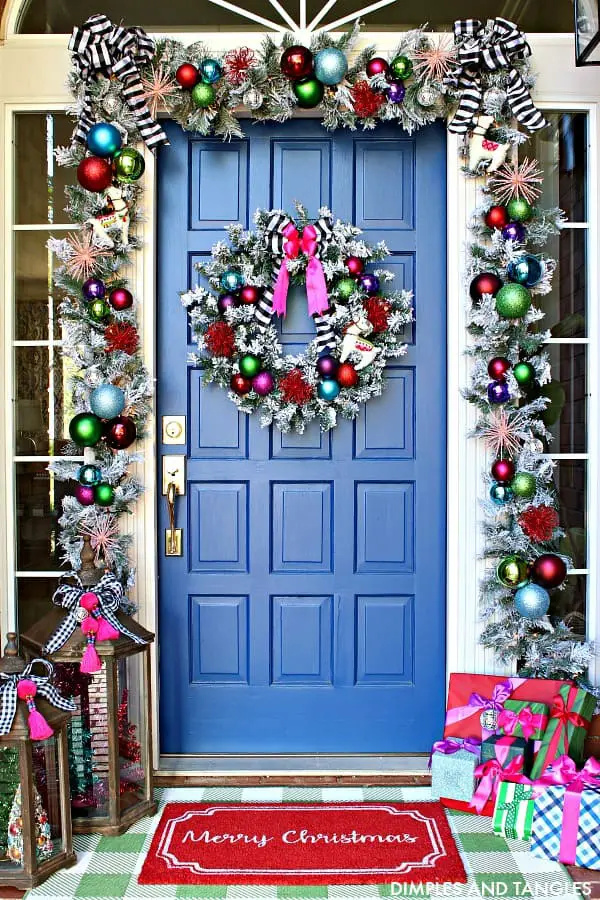 Image Courtesy of Dimples and Tangles
Jennifer Griffin, from Dimples and Tangles, decided that it would be a great idea to glam up her front porch. So, she decorated her front door with two pieces of nine-foot garland. Then, she decided to kick this traditional decoration up a notch. She added a string of 200 white lights to the garland as well as various colorful ornaments.
8. Symmetrical Front Porch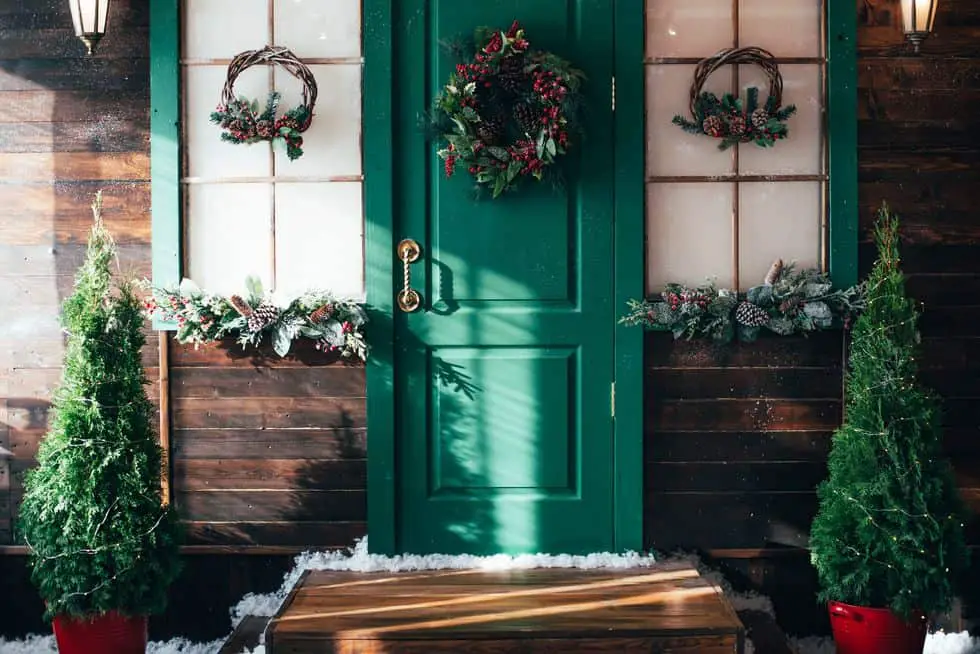 Image Courtesy of Elle Decor
Are you a lover of all things symmetrical? Then, decorate your front porch the same way. It will bring a pleasant feel to you, but also all those who lay eyes on your decorations. Adding symmetry to the front porch is easy, as long as you make sure that both sides of your porch are matching. So, you'll need to buy two of everything – wreaths, garlands, or even trees!
9. Christmas Outdoor Planters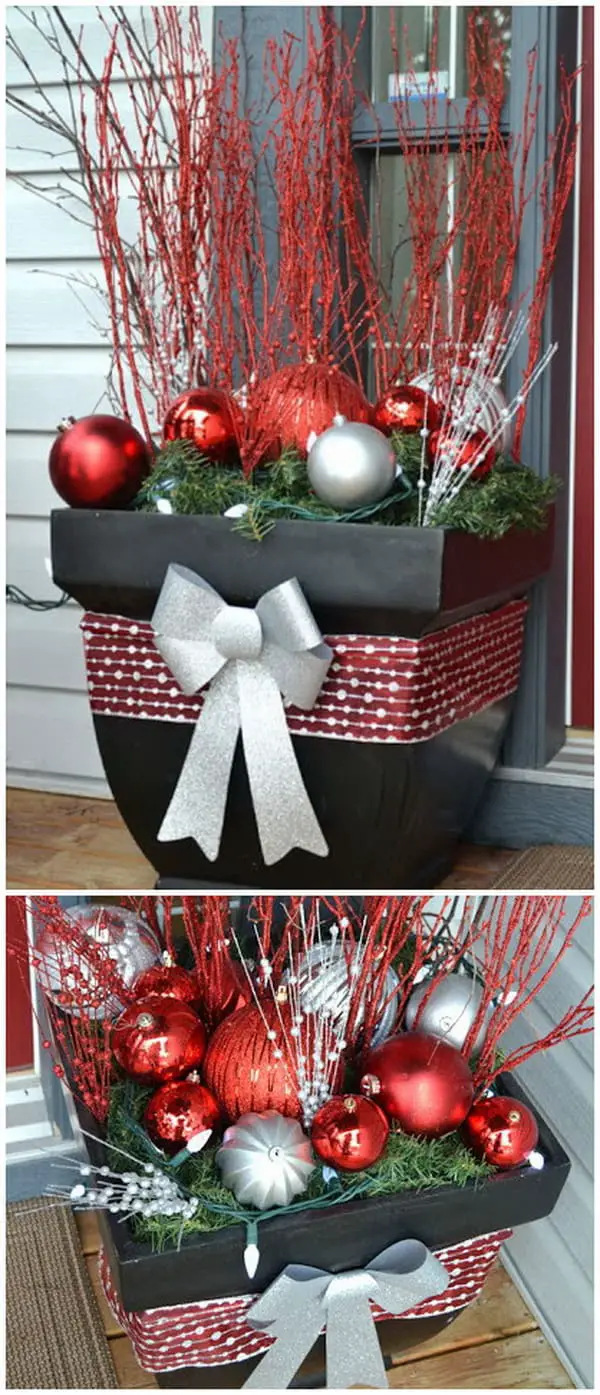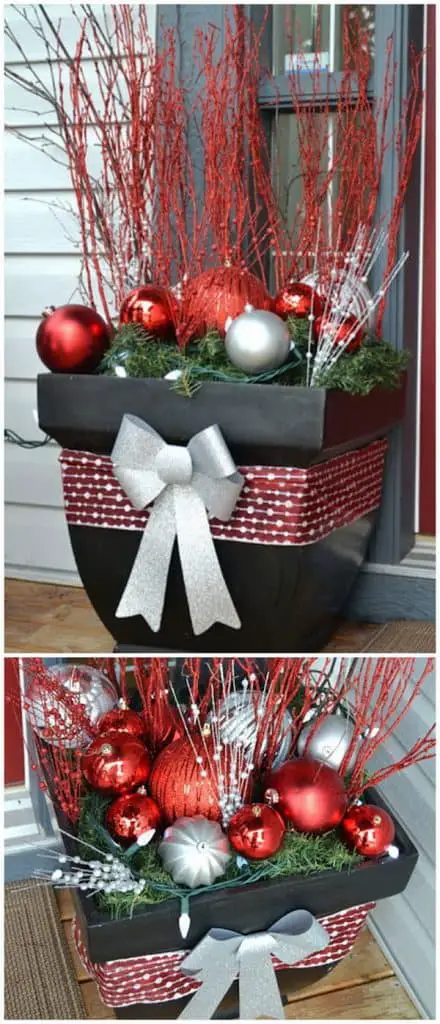 Image Courtesy of Forecreative Juice
It's quite likely that your planters are sitting empty during the winter. But, you can actually use them for Christmas garden ideas and decorations. Just fill the pots with garland, ornaments, twigs, and white lights and you will get a package full of sparkle decorating your porch or garden.
10. Pop of Color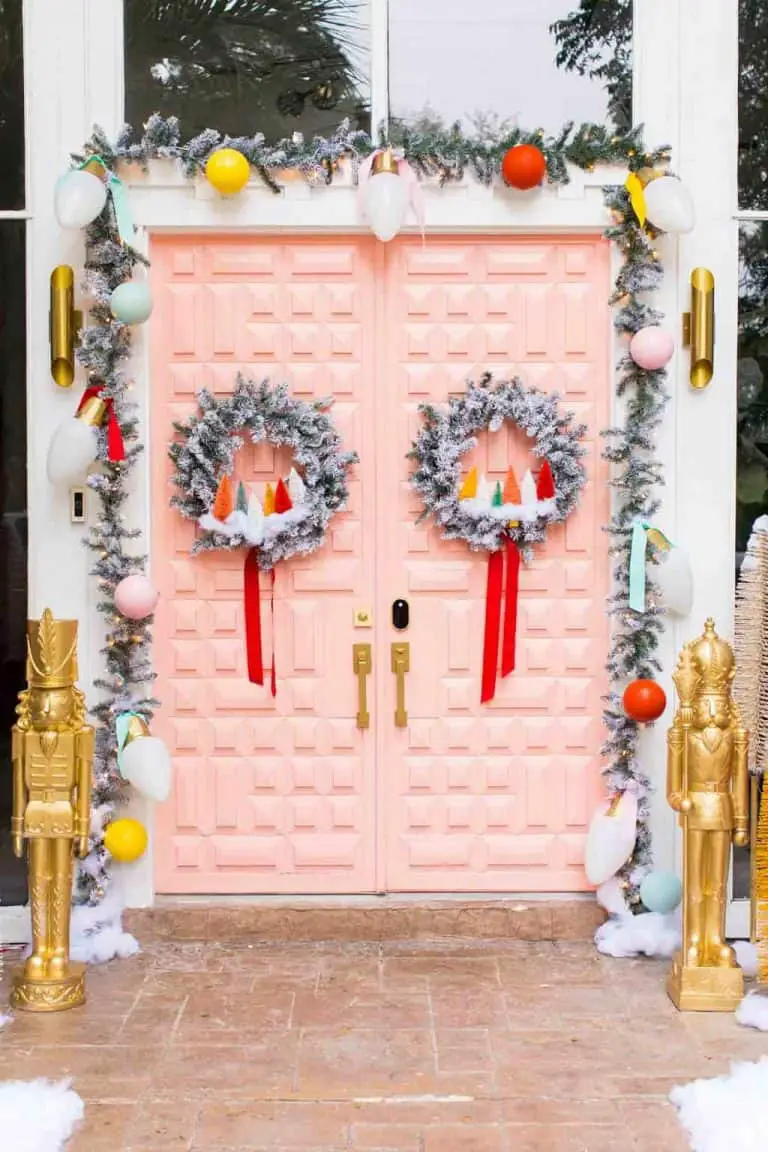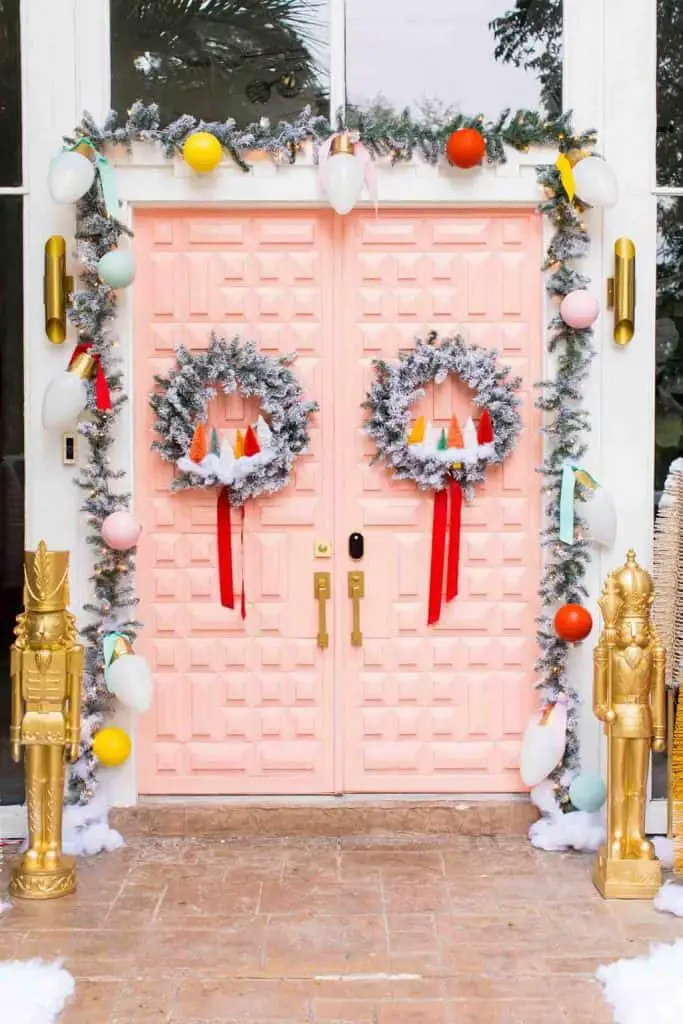 Image Courtesy of Sugar & Cloth
Everyone tries to imitate the classic red-and-green Christmas theme. If you'd like your home to stand out from all the rest, try adding a different pop of color. For example, Sugar & Cloth has pink doors that make a statement on their own. But, she used them as a perfect background for funky colored bulbs, gold statues, and all the other colorful decorations. You don't need to paint your doors in pink, but you can add colorful decorations to your home and garden as well.
11. Rustic Porch Ideas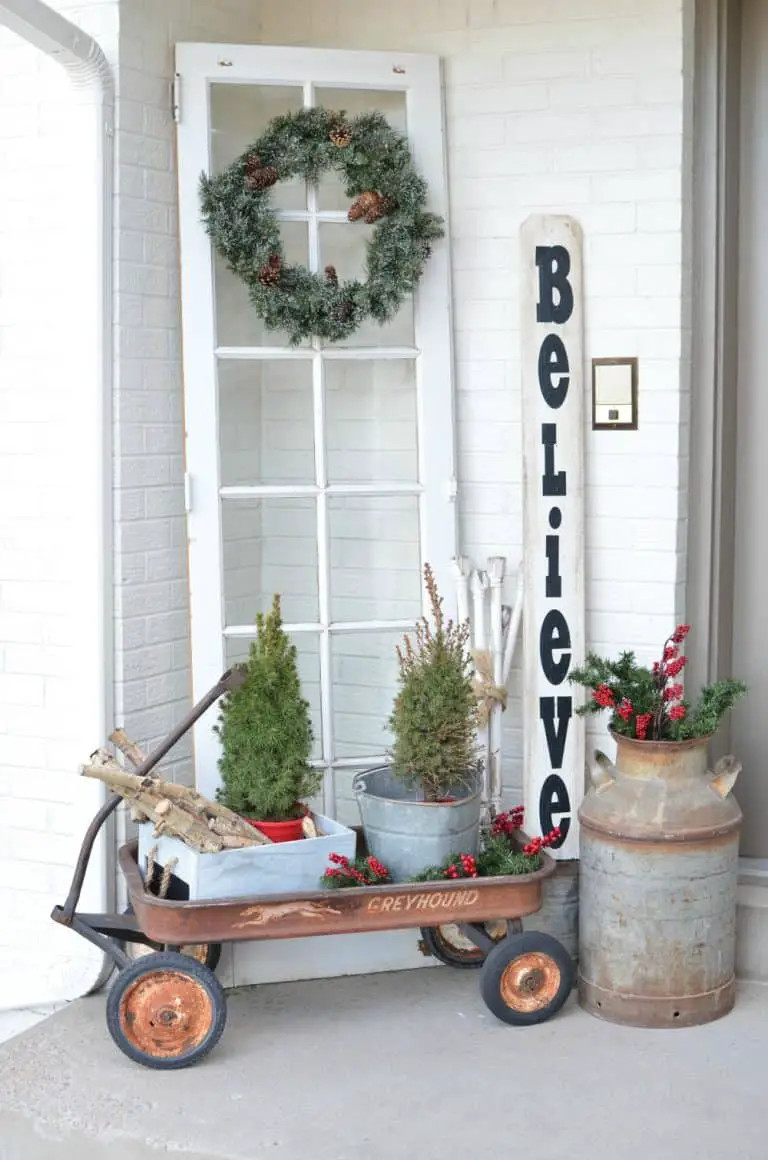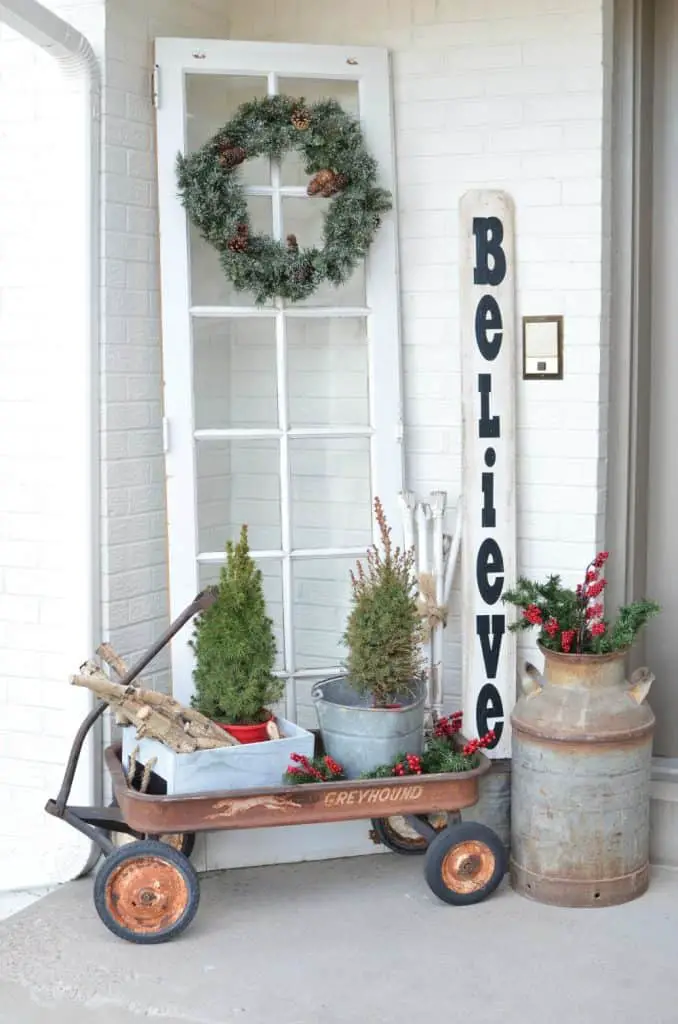 Image Courtesy of Sarah Joy
Looking for more Christmas garden ideas that will make your home stand out? Well, how about you try avoiding the classic Christmas décor but still recreate the holiday cheer. That is exactly what Sarah Joy did! She used this vintage and filled it with season-appropriate decorations that bring the festive spirit to her home.
12. Reindeer Family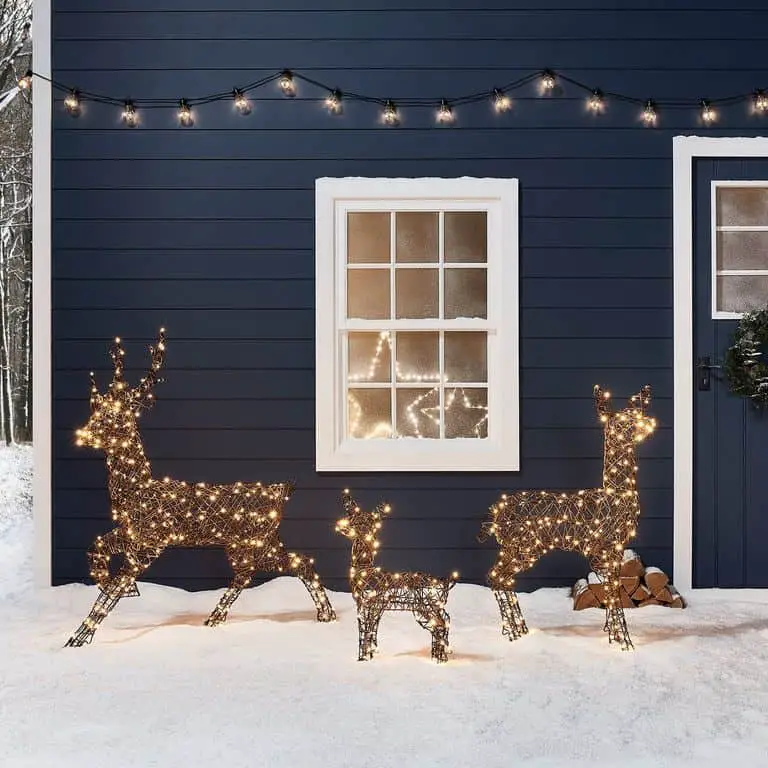 Image Courtesy of Elle Decor
If you feel like your front yard is looking a bit bare compared to the rest of your home, then here is a perfect solution! Get these lovely reindeer family lights that will light up your yard and decorate it at the same time.
No products found.
13. Twine Garden Lanterns


Image Courtesy of Forecreative Juice
Decorating your garden and porch with holiday lights is always a great idea. But, how about you kick it up a notch? Get some twine and wrap it around your holiday lights. Splash of Something has a super-easy tutorial for this, so make sure to check it out.
14. Giant Christmas Ornaments
Your garden is much larger than your living room, right? So, it makes sense to use giant ornaments in your garden, instead of regular-sized ones. You can buy these ornaments or try making your own. You will need about £20 worth of supplies – a few giant plastic balls, pint-sized containers, a few coat hangers, some spray paint and garden hooks. This YouTube tutorial will teach you how to do it!
15. A Minimalist Front Door Design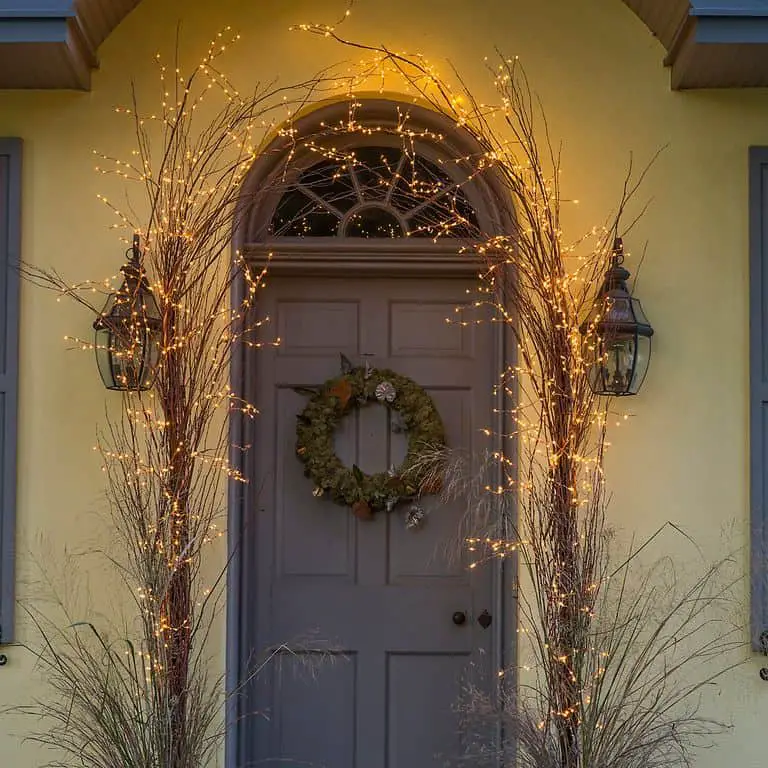 Image Courtesy of Elle Decor
If you're not into colorful and extravagant Christmas garden ideas, don't worry. We got you covered as well! You can make your garden look good even if you opt for a simpler, more natural holiday look. If you have trees or branches in front of your door, then just add some soft glowing lights for a subtle and elegant design that can last throughout the whole winter season.
16. Bring the Christmas Tree & Presents Outside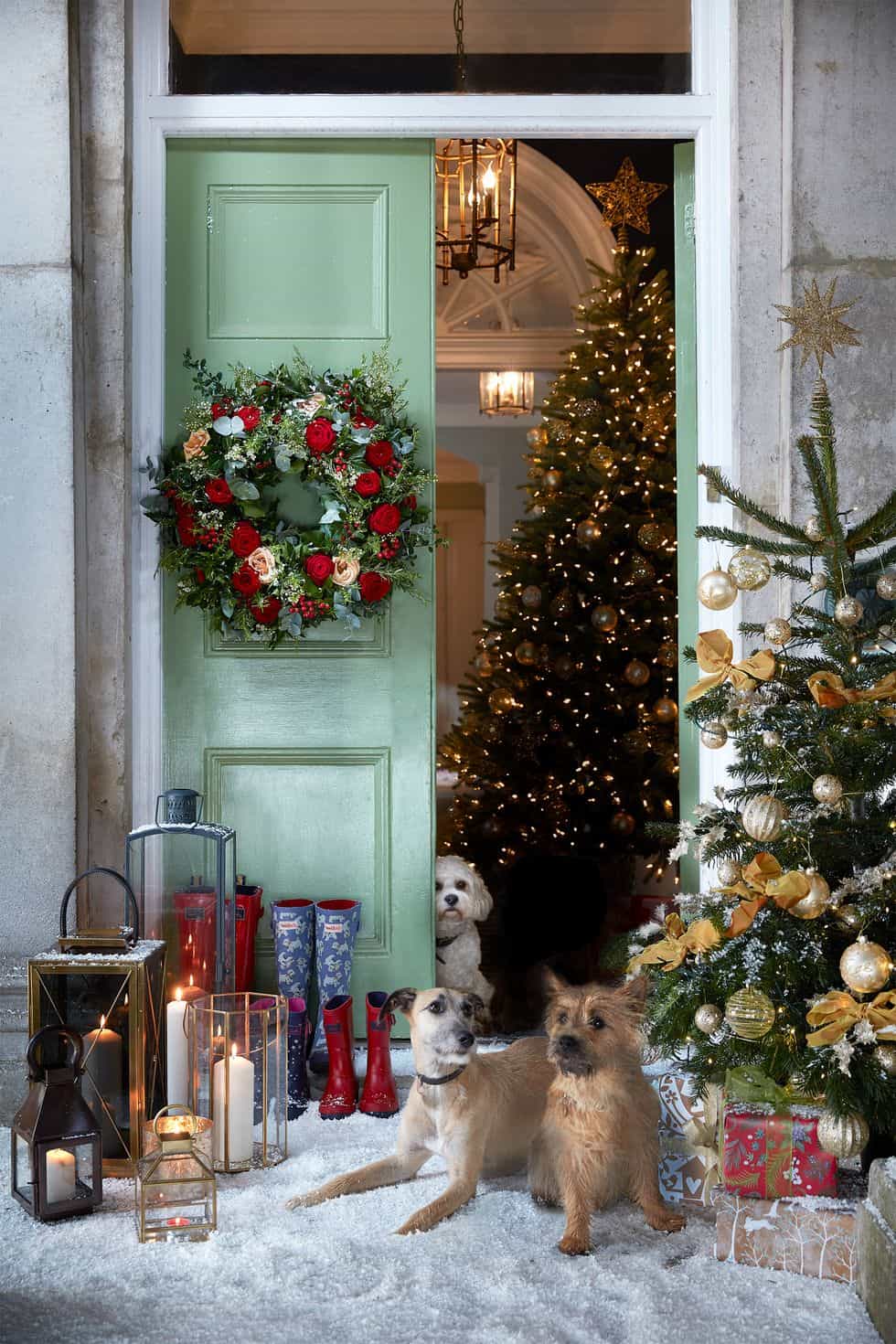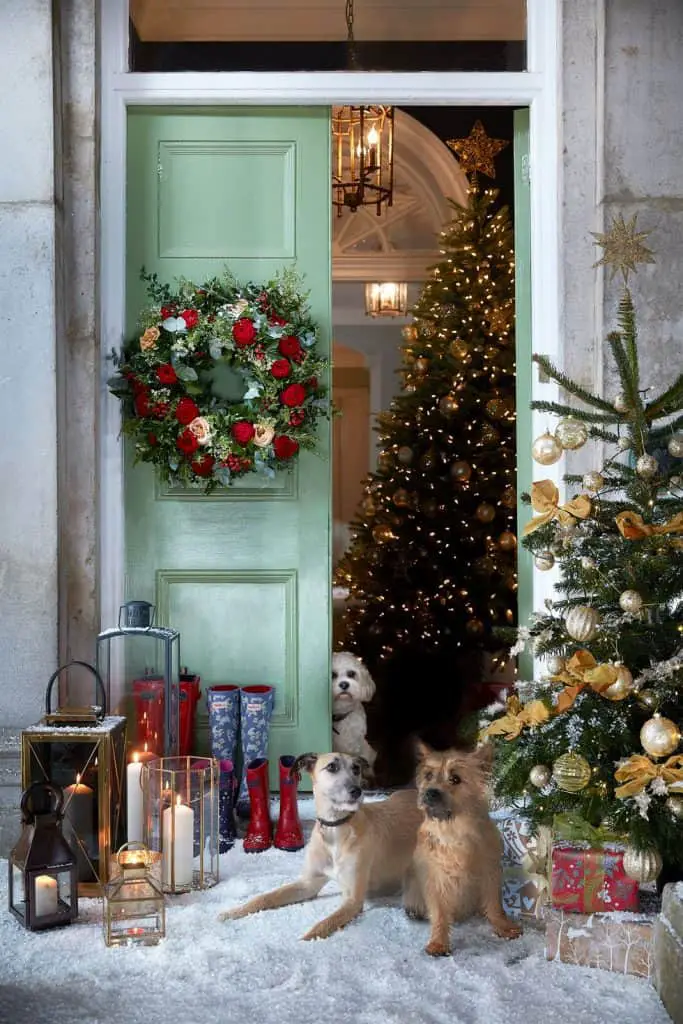 Image Courtesy of House Beautiful
Traditionally, we put a Christmas tree in our homes, decorate them, and place presents underneath them. But, what's stopping you from displaying your lovely tree on your porch so that everyone can see it? And, don't forget the presents! To prevent something from happening to your real presents, we suggest wrapping up old boxes instead, just to achieve the look.
17. Glowy Season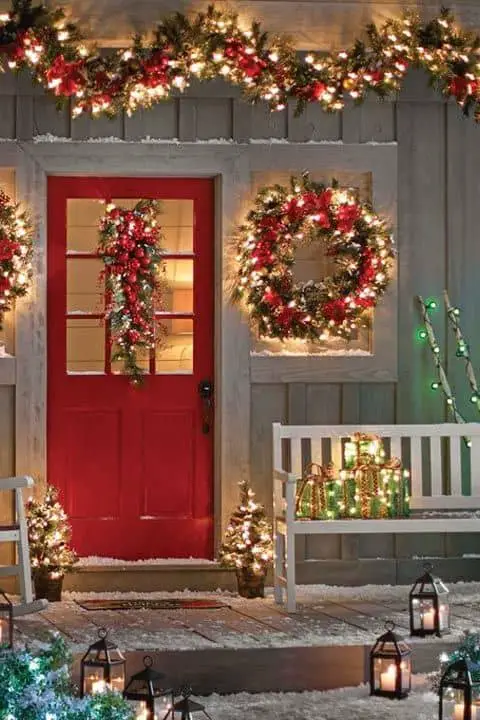 Image Courtesy of House Beautiful
Your outdoor Christmas decorations are visible during the day. But, no one will be able to see them at night. Unless you add lights to everything! Whatever you choose to display – wreaths, garland, fake presents, decorated planters – make sure to wrap lights around them to make your decorations pop!
18. Make a Snowman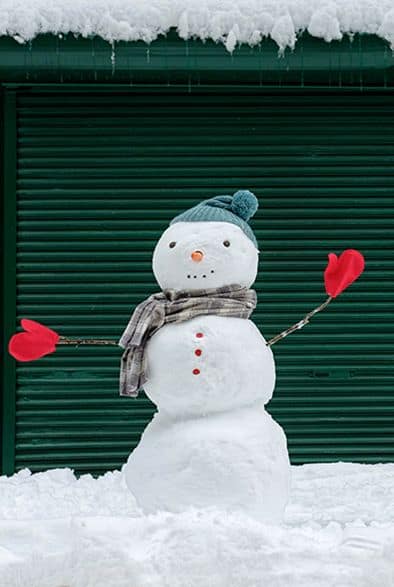 Image Courtesy of House Beautiful
Here is one of the most fun Christmas garden ideas – make a snowman! It won't cost you anything and your family will enjoy making one. And, of course, Frosty will make a great decoration for your yard. The only downside is that no one can guarantee you that the snowman will last until Christmas.
19. Make the Most Out of Lanterns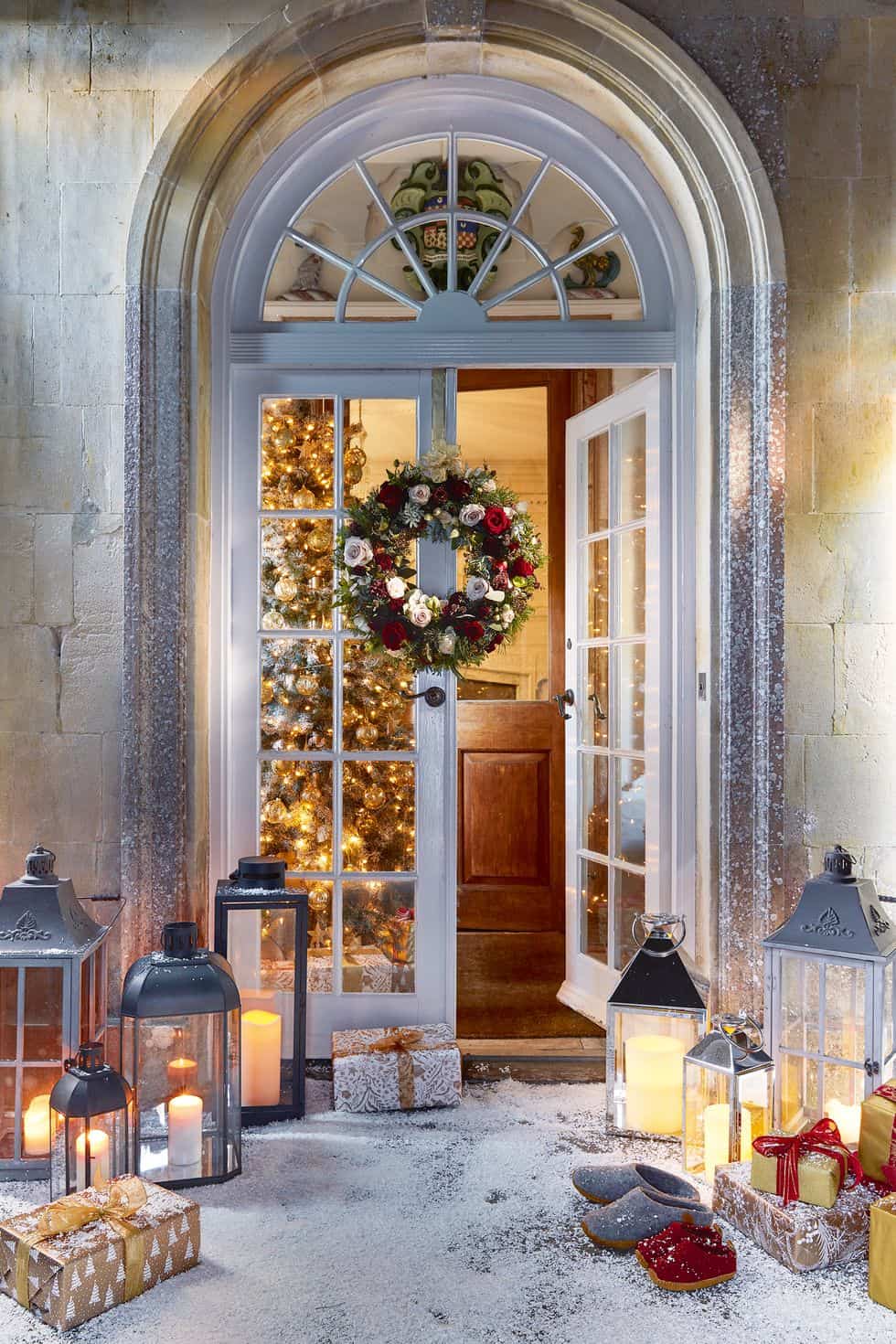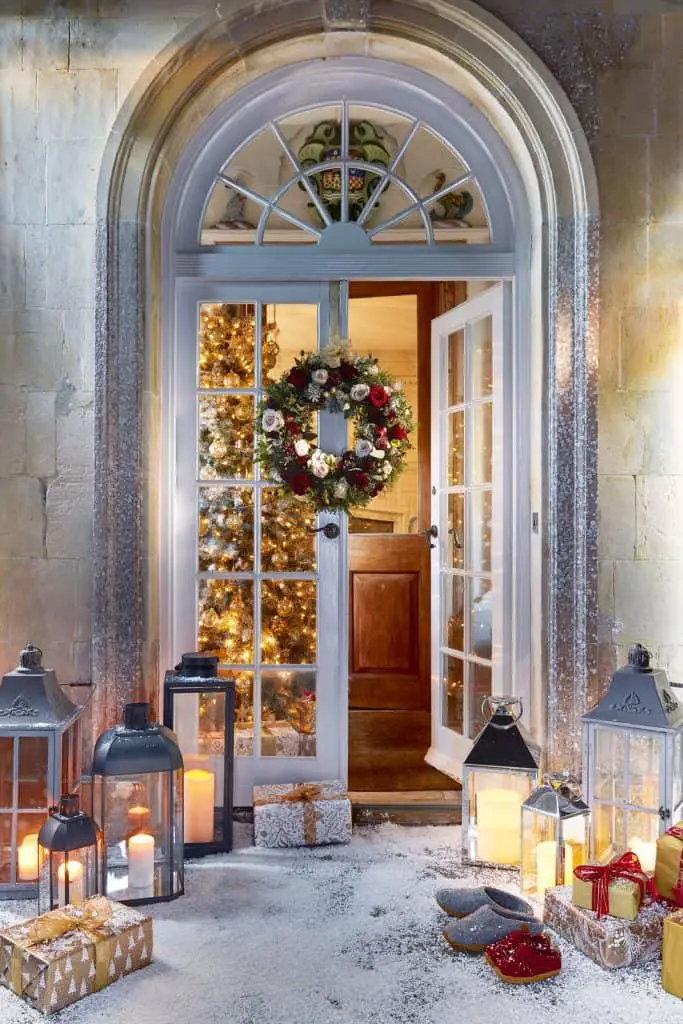 Image Courtesy of House Beautiful
Do you have lanterns on your porch? You can decorate them by hanging wreaths on lanterns instead of doors. Also, you can flank the front door with lanterns and fill them with real or flameless candles. The more lanterns you add, the merrier the decoration will be.
20. DIY Garland Door Frame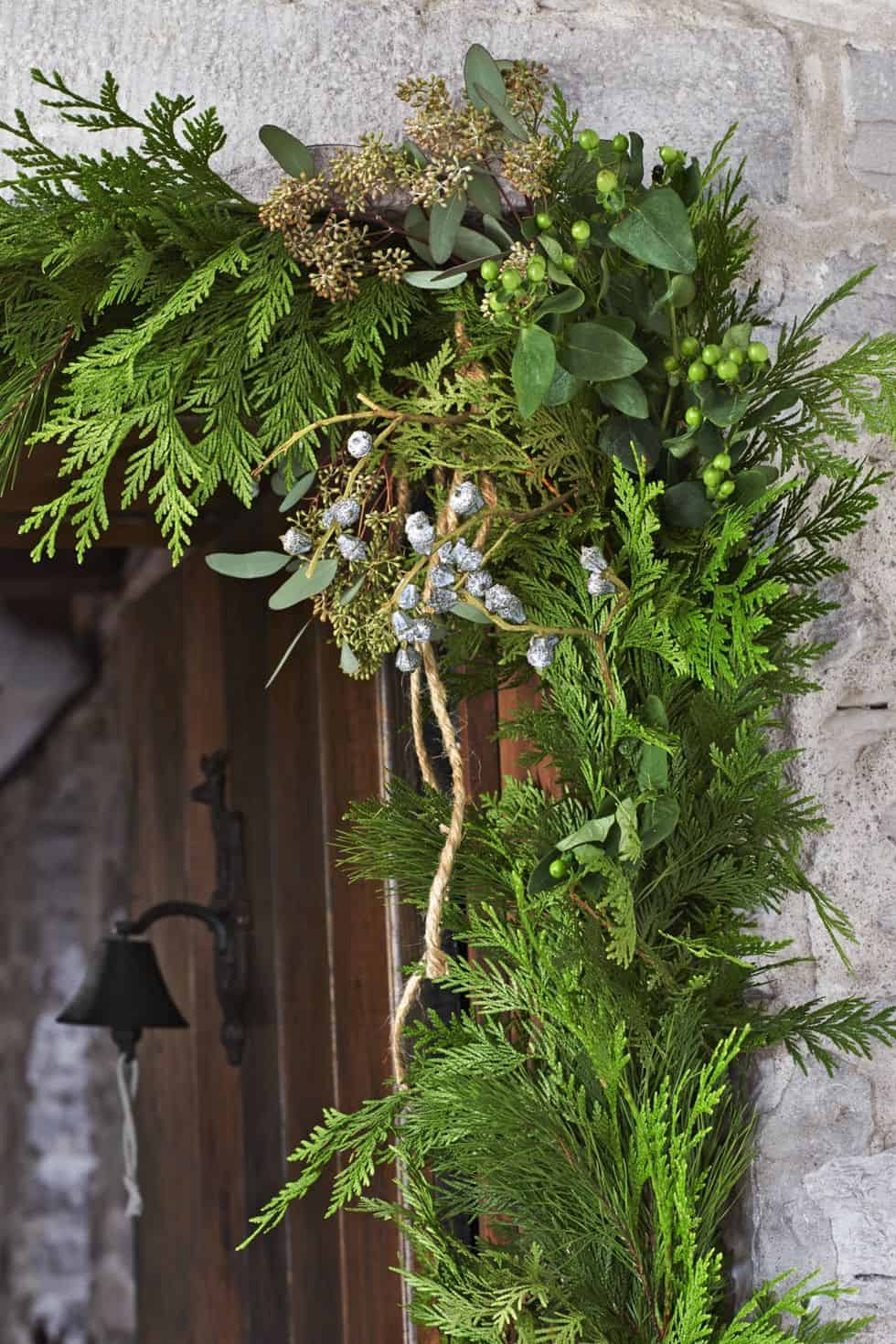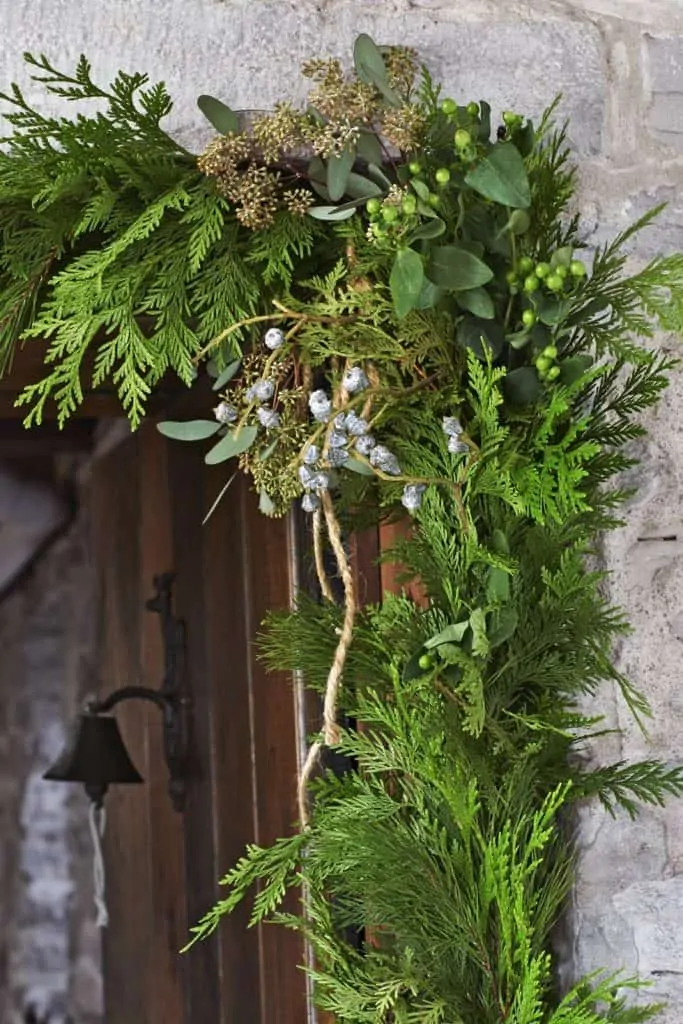 Image Courtesy of Country Living
Using garland to decorate your porch and front door is always a good idea. Not only will your guests like the looks of this decoration, but also the gorgeous aroma that wafts from it. You can easily make a garland frame for your front door. All you need is fresh cedar and grapevine twigs. Bundle 12-inch lengths of the twigs and use green metal wire to hold them together. Repeat the process until you have enough to go around the doorframe. Bundle everything together in an overlapping pattern by using the green wire. You can hang the garland on the doorway using hooks or nails.
21. DIY Wreath Idea #1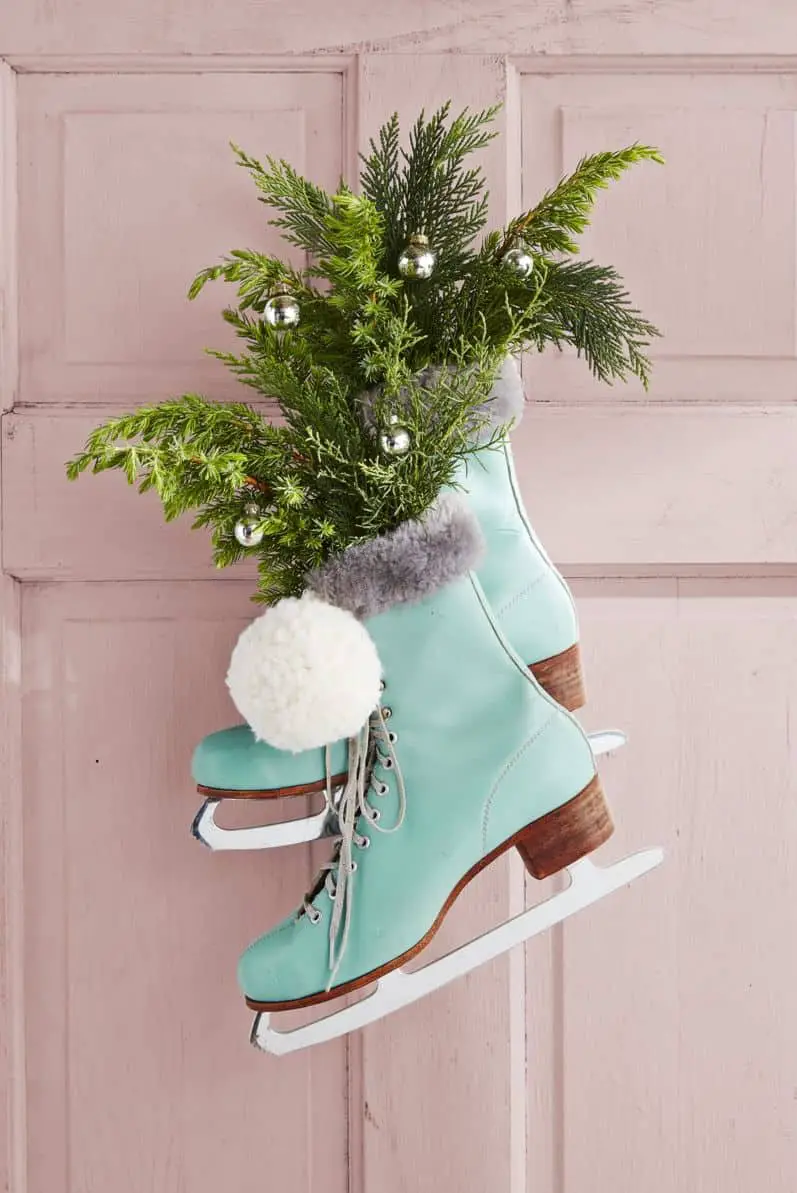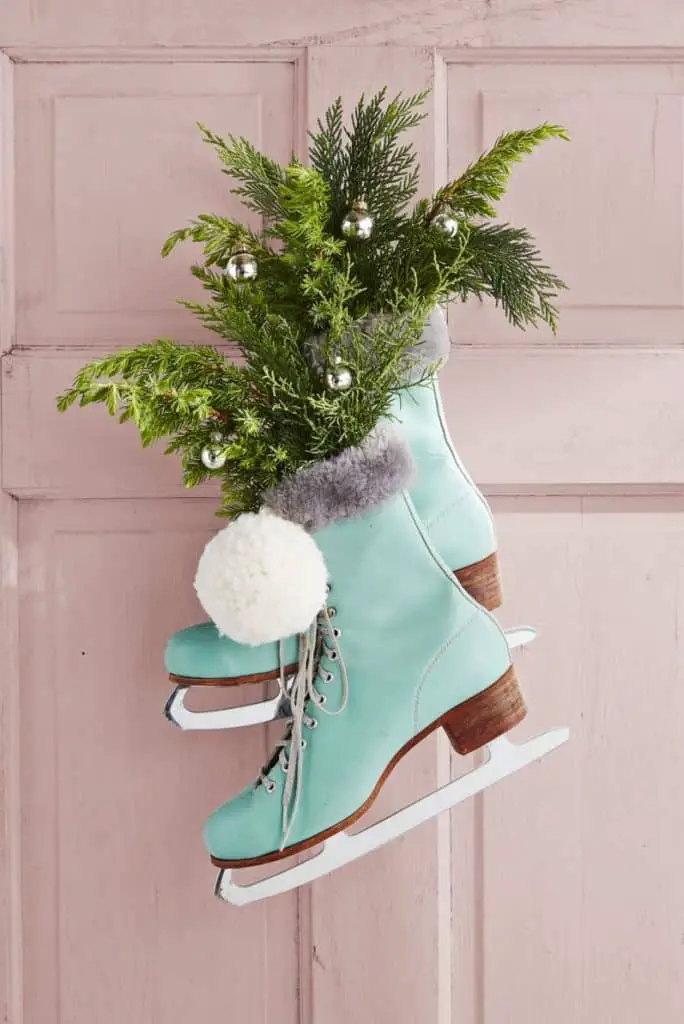 Image Courtesy of Country Living
Do you have a pair of embellished ice skates lying around your home? Use them for your DIY wreath! Ice skates have that wintery and glamorous look. Fill them with evergreen and add fluffy pom-poms for a unique wreath design. You can also add small jingle bells or ornaments to make your wreath even more festive.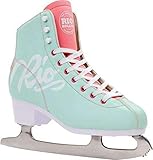 Rio Roller Script Figure Womes/Kids Ice Skates - Teal UK3
Brand new Ice Skate from Rio Roller - Their first Ice Skate!
Designed specifically for Ice skating with an incredible quality boot
Fitted with a two piece seam-welded, high polish blade with a 6 toothpick and pre-sharpened to 12.2mm radius.
Vegan friendly PVC leather with a highly supportive upper boot
Last update on 2022-04-26 / Affiliate links / Images from Amazon Product Advertising API
22. DIY Wreath Idea #2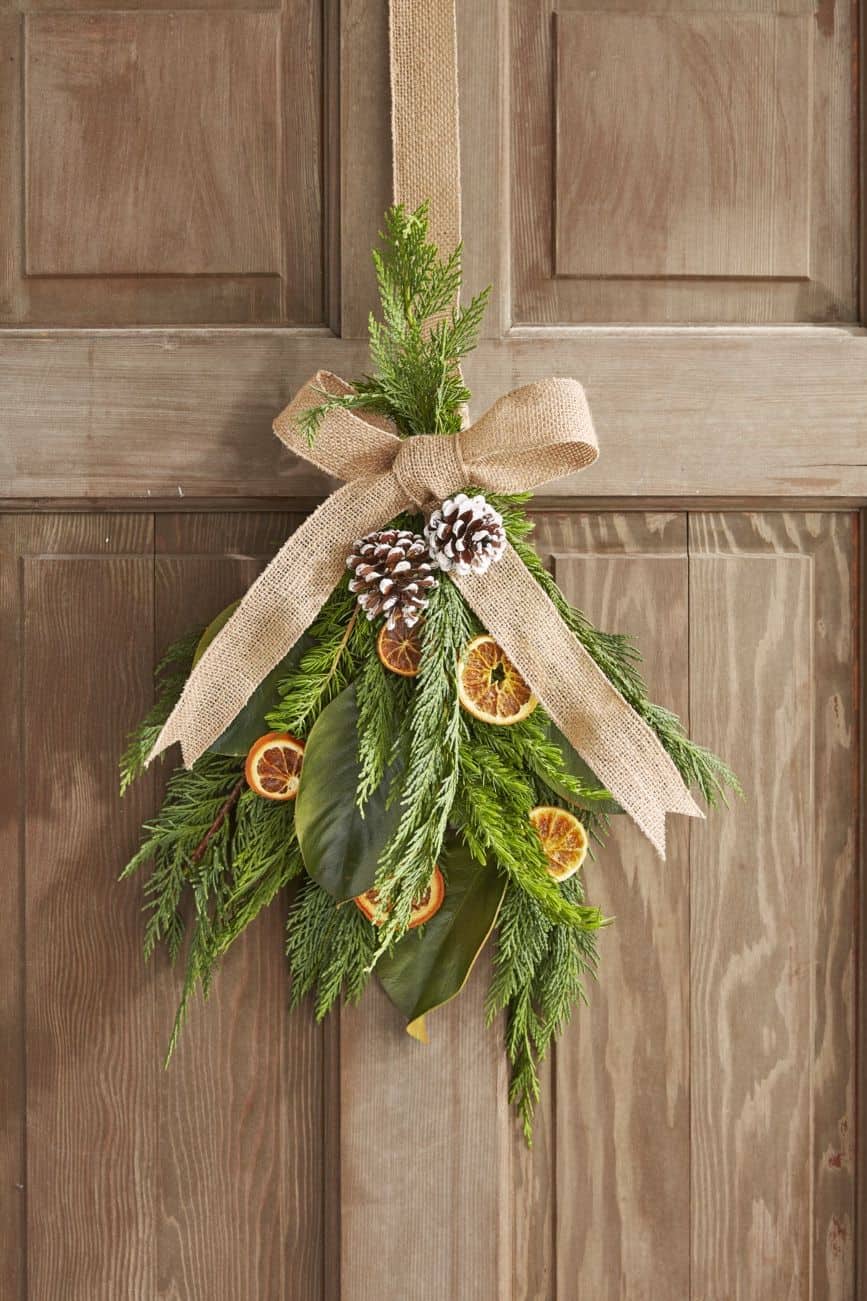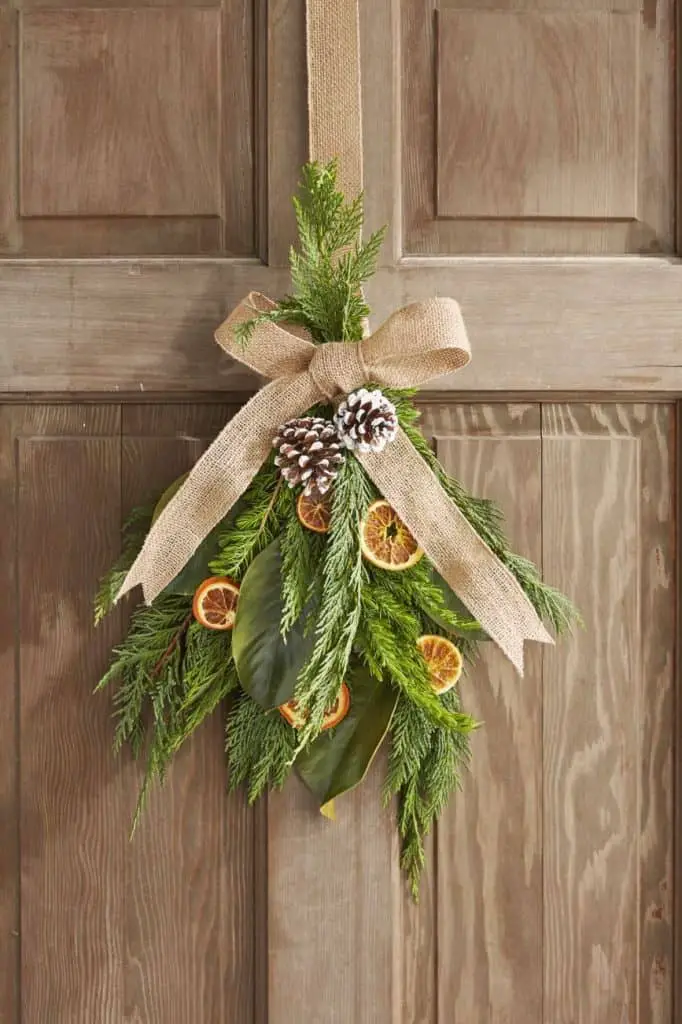 Image Courtesy of Country Living
If you love DIY projects, then this one is perfect for you. There isn't a more Christmas-appropriate wreath than the one made of greenery, oranges, and pine cones. And, once you add a ribbon, you'll have a unique and eye-catching front door decoration.
23. DIY Wreath Idea #3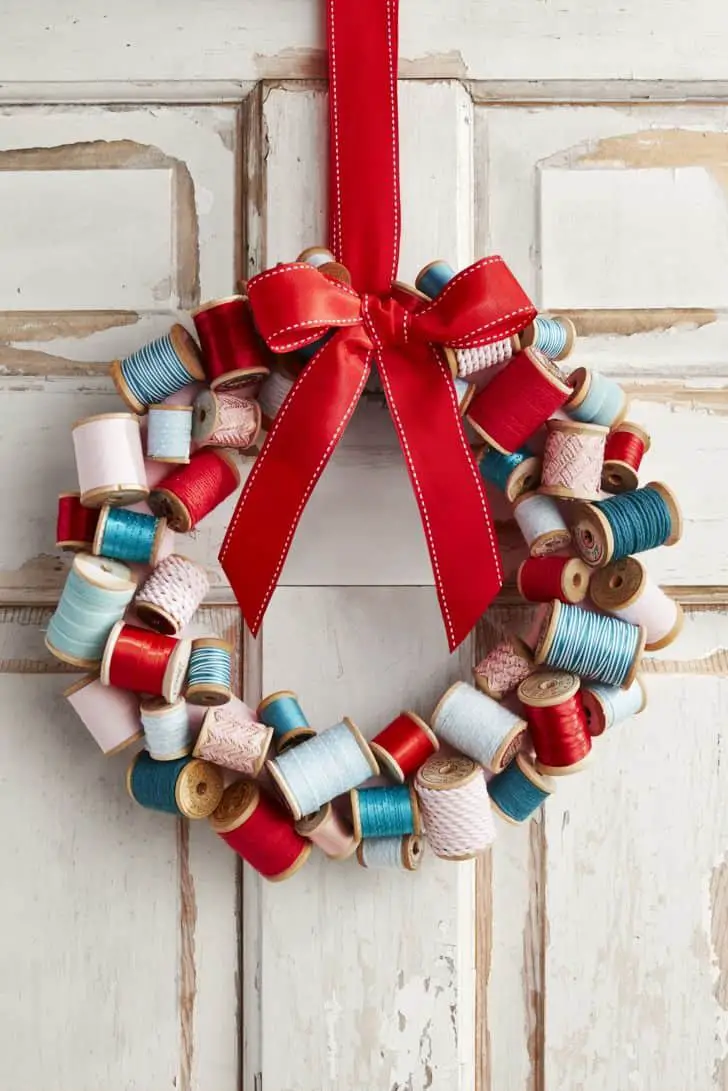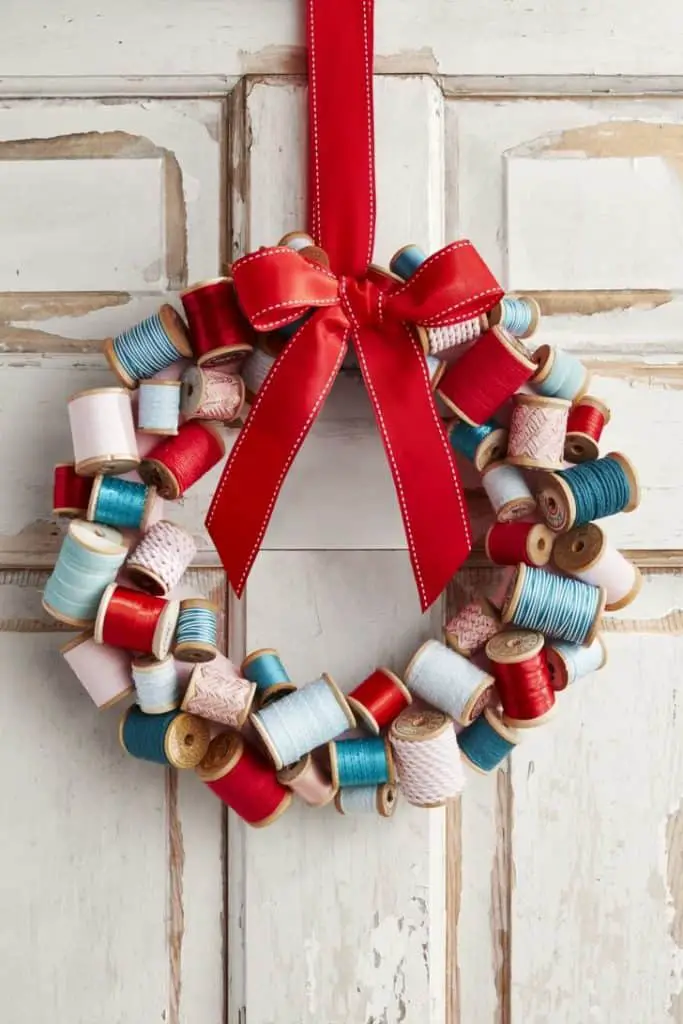 Image Courtesy of Country Living
If your family is one of those households that has a collection of wooden spools laying around, then make sure to make something out of them. Wrap each spool with thread, ribbon, or baker's twine. Then, attach the spools in a wreath form and display the DIY wreath on your front door.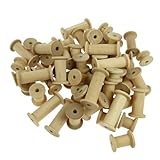 Last update on 2022-04-26 / Affiliate links / Images from Amazon Product Advertising API
24. DIY Wreath Idea #4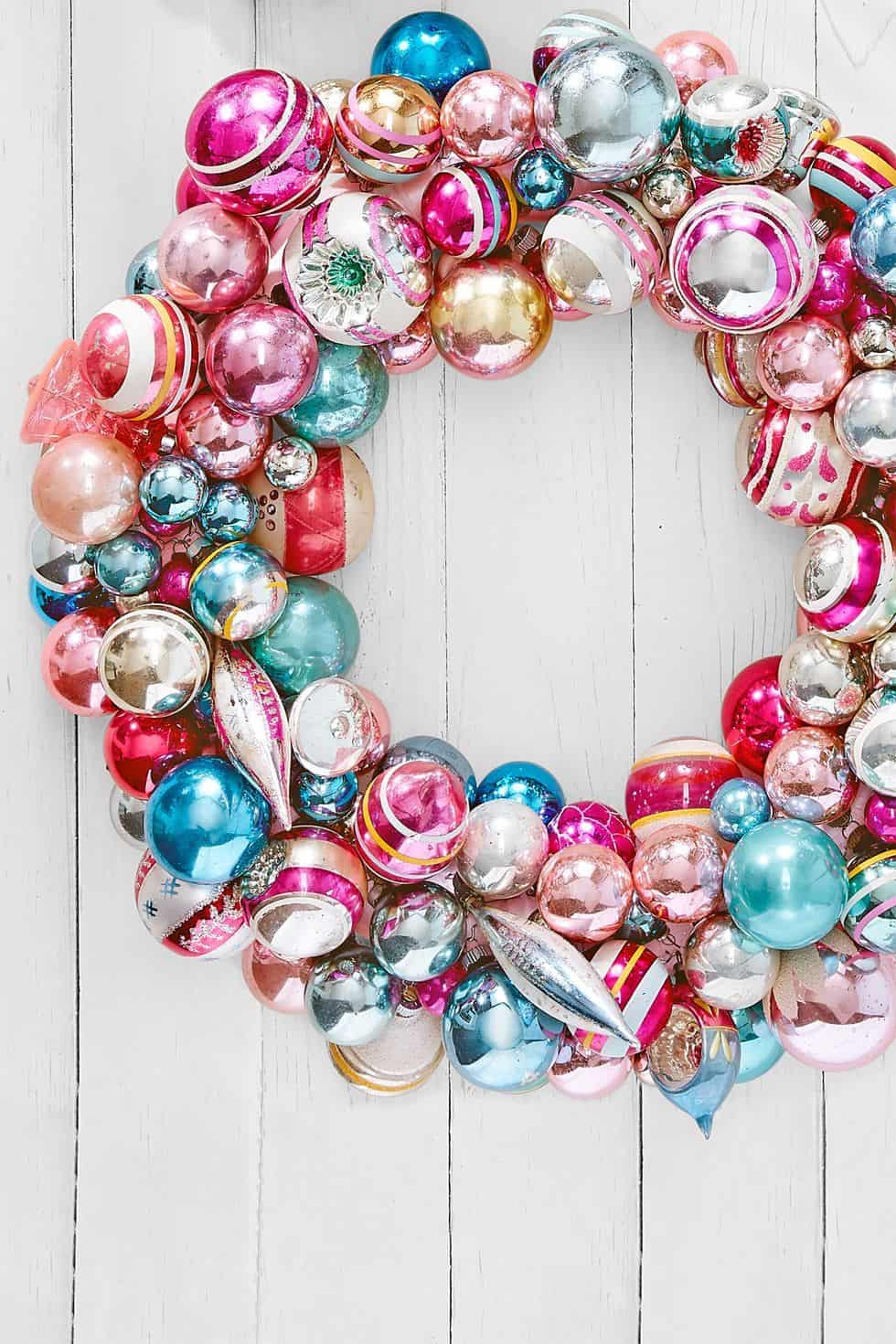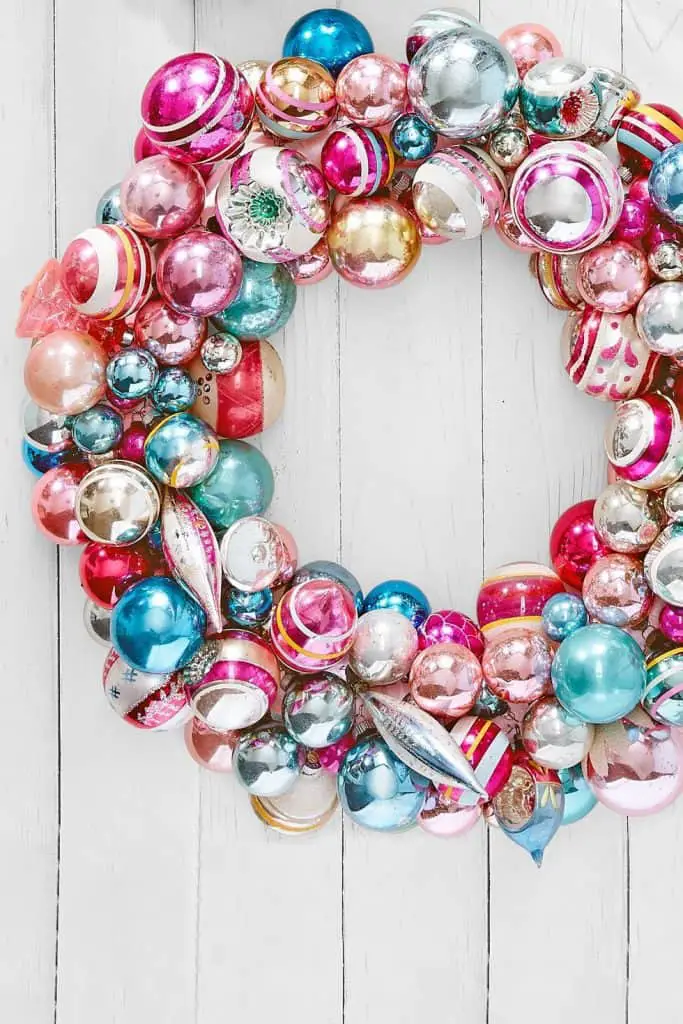 Image Courtesy of Country Living
Since wreaths are the most popular Christmas decoration, we wanted to make sure you have a few options. Here is one colorful idea for you! You will need a basic Styrofoam wreath. Take some colorful ribbon and wrap it around the wreath to hide the color of the Styrofoam. Then, add your Christmas ornaments one by one with greening pins.
LessMo 30Pcs Christmas Baubles, Shatterproof Christmas Tree Balls...
Material and Size - 60mm in diameter, made of premium PET plastic. This pack contains 30pcs, 5 different styles of balls. Various special finishes will enrich your Christmas tree decoration.They are dazzling even you watch close up. If you store it well, you can even use it next year.
Light and Safe - These shatterproof Christmas tree baubles are combine the beauty and lustre of real glass with the unbreakable practicality of plastic. Ideal for families with kids and pets. Set you free from worrying about them getting hurt and glass shards everywhere.
Wide Applications - Perfect home decor for a variegated display of Christmas, wedding, engagement, anniversary, party, as hanging ornaments on tree branches, table centerpieces, around banister, above reception at different lengths, etc. It is also a great choice for commercial holiday decorations and create a lovely Christmas atmosphere for kids.
Creativity Design - Shiny, matte and glittering surfaces capture the lights of the Christmas tree and glitter and sparkle with them. The beauty and shine of real glass makes the tree baubles something very special. Make sure you have a beautifully decorated Christmas tree with this varied range of products.
Last update on 2022-04-26 / Affiliate links / Images from Amazon Product Advertising API
25. Add Mini Evergreens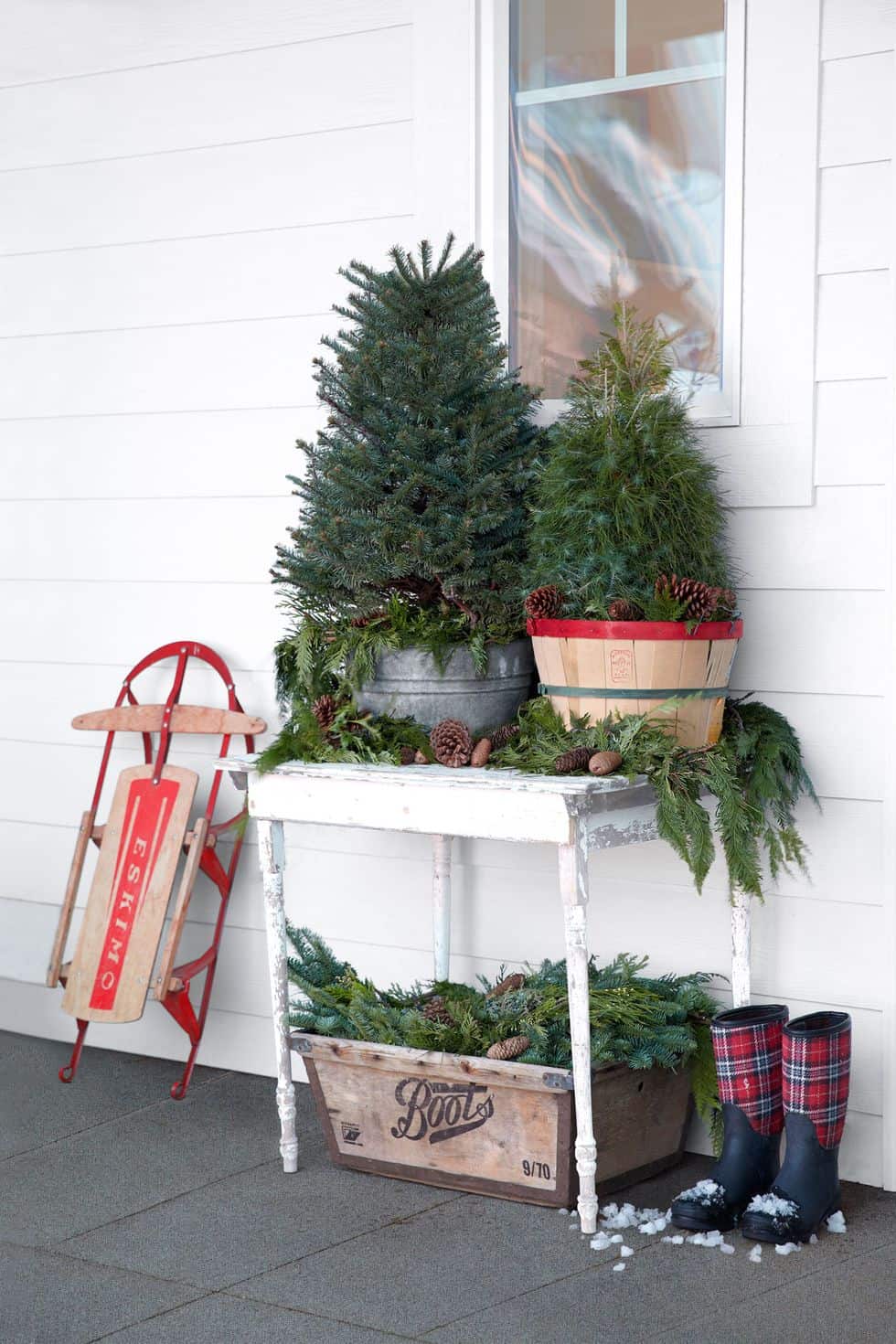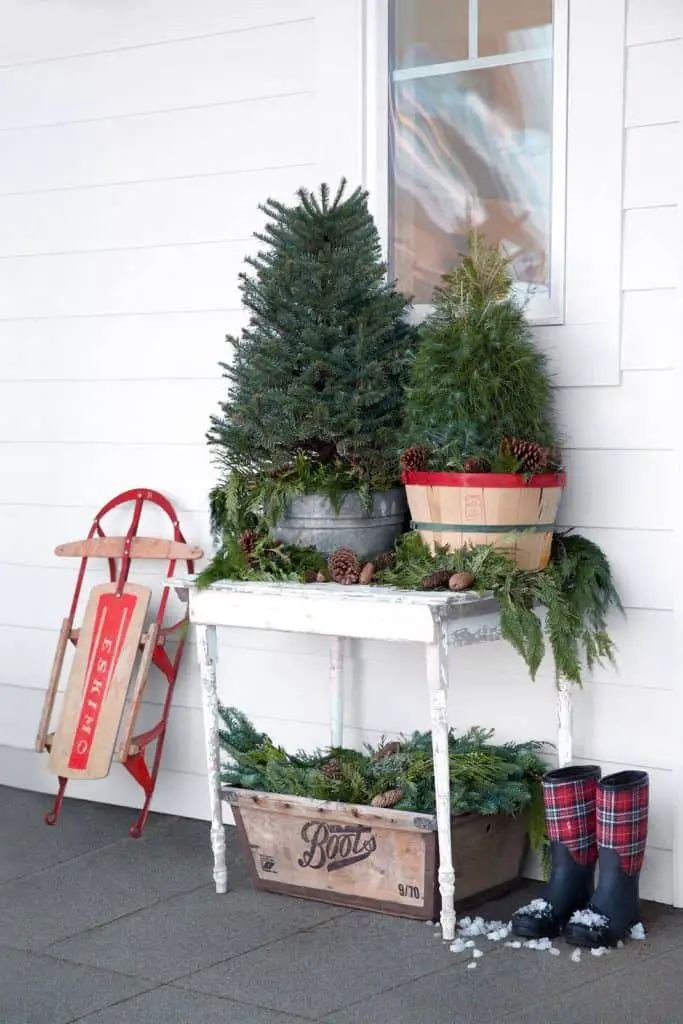 Image Courtesy of House Beautiful
We already mentioned that the most common Christmas decorations are red and green. Take your old baskets and planters, and fill them with pint-sized trees. Scatter leftover trimmings around the base and in a rustic crate for even more foliage. This way, you'll add some greenery to your porch. And, if you have a few red decorations, then your porch will reflect the Christmas spirit completely!
27. Candy Cane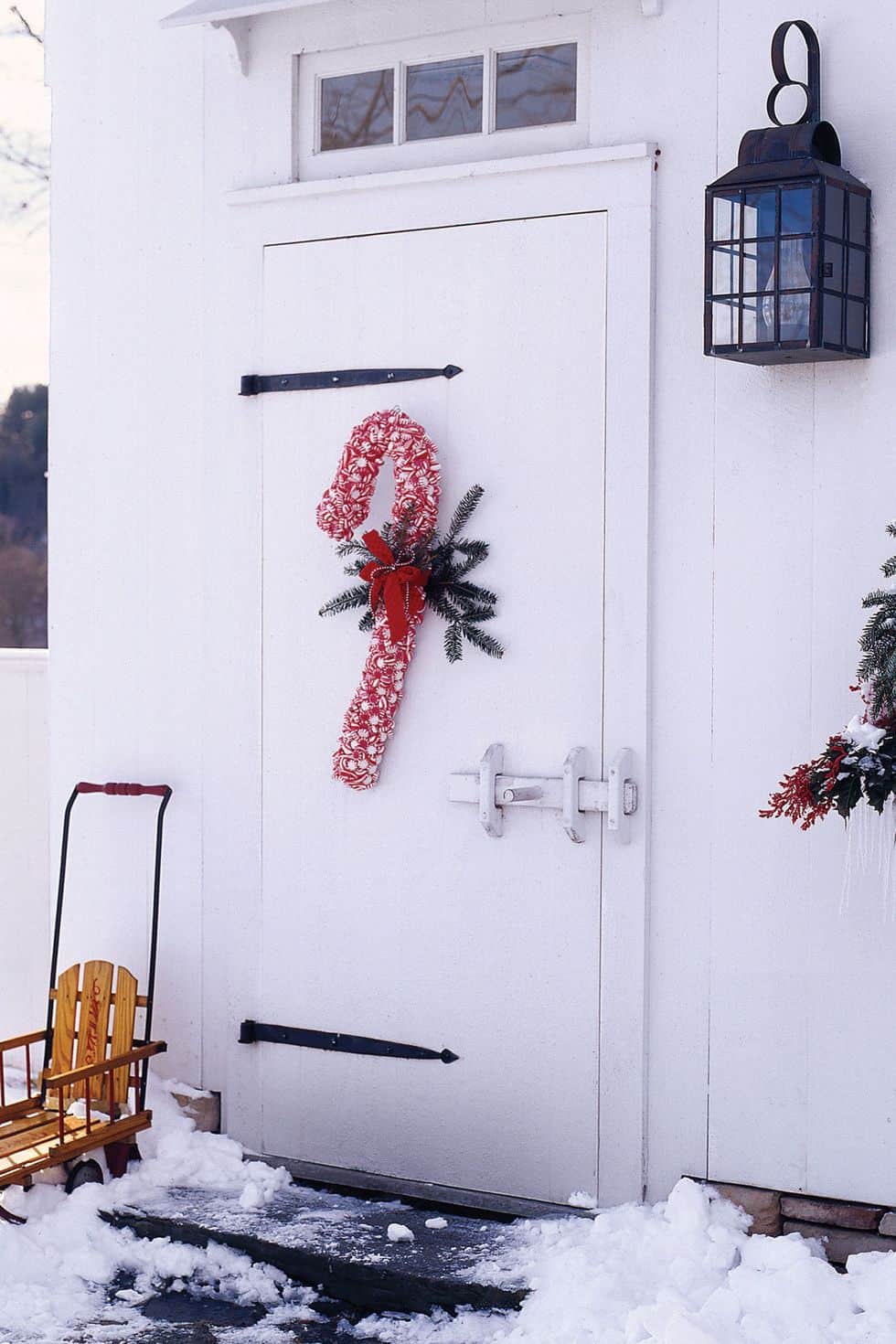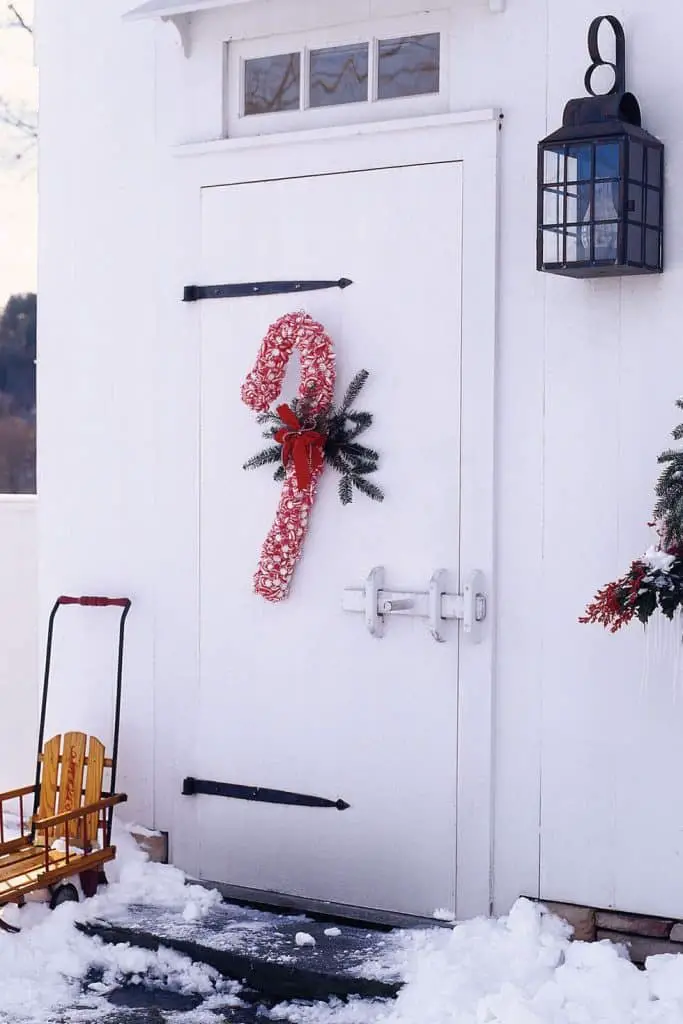 Image Courtesy of House Beautiful
Is your front door white or maybe your front façade? You can sweeten this plain design with a jumbo candy cane! The one you can see in the photo is actually coated in real peppermints, just like a gingerbread house. And, the crisp white background really makes the candy cane pop. You can make yours in any color you like, to make it stand out from the background!
28. Old Tires for Christmas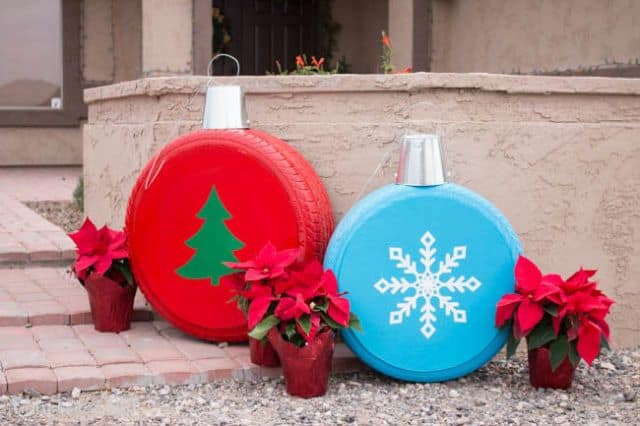 Image Courtesy of Country Living
Do you have old tires in your garage? You can transform them into lovely Christmas decorations. Spray paint the tires in jolly colors and use a stencil to add a Christmas-y touch with a snowflake or a Christmas tree. You can place buckets with thread on top of the tires to make them resemble Christmas baubles.
29. Five-Minute Christmas Topiary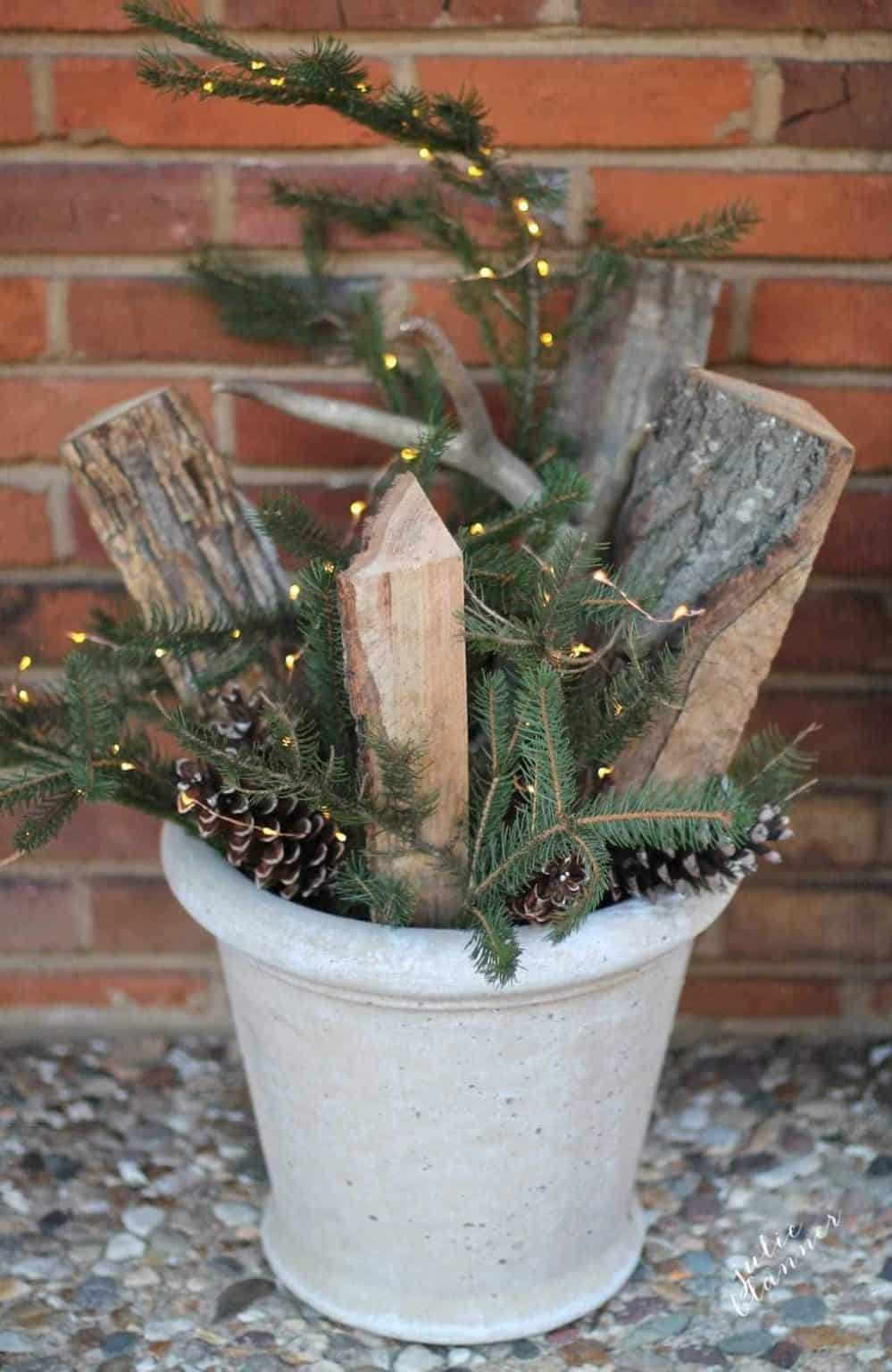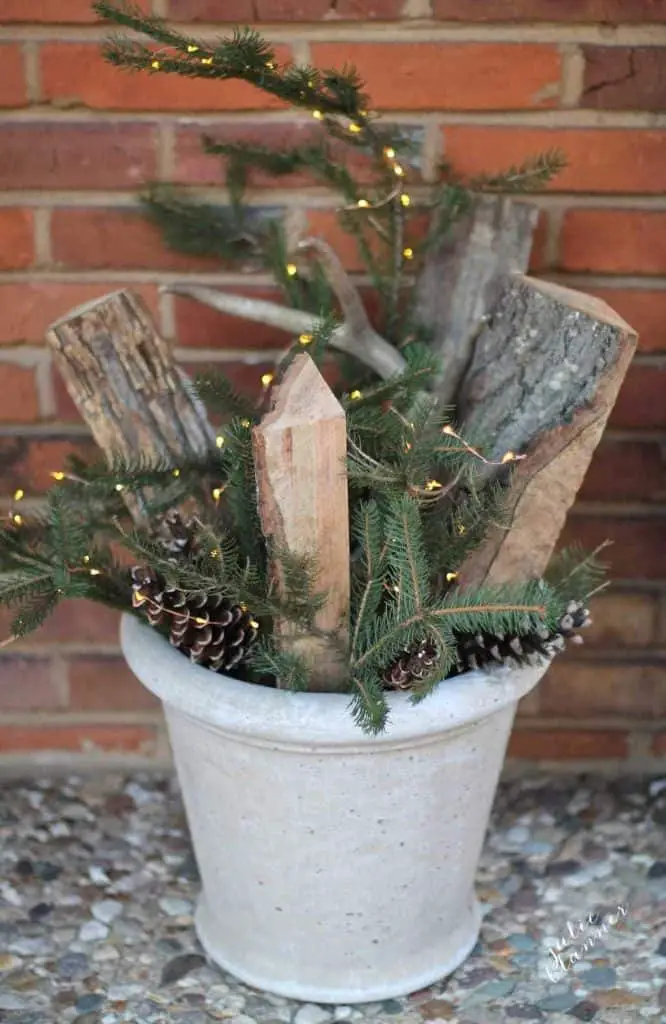 Image Courtesy of Julie Blanner
Some Christmas garden ideas require you to put in a lot of time and effort. But, this is one of the simplest on our list. If you have a few planters in your yard, then make sure to make the most out of them even during the winter. Fill the planters with paper bags (to add height if needed), logs or firewood, evergreen branches, and pinecones. Wrap twinkle lights around everything, and voila!
30. A Clean Landscape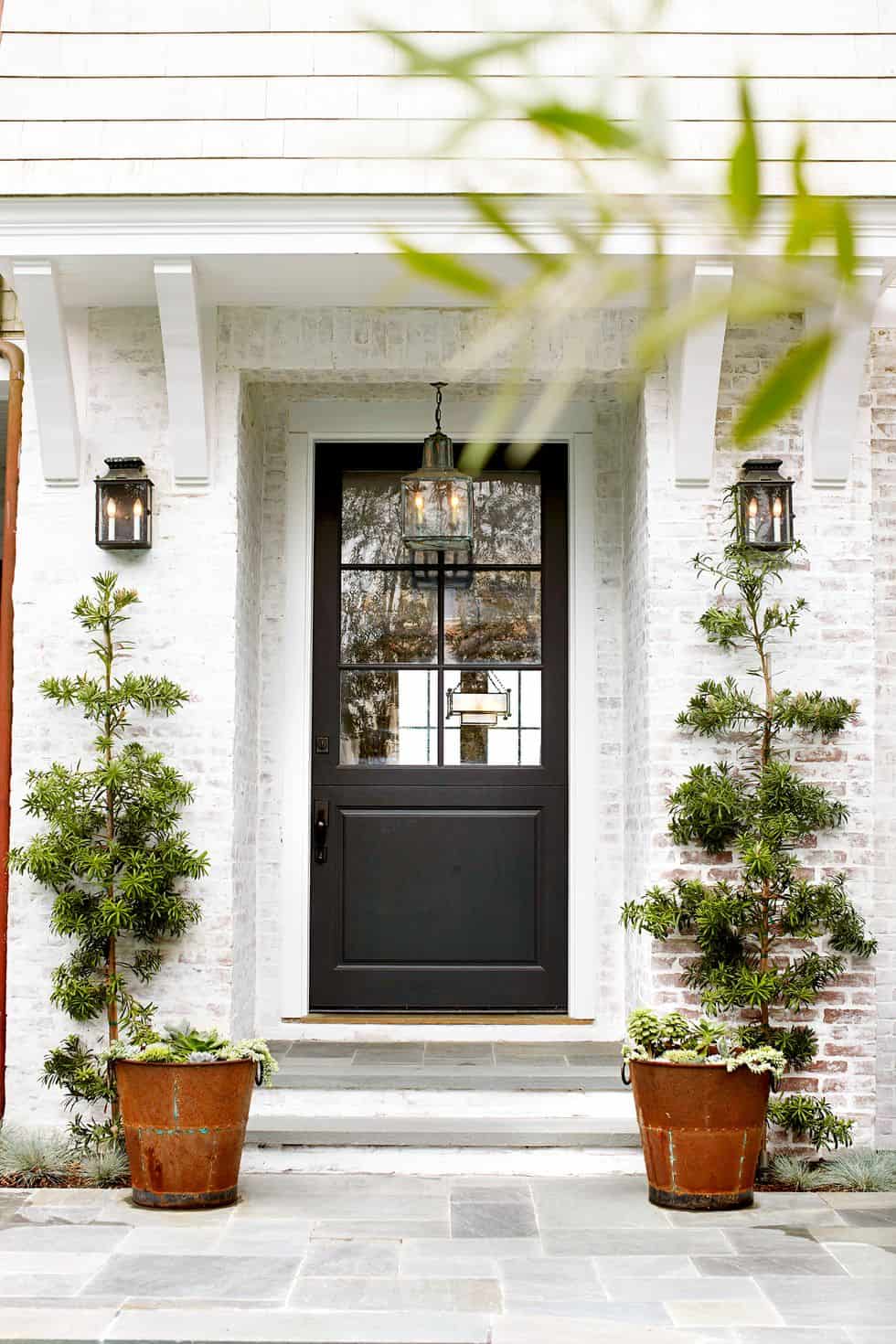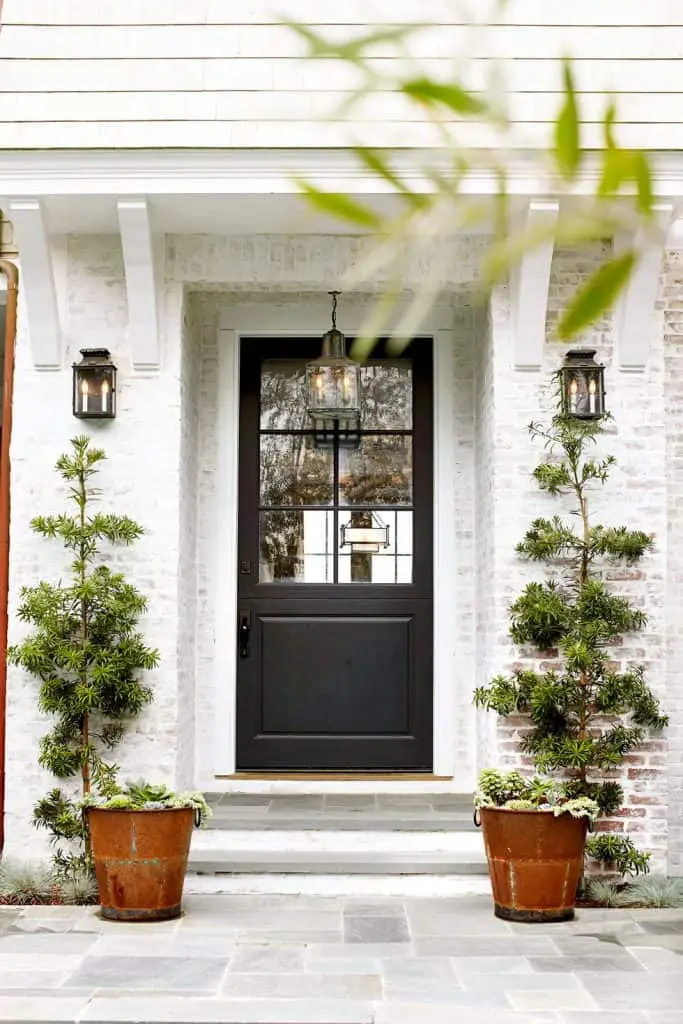 Image Courtesy of House Beautiful
Christmas decorations look lovely. But, you don't need to go all out to make your porch look festive and inviting. Just make sure that you clean everything up so that you have a neat landscaping. Then add some greenery and lantern scones, and your front porch will be dressed up. And, you won't have to dread the day when you have to clean up all the decorations.
Additional Christmas Garden Ideas for Your Porch & Lawn
Plant a huge Christmas tree. You probably decorated your living room with a decent-size tree. But, if you really want to add Christmas spirit to your garden, you can plant a huge Christmas tree in your backyard!
Add flowers. Who says you can't have flowers in winter? You can add wintery flowers to all your outdoor decorations. Poinsettias are always a great choice for adding a festive feeling to a garden.
Decorate window boxes. Do you tend to leave your window boxes empty? Decorating them is one of the easiest yet very effective Christmas garden ideas.
Use seasonal items. If you'd like to add a vintage feel to your garden, then we suggest displaying objects with winter flair such as planters filled with candy cane, faux snowballs, and, of course, Christmas lights.
Give planters a Christmas makeover. Out of all items in and around your home, you would probably never think of decorating planters. But, try using round ornaments, birch branches, and grapevine balls to add some flair to your planters. You can also add soft white lights or wire stars for a festive glow.
Decorate your lights. Do you have lanterns and outdoor lights? You can add fake snow, berries, or bows to decorate your lighting.
Recycle old items. Use your old skis, sleighs, or even jars for garden decorations. Keep reading for a few more ideas!
Recycling Old Items for Christmas Garden Decoration
Display old skis, sleighs, or skates and fill them with faux snowballs.
Use old rain boots filled with twigs, lights, or candy canes.
Fill old jars with Christmas lights and add berries, ribbons, or fake snow.
Make a wreath from old paperback pages shaped like ribbons or make ornaments and garlands from the junk mail you receive over the holidays.
Make outdoor stockings from old quilts and sweaters.
Use old pillows to make decorative ones that can be placed on your outdoor chairs and benches.
Don't throw old planters away! Add seasonal greenery or fill them with decorative candy canes, glass ball ornaments, fresh-cut boughs of cedar and pine.
---
Related Posts: