When it comes to choosing the best luxury sports watches (or even luxury watches) at large, the first thought on people's minds are the Rolexes and Audemars Piguet's. Unless you've got a fat wallet, getting some of these watches would most likely be your lifelong dream.
However, you want that sports chic look on your wrist, and you'll do anything to get it. Well, we're right here for you. We've assembled a buying guide of the best affordable luxury sports watches below. Our buying guide will walk you through the best luxury sports watch options that are just the right fit for your pocket.
Our Pick of Bestselling Luxury Sports Watches
1. Stuhrling Original Regatta 792 Automatic 42mm Diver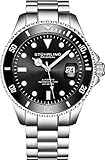 You might not know the Stuhrling Original brand, but they have been around for over two decades now. The company was founded by an American but uses the name of one of the Swiss watchmakers in the 1800s. These guys make very affordable timepieces. The Regatta 792 is just an example of that.
The design of this watch exudes exquisite finishing. With its black dial and stainless steel band, this watch is meant for anyone who wants to stand out.
It is an automatic watch that derives its energy from constant wearing and movement. However, if you don't wear it for a particular period, it still doesn't stop working courtesy of its 36-hour power reserve. If you love a watch face that is not too big, this one is perfect as its watch face is just 42mm in diameter.
Just like most diver watches, this has a water resistance of 200 meters. In combination with its screw-down crown, you can be assured this will survive water pressure at that depth.
As a diver, you'll want a watch that can time the period you've spent underwater, so you can deduce the amount of oxygen you have left. A feature that makes this watch suited for this is the ratcheted unidirectional bezel. With its unidirectional movement, you cannot accidentally move the bezel to show more time than you actually have. Instead, you'll even get less, which you'll agree is safer.
Apart from being suited for a diver, this watch will make the perfect everyday timepiece for a man who wants his wrist to speak class.
What we like
It is quite affordable.
The size of the case is just perfect.
Good array of features for divers.
What we don't like
Just like you might have noticed, it is a dub of the Rolex Submariner.
The automatic movement might require frequent settings if you don't wear the watch for a while.
---
2. TAG Heuer Men's Formula 1 Swiss Quartz Stainless Steel Watch
If you're a luxury sports watch collector, you'll definitely have one or two TAG Heuer timepieces in your collection. Heck, you might even have this one. If you don't, then you should totally get yourself one. It's really one of the best luxury sports watches on the market today. TAG Heuer is known for its expensive watches, but with this battery-powered quartz movement, they could cut down the cost and make it affordable for the average man.
This is another stainless steel watch with a black dial. Unlike the Regatta 792, it has a three-row double-toned band with a black row flanked by two silver rows. It has a screw-down case, which helps to keep the watch water-tight. The case is 43mm in diameter and not too big except you've got a slender wrist.
Using a sapphire dial cover, your watch is resistant to those little scratches, and those accidental jars against walls won't affect it in any way. Talking about impact damages, the quartz movement ensures your watch is impervious to shock damages due to the quartz battery's long-wearing nature.
Just in case you decide to take this timepiece swimming, there's no need to take it off and risk it getting stolen as it has a 200m water resistance feature. However, this watch is a little heavy, weighing 454 grams.
Ever wanted to look at your watch face in the dark, but you can't because it is not luminous? You'll agree with us that it can be so annoying at times. You do not have to worry about that with this watch's luminous hands and marks. They'll keep you well informed of the time irrespective of the time of the day it is (forgive our wordplay).
We almost forgot its bezel tachymetre markings. For those who don't know what that is, it can help measure time traveled at a constant speed. This wristwatch will do no harm to your timepiece collection.
Key features
Quartz movement.
Tachymetre readings.
Luminous hands and accents.
What we like
The double-toned band of the watch.
The luminous markings and hands.
The tachymetre markings.
What we don't like
---
3. Alpina Alpiner Automatic 4 REF AL-525B55AQ6B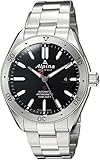 Even though you might have a little trouble differentiating those first two names, that doesn't take anything away from this watch's quality. However, the important difference you have to note is the 'B' at the end of the reference number. This type has a stainless steel band while the one without the 'B' has a leather band.
With a 44mm case diameter, this wristwatch is tending towards those with large wrists. This can only be used for light water activities as it has a water resistance of 100m. Its bi-directional bezel might be a little constraint if you want to dive with it. The goal of this watch is to achieve an all-encompassing watch for divers.
Well, they did that (except for that low water resistance and bi-directional bezel). The watch has a stainless steel band, water resistance, anti-magnetic, and anti-shock properties.
It uses a Swiss automatic movement, which means you might have to wear it or at least move it frequently. If you don't, you get a 38-hour power reserve if the watch is fully wound. The best dial cover is made of sapphire, which ensures your watch against scratches. The hands and time accents are also made of luminous materials.
This is one of the most affordable luxury sports watches on this list, and the best thing is it doesn't even look like it.
Key features
Automatic movement.
38-hour power reserve.
Antimagnetic, anti-shock, and anti-magnetic properties.
What we like:
It has the four total sports watch characteristics.
 The luminous and accents.
What we don't like:
The case diameter is a little too large for our taste.
The water resistance is not sufficient for diving.
---
4. TAG Heuer Formula 1 Montre Calibre 5 REF WAZ2113. BA0875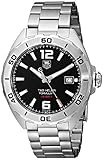 Yes, it's another TAG Heuer master timepiece. We can't just seem to get over their exquisite and affordable luxury watches. With its round analog display, the watch is a perfect companion for a gentleman's wrist. You do not have to worry about scratches due to its sapphire display.
If you love small watch faces, then the 41mm stainless steel case face of this watch is a perfect fit. The Swiss automatic movement makes it easy to use, and it only needs 8 hours of daily wearing time to keep it working regularly. The notched design of the case accentuates the minimalistic design of this watch.
The watch is suited for activities in water with its 200m water resistance feature. Even though the watch is built to be a marine watch, it cannot really survive extreme pressures like the 300m+ water-resistant marine watches built for marine men. The luminous accents and hands and the huge bezel make it easy to read the time at any level of surrounding light.
It has a double push fold-over safety clasp, making the watch snugly fit around your hand when worn. It is a little heavy, weighing 315 grams.
Key features
Automatic movement.
Water-resistant (200m).
Luminous hands and accents.
What we like:
The unidirectional bezel.
It has a 38-hour automatic watch reserve.
Affordable price.
What we don't like:
The watch has a substantial weight.
---
5. Tissot T-Race Automatic Chronograph
Tissot Sport Watch T1154273709100
Case size: 48.8mm, band width: 22mm, Case Thickness: 16.6mm
Swiss Tissot automatic chronograph Movement, 316L Stainless Steel case...
Rubber bracelet, Standard buckle
If you're a die-hard fan of motorbike racing, then the Tissot T-Race Automatic Chronograph might be your timepiece soulmate. You might not know the Tissot brand, but they have some very nice products. This timepiece has one of the largest case diameters of any luxury sports watch as it measures 48.8mm. The Swiss automatic display makes it one of the best choices you can ever go for.
It has one feature we've not seen in all the watches on this list, which is the stopwatch (or chronograph). The watch's straps are also made from rubber (another deviation from this list's status quo). The rubber is coated with khaki cow leather. There's also the luminous hands and accents, which has been ever-present on this list.
It is also suitable for light water activities as it has a water resistance of 100m. One thing we like about the automatic movement of this watch is the 45-hour energy reserve it has. It uses a standard buckle as opposed to the popular clasp most luxury sports watches use.
If you want a wristwatch that stands out from the status quo, this one will do just fine.
Key Features
Automatic movement.
45-hour power reserve.
Luminous hands and accents.
Water-resistant (200m).
What we like:
The chronograph feature of the watch.
45-hour energy reserve.
What we don't like:
Low water resistance for diving activities.
---
6. Tag Heuer Aquaracer Lady
We have a product here for our feminine shoppers too. The TAG Heuer Aquaracer Lady has its origins from the 1990s. It was the forefront of the watches symbolising women's emancipation.
Its main features include that beautiful blue dial which has luminous sapphire hands and accents adorning its face. The 35mm watch face is just perfect for the average feminine hand. It is powered by a quartz movement which makes it a pick-up-and-wear watch. You do not have to worry about the watch stopping at any time.
If you need that perfect watch that speaks feminine elegance or you need the perfect gift for your wife, the TAG Heuer Aquaracer Lady is the way to go.
Key Features
Quartz movement.
Water-resistant (300m).
Luminous hands and accents.
What we like:
Anti-scratch protection.
Sufficient water-resistance which works well for water sports.
What we don't like:
It has quite a bit of weight.
---
Related Posts:
---
What you should know when purchasing Luxury Watches
Many people are quite ignorant about the best choice when looking to buy their first luxury sports watch. In this section, we address frequently asked questions about luxury sports watches.
What is a Luxury Sports Watch?
A luxury sports watch has different definitions, but one thing that binds all of them is their various attributes. Examples of those attributes include:
First, the luxury attributes mean their designs are always exquisite. They consist of jewels, transparent case backs that show their intricate mechanisms, and so on.
Also, there are some features that you wouldn't find in other basic watches, such as the tachymeter, rotating bezels, chronograph, and some other complications such as perpetual calendars. Most people that buy these watches don't even use these features, but they tend to tickle their fancy.
Another important feature that these watches incorporate is their legibility. Most use luminous hands and large accents to make reading the watch very easy.
What are the Best Brands of Luxury Sports Watches?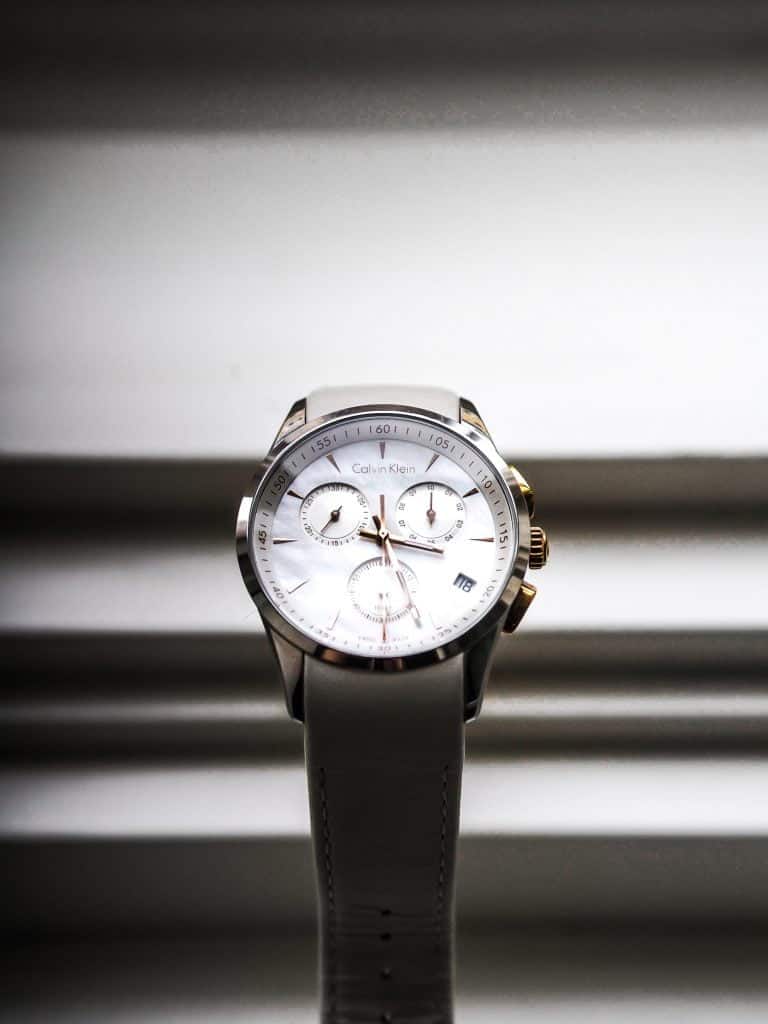 Image from Unsplash.
Well, if you love luxury wristwatches as we do, you'll definitely know the biggest watchmaking brands. However, we can bet our last two cents you do not know about their history. So, let's go through some of these brands.
Rolex: This is arguably the biggest brand in the luxury watchmaking business. The company started in 1905 when Hans Wilsdorf and Alfred Davis formed the corporation in Geneva, Switzerland. The company was initially known as Wilsdorf & Davis before they rebranded to Rolex in 1908.
Audemars Piguet: The luxury watchmaking company was established by Tules Louis Audemars and Edward Auguste Piguet in 1875. The original name was Audemars & Piguet Cie in 1881 before they rebranded in 1881. The company is currently based in Le Brassus, Switzerland.
TAG Heuer: Known for their legendary approach to watchmaking, TAG Heuer has some of the best luxury sports watches on the market. The company was established by Edouard Heuer, who named the company a Swiss name that roughly translates to Heuer Watchmaking Inc. (let's not bother about the actual name. We can't pronounce it anyway).  Business conglomerate LVMH now owns the company.
More FAQs
Q: Can I get a luxury sports watch for under $2000?
A: Definitely. All of the luxury sports watch in this list are all under $2000.
Q: What are examples of affordable luxury sports watches brands?
A: Many luxury sports watch brands are very pocket-friendly. Examples of such brands include Tissot, TAG Heuer, Salvatore Ferragamo, and many more.
Q: Where can I find good deals on the best luxury sports watches?
A: Here at Whichtobuy, we give you the best deals on luxury sports watches for both genders.
Luxury sports watches are abundant on the market with wide differences in the price range. But, if you need the best deals on these luxurious watches, you'll find them here.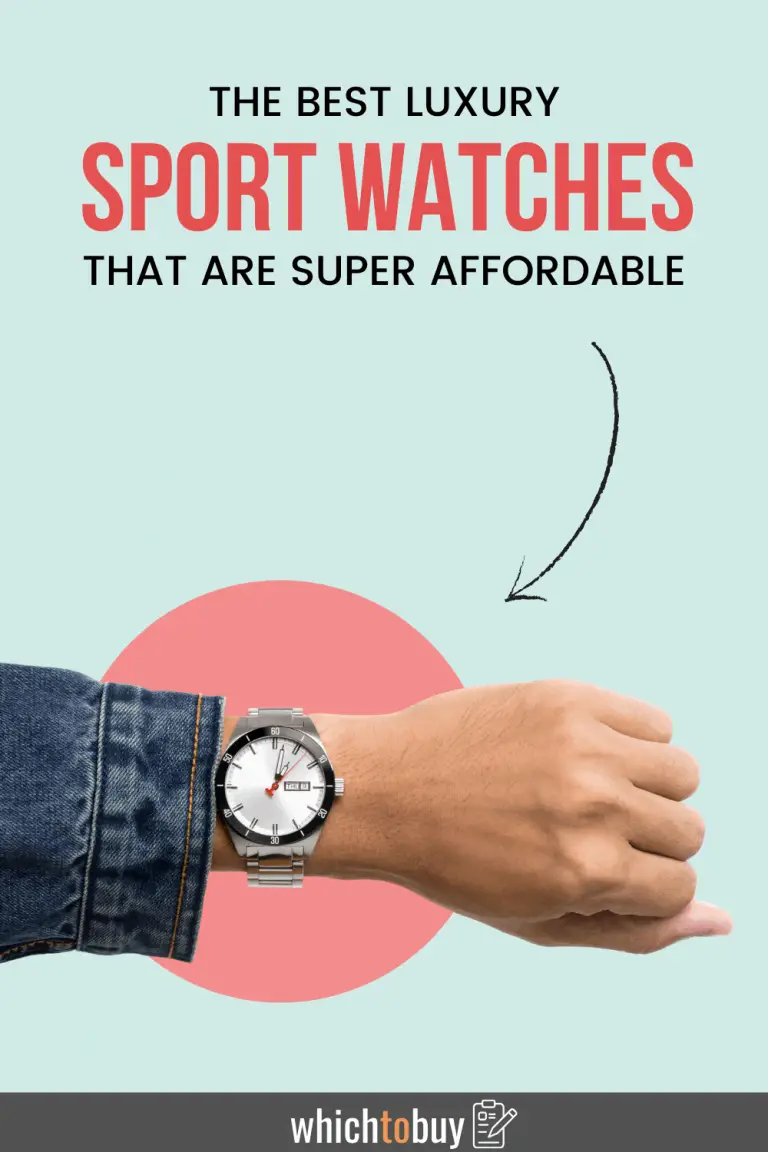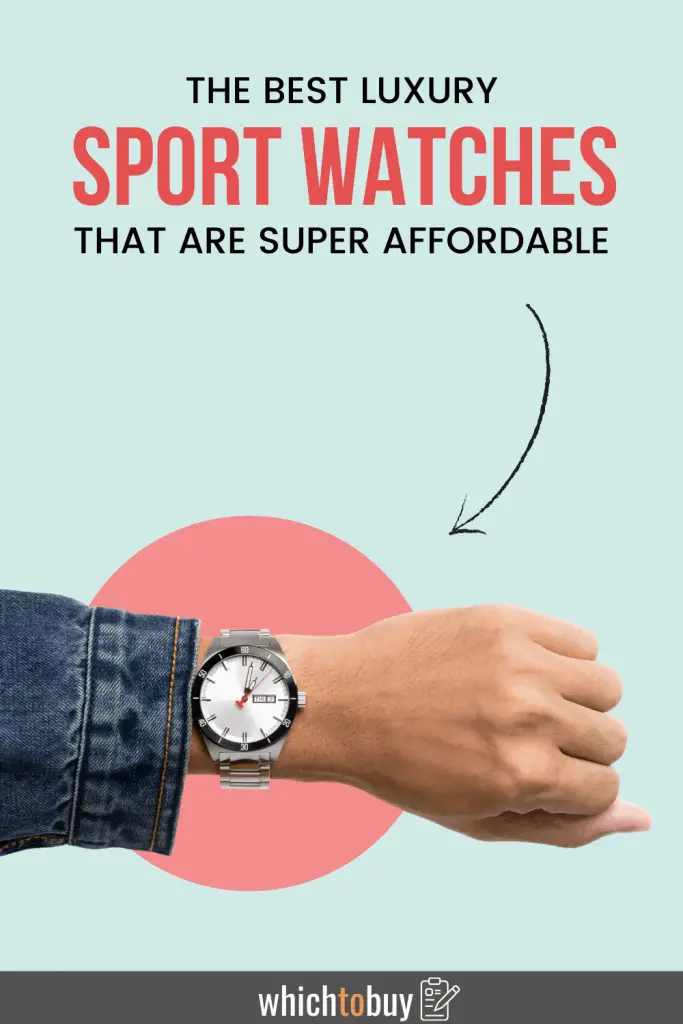 Amazon and the Amazon logo are trademarks of Amazon.com, Inc, or its affiliates.