Artificial grass has been gaining a lot of popularity in the last few years as a solution to having a neat looking lawn. The reason for that is the benefits of having an artificial grass lawn are clearly outweighing the initial cost, and it also relieves the constant attention a natural lawn requires.
Artificial grass is regarded as an eco-friendly product – it doesn't need watering, mowing, or fertilizing. Best of all, the newest generation of artificial grass is almost identical to real grass, and it is tough to see a difference from a first glance.
So, if you want to help to save the planet and reduce your water consumption, all while having a gorgeous lawn, artificial grass is a smart and suitable solution for you. Keep reading and find out all benefits of artificial grass that you can enjoy if you decide to use it.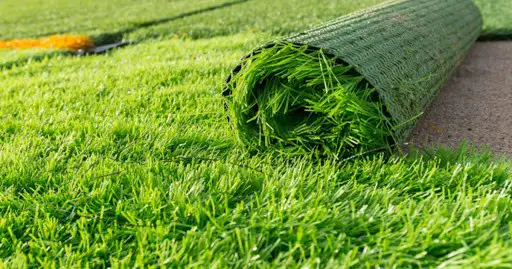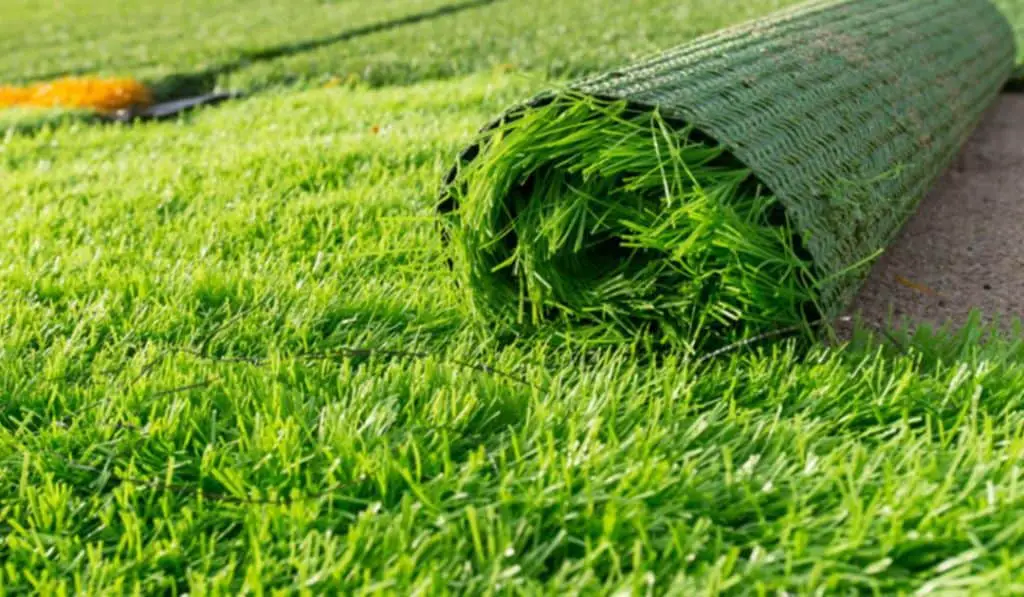 Image Courtesy of Artificial Plants
15 Benefits of Artificial Grass
1. It Will Always Look Great
Real lawns usually get destroyed in harsh weather conditions. They are left with patches of dead grass, which is often hard to nurture back to full health. One of the greatest benefits of artificial grass is that, no matter the conditions (sun, snow, rain; hot or cold), it always stays the same – green and great looking.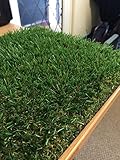 Last update on 2022-05-18 / Affiliate links / Images from Amazon Product Advertising API
2. A Perfectly Healthy Lawn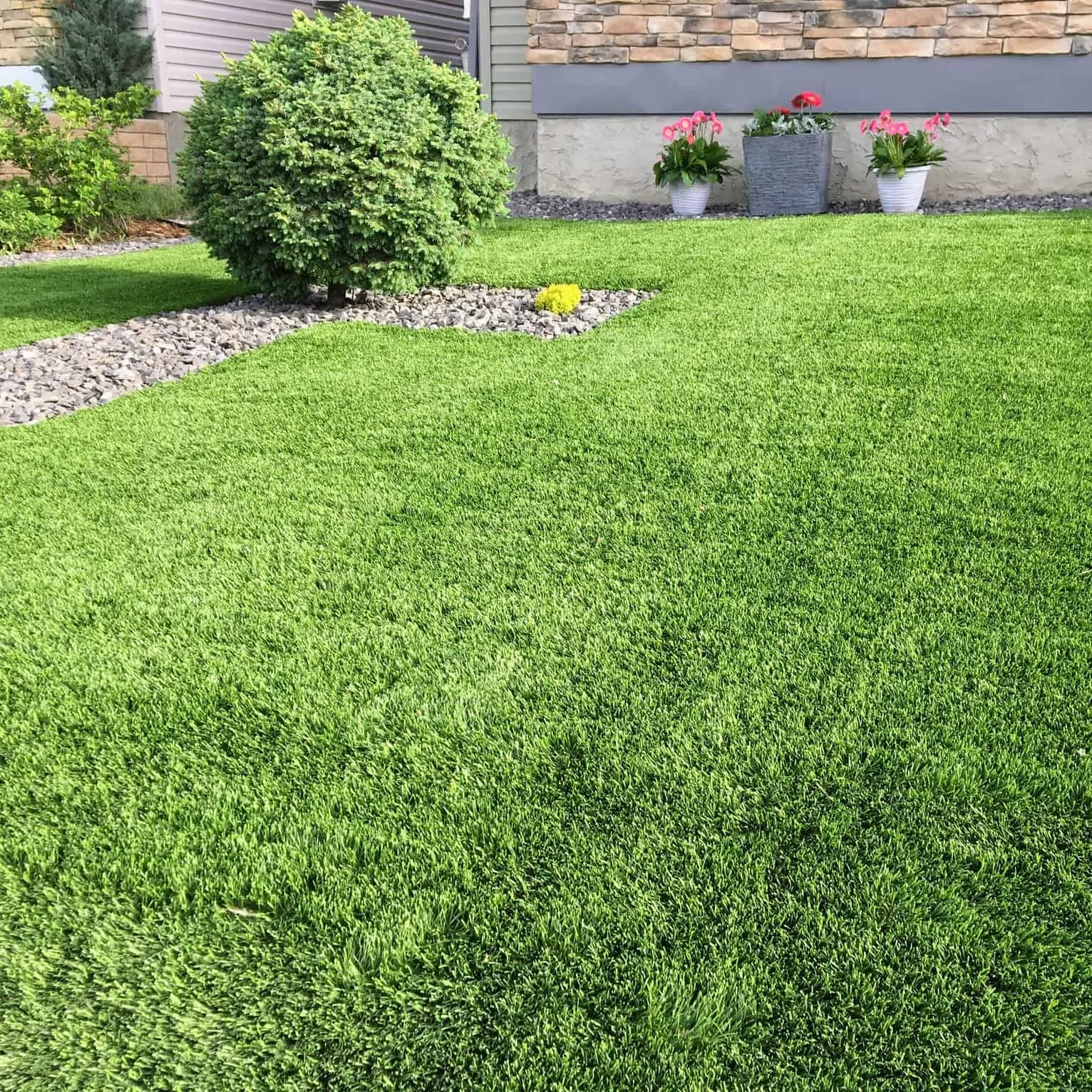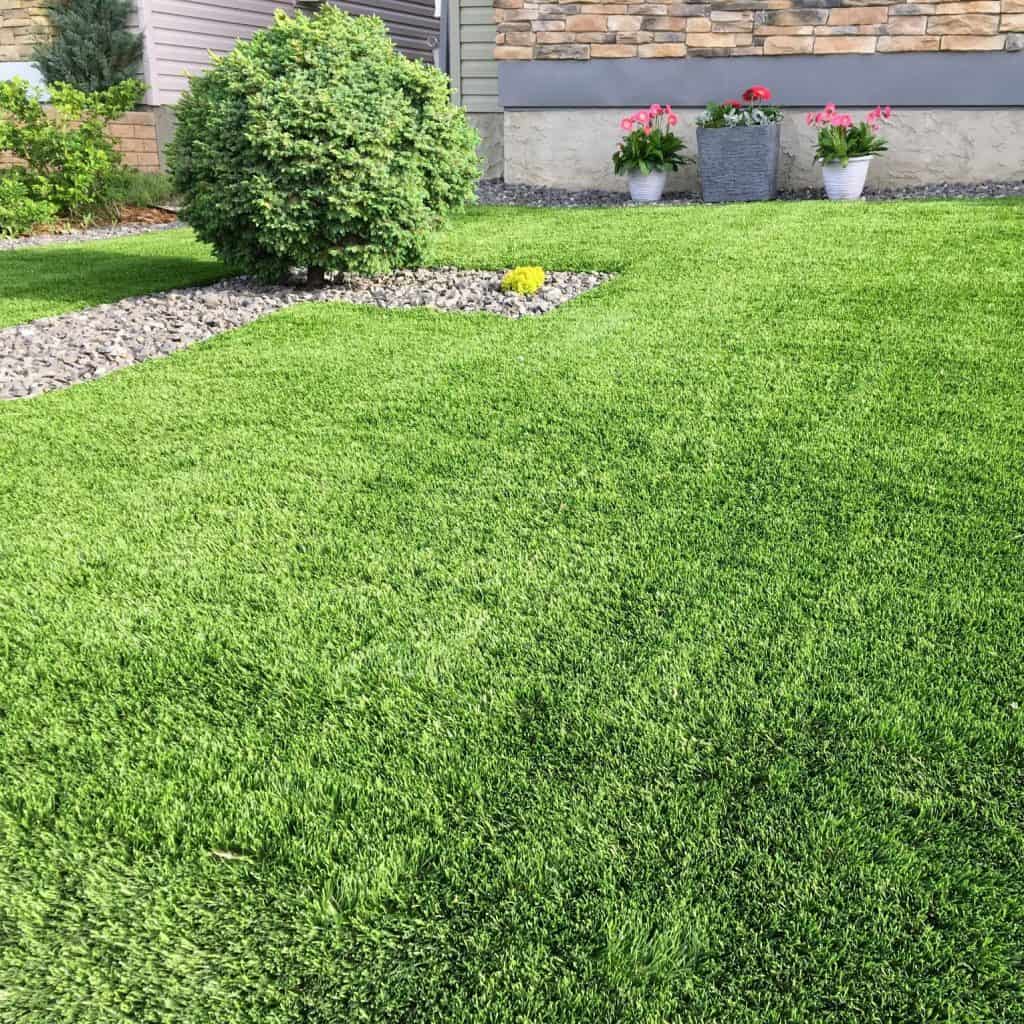 Image Courtesy of Fool
You can't have a good-looking lawn if it is not healthy. Natural lawn is susceptible to various diseases which require lots of time, money, and attention to fight off. Lawn maintenance isn't just about cutting grass. You need to adjust the mow height, watering, and fertilizing in order to keep your lawn healthy. Never having to worry about lawn diseases sounds much better, doesn't it? That's where artificial lawn comes in. One of the best benefits of artificial grass is that it will always be healthy and look good.
3. You Don't Have to Water Artificial Grass
If you decide to install the artificial grass, the first thing you'll notice will be a lower water bill. Regular lawns can become heavy on the upkeep because they require daily watering – once in the early morning and the second time in the late evening. Artificial grass doesn't need water to stay healthy and good looking. All it needs is an occasional quick rinse to get rid of dirt.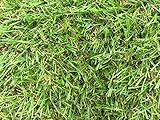 Last update on 2022-05-18 / Affiliate links / Images from Amazon Product Advertising API
4. You Don't Have to Waste Time on Mowing
Believe it or not, there are people in the world that actually like mowing their lawn. If you are not that person, then you'll be delighted that you don't have to spend your weekends mowing grass if you opt for an artificial one. Artificial grass doesn't grow, so instead of wasting your time on mowing, you can spend it with your friends, family, or on your hobbies.
5. Little to No Maintenance
Even if you get artificial grass, you will still need to maintain your lawn. But, this task will be a breeze. You can use a leaf blower to remove any organic materials. Also, a natural bristle broom can be used to remove dirt and debris but also to fluff certain areas. The only time that you'll need to water your artificial lawn is when you need to clean up some dirt. Last but not least, artificial lawn will always stay green without any chemical help.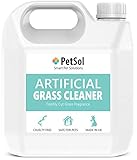 PetSol Artificial Grass Cleaner For Dogs & Pet Friendly 3 in 1...
MARKET LEADING FORMULA MAKES 3X MORE THAN OTHERS - most other artificial grass cleaners make just10 litres but PetSol is super concentrated so gives you a massive 30 Litres from just one bottle
100% EFFECTIVE AND QUICK RESULTS - simply pour onto the artificial grass using a watering can, work in with a brush then rinse with clean water to leave your artificial lawn clean, hygienic, disinfected, moss-free and smelling like freshly cut grass
KILLS & PREVENTS MOSS, SPORES, BACTERIA & ALGAE - when artificial grass is soiled by pets it can easily start to grow moss and algae, but the PetSol cleaner not only kills the microbes, it also leaves an invisible coating to inhibit future growth
SAFE FOR CHILDREN AND PETS - the pet-friendly formulation will not harm animals or kids and it can also be used as a general disinfectant for floors, bowls and more
Last update on 2022-05-18 / Affiliate links / Images from Amazon Product Advertising API
---
Related Posts:
---
6. No Need for Fertilizers or Chemicals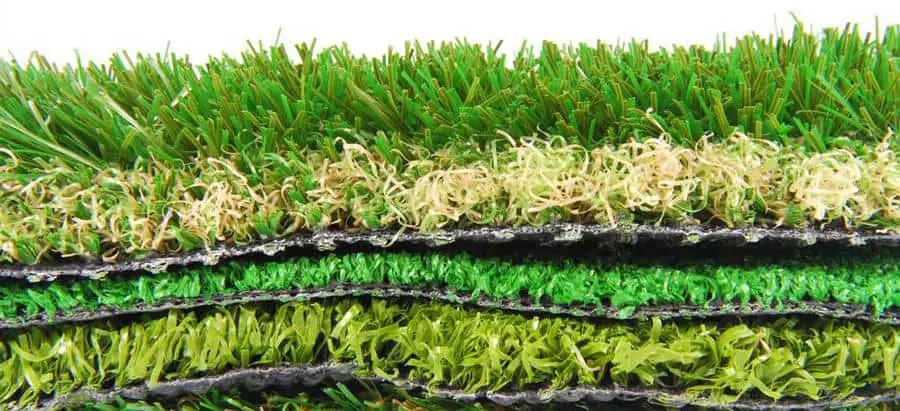 Image Courtesy of Real Turf
Unlike grass growing on real lawns, artificial grass doesn't need nutrients to grow because it doesn't grow at all. As a bonus, the material that the artificial grass is made from (polyethylene; polypropylene; nylon) is not suitable as a food or living quarters for bugs, so you don't have to poison yourself with pesticides.
7. Safe for Children
Artificial lawns don't need to be treated with anything. Since you won't be spraying any chemicals on your new lawn, it will be perfectly safe for your children to play on. And, they won't even notice the difference. Some cities are even using artificial lawns in public spaces for this same reason. For families with children, this is one of the most important benefits of artificial grass.
8. Perfect Choice for Families with Dogs
If you have a dog, then artificial grass will change your life. Dogs love playing outside on the lawn, but sometimes they get a bit overzealous and eat the grass. Also, it is not unusual to leave a mess behind. Once you get an artificial lawn, your dog won't be eating at and you can easily clean off anything with some water and mild detergent. Oh, and most importantly, your furry friend won't be able to dig holes anymore!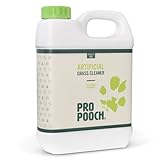 Pro Pooch Artificial Grass Cleaner - Dog Safe, Pet Disinfectant &...
INSTANT RESULTS!: Unlike bio enzyme formulas that take weeks to work & don't disinfect, our artificial grass cleaner for dogs works instantly, killing harmful bacteria & neutralising odour specific to dog faeces. This pet grass cleaner gets it done!
VALUE: Our 1L super concentrated bottle of astroturf cleaner makes a whopping 10L of solution. Just add water & you'll be equipped for any stinky surprises. So, there'll be no need to buy giant containers of pre-diluted product, just dilute & go!
SAFE & EFFECTIVE: If you have artificial grass for dogs & need an effective fake grass cleaner, you've hit the jackpot. Designed for dogs, it's easy to apply, neutralises odours & kills nasty viruses. Safe for exposure to pets & children, once dry.
CERTIFIED: Pro Pooch use BRC certified manufacturers. We are a trusted UK brand who invest in quality ingredients & the best manufacturing processes to produce products you can believe in. Rest assured, our artificial lawn cleaner is certified, safe.
Last update on 2022-05-18 / Affiliate links / Images from Amazon Product Advertising API
9. Never Deal with Weeds or Pests Again
Maintaining a lawn might not be a chore you hate. But, we're pretty sure that there isn't a greater annoyance than exterminating weeds and pests. If you get an artificial lawn, it won't have to deal with weeds ever again. If they find a way onto your property somehow, all you'll have to do is pull them. Also, the synthetic turf doesn't allow any pests to thrive.
10. Longevity & Durability
One of the greatest benefits of artificial grass is once you invest in it, you won't have to spend any more money. Artificial lawns are made to withstand wear and tear for quite a few years. The materials that are used in its manufacturing are made with withstand traffic, all kinds of climates, and weather changes. What's even better, your lawn won't even lose its color due to ultraviolet ray exposure since the fibers are made to withstand it.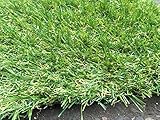 Last update on 2022-05-18 / Affiliate links / Images from Amazon Product Advertising API
11. Saving Money
In order to keep your lawn fresh and green, you constantly have to buy fertilizers and pesticides. When you replace your lawn with artificial grass, you will get an evergreen landscaping cover. You won't have to spend any more money (or time) on fertilizers and pesticides. At first, these savings may seem insignificant. But, they will undoubtedly add up once you don't have to spend any more money on lawn maintenance.
12. Better Life Expectancy
Even natural lawn has a life expectancy and needs to be replaced every few years or so. Artificial grass also has a limited lifetime, but it is much longer than that of the natural grass. Since artificial grass isn't a living landscaping solution, it will never die. High-quality artificial grass can last up to 15 years before needing a replacement.
13. No More Muds and Puddles
Even if you live in a relatively dry area, muds and puddles may appear on your lawn after turning your sprinklers on. Usually, this is not a problem. But, if you have pets or little children, then mud can easily be tracked inside your home. Puddles can also occur when you water your lawn too much. Once you get artificial grass, you will never have to worry about the generation of mud. And, since most artificial lawns have drainage built in, puddles won't be your concern anymore.
Sale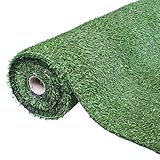 GardenKraft 26070 4m x 1m 15mm Pile High Artificial Grass / Light...
ARTIFICIAL GRASS – This light green artificial grass roll measures 4m x 1m with a 15mm pile height. It also comes complete with a heavy-duty stitching element for extra durability.
REALISTIC GRASS LOOK AND FEEL – This garden turf blends the perfect mix of Emerald Green, Lime Green and Bi-colour to create a rich, realistic, and homely grass colouring effect.
VERSATILE FAKE TURF – This high-density fake grass can be laid on soil, turf, concrete, tarmac and paving slabs. It performs great with sloped areas, and can even be laid on roof terraces, balconies or any other outdoor space you wish to transform.
MAXIMUM RATED UV DEFENCE – This artificial grass roll comes complete with the Maximum Rated UV Defence Protection, that ensures the prevention of the grass fading in strong sunlight.
Last update on 2022-05-18 / Affiliate links / Images from Amazon Product Advertising API
14. Better for the Environment
It might have never occurred to you before, but taking care of your lawn can actually be bad for the environment. Let's start with the equipment you use. Many people own gas-powered mowers, blowers, and edgers which produce a disturbing amount of pollution. Just an hour behind a lawn mower can produce the same amount of oily pollution as a 100-mile car trip. In addition to this, all the fertilizers and pesticides you use actually pollute the environment. And, to keep your garden fresh and green, you need to water it regularly. Artificial grass will eliminate the need to use any gas-powered equipment, pesticides, or even water.
15. Cost-Effective Solution
One of the greatest benefits of artificial grass is that it is cost effective. Truth be told, getting an artificial lawn might seem expensive at first. But, it is an investment that will pay itself of in the long run. An artificial lawn can last longer than a decade, so you won't have to worry about replacing it. Also, you won't have to spend any money on gardening equipment and you'll reduce your water bill as well. Even though these costs may seem insignificant to you, they add up over the years.
Common Drawbacks of Artificial Grass
Everything has some advantages and disadvantages, and so does the artificial grass. Here are some common drawbacks you may face if you choose to upgrade your lawn.
Production of artificial grass can be bad for the environment and cause pollution. However, this depends on the production methods a business uses.
Installing quality artificial grass might seem pricey at first because you need to hire a professional who will fit the lawn to the highest standards. However, the lawn will pay for itself over the years as all the costs of maintenance will be removed.
Are you friends with keen gardeners? Your artificial lawn might cause some sparks as they may consider it as cheating.
It takes longer to install artificial grass compared to natural grass due to the process of fitting it.
Do you like the smell of fresh-cut grass? Did you find mowing the lawn relaxing from time to time? Once you install artificial lawn, you won't be able to enjoy mowing or the fresh-cut grass smell.
Artificial grass has a limited lifespan of about 15 years. Natural grass, if maintained regularly and properly, can last longer.
Artificial grass can get hot in extreme heat; however it should not cause any burns. Applying sand infill will help keep the turf cool and so will spraying the grass with water. If you plan to walk or sit on your lawn when it is very hot, you will need to wear appropriate footwear and use a blanket.
Artificial lawn is made of plastic, which is not a natural material in which wildlife can live in. This may reduce the biodiversity of your garden. However, by planting flowers, shrubs, and plants around your lawn and in other areas of your garden, you can combat the lack of biodiversity, encourage wildlife, and make your garden a habitat for many different species.