Going to the gym is no longer just a simple trip. You can't show up with only your wallet and keys! You'll need the right clothing, headphones, sweat towel, water bottle, and more! The best mens gym bags have been uniquely designed to carry all of that for you, and do it in style and with convenience.
We have put together a complete guide of our favourite picks for the best mens gym bags. Stop worrying about where you'll store your valuables and start spending more time actually hitting the gym!
The Best Mens Gym Bags Guide 2021
Ready to grab a bag and get going? Take a look at the current best sellers for some fast ideas. Or you can keep reading for our complete guide!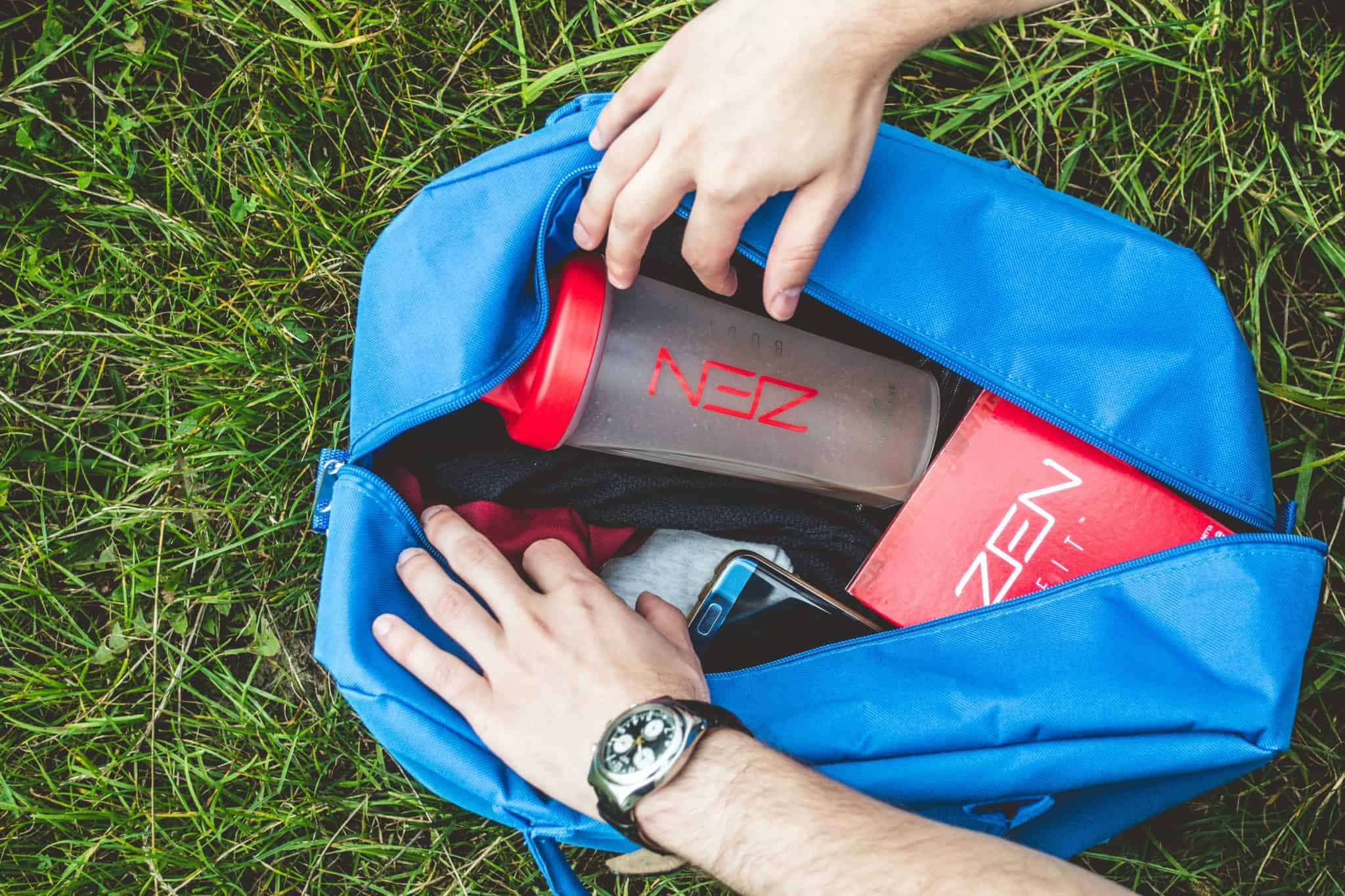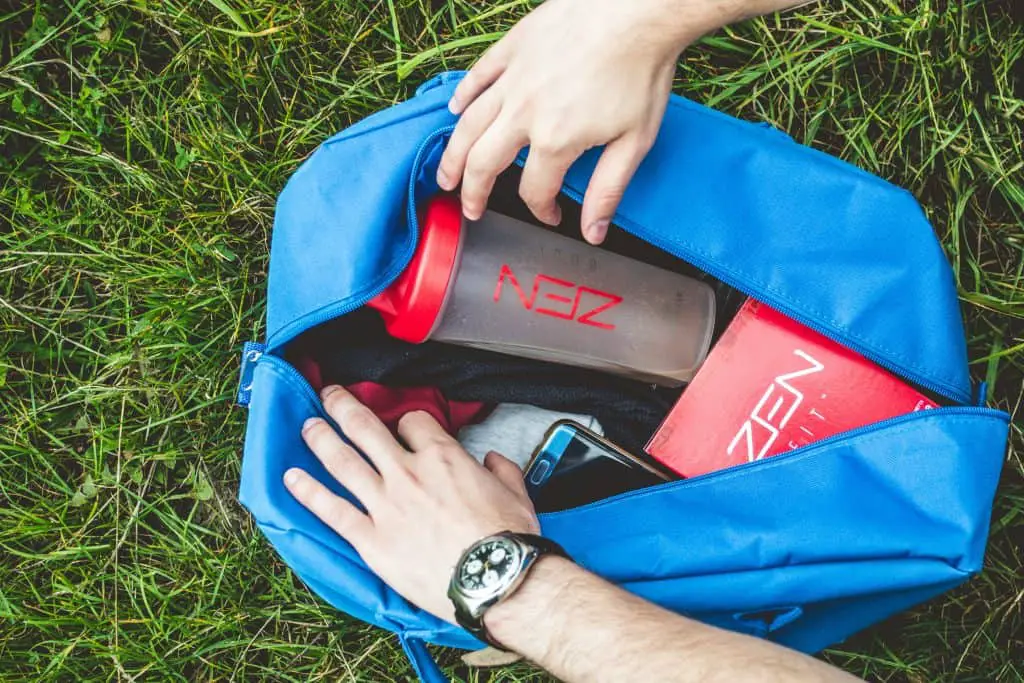 1. Zavalti Very Strong Premium Quality Drawstring Backpack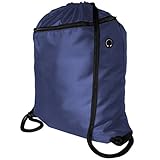 We're starting our list of the best mens gym bags off with something strong but simple: the reliable drawstring bag.
Key Features
It is available in navy blue, cobalt, and black.
The company uses ethical sourcing.
It has a headphone slot.
It's easy to find a drawstring bag to carry your things. They're available at almost all budget stores, but they're typically made with flimsy materials or will rip apart after only a few weeks. Not this product! This one is designed with a sturdy and long-lasting build and has been specifically designed to be thicker than competitors.
This product is for the gym-goer who doesn't need a lot. You can easily carry your headphones, wallet, keys, an extra pair of socks, and a few additional toiletries in this bag. And if it doesn't work for you, the company offers a full 12-month guarantee.
What We Love:
It's budget-friendly.
The materials are thick and reinforced for optimal longevity.
What We Don't Love:
The length of the drawstring is a bit too long.
---
2. FitBeast Sports Gym Bag
Sale
We decided to take it up a notch with this next pick on our best mens gym bags selection. You'll feel so well-equipped that you'll forget you're only going to the gym!
Key Features
It is available in both black and grey.
It has a separate shoe compartment.
This bag was designed with storage in mind. There are nine different compartments with these best mens gym bags! Four of these are internal and five are external. You'll never run out of places to keep things!
Let's face it. Sometimes we sweat (a lot) when we go to the gym. You'll need a place to put that soaking pair of socks and sweaty rag that you used as a sweat towel. Fortunately, this bag has both wet and dry pockets. So, you can safely store anything and avoid it from impacting your other clothes.
The FitBeast bag has a comfortable handle and an adjustable shoulder strap to make carrying it around as easy as it deserves to be.
What We Love:
It has enough pockets for everything you'll ever need for the gym.
It can carry a lot of weight inside.
What We Don't Love:
It looks more like luggage than a gym bag.
---
3. NUBILY Gym Sport Bags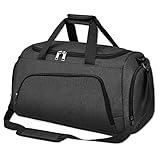 If you want something that works as a gym bag or a carry-on at the airport, this versatile product is for you!
Key Features
It is waterproof.
It comes in both black and a grey blue.
The company offers a lifetime warranty.
We loved our last pick on the list of the best mens gym bags for having separate wet and dry storage space, but this product takes it to another level. The whole thing is waterproof! This makes it an excellent product for those who go to a dual gym with a swimming pool, as you can store your swim trucks with ease.
There are eleven pockets that come in this 40L gym bag. Two of these are separate shoe compartments that have air holes to help keep your things smelling fresh, even if your shoes don't.
What We Love:
It stays smelling fresh for a long time so you don't have to worry about that icky gym smell.
What We Don't Love:
The straps aren't very long.
---
4. NUBILY Gym Bag for Men and Women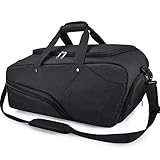 If you're a fan of the Nubily brand but didn't love our last pick, this one might be for you!
Key Features
It comes in black and grey.
It is unisex.
The company offers a six-month warranty.
There are eleven pockets featured throughout this bag. That includes two side pockets, two zippered pockets on the front and back, and six internal pockets. Other features include a comfortable carrying handle, sturdy hook accessories, and a padded shoulder strap.
This bag is both water-resistant and features venting holes. Thanks to these features, the bag is odour-proof! You won't have to worry about washing this product on a regular basis. Throw in a few scent pods and you'll be good to go!
What We Love:
It's stylish for both men and women.
It is very sturdy.
What We Don't Love:
It is too large to fit in some gym lockers.
---
5. Lonsdale Barrel Bag Gym Fitness Holdall
Sale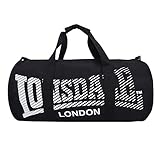 These best mens gym bags are incredibly budget-friendly and available in a wide array of colours, making it a great option for almost anybody.
Key Features
It is available in seven different colours.
This canvas gym bag is designed in a barrel bag shape. It has a main zipper section, making it very easy to access your things. Though it may not have as many pockets as some of the other options, it does have side accessory pockets. This gives you just enough space for your valuable items!
All of our other picks on this list have been designed in a simple, one-colour design. While this is great for various gym-goers, sometimes it's stylish to have a branded bag! This one shares the Lonsdale branding loud and clear.
The final key detail of this selection is that the shoulder straps are adjustable and removable.
What We Love:
It's available in a lot of colours.
It's very budget-friendly.
What We Don't Love:
There are not a lot of pockets.
---
6. BonClare Gym Bag with Shoes Compartment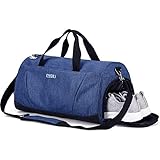 We use our gym bags for a lot of things, and going to the gym is only one of them. This BonClare option works for luggage, swimming supplies, and the gym!
Key Features
It comes in five colours.
It has specialised wet pockets.
This duffel gym bag is designed in an oxford fabric that is breathable and sturdy. There are also plenty of functional pockets to ensure that your things are kept safe and organized, even if you don't have the time to sport them properly.
You'll have an easy time keeping this bag clean. Though, when it does come time to wash it, the bag can be hand washed and air dried for cleanliness and convenience.
What We Love:
What We Don't Love:
It cannot hold too much weight and is best suited for lighter gear.
---
Similar Posts:
---

Image courtesy of Pixabay.
Best Mens Gym Bags Questions and Answers
The best mens gym bags may seem like an easy piece of gear from a distance. Though, it's still important to understand why it matters! We have found some of your most common questions and answered them to help you feel better about your purchase.
What should you bring with you to the gym?
Some gym-goers make the mistake of thinking that all you need is running shoes and some deodorant. However, it's important to bring the right set of gear and tools to the gym with you!
When it comes to clothes, you'll want to keep a decent variety with you. To avoid having to do laundry every day, you may want to keep at least two or three pairs of shorts handy and swap them out each time you go to the gym.
Having the option between a flowy tank-top or a tight-fitting t-shirt will ensure that you can stay comfortable no matter what exercise you're doing.
Always keep an extra pair of socks in your gym bag. This will help save you a lot of sweat after a particularly heavy workout.
Headphones are the next essential item that you should keep in your gym bag. After all, there's nothing worse than getting to the gym and realising that you forgot your headphones, and will have to stay distracted by loud gym noises!
You'll also want to keep a reusable water bottle in your gym bag. This will keep you from making constant trips to the water fountain, while also ensuring that you stay hydrated.
A microfiber towel is also recommended. We all sweat, and some of us sweat more than others. This can be used during your workout, or before you change into your day clothes afterwards to help prevent them from getting gym sweat on them.
Some people like to shower at the gym. You may not have this concern if you go straight home and shower after your workout. Though, if you want to take advantage of the hot water or head straight to work after your time exercising, you'll need to bring some supplies.
The toiletries that you bring to the gym should include shampoo, conditioner and body wash.
Even those who don't shower at the gym will want to keep a few supplies handy. This includes the essential deodorant, dry shampoo, some cleansing wipes, and even some cologne for those just-in-case days.
Finally, you should always keep a snack in your gym bag. This should be something light and filled with protein, like a protein bar or some dried fruits and nuts.
What pockets are important in a gym bag?
The list above is quite a lot for one bag! You can't simply throw it all into one pocket. If you do, things will get messy, stinky, and lost.
One large compartment is handy for storing your dry and clean clothes. Having them in an easy-to-grab place will help you save time when changing before and after your workouts.
People who change at the gym will definitely need a bag with a separate shoe compartment. This will prevent your clothes and other accessories from getting smelly and damp.
Having a separate wet pocket is ideal for things like sweat towels, dirty socks, and anything else that gets damp throughout your workout.
A very small compartment for the essential items, like your wallet, keys, and any jewellery, is also important. This will help keep you from losing your valuables.
There are a few other important pockets, depending on what you bring to the gym. For example, those who swim while at the gym will need to ensure that they have a large enough wet pocket.
Will my gym bag fit inside of a locker?
Plenty of the bags on this list of the best mens gym bags seem to be pretty large. So, it's common to wonder if they will fit in a locker. While some gym-goers can leave their supplies in their car, only bringing inside the essentials, many have to wonder about where to store them.
Standard heights for lockers vary, with many being as tall as 183cm. The standard width of the typical gym locker is 30.5 to 38 cm wide, with depths of up to 38cm.
Fortunately, most of the best mens gym bags are not too hard with their construction. So, if you run into the concern of having too small of a locker, you can always take some things out of your bag and fold up the bag to better fit inside.
Can you store valuable items in a gym bag?
All gym bags have space for your valuable items. But does that mean that it's safe to keep them there?
We always recommend bringing your own lock to a gym, or ensuring that the gym-provided one is safe and secure. However, it is important to understand that many gyms have policies that say that you must remain responsible for anything you leave in a locker. That means that if someone breaks into your locker, the gym will not be held liable.
If there are things that are incredibly valuable to you, like a wedding ring, car keys, or a tablet, you can always keep it on your person while exercising. Many fitness machines even have separate holders for things like this!
Ready to start going to the gym with more confidence in your gear? Our list of the best mens gym bags was designed to find the perfect bag for everybody. If you're looking for simplicity, the Zavalti drawstring bag is your go-to. Though, the fitness enthusiast with more gear may want to go with the Nubily bag designs.