Several years ago, your first association when someone says the word 'projector' would be a bulky gadget with delicate bulbs, designed for business presentations and meetings. But, these devices have advanced so much that now they are becoming a common part of many households. Many models are equipped with quality LEDs and packed with lumens, so they can deliver a stunning image quality even if the room isn't dark. And, believe it or not, most of the newer projectors can be connected to a smartphone. But, before we tell you how to connect mini projector to phone, we're going to give you a bit more info on these cool devices!
Mini projectors are neat devices that allow you to share your smartphone screen with a larger audience or even give a presentation. If your work includes frequently visiting clients and colleagues and you need to give presentations, then a mini projector will make your life much easier. Not only can you connect it to your smartphone, but also a tablet, laptop, PC, or MacBook. Besides being sleek and compact, modern mini projectors are also very advanced and you won't have to carry an HDMI adapter with you. But, we'll get to that later!
Besides work and presentations, mini projectors are affordable enough that you can buy them for your entertainment. Just imagine projecting the large screen and watching movies or playing video games on it. Even though they are called 'mini projectors,' they still work like regular-sized ones and can be used to project large HD images.
Keep reading to find out how to choose a quality smartphone projector an how to connect it to your smartphone!

Last update on 2022-06-08 / Affiliate links / Images from Amazon Product Advertising API
Features of A Quality Mini Projector
There are many different mini projector models available on the market. Several features distinguish quality projectors from those that won't perform well. Keep reading to find out what are the features of a high-quality mini projector.
Image Quality
If you have a limited budget, then you may be tempted to go for a cheaper model that doesn't have a good picture quality. You should avoid these at all costs because they will take all the fun out. Instead, go for models that have an improved image quality even though they may cost a bit more.
What do we mean when we say 'good image quality'? Well, try to make sure that your mini projector has a high resolution, a large number of lumens (so that it can project quality image even when there is plenty of light), and a high contrast ratio.
Compatibility
Even though mini projectors are made to work with the majority of smartphones, you should make sure that it is compatible with yours. There would be nothing more frustrating than paying for a projector and realizing that it doesn't work with your phone when you've already paid for it.
There are many models that are universally compatible with all devices. This means that such a projector will not work just with your smartphone, but also your laptop, tablet, MacBook, and so on.
Warranty and Technical Support
Just like with every device, you should check that your mini projector has a decent warranty and technical support. These devices have some delicate features and it's not uncommon for them to get damaged. But, if your projector comes with a warranty, then there's nothing to worry about.
Even though we're going to give you a detailed explanation of how to connect mini projector to phone, good tech support can be also useful. If something comes up and you are not able to make the projector work, tech support will be able to solve your problem.
If you're looking to buy a quality mini projector at an affordable price, we got you covered! Check out these popular mini projectors under £200!
How to Connect Mini Projector to Phone
There are many different ways to connect a projector to your smartphone. You can use Chromecast, wired connections, or wireless ones. Also, the process might be slightly different for Android and iPhone devices. But, we've covered every possible option!
Keep reading to find out how to connect mini projector to phone.
1.     Connect Wirelessly Using Chromecast
The easiest way to connect an Android device to a projector is by using Google Chromecast. But, to be able to use this option, your projector must support HDMI connections.
When you plug Chromecast into the HDMI port, then you'll be able to automatically stream the screen of your Android smartphone to it. The Chromecast will display your phone's screen, no matter which application or document you open.
To ensure that the quality of the stream remains unaffected, make sure to disable the power-saving mode on your phone.
Now, here is a step by step guide on how to do this.
If you don't already have the Google Home app, get it from the Google Play Store. Then, open the app and look for the Accounts tab which is located in the bottom-right corner.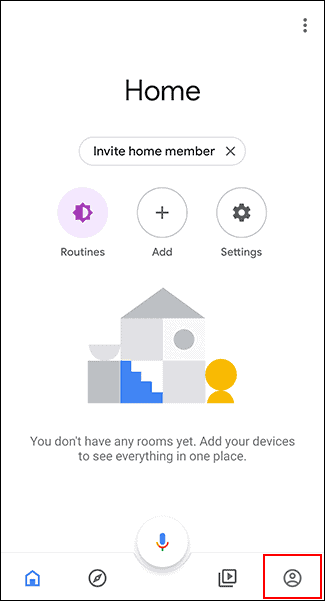 Image Courtesy of How to Geek
Once you do that, you will notice the 'Mirror Device' option. Tap it!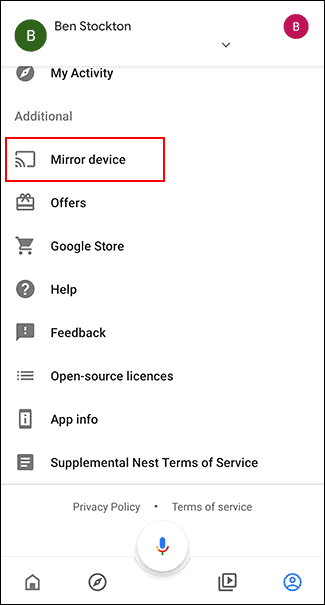 Image Courtesy of How to Geek
You may get a warning that your device isn't optimized for casting. This is nothing to worry about. Just tap 'OK' and your device will be able to cast the screen to a Chromecast.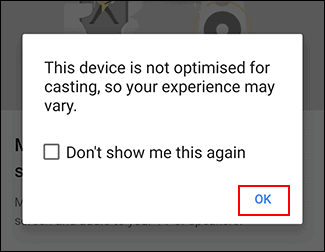 Image Courtesy of How to Geek
Then, click on the "Cast Screen/Audio" option and choose your Chromecast to connect to it.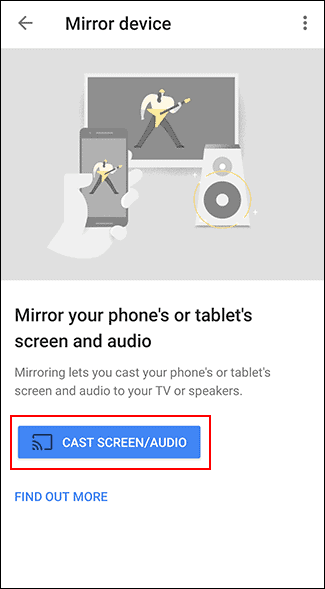 Image Courtesy of How to Geek
And, that's it! Once you connect, your screen should immediately start streaming to your projector.
2.     Wireless Connections
Miracast and Wi-Fi Direct are wireless standards that connect smartphones and similar devices to projectors and displays. Android used to support Miracast officially but dropped it when Android 6 Marshmallow came out. However, Miracast still works with some Android devices because it's based on Wi-Fi Direct which is supported by Android.
It doesn't matter whether both your phone and projector state that they support Miracast or Wi-Fi, you can still test to connection by trying one of these following tips.
Start by turning your projector on and looking for an option named "Screen Mirroring," "Device Mirroring," or anything similar to that. Then, switch to that mode.
The best way to connect using Miracast is by using a third-party app, such as Castto. As it's no longer officially supported, using Miracast with modern Android devices is not guaranteed to work.
If Miracast doesn't work, you can use the previous option (Chromecast), or some of the other options we're about to discuss.
3.     Wi-Fi Direct
You can use Wi-Fi Direct within your Android smartphone directly. We're going to give you general directions on how to connect mini projector to phone with Wi-Fi Direct, but, keep in mind that the steps might slightly vary due to the Android version installed on your phone. Also, your projector needs to support Wi-Fi Direct to be able to stream your screen using this method.
The first thing you need to do is swipe down on your display so you could access your notifications. Tap the gear icon so you would access your Android "Settings" menu. You can also access the "Settings" menu from the apps drawer.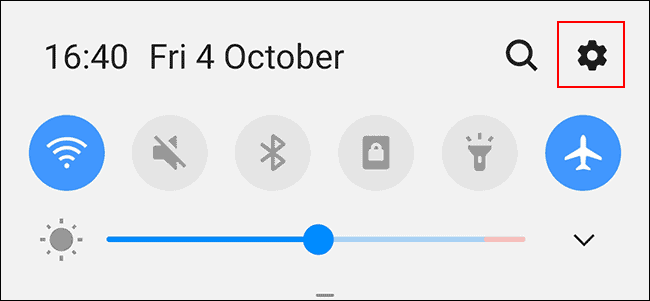 Image Courtesy of How to Geek
If you're using a Samsung device, tap "Connections." On other Android devices, this option might be called "Network & Internet" instead.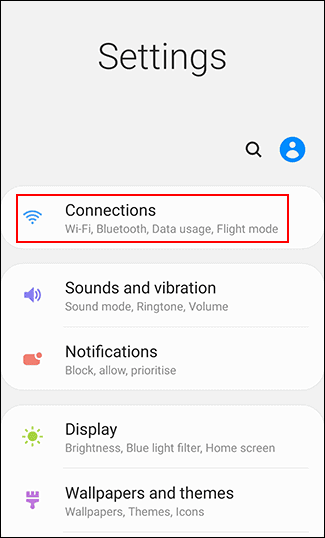 Image Courtesy of How to Geek
Then, tap "Wi-Fi" to access the Wi-Fi menu.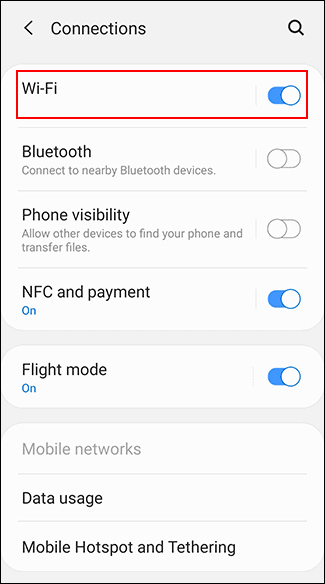 Image Courtesy of How to Geek
Once you enter the Wi-Fi menu, make sure that the setting is turned on and then tap "Wi-Fi Direct." If you don't see this option, you might have to tap "Advanced" or "Wi-Fi Preferences" in this menu first, and then tap "Wi-Fi Direct."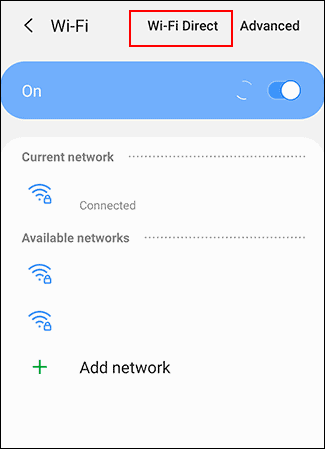 Image Courtesy of How to Geek
Once you do this, your device will automatically start scanning for any available Wi-Fi Direct devices. If your smartphone locates your projector, tap the option to connect, and then follow the instructions.
Smart View on Samsung Devices
Owners of Samsung devices have an option called "Smart View" which can be used to connect your phone to other devices wirelessly. Open your notifications tab and tap "Smart View" in your quick actions list.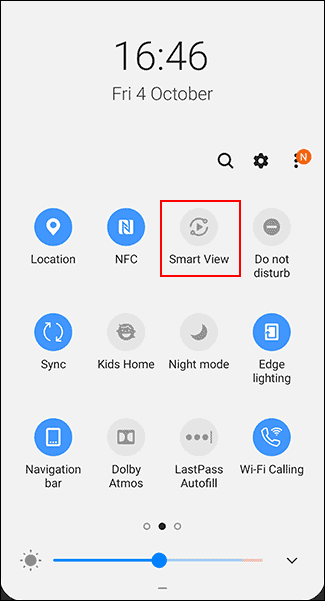 Image Courtesy of How to Geek
Once you tap the option, your device will automatically scan for nearby Chromecast or Miracast devices. Locate your projector, and then tap it to connect. Your Samsung smartphone should connect to your projector and start streaming to it.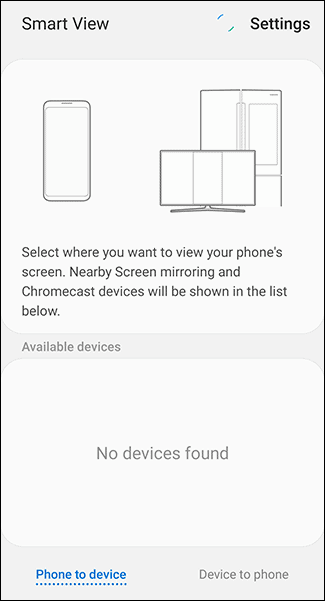 Image Courtesy of How to Geek
4.     Apps
Several apps can help you easily connect a mini projector to your phone. For example, AllCast is an app for Android smartphones that allows you to wirelessly stream content from your phone to an external monitor or television.
However, to be able to use AllCast, you will need a compatible set-top box such as Apple TV, Roku, Xbox One, Xbox 360, Chromecast, and any Smart TV from Panasonic, Sony, and Samsung. Also, you'll need to install the app both on the phone and secondary device to be able to stream the content from your phone to a projector using a Wi-Fi connection.
Besides AllCast, some mini projector manufacturers offer their own Android apps that allow you to connect your smartphone to the projector via Wi-Fi.
For example, apps such as Projector Quick Connection, Epson iProjection, and Panasonic Wireless Projector might be compatible with your projector, but it all depends on the manufacturer.
However, there is one catch when it comes to these apps. They may not allow you to project your entire screen, but you will be able to project static images or documents. Even though this isn't ideal, it can come in handy if everything else fails.
5.     Wired Connection
If none of these previous options work, you can always try the old-school wired connection. Every Android device has either a micro-USB or USB-C option. There are cables that can be used to connect an Android smartphone to a projector that uses an HDMI cable. Another option would be using MHL, which also connects via HDMI ports.
The latest Android devices use USB-C to charge. If you have a USB-C device, you can use a USB-C to HDMI cable to connect your device directly to an HDMI-capable projector.
Image Courtesy of How to Geek
This is a fairly simple process; all you have to do is connect your smartphone to the projector with the right cable. Don't forget to set the projector to the right HDMI input.
The only limitation of using USB-C to HDMI cable is that you can't charge your phone while using the cable. However, if you use MHL, you can still power your device.
MHL stands for Mobile High-Definition Link and it uses specially-designed HDMI cables. Unlike the newer USB-C method, MHL cables use micro-USB. As we mentioned above, MHL can also charge your device while providing digital video and audio.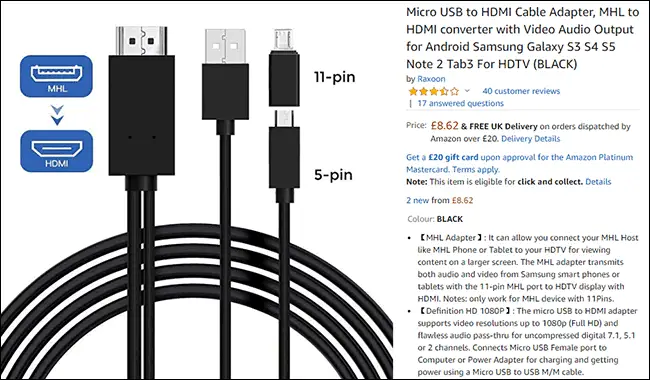 Image Courtesy of How to Geek
To use MHL, you will need to find a projector that supports HDMI and has an HDMI port an MHL label. If there isn't one, then it won't power your device. Also, your Android phone has to support MHL.
Similarly to HDMI, you don't have to do anything special. Just connect your Android device to the projector with the cable. Switch the input on your projector to the corresponding MHL HDMI port and you should be able to see your projected Android screen.
Hopefully, this lengthy section explained to you how to connect mini projector to phone. But, we talked about Android devices only. The process is almost the same with Apple devices, but we're about to cover that as well!
How To Connect Mini Projector to an Apple Device
Connecting an Apple device to a projector is the same as the Android device. However, as is the case with most things Apple, you will have to make sure that the projector brand supports wireless connection from iOS devices. If this is not available, then you will have to use one of the wired connection options.
The easiest way to connect your Apple device to a projector is by using the right adapter cable for the device. The majority of iOS devices do not come with a standard video port so Apple sells adapters that ensure easy connection.  There are two options available – Lightning to VGA Adapter and Lightning Digital AV Adapter. The former uses the Lightning port of the newer iOS devices and then connects it to a typical VGA video cable, while the latter allows you to connect the device to an HDMI cable.
If you already own a projector, then you know which type of cable it uses and this will help you decide on the type of apple adapters to buy. However, if you're planning to buy a projector as well, then make sure that its ports match the cable for your iOS device.
However, if you are a busy professional who holds presentations frequently at various locations and uses different models of projectors, then it is recommended to buy both adapters so you can use both VGA or HDMI cables.
Connecting a smartphone to a projector is a very simple and straightforward process. There are multiple options available, and, if everything fails, you can always rely on the good old wired option.
We hope that this article helped you learn how to connect mini projector to phone! From now on, sharing your smartphone's screen will be easier than ever and you'll get to enjoy a brand new way of watching movies, playing video games, or giving presentations.