If you're into gardening, then you must have asked yourself at one point or another, should you buy a garden shredder. It might seem like an unnecessary indulgence, but garden shredders can actually be quite useful and save you money in the long run. Also, they do a great job at reducing piles of everyday pruning into woodchips that can be used in the garden for mulching.
We have prepared a guide that will show you all the benefits of owning a garden shredder. And, if you realize that this machine is something you don't want to live out anymore, this article will teach you a thing or two about the types of garden shredders as well as the most important features.
Keep reading to find out why gardening shredders make a great investment!
3 Reasons Why Garden Shredders Are Worth Buying
There is no way to decide should you buy a garden shredder without being fully aware of its benefits. Here are the top three reasons why this machine is a must-have for all gardeners.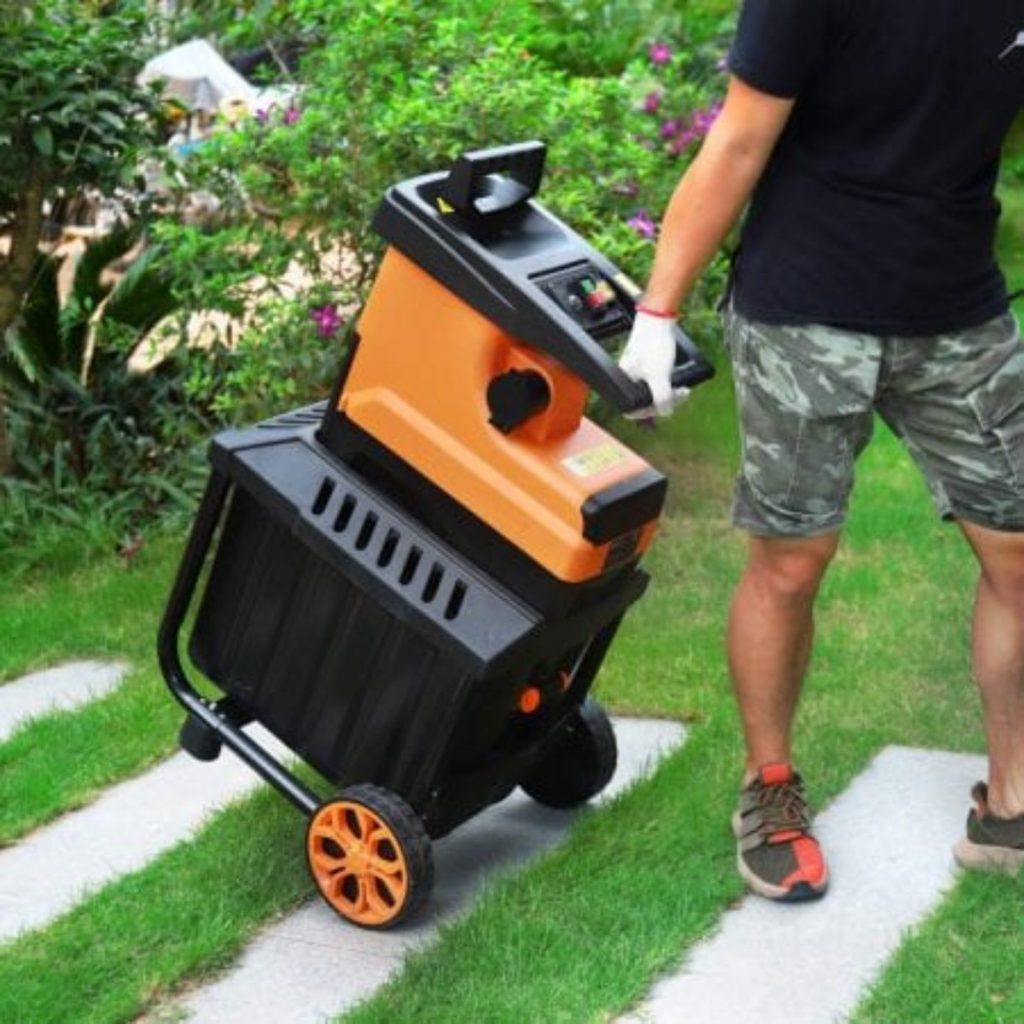 Image Courtesy of Inotapa
Tidiness
Everybody loves a tidy garden. But, to have such a garden, you need to put in a lot of time and effort into maintaining it, especially when it comes to overgrown hedges, trees, and shrubbery. They always need cutting back, and this results in an untidy clipping mountain that requires disposal. Let's not even mention how cutting the hedges can end up in manually cutting the pruning so it would fit into tiny bags.
But, this is all a part of your dark, pre-shedder past. Once you get this amazing tool, you'll be able to tidy up your garden in no time. A hard and time-consuming job can be done in no time with the help of a shredder.
And, what do you usually do with the prunings once you're done clipping them? You throw them away, right? Wrong! A garden shredder can help you turn all of that into mulch and compost that will do wonders for your garden.
Mulch and Compost
Have you heard of mulching? It's a lovely technique that can do wonders for your garden. Here are just a few benefits of mulching:
Suppresses weeds and prevents pests from appearing;
Keeps in moisture and reduces the amount of watering needed;
Prevents soil erosion and makes the soil healthier;
Protects the plants from too hot/too cold weather;
Makes the beds and paths look tidier.
But, to be able to do it you need mulch or compost, which you'll have to buy… only if you don't have a garden shredder.
Using a shredder will not only make your garden look tidier, but also healthier. You can use it to shred branches and leaves and make your own mulch. It always takes a compost heap lots of time to rot down, but with the shredder, this process will be much quicker and more effective.
Saving Money, Time, and Effort
It is quite clear how a garden shredder can help you save time and effort when it comes to cutting shrubs, hedges, and trees. But how can it help you save money?
First of all, you will never have to pay a gardener to cut the hedge and dispose of the clippings. Also, at one point or another, you need to fertilize your garden. A garden shredder can help you save money on mulches and compost, and keep your garden healthier for free.
Shredded bark can help you keep the compost heap regularly fed. And your plants and flowers will be nourished with free mulch.
Still wondering, should you buy a garden shredder? Well, if you have hedges, trees, and shrubs in your garden that require regular maintenance, then the answer is yes!
Keep reading to find out more about the different types of garden shredders and their main characteristics.
No products found.
---
Related:
---
Types of Garden Shredders
There are two different types of garden shredders – impact and roller.

Image Courtesy of DIY.com
Impact Garden Shredders
Impact shredders are also known as rapid shredders. They tend to be the most affordable option, but also the noisiest. These shredders have a blade mechanism that slices up garden material into very fine pieces and don't block as often. They are a perfect choice for those who need to chop up leaves and lighter garden foliage rather than big chunks of wood. Also, impact garden shredders are lighter than roller models.
If you decide to go for an impact shredder, make sure to get the model that has more than one blade, as they will get blunt less quickly. It would be best if you also chose a model with a regular-shaped hopper as it will help you feed material into the shredder more easily.
Roller Garden Shredders
Roller shredders use a ridged roller to crush and cut garden debris. These models tend to be quieter but also heavier. The roller action draws material through the machine, which makes it easy to shred lots of waste. Unfortunately, these shredders do tend to get blocked by greener, more fibrous material, and usually are more expensive.
Before buying a shredder, make sure to check out its weight. These machines can be quite weighty, and you need to make sure that you can move it around. You should also check that you can adjust the gap between the roller and the plate. Not being able to do so could result in ineffective shredding.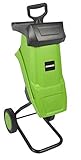 Tooltronix 2500W Electric Garden Shredder 50L Mulcher Waste...
The 2500W shredder comes with two sharp blades that feature a max cutting thickness of 40mm.
Feed cuttings into the shredder gradually and wait for it to emerge shredded underneath.
Motor power: 2500W - Blades x 2 - Wheels x 2 - Safety switch - Safety guard
Max cutting thickness: 40mm - Speed without load: 4500RPM - Capacity: 50L - Sound power LwA: 110
Last update on 2022-06-03 / Affiliate links / Images from Amazon Product Advertising API
How Much Do Garden Shredders Cost?
You can find quality garden shredders for about £100. But, if you're looking for a high-quality model with advanced features, then be prepared to pay about £400 or even more. Even though the starting price is around £100, we recommend spending around £200 to get a really good model.  Roller shredders cost from £150 up to £500.
Main Characteristics of a Garden Shredder
Fuel
The first thing you need to decide is whether you want a petrol or electric garden shredder. Most gardeners go for electric shredders since they don't require you to buy fuel. However, you should make sure that the length of the cable is sufficient for your garden. Some brands skimp on cable length so that you might need an outdoor extension cable.
If you don't have an outdoor power supply, then you should consider getting a petrol model. These garden shredders tend to be more powerful, but also more expensive. Also, they require regular servicing.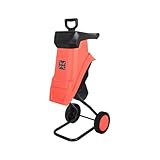 Last update on 2022-06-03 / Affiliate links / Images from Amazon Product Advertising API
Weight
Even relatively lightweight shredders can be tricky to move around since they weigh about 15 kg. The more powerful your shredder it is, the more it will weigh. That's why it is recommended to get a model equipped with wheels.
Hopper Feed
Hopper is located at the top of the shredder, and it is used to feed in branches or any other material. A shredder with a funnel-shaped chute will facilitate feeding and speed up chipping.
Collection Box
A lot of garden shredder models come with a built-in collection box. Blade disc shredders are often equipped with an ejector chute at the front.
Noise Level
Noise level is indicated in decibels (dB), and most garden shredders produce from 85 to 105dB. Electric models are less noisy, especially those equipped with a rotor system. These models tend to turn more slowly than others, so they have a maximum noise output of around 88 dB. It is recommended to wear hearing protection whenever you use a shredder.
Ease of Use
Electric shredders are the easiest to start up since they don't require any specific settings. When it comes to ease of use, blade disc and rotor systems will require the use of a push stick to feed the branches into the shredding system.
Ease of Storage
Garden shredders are tools that are used not so often, and storing them requires a fair amount of room. However, there are folding models available that make storing easier. You'll appreciate the extra space if your garden shed is already packed to the brim with appliances such as hedge trimmers and lawnmowers.
And that is it! We hope that this article has helped you decide should you buy a garden shredder. Surely, it is a useful tool that comes with many benefits. But, if you don't have to maintain hedges, shrubs, and trees frequently, then it maybe isn't the best choice for you. Share your final decision in the comments!