Are you trying to decide between running outside or using a cross trainer? Finding out what fitness routines or workouts work best for you may be a seemingly never-ending quest. Cardio activity is well-known for helping people burn calories, lose weight, and increase stamina.
However, cardio can mean a lot of things! The conversation of whether running outside or using a cross trainer is best for your body is a frequent one. So, we've decided to look at the facts and figure it out for you! Read our guide to find out whether you should be running outside or using a cross-trainer to meet your fitness goals.
Cross Trainer vs Running Outside
What are the differences between running outside or using a cross trainer?
Running outside is pretty self-explanatory. By throwing on your sneakers and going outdoors for a run, you're able to determine the pace, distance, and other variables yourself.
The biggest difference that you'll find when running outside is where you run. Some people prefer to run on tracks, around their neighborhood, or at a nearby park. Others enjoy running up or down hiking trails, or on paths designated specifically for running.
Cross trainers are cardio machines that pick the job for you. They are stationary bikes that mimic climbing, running, and walking movements. Some machines are movement-operated, meaning that the speed and incline will depend on your body movements. Other machines allow you to program in different modes so that you don't have to think about your progress.
What are the benefits to running outside?
Running outside is one of the cheapest and easiest ways to exercise. The only gear that you need to spend money on is a good pair of sneakers. This makes it one of, if not the most accessible sport in the world!
Going for your runs outside forces you to plan your own workout. This can be a struggle for those who lack motivation, but a fun experience for those who don't. When you run outside you get to design the path you take, the distance you run, and the speed that you run at. You can stop for walking breaks whenever you please, or stop altogether.
There are accessories that allow you to enhance your outside workouts, tracking your progress, speed, and other analytics for you. Some smartphones also allow you to use apps that will measure your distance and speed, providing you with updates mid-run.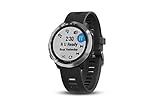 Garmin Forerunner 645 Music, GPS Running Watch With Pay...
Easily download up to 500 songs to your watch, and connect with Bluetooth headphones (sold separately) for phone free listening
Syncs music from select streaming services for offline listening (May require premium subscription with a third party music provider)
Garmin Pay contactless payment solution lets you make convenient payments with your watch (available for supported cards from participating banks), so you can leave your cash and cards at home
Provides advanced running dynamics (when used with Running Dynamics Pod or HRM Run or HRM Tri monitor, sold separately), including ground contact time balance, stride length, vertical ratio and more
Last update on 2022-06-02 / Affiliate links / Images from Amazon Product Advertising API
Some runners run outside because they are training for an event. If you're preparing for a marathon or any other competitive distance, there isn't much that's better than real, outdoor experience. It'll prepare you for the conditions that you'll face on your race and mimic the movements you'll be doing during it.
What are the cons to running outside?
Running outside isn't perfect. It's rarely recommended for people who experience joint, muscle, or bone problems. The ground that you run on can also be a risk to your body, and increase the chance of you getting hurt or experiencing an overuse injury. Concrete is one of the riskiest surfaces to run on, while asphalt, grass, and dirt tend to be more forgiving.
There are other risks to running outside. If you run during daylight hours, you'll increase your risk of sun damage. So, no matter how sunny it is, we always recommend you wear sunscreen and a comfortable hat.
Depending on where you run, you may also be at an increased risk. Running in secluded areas like the woods means that you could get lost. You may also struggle to find help if an injury were to happen. We recommend keeping a phone with you when you go on far-out runs, or tell someone where you will be running and when they should expect you to return.
What are the pros to cross trainers?
Cross trainers are very low-impact. This makes them a great choice for people who have any physical injuries or people who experience frequent joint pain. It can also help speed up recovery from injuries while providing minimal risk.
In addition to working out your legs, cross trainers often have elements that allow you to work out your upper body. Machines will frequently have additional handles that you can grip on to, letting you swing your arms in motion with your legs. This benefits your arms, back, and chest.
Cross trainers are also easier to use for longer periods of time. You may find yourself being able to run for only minutes at a time, which can make you feel unproductive. However, when using a cross trainer your rate of perceived exertion (RPE) is lower. This will allow you to work out for longer while also giving you a workout that's more intense than you think!
One of the greatest benefits of using a cross trainer is that you can use it in any weather. Outdoor runs can be prevented by heavy rain, snow, or other unfavorable conditions. A cross trainer can be used in any weather since you'll be working out from the safety of your own home!
What are the cons to cross trainers?
Cross trainers are an awesome way to get a solid workout from the comfort of your own home gym. However, they are laking in a few areas. One of the most noticeable cons is that using a cross trainer does not mimic natural movement. This can increase your risk for injuries, especially those that can hurt your hips or lower back, since many movements force you to twist.
Working out at an incline is also a factor that's missing from cross trainers. Running or walking at an incline can be a huge boost to your workouts. It can help burn more calories and targets other areas of your body such as your glutes. Because there is no incline on a cross trainer, you'll miss out on these benefits.
Most people who use a cross trainer rely on the machine's analytics to keep track of their workouts. This isn't the worst way of keeping track, but it's not always true. The readout on machines is not always accurate, and you may be burning less calories than you think.
Finally, creating goals can be harder when using a cross trainer. One of the best benefits of running is the ability to watch your progress grow. There are few things more satisfying than finally being able to hit a new distance, finishing a race, or running faster than ever before. Sure, there are ways to make goals on the cross trainer, like working out for a longer length of time. But the progress is harder to visualize. So, if you find motivation in goal setting, a cross trainer may not be the best option for you.
So, what is better? Running outside or using a cross trainer?
The decision to pick between running outside or using a cross trainer is a complicated one. The best option will depend on your goals, previous workout experience, and accessibility. Running outside is a great option for those who don't want to spend a lot of money on an indoor workout machine. It's also great for getting fresh air, getting to plan your own progress, and to train for a specific event.
Using a cross trainer is better for the fitness enthusiasts who have a higher risk of joint injury, who wants a lower impact, or who wants to stay inside. You can shop our favourite cross trainers here!
While it may seem like a scenario where you can only chose one option, you can also utilize both! Rotating between running outside and using a cross trainer will give you the best of both worlds, and give you the chance to experiment and see which option you prefer. And if you can't decide, there's no harm in sticking with both!