Cross trainers are one of the most popular stationary fitness machines around, and for good reason. They work out almost every part of your body, and they're great for people that are at all different levels of fitness. So, if you're ready to sweat, here are the best cross trainers you can buy.
In a hurry? Take a look at the best selling Cross Trainers in 2023!
Last update on 2023-11-21 / Affiliate links / Images from Amazon Product Advertising API
---
1. XS Sports Luna Pro 2-in-1 Elliptical Cross Trainer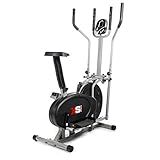 Pro XS Sports 2-in1 Elliptical Cross Trainer Exercise...
XS Sports Pro Fitness Elliptical Cross Trainer with Pulse Sensors - 2 in 1 - Can Be Used As A Cross Trainer or Exercise Bike
Front Mounted Flywheel for Added Stability - Adjustable Resistance for High & Low Intensity Workouts - Multi Function LCD Display: Pulse, Time, Speed, Distance, Calorie & Scan Mode
Can Be Used to Workout Legs, Hips, Buttocks, Arms & Shoulders - Simulates Natural Walking Movements - Dual Direction Forward & Backward Elliptical Workout - Front Mounted Flywheel for Added Stability
Steel Frame - Extra Wide Platform Pedals - Large Comfortable Seat - Front Wheels - Easy to Move Around the House - Max User Weight: 110kg - Max Foot Size: 12 (UK Size) - Size of Machine Foot Print Approx 91cm x 51cm - Some Assembly Required - Includes Full English Instruction Manual
Last update on 2023-11-24 / Affiliate links / Images from Amazon Product Advertising API
No matter what your fitness goals are, this 2-in-1 trainer is going to help get you there.
Key Features
It can be used as a cross trainer or exercise bike.
Features a front-mounted flywheel.
You're able to adjust the intensity on this cross trainer easily. This can be done through resistance levels or speed. The LCD display will also tell you everything about your workout, including your pulse, the time elapsed, what speed you're going, the distance you've gone, and the calories lost so far.
The design of this workout is meant to mimic natural walking movements. So, it's relatively easy on your joints, encouraging people from any point on their fitness journey. The machine is also made with extra-wide pedals and a large, comfortable seat for optimal comfort.
What We Love
There are moving stride bars for upper-body workouts, too.
It's very comfortable to use.
It's budget-friendly.
What We Don't Love
It can start to feel unsteady when going at certain higher speeds.
---
2. JTX Strider-X7 Magnetic Cross Trainer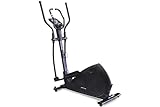 JTX Strider-X8, Smart Cross Trainer, Compact Design, Electro...
Smooth & Silent Operation: Enjoy smooth and quiet motion with electro-magnetic resistance and a 7kg inertia-enhanced flywheel.
Connect to Training Apps via Bluetooth: Sync with popular apps like Kinomap, enjoy dynamic workouts, and upload data to Strava.
16 Levels of Resistance: Customize your workout intensity with a wide range of resistance levels, suitable for all fitness levels.
Advanced Console: Stay on track with intuitive controls, real-time monitoring, and 18 built-in workout programs.
Last update on 2023-11-06 / Affiliate links / Images from Amazon Product Advertising API
This product does bump up in price compared to the previous cross trainer, but the features make it a very fair price for such a high-quality cross trainer.
Key Features
It includes 21 fitness programs to follow.
It allows you to save your own fitness programs.
This product features a 16-inch stride length and a 12.5kg flywheel making it a smooth, easy, and quiet design. It's also suited for users up to 130kg, so it's a great option for whether you're trying to lose weight, maintain your fitness levels, or just boost your cardio game.
The console offers 21 programs including intervals, hill climbing, and other programs that can help you target your goals without having to think about it. And for the user who likes to do things their own way, you can also save your workouts for future use as a program to follow.
What We Love
The variety of workouts that are offered.
It's easy to assemble.
What We Don't Love
It's a bit less budget-friendly.
---
3. JTX Zenith: Elliptical Gym Cross Trainer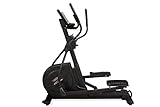 JTX Zenith Rise, Digital Incline Cross Trainer, Gym Standard,...
Robust elliptical cross trainer with heavy gauge steel frame. Provides a stable, quiet & smooth workout.
Commercial quality components. Sleek gym-style design with a front drive flywheel flywheel & extended 19" stride path.
20 levels of quiet and smooth digital incline and 32 resistance levels. Bluetooth feature links to the Kinomap app on your smartphone or iPad, providing interactive motion video workouts. The resistance reflects the elevation in the video. You also have the ability to upload your workout data through the Kinomap app to Strava. Will you choose to workout in Paris or New York?
Size: 158(l) x63(w) x170(h)cm. Maximum user weight: 150kg. Total machine weight: 96.5kg.
Last update on 2023-11-06 / Affiliate links / Images from Amazon Product Advertising API
Those who are serious about fitness will love this product. It's better suited for your home gym than a casual product.
Key Features
It offers 19 workout programs.
The brand offers a lifetime frame warranty and a 3-year in-home repair service.
One of the biggest draws for this product is the ability to use a Bluetooth functionality. This allows you to link your workouts to smartphone fitness apps for better tracking, as well as to receive interactive workout videos. This can help inspire you to keep working at your goals and help keep you accountable.
The JTX Zenith offers 19 workout programs. You can choose from heart rate controls, intervals, sprints, endurance, fat-burning, and so on. You can also choose from a variety of fitness tests to track your progress as you go along! All of the different options on this product make it ideal for families or couples, too. Since there are so many options, you can each choose your own progress path to take.
What We Love
It's durable and built to last.
The customer service team behind the brand is friendly and willing to help with any concerns.
What We Don't Love
It's not budget-friendly.
---
4. Physionics Cross-Trainer with LCD Display
Sale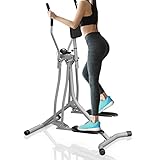 Physionics® Air Walker – with LCD Monitor, 120 kg (265 lb)...
⭐⭐⭐⭐⭐ CARDIO EXERCISES: Air walker is a great way to perform a full-body workout and improve your overall health and appearance
⭐⭐⭐⭐⭐ LCD MONITOR: Air glider can track your progress by using these five features: pulse, time, count, calories, RPM
⭐⭐⭐⭐⭐ FEEL SECURE: Textured pedals of this aerobic exercise machine provide confidence in your balance and safety, while the adjustable abdominal pad offers support during workout
⭐⭐⭐⭐⭐ MAX. LOAD: Sturdy steel frame of this fitness machine is built for users up to 120 kg (265 lb) of weight
Last update on 2023-11-06 / Affiliate links / Images from Amazon Product Advertising API
This cross trainer is the ultimate choice for any budget-friendly fitness enthusiasts. It's got all that you need for a good workout at only the fraction of the price!
Key Features
It features a digital control monitor.
It has a high weight limit.
This product is all about maximum comfort during your workout. It has padded surfaces, a foam grip, and optimal abdominal support built into the machine. So, if you still aren't used to some sweat-inducing workouts, then this product is a great way to ease you into it.
The Physionics cross trainer offers 5 different functions. It also uses an air walker with a heartbeat sensor so that you can track all of the important numbers to make sure that you're staying on track.
What We Love
What We Don't Love
It doesn't offer as many pre-set programs as other available products.
---
5. JLL CT500 Elliptical Cross Trainer
Sale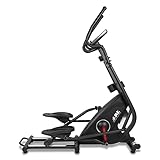 JLL CT500 Elliptical Cross Trainer, 2023 Version Magnetic...
Flywheel: Flywheel with smooth belt driven technology. Non – Slip foot plates Advanced Momentum Mechanism to resemble 18kg
Monitor Displays: Time (mins:secs), Distance (km), Speed (km/h), Heart-Rate (bpm), Calories and Odometer (km)
12 Levels of Advanced Magnetic Resistance. Dual action handlebars and sensors
Transport: Built in handle on the rear stabilizer and transport wheels on the front. Warranty: 12 months warranty on any manufacturing faults
Last update on 2023-11-06 / Affiliate links / Images from Amazon Product Advertising API
This 2020 model is one of the newest on the market. So, you can rest assured that it's got all of the latest features.
Key Features
Allows for user details input.
It's easy to transport.
The brand offers a 12-month warranty.
The JLL CT500 trainer can offer you the simulation of walking, running, and climbing. It's designed to minimize impact injuries on your joints, meaning that you can train without fear of injury. You're also able to choose from 12 levels of resistance. So, whether you're an elite athlete or a newcomer to working out, this product will work with your goals as you grow.
There is a flywheel on this product. This feature helps simulate biking outdoors, making for an enjoyable workout. Other features include sensors to track heart rate, and a monitor that will display time, speed, distance, heart rate, calories, and an odometer.
What We Love
It's easy to set up.
It's simple to use.
What We Don't Love
It's not budget-friendly.
---
6. XS Sports CT700 Magnetic Deluxe Elliptical Cross Trainer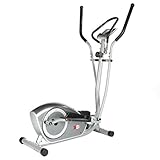 XS Sports CT700 Magnetic Deluxe Elliptical Cross Trainer - 5.5kg...
STRONG; Our CT700​ elliptical machine​ features chip resistant paint and a sturdy design that is CE certified; This ​cross trainer​ ​exercise equipment​ is suitable for people up to 110 kilograms and unlike inferior ​fitness equipment​, is built to last a lifetime
SAFE; Each XS Sports ​upright elliptical ​has undergone stringent quality inspection; Our ​home gym equipment ​meets rigorous European standards; The XS Sports promise is this; if we wouldn't use the ​workout machine ​ourselves, we won't sell it
ADVANCED; Our ​cross trainer​ is the perfect combo elliptical ​trainer for all levels; Our ​pedal exerciser​ features 5.5kg magnetic flywheel, with bidirectional movement for hamstring and quad workouts, precise LCD displays and sensors to measure speed, distance, pulse, odo, calories and duration, also a built in tablet/phone holder
PROFESSIONAL; All our ​cardio machines​ have been developed in consultation with ​home exercise equipment​ industry professionals; We pride ourselves on outstanding quality ​cardio equipment ​that has been refined by hundreds of hours of cutting edge research
Last update on 2023-11-03 / Affiliate links / Images from Amazon Product Advertising API
This mid-range budget cross trainer is ideal for all levels of fitness. It's also small enough to fit in almost any home. So, what are you waiting for?
Key Features
It offers adjustable stride lengths.
You can use it with reversible movements.
This product can be used by anyone 110 kilograms and under. It's designed to be comfortable and offer plenty of support and includes extra-wide arm supports and foot pedals. It's ideal for squad and hamstring training, advanced cardio routines, and distance workouts. It offers 8 different resistance levels, too, so it can level up when you do.
Want to work out your quadriceps? Pedal forward as normal! However, if you want to work out your hamstrings, pedal backward! You can choose however you want to work out with this multi-functional product. It also features a display with precise monitoring to help you keep track of your progress and workouts.
What We Love
It's modestly priced.
It's easy to assemble.
It's quiet.
What We Don't Love
The LCD display could be improved on.
---
Related:
---
Cross Trainers Questions & Answers
If you're a fitness expert, you may not have any further questions. If that's the case, we hope that we've been able to help you pick out a new purchase from our list of cross trainers. Though, for most people out there, we know that that isn't the case. If you've still got some questions about cross trainers, we hope we can answer them for you below!
What are cross trainers?
If you haven't figured it out by now, cross trainers are pretty much exactly what they're named. They are exercise machines designed to train multiple parts of your body. They're stationary machines that can be used to do things like run, walk, or climb.
What are the benefits of using cross trainers?
Pretty much any exercising aid will have a variety of health and wellness benefits. Here are some of the most important ones that you can get from using cross trainers!
They work out your whole body. Some exercise machines will only focus on one key area. Cross trainers focus on all of them! Your quads, hamstrings, calves, arms, and more will be worked out.
They help with weight loss. Cross trainers are a great way of getting your cardio in and making you sweat. So, naturally, it's a great machine to use if weight loss is your goal.
They're good for your joints. Cross trainers are often designed to give minimal impact on your joints. So, you won't have as much of a risk of injury as with a treadmill.
You can work out from home! Having a cross trainer means that you don't have to run outdoors or make the trek to the gym.
Why choose a cross trainer over a treadmill?
Choosing between a treadmill and a cross trainer is a common debate amongst cardio lovers. The biggest factor to consider is, of course, your fitness goals. If you want to run a marathon then you'll probably want to choose a treadmill. However, if fitness itself is your biggest goal, then a cross trainer is the best option. It gives a better full-body workout than a treadmill. It's also easier to adjust to, as many of the movements being simulated are natural.
Another perk of choosing a cross trainer over a treadmill? Cross trainers are much quieter! So, you can keep one in your home and not have to worry about the noise bothering your housemates or family.
Things to consider before buying a cross trainer.
Now, you're all set on getting a cross trainer. So, what are some specific things you should look out for and consider before choosing the right ones? Take a look at our list of considerations below before hitting "order now".
Do you have enough space for it? Exercise machines can be deceptively large and heavy. Make sure that you have enough room to fit the machine comfortably. Some are smaller than others. So, if you're worried, ensure that you check out the dimensions on the product listing!
Do you know where you'll put it? Exercise machines will last longer and perform better in a moderately warm room. You should also consider putting it somewhere where there is a television or stereo.
What resistance levels are available? Machines that have plenty of resistance levels are typically a safe buy. However, if you're starting off with a moderate to good level of fitness, you might want to make sure that there are enough options available so that your workout can still challenge you.
What stride lengths can be used? Some cross trainers offer a longer stride length that mimics running. Others offer a shorter stride length that makes it feel like you're walking or climbing. So, if you've got a specific goal, make sure you understand what you're buying.
---
Are you feeling ready to run, walk, bike or climb right now? Well, if you order any of these products today, you can be on your feet in no time! The cold months are the best time to embark on a new fitness journey. So, grab your sneakers and your credit card, and make a smart purchase of a cross trainer today.