We often think of summer when we imagine a garden. Luscious grass, bright sun, colourful flowers, and a nice afternoon tending to your plants. And while we may have a few beautiful months where this is a possibility for our gardens, we don't want to deal with the other four to five months of the year where the season doesn't make all of this a possibility.
Odds are, you're curious to learn how to brighten a dull winter garden. And we can't blame you! Why should the summer months get all of the fun? We have put together a list of the most simple ideas that you can incorporate into your garden to get it to brighten up your cold winter months.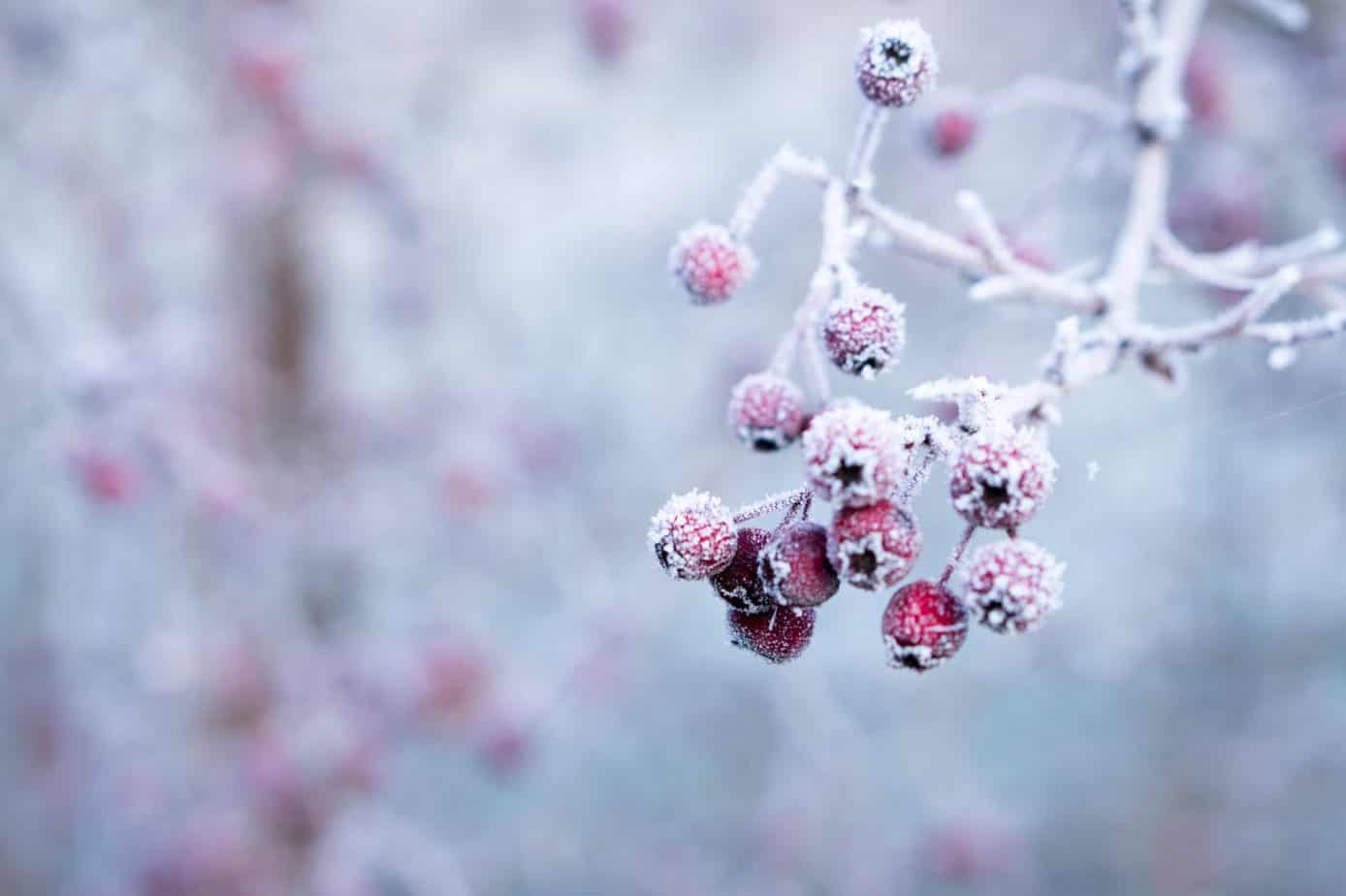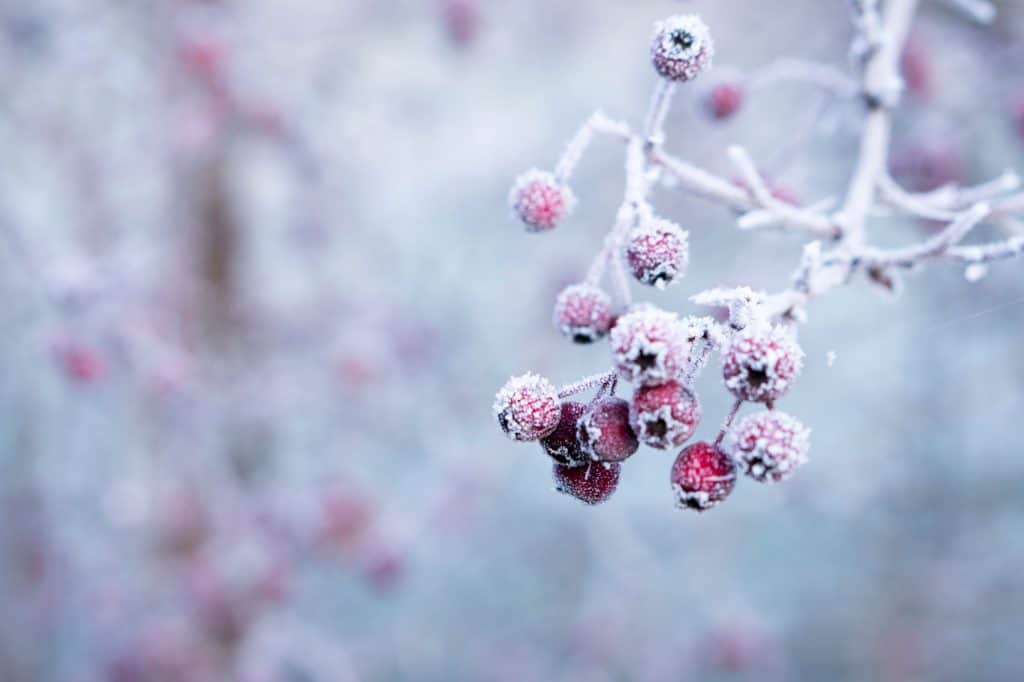 How to Brighten a Dull Winter Garden
Gardens come in all shapes and sizes. We will be using tips that will work in most gardens, big or small. Whether you have a rooftop garden included in your flat or a large yard filled with flora, we're sure that you'll find something on this list that works for you!
Step 1: Get Some Lighting
Lights aren't our first thought when we think of our gardens, but they are an essential addition in the winter months. With such short days, chances are that you're spending most of your time seeing your garden in the dark. Putting simple lighting in and around your garden will ensure that you see more of it, and that those dull patches are illuminated!
There are a few different lighting options that you can choose from. Some prefer the simple solar ground lights, while others may choose a more whimsical fairy light approach. Our favourite? Jam jars with tea lights! You can make these at home or buy them in most gardening stores. They can help spruce up a garden walkway or be scattered through your shrubbery for a fun addition.
Sale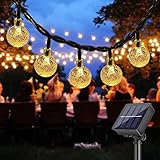 Solar Lights Outdoor, DeepDream 40 LED 7.5M/25Ft Waterproof...
【Solar Powered Garden Lights】: Built-in 1.2V 800mAh rechargeable Ni-MH battery,and comes with a solar panel which can convert solar energy into electric energy and storage in the built-in battery.
【8 Lights Modes】:Gorgeous 8 lighting modes including combination, fireflies flashing, waves, fading, chasing/flashing, fading slowly, twinkle/flashing and steady on.which can create different atmospheres to your garden, patio, lawn, porch, gate, yard, etc.
【High Battery Capacity】: Designed with adjustable solar panel and rechargeable battery. Up to 10 hours super long working time after full charge and always light up your garden, patio, christmas tree
【Long Lifespan 】:40 cute tiny crystal balls (1 inch diameter) is designed to withstand light rain or water spills.with waterproof design, this solar string light may be used for at least 30,000 hours.
Last update on 2022-06-28 / Affiliate links / Images from Amazon Product Advertising API
Step 2. Incorporate a Fire Pit
This tip might only work for those with larger gardens or patio sections, but it is one of the fastest ways to learn how to brighten a dull winter garden!
Many garden owners might incorrectly believe that fire pits require heavy installation fees or time consuming weekends spent building one. However, that's not the case! A good fire pit can be found for much less than the rest of your garden might have cost.
These fire pits will add some colour to your garden during dark and dreary days. And on the occasion that the weather is nice enough, you might be able to go outside and enjoy a nice evening around the fire, even in the middle of the winter!
Sale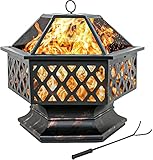 DAWOO 24" Metal Outdoor Fire Pit - Large Bonfire Wood Burning...
【High Quality Materials】-The wood buring hexagon fire pit is made of heavy-duty iron and finished in a high temp bronze paint with a rustic lattice design, sturdy and durable for long-time outdoor & indoor use and can complement any style of occasions
【Deep Bowl】-Size: 60.5X70X62cm; This garden firepit has a generously deep bowl.Depth is deeper than most. Its perfect size and depth allows plenty of room to make a fire of whatever size you want. Perfect for 4 to 6 people to sit around
【Hexagon Shape】-Different from the square shape, hexagon style fire pit can extend heating distribution and accommodate irregular wood, providing more heat and warmth through six sides. Steel risers on the bottom not only prevent heat from going directly to the ground, but also help create continuous airflow
【Safe & Lightweight】-This fire pit features a flame-etardant Mesh Lid to stop hot ashes, debris, and sparks from flying around. It also comes with Poker, Mesh Screen Lid and Waterproof Cover for you to lift and set the mesh lid, super safe to use! And the grid screen design make the fire inside visible and attractive. In addition, It's very lightweight and easily portable to move around
Last update on 2022-06-29 / Affiliate links / Images from Amazon Product Advertising API
Step 3: Get a Bird Bath and Feeder
Personally, we think that bird baths are a necessity for any good garden no matter what month it is. They're even more special and needed in the winter months!
Birds are a bright and colourful sight no matter what month it is. So, we want to make our gardens enticing to them so that we still have something to look at when all of our colourful flowers have gone away for the winter.
Let's face it. There are days where it's just too cold for a bird bath to be appealing to our winged friends, as that water might just turn to ice. That's where the bird feeders come in! Ensure that they are always willing to fly into your garden with some food.
Sale
GardenKraft 23940 Clam Shell Design Bird Bath / Bronze Metal...
CHARMING BIRD BATH – This eye-catching bird bath with a unique clam shell design features 2 bronze effect bird statues, that will deliver both a great visual spectacle, as well as a refuge spot for real life birds this summertime.
BRONZE METAL EFFECT – The unique bronze effect finish on this garden bird bath adds to its grandeur, and is certain to bring a sense of elegance and clear focal point to your outdoor spaces.
WEATHERPROOF GARDEN FEATURE – This bird bath measures 80cm x 52cm, (H x W), and is manufactured from tough, weather resistant plastics which allow it to withstand all the elements and remain intact all year round.
EASY TO ASSEMBLE – This ornate garden feature is super simple to assemble, and is lightweight and portable, allowing you to get it in the garden and hosting an array of wild birds in no time at all.
Last update on 2022-06-28 / Affiliate links / Images from Amazon Product Advertising API
Step 4: Paint Some Background Elements
The easiest way to add some colour and figure out how to brighten a dull winter garden? With some paints!
There are plenty of elements in your garden that can be painted to add a splash of colour. Some of these items include:
Flower pots, whether they are permanent or temporary
Fencing
Garden signage and accessories
Lanterns
Your trellis
A table and chair set up
Another exciting way to add colour with paint? Get some big rocks and paint them with your friends and family. Go for fun designs, cute quotes, or basic colours and add them throughout your garden. Not only will this add colour, but you'll also have some nice memories!
Make sure that you use paint that is designed for exterior use. This will help it withstand the cold and sun. Most latex-based paints are ideal for this use!
Last update on 2022-06-28 / Affiliate links / Images from Amazon Product Advertising API
Step 5: Plant More Winter-Friendly Plants
The most sensical idea when learning how to brighten a dull winter garden is to plant more flowers that will survive through the winter. This will ensure that you have flowers year round, and enough colour to keep your garden thriving.
You might want to prepare for this step when it's safe and easy to plant new flowers. Depending on how long it takes each flower to grow, it's a decision that you'll need to plan for ahead of the next winter. There are also a few ways to help prepare your garden for the winter months, ensuring that your flowers are well cared for in the cold. You can read more about that here!
Here are some of our favourite flowers that can withstand winter:
Coneflowers
Lily of the valley
Blue spruce
Wintergreen boxwood
Catmint
Pansies
Winterberries
---
Similar Posts:
---
Gardens are meant to be enjoyed all of the time. If we start thinking about these spaces as a summer-only sanctuary, we're not giving them the thought and time that they deserve! The garden is here to brighten our lives no matter what season, and that includes winter. So, we hope that you can carry some of these tips into your garden maintenance and spend more time enjoying the view!