Have you ever wondered how to do morning exercise at home? If so, you've likely struggled with finding the right motivation. Or you may just be tired of your typical routine of working out at night! No matter what the reason, we're here to give you a guide on how to do morning exercise at home, from how to find the motivation to what types of exercises to do!
How to do Morning Exercise at Home
Doing a morning exercise routine in the comfort of your own home is an amazing habit to start. There are plenty of benefits to working out in the morning. Not only do you set the tone for the rest of your day, but there are other perks as well. These include higher rates of energy, fewer distractions, better sleep, and better appetite regulation!
You may already have a home gym set-up in your house. However, many people who aim to do morning exercise at home don't have the means of having a home gym. No matter what you have, we've put together a guide that will work for everybody!
Start preparing the night before
Working out in the morning is a commitment. You can't just set an alarm slightly earlier than usual and expect to be able to stick with it! Learning how to do morning exercise at home is an entire lifestyle change. You may need to change your entire sleep schedule to be able to accommodate morning workouts. This means looking at the time you need to wake up and ensuring that you'll get at least 7 hours of sleep before your workout starts.
Your workouts may not be every morning, and that's okay! In fact, taking breaks and rest days is recommended so that you don't over-exert yourself, increasing your risk for injuries. So, plan your workout days accordingly, and stick with it. If your goal is to work out three times a week, then make sure that you're making a schedule, and not just winging it. If you don't have a schedule, you're more likely to wake up in the morning and think "oh, I'll just do it tomorrow instead," which can set you back.
Always set your alarm (or maybe set a few) before you go to bed. You should also make a plan your workout the next morning. For those who do not have a home gym, you should set aside the things that you'll need for your workout and put them in the designated "work out" area. This may include a yoga mat, any free weights, and more.
Perfect your setup
Sale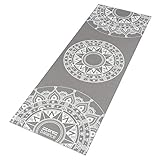 Core Balance Mandala Yoga Mat With Strap 6mm Thick Non Slip Home...
GREY MANDALA YOGA MAT: Take yoga practise to another level with this 6mm thick yoga mat from Core Balance. The mat is beautifully printed with a symmetrical mandala pattern which you can use to position your body perfectly in the centre and perform poses with the correct posture, alignment, and technique. The mat measures 173cm x 61cm (approx.).
NON-SLIP FOR SUPPORT & STABILITY: The mat is made from PVC foam which feels stickier than the foam used on thicker types of mat, such as Pilates mats. This helps to provide greater grip and prevent you slipping when you're exercising. It's also textured on the top and bottom to further enhance your grip and prevent it sliding on smooth flooring.
WHAT MAKES THE MAT GOOD FOR YOGA? Thickness is key when selecting a yoga mat. If it's too thick and spongy, it can reduce your stability and balance, making it difficult to hold a pose. 6mm is an ideal thickness. Although it provides sufficient cushioning between your hands and the floor, it's thin enough to prevent you wobbling when holding a yoga pose.
MOUNTAIN CLIMBERS, BURPEES & FLOOR SPRINTS: Because the mat is grippy, it's perfect for mountain climbers, burpees, and floor sprints. However, you should always ensure that your hands are planted on the mat and your feet are positioned off it. This will prevent the rapid movement of your feet from scraping the foam and causing it to crumble.
Last update on 2022-06-07 / Affiliate links / Images from Amazon Product Advertising API
As mentioned, having a dedicated space for your morning workouts is essential. Our home gym tips include a treadmill, a cross trainer, a mat, and some different types of weights. Though, if you don't have the space or the means to have a full gym set up then you still have plenty of options!
The base for any good morning workout setup is a quality yoga mat. This will allow you to do a variety of exercises on it while staying comfortable. It should be long enough to fit the majority, if not all, of your body while laying down.
Your workout space should also always have a reusable water bottle. Working out at home may trick you into thinking that you can always run to the kitchen when you are thirsty. However, going all the way to the fridge for some water can force you to take an unneeded break. It may also limit how much water your drinking. So, keep a bottle nearby at all times.
Speakers are also an essential. Staying energized in the morning can be hard. Having music available at an appropriate volume can help you feel more motivated and ready to sweat!
Consider working out with a partner
If you live with someone who is also interested in amping up their fitness, you may find more encouragement. If you and your workout partner are both dedicated to creating a morning workout routine, you'll have a far easier time sticking with it. You'll have more motivation to wake up, and even more motivation to stay energized.
If you're fortunate enough to have a workout buddy, then the two of you can learn how to do morning exercise at home together, making it an exciting adjustment to the entire household.
Start your morning off with some fuel
Some fitness enthusiasts prefer to do their workouts as soon as they wake up. That's fine if it works for you! However, many people need that extra boost of energy. So, start your morning off with some fuel. It's recommended to at least eat a light breakfast before your workout. You can always go back for a bigger meal once you're done!
Your breakfast should consist of easily digestible carbs. This will give you the energy that you need to push you through your workout, while also being easy on your stomach.
Some healthy ideas for a pre-workout breakfast include toast with peanut butter, some fruit, and some yoghurt.
Change into dedicated workout wear
You may be tempted to do your workout in your pyjamas. While this can be a comfortable option, it's not going to help put your brain in "workout mode". Always change into a dedicated workout outfit. This includes sneakers, exercise pants or shorts, a comfortable top, and any other accessories you may need.
Many people choose to incorporate fitness trackers into their morning workout. So, if you have a smart watch or other tracker, make sure to wear it for your workout. Tracking these workouts can help you track your progress, acting as an extra boost for sticking to your routine!
Know your routine before you go into it
There's nothing more discouraging than walking over to the yoga mat and wondering what you should start off with. Thinking about your workout is a major distraction in the mornings, and may make you feel even more like cutting your workout short. So, have a plan for your routine before you even wake up!
Your morning workout routine shouldn't deviate too much from any other exercise plan that you're used to just because it's at an earlier time. You can do any type of exercise that you prefer. Some ideas for morning exercises include a long run, some stretching, lifting some free weights, and some yoga.
One special addition to the morning workout is to add something at the beginning that will help get you into the zone. You may still be sleepy and not feeling alert. So, start your workout with a lighter exercise to push your brain into knowing that it's time to work out. This will help your body learn how to do morning exercise at home. It could include a quick speed-walk on the treadmill, some yoga, or some stretching. Once your brain has realized that it's time to get up and get moving, you'll have an easier time with the rest of your workout.
Downloading fitness apps on your smartphone is also a great idea for morning workouts. These are often filled with great ideas for working out that don't require any equipment! They'll give you timed workouts, like sit-ups, push-ups, and other sweat-inducing activities. So, if you don't have the energy to think, the apps can do it for you!
Start rewarding yourself to stick with it
Starting or switching to morning workouts can be a challenging task. So, pat yourself on the back! You may find that it's easier to stay motivated if you're giving yourself rewards for keeping up with your routine.
If you manage to hit all your target workout days for the week, have an end-of-the-week tradition. This can include a specific meal or treating yourself to some extra lazy time. You could also make the reward a smaller daily thing, such as an extra helping of dessert later on in the day.
This is mostly a suggestion to get you motivated when you first make the transition, however you can always stick with it if you find that you need a little bit of extra motivation later down the road.
Give yourself goals
One of the most naturally motivating things is having a goal in mind. Whether you want to lose a certain amount of weight, be able to run a certain amount of miles, or just find a routine and stick with it, make it a goal! This will allow you to create sub-goals on your way to that final goal. By hitting these sub-goals and your ultimate goal, you'll be able to celebrate, giving you more of a reason to stick with your morning exercise routine.
And, most importantly, stick to your routine
When you're learning how to do morning exercise at home, it's important to nail your routine. This is even more important when working out in the morning compared to a later time because it's all about that motivation. You should be waking up and exercising at the same time every day, and your other morning rituals should also stick to a schedule.
Eventually, you'll have built a morning routine that's so solid, you won't even be dreading waking up early! Instead of thinking of your morning workout as a chore, it'll just be a part of your daily routine. You'll forget that there was ever a time that you didn't wake up early for your workouts!
Learning how to do morning exercise at home is going to change your entire day. You'll start your days on the right foot, feeling energized and alert. Tackling such a big task at the beginning of the day can also start you off by feeling even more accomplished, giving you the motivation to keep the rest of the day on the same level!