Heated Rollers
The best heated rollers in 2019
Whatever happened to heated rollers? They used to be the staple of every woman on the planet who wanted luscious curls, but then curling tongs and wands arrived. Anyone who has attempted to use a curling wand to create those Hollywood waves will know how hard it is.
How are you supposed to get them looking the same? How do you reach the back without being double jointed or roping in a friend to help? And don't even get us started on the number of times we've ended up with burnt fingers, hands, and singed hair. Luckily, heated rollers are making their way back into the limelight – where they truly belong. Not only are they easier to use, without getting burnt, but they're also kinder on your hair.
The best heated rollers will work on long hair, thick hair, short hair, fine hair, and everything in between. Plus, they create gorgeous, bouncy curls that stay in all day. But what are the best heated rollers? And why should you trade in your curling tongs and wands for these clever little gadgets? We've got the lowdown on the best heated hair rollers on the market, no matter what your hair type or budget. Bring on the curls!
The UK's Best Heated Rollers in 2019
Heated Rollers
The Ultimate Guide to Heated Rollers 2019!
Long before the days of curling tongs and wands, women would use rollers to curl their hair. In fact, just the word 'hair rollers' might conjure up images of housewives from yesteryear, wearing curlers in their hair as they go about their daily routines. Not forgetting the hairnet on top, of course, to keep everything in place. Back then, the rollers weren't heated, and you'd simply leave them in damp hair for as long as possible – or until your hair was dry – to achieve stunning curls. However, the humble hair roller has had some serious upgrades over the years, meaning we're now treated to some of the best heated rollers that money can buy. Most heated hair rollers are ceramic and come in a little case or pod, that heats up once you turn it on. You then add the rollers to your hair and secure them in place with the pins or clips provided. By the time you've got dressed and done your makeup, the hair rollers should have done their job. Pull them out and voila! Curls or waves that even Blake Lively would be jealous of.
Heated rollers vs. curling tongs and wands
So, why would you trade in your beloved curling tongs or wands for heated rollers instead? After all, we've been led to believe that curling wands are the must-have hair tool. However, there are plenty of reasons why this just isn't the case. Here's why the best heated rollers are better than curling tongs or wands:
Heat damage – This one is a biggie! Curling irons, wands and tongs reach some incredibly high temperatures which can severely damage your hair. On the other side, heated hair rollers don't get anywhere near as hot which means they're much kinder on your precious locks.
Burning yourself – Hands up if you've ever burnt your hands, arm, fingers or scalp using a curling wand? Or even just straighteners? The other downside to these gadgets getting so hot is that it can really (really) hurt when they touch your skin. Luckily, that's rarely a problem with heated hair rollers.
Burning furniture – It's not just your skin that you should be worried about when using curling tongs or wands. Most women have experienced the scorch marks of these super hot hair tools when they've been placed on the side. Plus, that whole "Did I turn my curlers off?!" is the number one thought you have when you leave the house. Thankfully, heated rollers are very unlikely to scorch your dressing table.
Ease of use – Getting to grips with curling tongs or wands can be a nightmare. They are so fiddly, especially when it comes to the back of your hair. The best heated hair rollers, however, are so easy to roll into any part of your hair, once you've used them a few times.
Time-saving – When you're curling your hair with tongs or wands, you have no time to do anything else. You can't exactly do your makeup while curling your hair unless you've got an extra pair of hands. With heated rollers, even those with the longest or thickest hair can curl it in half the time. Plus, while your rollers are setting, you can carry on getting ready. Yay to multi-tasking!
Better curls – Many curling wands are thicker near the base, getting thinner closer to the tip. Those with long hair will know how hard it is to get even curls using this method, as there is just too much hair to fit onto the same bit of the wand. Plus, ringlets just aren't the in thing anymore. However, heated rollers make it easier for your curls to look uniform – and are perfect for Hollywood waves.
What's the best way to use heated rollers?
If you have only ever used curling tongs, irons, wands or straighteners to curl your hair, then using heated rollers is going to be a game changer for you. Once you learn how to use them! So, what is the best way to use heated rollers? Check out our step-by-step guide to getting perfect curls or waves, every single time.
Plug in your hair rollers to let them heat up. Some of the best hair rollers on the market will take mere minutes to get warm enough to use. While they're heating up, spray some of your favourite heat-protection spray onto your hair in preparation. It's important to make sure your hair is dry before you start using your rollers, so don't douse your hair in spray.

Section your hair from the top of the ears so that you have a small section to work with at first. This is particularly the case if you have long or thick hair, as it will all need to be done in sections. Secure the top part with a clip.

Divide your free section of hair in two and move one part out of the way. You should now have one half of the bottom section of your hair to work with. It's time to get rolling!

Place your first heated roller under the hair, around halfway down. Wrap the bottom half under the roller and keep rolling until you've reached your scalp.

The best heated hair rollers will come with pins or clips so you can now secure that roller in place. Roller one, down!

Move to the other half of your bottom section and repeat. However, you'll want to place the roller on top of the hair, not under, so that all curls are in the same direction. Nothing worse than wonky curls.

Repeat the process, working through each section of your hair, leaving the top for last. Remember which side you're placing the rollers under your hair and which section the rollers are going over.

When you get to the top section of your hair, section it off and roll from front to back – towards your scalp. You should look like a baby dinosaur when the top section is in place.

Apply hairspray and continue with your getting ready routine. Ideally, you'll want to leave your hair rollers in for around 30 to 45 minutes. Just enough time to get dressed and paint your face!

Very gently, unpin each roller and let it unravel from your hair. Don't pull or tug, as this can cause breakages and frizziness. Once they're out, brush through the curls with a soft brush and finish off with hairspray.
How to pick the best heated rollers based on your hair type
One of the best things about heated hair rollers is that they work on practically every single hair type. They also come in a variety of sizes, so you can pick what kind of curl you want. Want tight curls? Opt for the smaller hair rollers. Want wavy Eva Longoria locks? Go for the largest hair rollers you can. You may also want to buy different sizes depending on your hair type. For example, those with short or fine hair are best sticking with small sizes. Some of the best heated rollers for fine hair are much smaller than those with thick or long hair – simply because it'll be a nightmare trying to wrap your hair around large barrels!
The best heated rollers for thick hair, however, will be the larger sizes. The same goes for long hair. The more room you have to fit all of your hair on the roller, the better. If you have really thick or long hair, then you may need more sections – and therefore more rollers – to cover your whole head.
What to look for when buying the best heated rollers?
Now you know what kind of heated rollers suits your hair type, and how they work, it's time to invest in a set that's perfect for you. However, where to start? There are so many different options it can be difficult to know which heated rollers are best. Luckily, we're here to lend a helping hand, so here's how to find the best heated hair rollers for you.
Sizes – By now, you should have a good idea what size heated rollers you need. Look around for a set that includes those sizes, or has a mixture so you can play around with what works for you.

Heat settings – It's a good idea to look for heated hair rollers that have variable heat settings, so you can control how hot you want them to be.

What they're made from – The best heated rollers should be made from ceramic, tourmaline or titanium. These are all excellent for conducting heat and will help prevent frizziness too.

Their weight – There is nothing worse than carrying around a whole load of heavy heated rollers on your head. Make a note of their weight before investing.

Flashing lights – No, we're not talking about heated rollers that come with their own disco! Instead, many heated hair rollers will come with lights that will let you know when they've heated up in the pod or case. Some even have lights on the rollers themselves to let you know when they're hot and when they've cooled down.

Reviews – The best heated rollers reviews will be brutally honest – and that's what we need! Look for comments on how long they take to heat up, whether they're easy to use, if they cause any hair damage, or if they pull when they're taken out.
Ticking off all these boxes will ensure you only part with your hard-earned cash on the best-heated rollers for you. Check for any guarantees or return policies, too. Just in case they don't become your new favourite gadget (although they probably will).
How much do the best heated hair rollers cost?
Whatever your budget, you're likely to find the perfect heated hair rollers for you. Some of the big names in the heated roller world include BaByliss, Remington, TRESemme, Nicky Clarke, and Toni & Guy. Basically, if they're haircare experts, then they've probably got some of the best hair rollers out there. In terms of budget, it all depends how much you're willing to spend on these little life changers! You can get a basic set of heated rollers for between £20 and £30, but they tend to be very small. Around this price range, you'll find the best travel heated hair rollers as they usually come in little carry bags.
The next step up is where you'll find most of the best heated rollers – in the region of £30-55. Here are some of the most popular options and you'll get a lot more for your money in terms of the number of heated rollers, quality materials, and ease of use.
Finally, at the very top end of the budget, you'll find some heated rollers over £100. Just make sure you read the heated rollers reviews before you part with that much cash – especially if you've never used hair rollers before.
Either way, you're likely to find the best heated rollers for you, your hair type, and your budget. It's time to throw the curling tongs out and invest in a quicker, easier, and more hair-friendly way to create perfect curls every time.
Best Selling Heated Rollers in 2019
Sale
Bestseller No. 1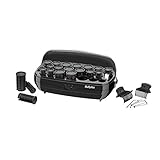 Sale
Bestseller No. 2
Remington H9100 Proluxe Heated Rollers - Rose Gold
20 velvet flocked rollers for full curl coverage: - 8 Medium (25mm) -...
Improved clip design & Grip Tech finish for better hold without kinks
OptiHeat Technology: Heats rollers and clips to set curls in 5 mins
Sale
Bestseller No. 3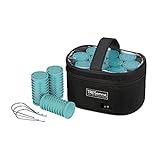 Sale
Bestseller No. 4
Sale
Bestseller No. 5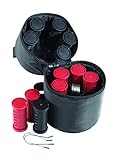 Nicky Clarke NHS005 Compact Heated Rollers
Compact roller kit includes 12 thermoplastic heated rollers plus clips
Compact heated travel bag makes this perfect if you're on-the-go
Bag can heat up to 6 rollers at time in 10 minutes