Hot Air Brush & Stylers
The Best Hot Air Brush & Stylers
in 2019
Is there anything better than leaving the hair salon with freshly blow dried hair? It's bouncy, full of volume, and you feel like a whole new woman as you strut down the road. However, then you get home, wash your hair, and try to replicate the hair drying technique you watched your stylist do, but there's a problem.
For some reason, trying to recreate a salon worthy blowdry requires more at least six hands – how do they do it?! As you wrestle with your hairbrush, styling products and the hairdryer at the same time, it all seems like a lost cause. There's no way you'd ever be able to get that salon-level blowdry, right? Well, that was until the air styler – also known as a hot air brush – was invented.
These ingenious hair tools have entirely revolutionised the blowdry game, making it easier than ever to add volume and bounce to your hair. Whether you've never heard of a hot air styler before in your life, or you're just keen to find out what the best hot air styler on the market is, we're here to help. Our ultimate guide is going to walk you through what a hot air brush is – and what it does – along with how to use one, what kind of hot air styler will work best on your hair type, and where to find the best hot air styler for you. No more limp and lifeless hair, we're changing the game forever.
The Best Hot Air Brushes & Stylers in 2019
Hot Air Brush & Styler
The Ultimate Guide in 2019!
What is a hot air styler or hot air brush?
A hot air styler or hot air brush – whatever you want to call it – is actually a very simple yet clever piece of kit. At first glance, it looks like any other round barrel brush, like the kind a hairdresser will use on you in the salon when they're creating that perfect blowdry. However, these are a little different as they blow out hot air while you brush! They come with a wire and plug, that you plug into the wall, and away you go. They're effectively a hairdryer and styling brush in one. Clever, right?
The bristles are usually made from ceramic or wire, and the barrel of the brush itself tends to be ceramic. This means that it works in a similar way to other hair tools, like curling tongs and straighteners. There are lots of different versions, with all sorts of various benefits, but we'll go into those in a little more detail later on. For now, all you need to know is that investing in the best hot air styler is going to change your life – for the better.
The benefits of a hot air brush compared to other hair tools
You may be thinking what the point in a hot air styler is when you could just use curling tongs, straighteners, a hairdryer and an ordinary hairbrush to style your hair the way you want. However, using a hot air brush has plenty more benefits than using traditional hair tools – and here are just some of them:
Less equipment – How many hair gadgets, tools and accessories do you need to use to get the look you want? Probably quite a few! With a hot air styler, you don't need to whip out every single piece of equipment whenever you want to style your hair – it's an all-in-one solution.
Less faff – Have you ever tried to blowdry your hair like the professionals? It's a complete nightmare! Using a hairdryer and brush at the same time feels like trying to pat your head and rub your belly at the same time. Basically, impossible. A hot air brush will make life so much easier.
Dry and go – When you straighten or curl your hair, usually you have to wait until your hair is dry before you get to work. With a hot air styler, it dries your hair at the same time, meaning you can get out of the door much quicker.
Less damage – While even the best hot air brush isn't going to protect your hair entirely from damage (it is still applying heat to the hair, after all), they are thought to be far less damaging than other heat products; particularly straighteners and curling tongs. They don't get as hot and they're far gentler on your locks.
Volume and bounce – As we said, there's nothing better than the volume and bounce you get from a salon blowdry. Using a hot air styler gives you the same kind of experience, without having to pay for the hairdresser to do it every single weekend.
Rock any look – Want to add a bit of curl to your hair? A hot air styler can do that. Want to straighten it, while still keeping some volume? A hot air styler can do that too! They're incredibly versatile, so you can rock any look you want.
Beat the frizz – The majority of the best hot air stylers on the market utilise ceramic, either in the barrel of the air brush or on both barrel and bristles. Ceramic is the perfect heat conductor that also prevents frizzy hair – something which we can all fall victim too if just blow drying and brushing.
The Best Hot Air Rotating Brushes & Stylers in 2019
Bestseller No. 1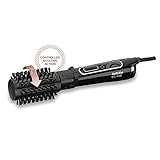 Sale
Bestseller No. 2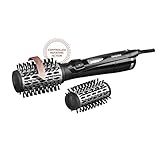 Sale
Bestseller No. 3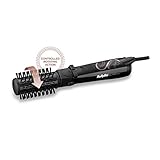 Sale
Bestseller No. 4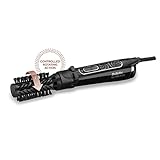 BaByliss Big Hair Petite
Create a salon worthy blow-dry with volume and body at home
32mm rotating ceramic barrel perfect for shorter styles
Powerful 700W hot air styler
Sale
Bestseller No. 5
BaByliss Big Hair Care Hot Air Styler
Create an easy, flawless salon blow-dry finish at home.
Kinder to your hair Sensor Protect technology precisely regulates the...
Rotating brush head replicates the action of hairdressers blow-dry.
How to use a hot air styler
So, how exactly do you use a hot air styler? It's really quite simple, and if you've ever brushed your hair, then you've basically got it down already. However, for those who want a step-by-step guide, this is all you need to know.
Turn your hot air styler on to let it heat up. While it's getting to the right temperature, towel dry your hair, so it's about 80% dry. You can also spritz with your favourite heat protection spray, too.

Section off your hair! Pin up the top half (above your ears), clip or tie it up so it's out of the way, and split the bottom half into two.

Now it's time to get brushing. You can do this a few different ways, depending on what kind of look you're going for. Either brush gently from root to tip, for a straight look with extra volume. Alternatively, wind your hair around the brush to create a wavy look. You can also get rotating hot air brushes that will create this kind of style for you, without any extra work – more on those later.

Let it cool! Did you know that it's not actually the heat that styles your hair, but the cooling process? The best hot air brush should have a "cool" setting available, which will let you blast some cold air on your hair. Do this for around 10 seconds, while holding in place. Alternatively, gently pull the brush out and pin your hair in place to let it cool naturally.

Rinse and repeat! Continue the above steps throughout each section of your hair, until every part is dry and styled. You can then use argan oil, serum, hairspray, or whatever other styling products you usually use, to finish the look off.
Yep, it really is as simple as those five steps. There is no having to wait for your hair to dry or brushing out certain bits, as the hot air styler will do all of that for you. However, make sure you wait until your hot air brush is fully warmed up before you start using it. You don't want uneven hair, which is what will happen if you don't let it reach maximum temperature first.
What is the best hot air styler for your hair type?
The best hot air brush should work on any hair type, but each will come with certain benefits for your particular hair. For example, the best hot air styler for short hair is going to have a slimmer barrel than one for long hair. If your hair is hard to tame, then the best hot air styler for frizzy hair is going to be anything with a ceramic barrel and also, potentially, ceramic bristles. You should also consider what kind of products you use with your hot air brush if you have frizzy hair; an anti-frizz serum or argan oil will work well. If you have thick hair, opt for a larger barrel, the same as you would long hair. This is because you'll need more area to wrap the hair around and create volume without going overboard with the curls.
Best Hot Air Brushes & Stylers for Short Hair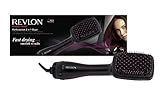 Sale
How much should you pay for the best hot air brush?
The best hot air stylers vary in price; from the super purse-friendly to those that are a bit more break the bank. However, you'll very rarely find even the best hot air styler on the market over £100. If you don't have a lot of cash to splash, then you'll be pleased to know that big-name brands, such as TRESemme, Braun, and Revlon all have affordable hot air brushes under £20.
However, if you want great value for money, then you're looking in the region of £25-50. This price point will give you the best hair styler on a budget, with plenty of extras that will keep your hair looking silky smooth and in excellent condition. Revlon, BaByliss, Wahl, Remington, and Vidal Sassoon all have quality hot air brushes around this price range. These will offer you that salon blowdry experience time and time again, for the same price as just one blow out at the hairdressers.
The best selling hot air brush (stylers) in 2019!
Bestseller No. 1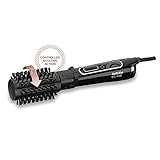 Sale
Bestseller No. 2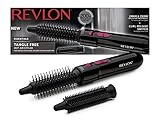 Sale
Bestseller No. 3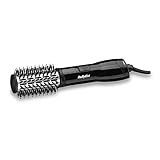 Sale
Bestseller No. 4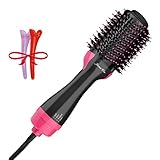 Sale
Bestseller No. 5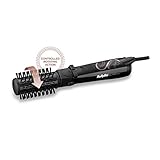 What to look for before buying a hot air styler
Before you invest in a hot air styler, it's important to know what you're looking for. By now, you should know whether you're looking for a big or a small barrel, depending on your hair type. However, that's not all. Here are some of the features you may want to consider when looking for the best hot air styler for you:
Heat settings – Adjustable heat settings will undoubtedly come in handy when investing in a hot air brush. Most will come with 2-3 and perhaps even the option of that useful cooling setting we mentioned earlier.
Barrel material – Most of the best hot air brushes out there will come with a ceramic barrel, however, tourmaline is also another suitable material that you may want to consider.
Bristles – Do you want firm bristles for more control or soft bristles for a less 'just-styled' look? Some even offer ceramic bristles to combat that frizz!
Tangle-free – Most of the top hot air stylers will come with tangle-free technology, that will help you create the perfect style without any nasty knots. Or getting the brush caught up in your hair!

Rotary or non-rotary – As we mentioned earlier, there are some hot air brushes out there that rotate. Yep, they basically do all of the hard work for you. Rotary hot air stylers will rotate as you brush them through your hair, ensuring a more natural, wavy look.

Accessories – If you'd like to mix up your styles every now and then, look for the best hot air styler with various accessories and attachments. Some come with different barrel sizes, so you can play around with what works for you. Remember, smaller barrels are good for short and thin hair, or for creating tighter curls. Larger barrels are great for long and thick hair, or for creating those Hollywood waves.
Reviews – Always make sure you read through the reviews of any hot air styler before you part with your cash. Even the best hot air styler reviews may bring up something that could be a dealbreaker for you – or something which persuades you to buy!
Do I need the best hot air styler?
In short, if you want salon quality hair, without spending out on a blowdry every day, then investing in the best hot air styler can change your life. When you look at the cost of even the best budget hot air brush, it's far cheaper than visiting the hairdresser so often. Plus, it's far kinder on your hair than blow drying, straightening and curling – just make sure you always use the heat protection spray! A hot air styler can save you plenty of time in the mornings, too. So, unless you're going to grow another pair of hands to recreate that salon hair at home, it's time to treat your locks to a hot air brush. You won't regret it!